For our 2017-18 NBA Season Preview, we're doing deep dives on five teams who can beat the Warriors in the next five years—and the players who can push them over the top.
BOSTON – Well, if you somehow weren't already captivated by the 2019 NBA Finals, then surely that changed last night. Tales of the dramatic Game 6 between the Boston Celtics and Golden State Warriors will echo through basketball ages. Every angle of that final play dissected for eternity.
Five seconds left. Celtics up 110-108. The Warriors take it out on the sideline with a chance to win, when Kyrie Irving slips chasing Steph Curry around a screen, leaving the Golden State sharpshooter wide open for a corner three.
Amidst the commotion, second year Celtics forward Jayson Tatum notices Irving on the ground, cheats off Kevin Durant and jumps out to deny Klay Thompson an easy inbound pass to Curry. In turn, with Tatum off balance and out of position, Thompson snaps a quick bounce pass to Durant—and now Tatum's stuck.
Frozen.
He knows the slightest hesitation will allow Durant to launch an uncontested shot. On the contrary, if Tatum closes out, Durant skips an easy pass to Steph for that wide-open corner three.
So now here's Jayson Tatum, with everything on the line, barely a second to pick his poison and—
---
Back here in reality, October 2017, Jayson Tatum's life is nowhere as dramatic or exciting as that fictitious and futuristic basketball universe. Since the Celtics selected him with the third pick in last summer's draft, in between lighting up the Summer League, Tatum kept a pretty low profile. He moved to Boston. His mom moved with him. He also got a puppy—a little boxer named Creed. For the most part, Tatum focused on basketball. Playing in the NBA at 19 is complicated enough as it is.
Of course it helps to have a friend—or another beyond Creed—and Tatum found one in second year Celtics forward Jaylen Brown. From their short-lived stint as "7-11" (a nickname that came out of their summer league numbers) to a field trip to the Weeknd concert, the bromance between Boston's two young bucks is already legend among Celtics fans. But surprisingly enough, it was only recently that Tatum and Brown really hit it off.
"We didn't have that connection right away," said Brown, who turns 21 later this month, as he and Tatum huddled after a recent practice. "It wasn't until we got in here for training camp and started seeing each other every day. Just to see his focus level, and his intensity, and how much better he wants to get every day. I have to respect that."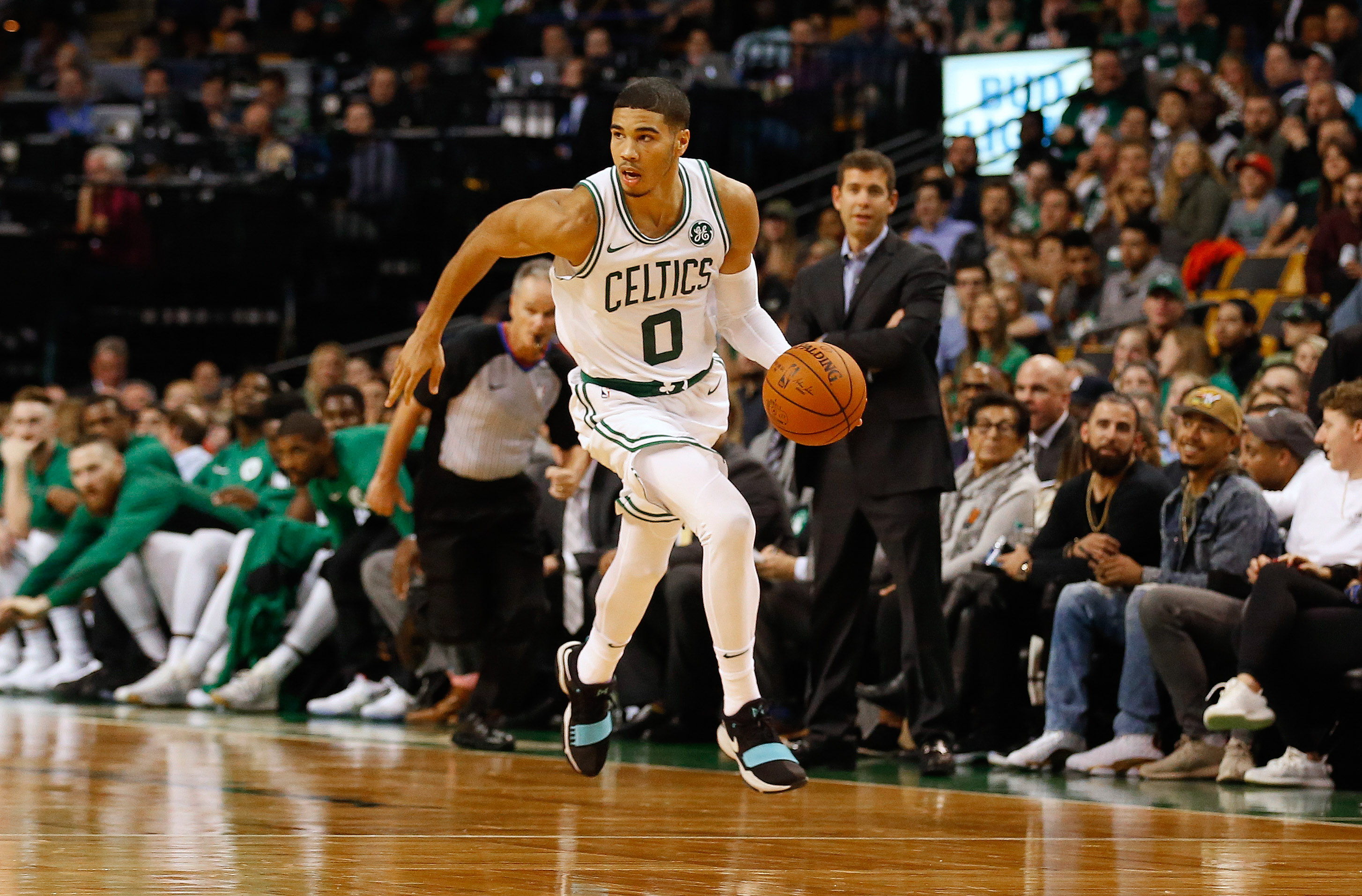 Brown and Tatum are certainly peers, and the respect is always mutual, but there's also an upperclassmen vibe to their relationship. Brown is only 17 months older but he's spent most of those 17 months on this Celtics roster, living this NBA life, racking up nearly 1400 NBA minutes. Thanks to those 17 months, Jaylen Brown can tell you what it's like to guard LeBron James in the Eastern Conference Finals. Thanks to those 17 months, Jaylen Brown has recently been through most of what Tatum is about to go through. Brown was right there. And now he wants to be there for Tatum.
"It's real casual," Tatum said. "But he'll reach out. Ask me if I want to play video games. Maybe get something to eat. He's been trying to get me to play FIFA."
Understandably, Tatum isn't into playing a game he's never played before, especially against a friend who plays all the time. On one hand, maybe the two could spend some time playing as a team, just until Tatum gets the hang of it. On the other hand—
"That's corny," Brown said laughing. "I don't want to be on his team. I want to beat him."
The two compete at everything.
"We do shooting contests every day after practice," Brown said. "And just so you know, I'm up."
"Oh man stop it!" Tatum jumped in, laughing but still fired up.
"Man, there it is," Brown said. "Always competing. That's what I admire most."
---
On most teams, a pair of top 3 picks like Tatum and Brown would be in the spotlight, on the cover of tickets and media guides. The promising young faces of a franchise, playing 30+ minutes a night for 50-loss teams, and searching for relevancy with a starting spot in the Rising Stars Challenge.
Players like Tatum and Brown would have a team built around them—not on top of them—but then again, there's nothing typical about how this Boston Celtics team came together. The Celtics sure loaded up on talent this summer. Kyrie Irving. Gordon Hayward. Even guys like Marcus Morris and Aron Baynes to go along with Al Horford and Marcus Smart and even Terry Rozier. No matter how you cut it, the Celtics are an exceedingly good team playing in a very subpar conference. And that matters.
Their biggest competition, the Cavs, seem to be treading water. They've reached a stage similar to those last years with the Big 3 in Boston, when LeBron was already knocking down the door, and the Celtics were scrambling, chasing shadows of old friends like Shaq, Rasheed Wallace, and Jermaine O'Neal. Even today, the Cavs face more questions than answers. Can Kevin Love stay healthy? Will Isaiah Thomas ever be healthy? Can Ty Lue figure this out? Can Dan Gilbert not screw this up? How much longer can LeBron carry the load—and for how long will he even be there to carry it.
By next year, Cleveland could very well find itself in another No-LeBron Abyss. And if that happens, and the Eastern Conference adjusts, who will stand between the Celtics and the Finals? Will the Bucks be ready to challenge? Have the Wizards and Raptors already peaked? Are the 76ers the next Oklahoma City Thunder with Durant, James Harden and Russell Westbrook—or the next 2000s Clippers with Lamar Odom, Darius Miles, Corey Maggette, Quentin Richardson and Michael Olowokandi?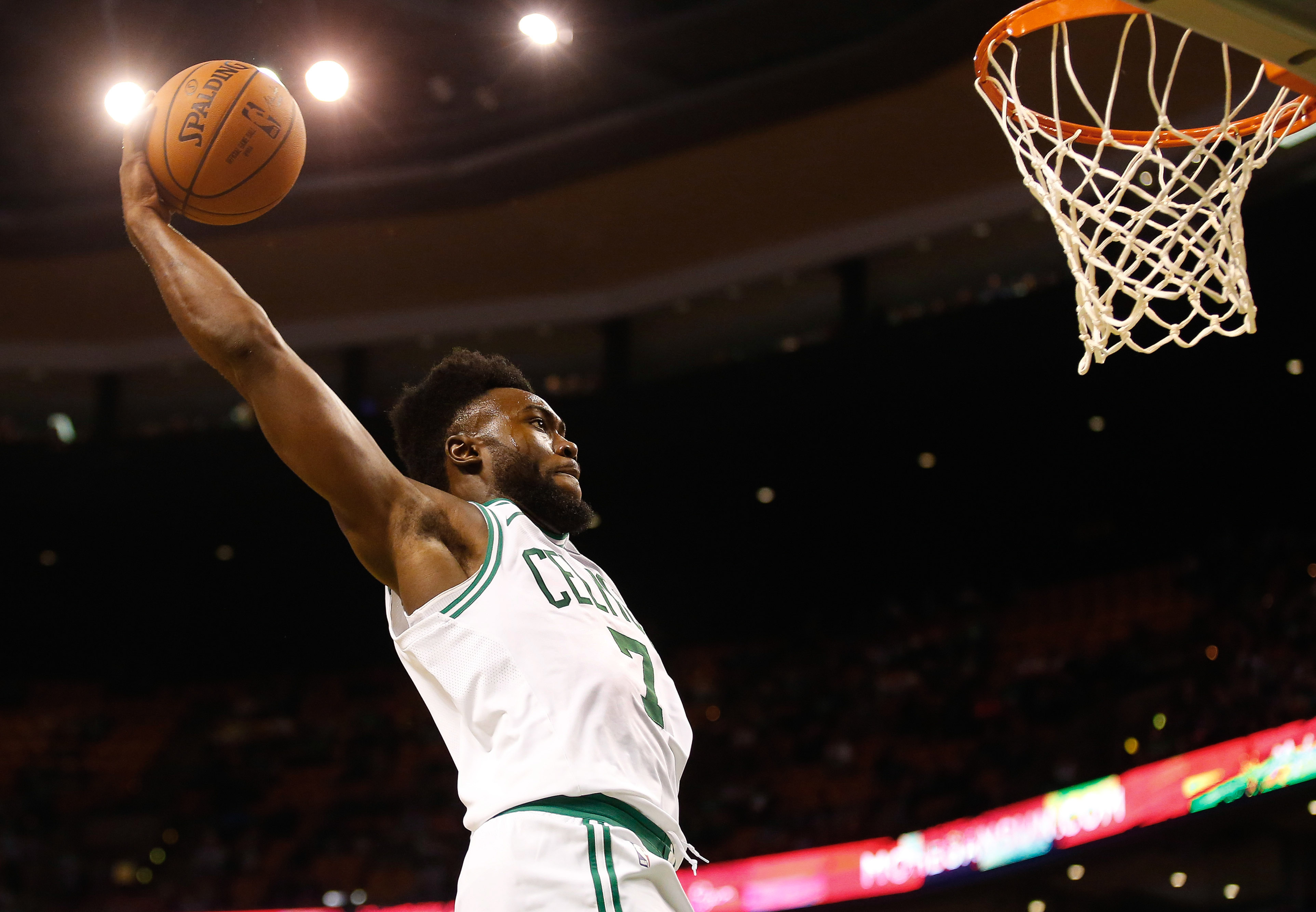 This is the NBA, so who knows? Predictions might be at their most accurate after a dose of LSD. But the hardest part of winning the Finals is getting there—and it's not far-fetched to believe Boston can do that. They can get there this season. They can certainly do it next season.
Whether they'll win once they reach the Finals is another story. The Warriors don't appear ready to relinquish their throne. They already have Kevin Durant on a bargain deal. He's getting Otto Porter money. Klay Thompson said he's willing to take a hometown discount too. That's a scary thought. As it stands now, the old Golden State guard looks pretty damn superior to even the new look Celtics.
But that doesn't make it impossible. It would help if Boston could land home court advantage, and maybe they can given the state of each conference, but even then, Boston's home court advantage against the Warriors would feel as significant as last year's against the Cavs. It's a really tough match up. The Warriors are a historically dominant team. But for the sake of argument and optimism, if it's possible for the Celtics to steal Banner 18 out from under the Warriors dynasty, what would be the difference? What will it take?
There's no mystery on that.
---
"Our biggest challenge might be expediting the learning curve for the guys that are 19-to-21," Brad Stevens told reporters over the weekend. "Because some of those guys have to play for us. We're in a position where a lot of the teams that have the guys that we've got are playing older guys off the bench. And we're not, right? So ultimately we've got to make sure that those guys have their learning curve expedited as quickly as possible."
If there's a difference, it's going to be Jayson Tatum or Jaylen Brown, or better yet Jayson Tatum and Jaylen Brown.
"They're extremely talented," said All Star teammate Gordon Hayward. "We're going to need them this year. Whether that's if they are starting, whether that's if they're coming off the bench, whether that's them finishing the game, all those minutes are huge for us. We're going to need them to play well."
It hasn't been all smooth sailing, and it won't be moving forward, but there's reason to believe Brown and Tatum are ready to develop ahead of schedule.
An all-world athlete who gained 10 pounds this summer while simultaneously improving his quickness, Jaylen Brown is on track to start on a contender at 20 years old. With Avery Bradley in Detroit, and Jae Crowder in Cleveland, Brad Stevens has repeatedly stressed that Brown has an opportunity to be a real difference maker on defense.
"Nobody will be harder on him on that end than I will," Stevens said. "Because ultimately, I think a huge, huge part of our team is what he does defensively for us."
Brown also received a vote in the most recent NBA.com GM survey as a candidate for Breakout Player of the Year.
And then there's Jayson Tatum, and make no mistake: He was the Celtics guy this summer. They'd have taken him at No. 1 if they couldn't get him at No. 3, and to this point he's lived up to the hype. Al Horford called Tatum "the most ready rookie he's ever seen." Kyrie Irving called Tatum a "bad dude." Paul Pierce said 19-year-old Tatum reminded him of 26-year-old Paul Pierce. It took Brad Stevens all of one preseason game before he was curious to see Tatum in the starting line-up. Tatum might not relinquish that spot for another decade.
On that level, maybe it's not so outlandish to close our eyes and imagine 20-year-old Jayson Tatum, only 20 months from now, taking on Kevin Durant and the Golden State Warriors in the NBA Finals.
---
"I'd probably jab at KD," Tatum says. He's back in that last second hypothetical, caught between a wide-open Durant and a wide-open Steph Curry. "The ball is the most important thing, so that's where I'm going."
"I might just do something crazy," Brown says. "You know just to throw them off. Do something they've never seen on the court before, like a tumble and roll. Or maybe cartwheel?"
Both guys are laughing now. They can afford to do that. For now, that hypothetical is just that. It's still fantasy. Reality is creeping up on Boston's two young No. 3 picks, but no matter how crazy or surreal this life becomes, Jayson Tatum and Jaylen Brown can look forward to working through it together.
As long as Tatum never needs an emergency puppy-sitter for Creed.
"Nah, nah," says a smiling Brown. "That's where our relationship line is drawn."