The Tactical Guide to Chris Weidman versus Kelvin Gastelum
Chris Weidman's fall from grace has been among the most brutal in the game as this weekend he tries to prevent a fourth loss in a row. We look at the skills that made Weidman so good, speculate on his decline, and examine how he matches up with Gastelum.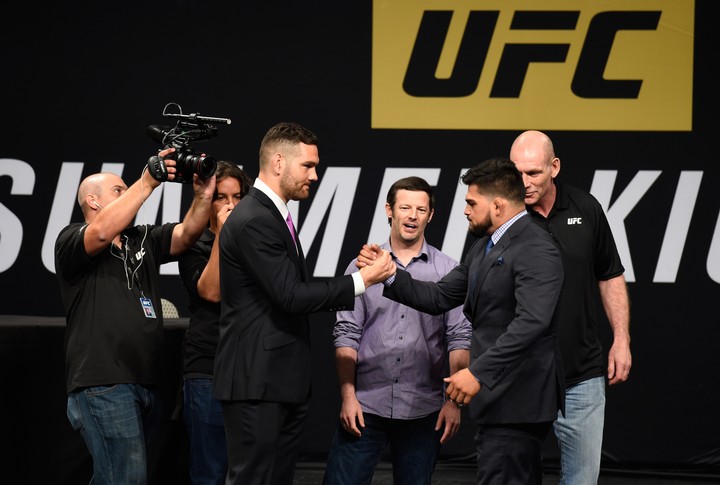 Photo by Josh Hedges/Zuffa LLC
The Fall of the House of Weidman
There have been few falls from grace as steep and sudden as that of Chris Weidman. Once the UFC's reigning middleweight champion, the slayer of Anderson Silva, and the future of the middleweight division, Weidman now rides a streak of three losses. The nature of the fight game is that the narrative changes to suit the moment, so Weidman's run through Anderson Silva (twice), Lyoto Machida (looking the best he had in years), and Vitor became Weidman beating up old men but another commonly suggested reason for Weidman's drop off is the coming of the USADA tested era. Chris Weidman and Johny Hendricks are two former champions whose records before and after USADA / UFC co-operation read like night and day. Others say that Weidman has simply 'lost it', lost that hunger to train and to fight, or even lost the heart to take a kicking.
The flames of rabid speculation are fed by the awkward fact that unlike Hendricks, Chris Weidman isn't looking listless in his fights and missing weight. He's looking good, until he quickly falls apart and loses. In many respects losing a convincing decision might have been better for Weidman's appearance than the series of rough stoppages he has suffered. The hallmark of Weidman's recent career, particularly his last two fights, has been starting strong and fading quickly. What allowed Weidman to get the better of the savvy southpaw counter strikers Anderson Silva and Lyoto Machida was his patience and his pressure—yet against Yoel Romero and Gegard Mousasi, Weidman rapidly went from slick boxer-wrestler to mouth breathing and swinging awkwardly between sloppy shots.
It seems unlikely that Weidman would simply stop turning up in shape to go at least a couple of rounds so perhaps these strengthen the idea of a mental collapse. It is strange to watch Weidman demonstrate such a proper understanding of ringcraft, feints and double ups in his tricking of Silva and trapping of Machida along the fence, but then be stumped by Romero simply retreating on a straight line from each of his attacks. Perhaps the pressure Weidman is under to come back and look good is making him fight too hard in the early going, perhaps he suffered a crisis of confidence when he failed to keep Yoel Romero on the mat and when he began to eat Gegard Mousasi's jab more often. It is never too late to undergo a career resurgence in mixed martial arts, but fans aren't willing to give Weidman much more leeway and four losses on the trot would be more than enough justification for the UFC to send him packing in spite of his past accomplishments.
Understanding The Chris
Chris Weidman's ability has always been playing the all-rounder. Already an accomplished wrestler, Weidman surprised many with his rapid development in grappling; he had a good crack at the great Andre Galvao in ADCC just a couple of years into training jiu jitsu. In mixed martial arts his guard passing stands out as among the most effective. The drive to half guard is perhaps the most common pass in mixed martial arts, but Weidman has some other slick looks. The knee cut that Weidman used against Lyoto Machida was a treat and allowed Weidman to attempt his favourite D'arce choke as Machida turned into him. Against Gegard Mousasi's active butterfly guard, Weidman repeatedly threatened and eventually completed a nice folding / smash pass straight into mount.
Weidman's single leg consistently surprises opponents despite being more a reach for the leg than a level change and shot at the hips. Even the great Yoel Romero was taken down a couple of times by Weidman's single. Where Weidman seemed to lose Romero was when the latter immediately turned to his hands and knees and stood back up, rather than consolidating a guard.
This could be interesting against Kelvin Gastelum as Gastelum's ground game has largely been built around getting to all fours and scrambling up. Back on The Ultimate Fighter it led to him getting his back taken half a dozen times in one fight against Bubba McDaniel, but nowadays Gastelum is much better at applying classical stand ups in an MMA context. Gastelum even hit the same arm rolls he was using against so-so opponents on The Ultimate Fighter against Tim Kennedy and Neil Magny, but more on him later.
On the feet Weidman is a fairly basic fighter, but his performances against Silva and Machida go to show how much of striking is between the actual hitting parts. Anderson Silva always likes an opponent to reach for him and he'll try to crack them clean as they open up or recover from their swings. He also has a strong distaste for leading and tries to avoid it unless it is the odd flashy kick or a flurry to steal a round. Weidman did a good job of closing the distance repeatedly with feints and non-committal jabs, always staying on top of his feet and being ready to retreat, cover or move his head. Silva was forced to take his finger off the trigger on his counters because Weidman was advertising so many false strikes and opening up so little, at which point Weidman could land with good jabs, or the occasional right hands or low kicks. Weidman benefitted more in those two matches from what he didn't do than what he did.
Against Lyoto Machida, Weidman's ringcraft was sublime. Certainly it ranks up there with some of Rafael dos Anjos' best performances. Machida kept using energy to feint and direction change and jog off the fence—the right thing to do, but also a lot of activity for a fighter who likes to work in spurts, and none of it towards landing strikes. When Machida got caught on the fence, it was the double right straight, a few good kicks, and the takedowns that took it out of him and won Weidman rounds. Late in that fight Weidman also showed the hand traps he loves utilizing to land that famous turning elbow—the same that he put Mark Munoz down with.
Hypothetical Gameplans
One of the more interesting factors of this match-up for Gastelum is that no matter where Weidman is at in his career, you will find very few fighters with anywhere close to as much experience against top tier southpaws. It's truly bizarre to look at Weidman's record and realize that between Tom Lawlor in November of 2011 and Gegard Mousasi in April of 2017, Weidman met just one other orthodox fighter, Mark Munoz. Demian Maia, Anderson Silva (twice), Lyoto Machida, Vitor Belfort, Luke Rockhold and Yoel Romero are all southpaws, so the idea that Gastelum will have some kind of advantage based on fighting from the lesser seen stance is hard to buy: this has been business as usual for Weidman for the last six years.
As we discussed yesterday in The Unlikely Rise of Kelvin Gastelum , Gastelum's striking has become wonderfully slick with a very limited toolbox. The one-two is what he loves, and he doesn't like to do anything else unless he's forced to. He won't smother his own punches or step in too far, and if he can crank out two or three one-twos in a row, he's more than happy to. No matter how much you train for southpaws, though, that left straight is still the killer punch. There is no shoulder to duck down behind and protect you from the opponent's rear hand when standing in an open stance match up, so southpaw – orthodox match ups can turn into quick draw on the straight. Weidman's own right straight is a mixed bag, some of his worst moments have come as he swings it wildly and leans forward at the waist (along with his most famous knockout, of course), while some of his best shots have been stiff, straight rights from the correct distance.
Julio Cesar Chavez often demonstrated the double right straight as a distance closer against southpaws, Weidman used the same to get Lyoto Machida to the fence and it was gorgeous. As Gastelum retreats from his opponent's attempts, before stepping back in to pressure—rather than moving his head or covering up and staying in range—Weidman could very much make use of this.
Given Gastelum's vulnerable stance, with his feet always on a line, the outside low kick to the lead leg would be a smart call for Weidman. Both the step-up power low kick of Jerome Le Banner, and the skip-up foot tap that is used to knock the opponent's foot off line before following up with a good straight punch. Here's Weidman not quite getting it against Romero:
And here's Romero using it to perfection against Tim Kennedy:
Gastelum's game at middleweight has been to survive, to scramble, and to outlast his opponents. He gets ragdolled, he gets back up, and the moment he gets free he steps in and starts feinting, snapping out punches, and pressuring his man to move and to work. Given how much slower Weidman has looked in the second round of both his most recent showings, this strategy seems like it could work a treat. In terms of vulnerabilities Weidman is a sucker for the open side body kick—Romero and Rockhold caught him with some nasty ones—but Gastelum's kicking game is an afterthought in most of his fights. It bears repeating that Gastelum could probably finish even more of his opponents if he would commit to body punches—particularly that wicked left straight to the solar plexus, but it's probably best not to count on it showing up.
Weidman has always been a decent hitter in the clinch, particularly with the collar tie, but very rarely works to produce that situation and instead just pleasantly surprises when he ends up there. Given his size advantage on Gastelum and the energy he wastes when he cannot capitalize on his takedowns, it would be a nice surprise if Weidman had been working on using his ring cutting to get to the fence, to hold and to hit from there.
Regardless of the reasons for his rapid decline it is crucial to understand that Weidman lives and dies by patience and timing. Whether it is gassing or panic that gets the better of him, leaning for long swings and diving for long shots has consistently been a problem for him in recent fights. When Weidman excels is when he can comfortably get into range and mix between boxing and takedowns—he cannot convincingly mislead anyone when he is attempting this from Machida distance.
If Kelvin Gastelum wins we can chalk up another victory for the undersized men who aren't drying themselves out completely before fights. With Gastelum and Robert Whittaker hanging around the top of the middleweight division as grown up welterweights fighters may begin questioning the necessity of such tactics. If Chris Weidman pulls off the victory we can cautiously hope that he is able to get some momentum back under him in this harsh game of snakes and ladders. Whatever the case, get back here on Monday and we'll look at how it went down.
Pick up Jack Slack's hit dissection of the Conor McGregor phenomenon, Notorious from Amazon.