It'd been going on for a year. No one knew why, but a pooping jogger had declared war on an apartment building in Greenslopes, Brisbane, and residents weren't happy.
Around three times a week, usually in the early hours of the morning, the turd terrorist would crap all over the footpaths of the communal garden—finally prompting the neighbours to buy surveillance equipment.
"One of the neighbours set up a night camera and got a few images," explained Greenslopes resident Steve Smith to news.com.au. "So then I decided to go and wait with a camera and I was there a few mornings and then last Friday I got him."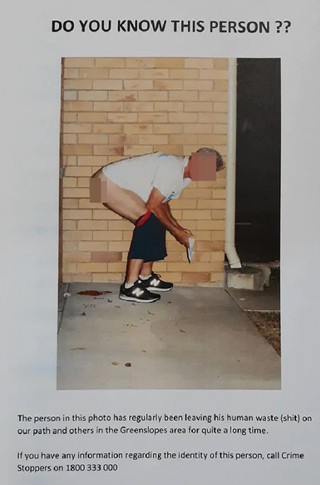 Steve explains how he discovered a middle-aged guy with grey hair hunched over the garden path. He'd BYOed his own toilet paper and was mid-wipe when Steve hit the shutter, blowing his cover. "There's a red light which goes on before the camera's flash goes off and he saw that and looked at me as the photograph was taken," said Steve.
"Then he just said, 'Hello'. At that point I decided to just walk away."
Now armed with high-quality evidence, police were able to quickly ID the guy, who turned out to be married and pretty well-off, living just around the corner in a house with a "manicured garden."
He was charged with public nuisance on Monday and will appear in Court on June 4.