It's a sweltering Saturday afternoon in Norwalk, California, about 15 miles southeast of downtown Los Angeles. The comfortably air conditioned Keystone Lanes bowling alley sits just a few hundred feet from the 5 freeway. If you walk inside and head to the left, past the check-in desk, you might find a couple of birthday parties, weekend dilettantes rolling with bumper guards up, and high schoolers immortalizing gutter balls on their Instagram stories. But veer off to the right, into the building's other wing, and you'll run into a group of kids doling out unspeakable violence on unsuspecting bowling pins.
Today, as is the case every Saturday (and most Tuesdays), a cadre of the best young bowlers in the state have assembled here to sharpen their game against one another, prepare for state- and nation-wide tournaments, and resist the lure of a Pizza Hut Express, with its butter-drenched crust and its fluorescent light acting as a teenaged homing beacon. This is, technically, a competitive league, but the bowlers here aren't worried about the week-to-week standings. Instead, they're using this time how they always do: to work on their weak spots, and to prepare for tournaments on the various tour circuits—mainly Junior Bowling Tour (JBT) and Junior Amateur Tour (JAT)—that comprise competitive amateur bowling in California. What's more: the league provides kids with a network that not only pushes them athletically, but supports them socially—a crucial benefit in a sport that can be so solitary.
On the first lane is Marquan Rivers, a 16-year-old from Compton who goes to Dominguez, the same high school that both N.W.A.'s MC Ren and the Seattle Seahawks' Richard Sherman once attended. Marquan, who last year finished third in the U15 state finals, is loose while he bowls, moving fluidly around the lanes with the ease of a shooting guard or a middle infielder (he used to play baseball, but gave it up to spend more time at the lanes). He's in the midst of a game, but relaxed enough that he's cracking jokes with his peers and with his dad, who watches intently from the back of the floor. "My life is bowling," he says. "If I ever have plans, it's for bowling." He hopes to one day bowl in college, and potentially beyond.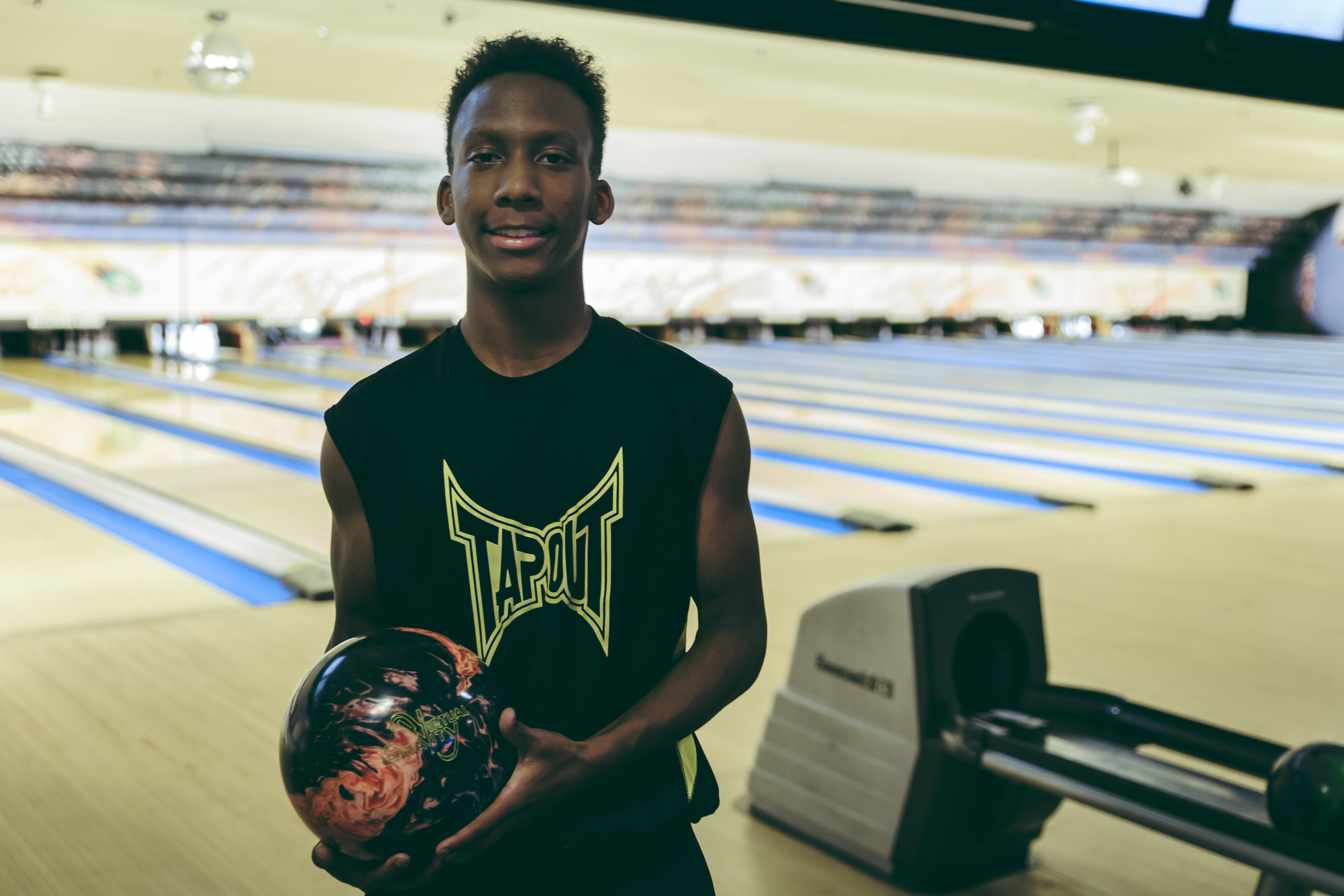 Between games, he and I talk about his entry into the sport, which took place at age three after tagging along with his dad to a league night. Marquan's grin grows impossibly wide when I ask him to recount the first time he beat his dad in a game, but before he can tell me about out-rolling his old man at age 12, his father himself barrels into the conversation to hit his son with some good-natured ribbing.
"The difference between me and him is I have a what?" he asks, to which Marquan sheepishly replies, "A 300."
That is to say, for all his promise and passion, Marquan still hasn't rolled a perfect game—a feat his next opponent, the 14-year-old bowling prodigy Solomon Salama, has achieved.
Where Marquan exudes the kind of unpracticed cool you sometimes read on exceptional young athletes, Solomon is a whole different flavor of teen altogether. He's the type of kid who gets called "classy" without it being a pejorative; he's homeschooled ("This is actually how I get a lot of my social time in," he says), and is remarkably poised. While he harbors serious academic goals—he mentions passing interests in chemistry and neuroscience— Solomon tells me he ultimately wants to bowl on the PBA Tour. By all accounts, he has a superb shot to do just that. He's won back-to-back Junior Gold titles, placing him in the upper echelon of American junior bowlers. Below this paragraph, you can watch a video of him bowling a 299—the missed pin coming in his very last frame—en route to winning his second-consecutive title, which, and I can't stress this enough, is footage that originally aired on CBS Sports. Today, he and Marquan go shot-for-shot, focusing intently when it's their turn, encouraging one another between frames.
Marquan and Solomon have something in common aside from their California roots: they both bowl two-handed. This is not the stationary, between-the-legs motion favored by the Bumper Brigade, but rather something that appears more like a conventional bowling motion. Solomon, for example, looks as if he's making a normal, left-handed approach, but as he swings the ball back behind him, his right hand stays on the underside of a ball. The result is that he looks like a middle manager giving you an especially enthusiastic handshake. This isn't an advanced technique developed from years of careful study, however. Instead, both he and Marquan started bowling before they were strong enough to hold the ball with one hand, and simply never made the switch over. While the technique is certainly unconventional, it is not without precedent: Marquan cites Jason Belmonte, the three-time PBA Player of the Year from Australia, as a two-handed influence, while Solomon mentions Wesley Low, another Californian currently two-handing it for Wichita State.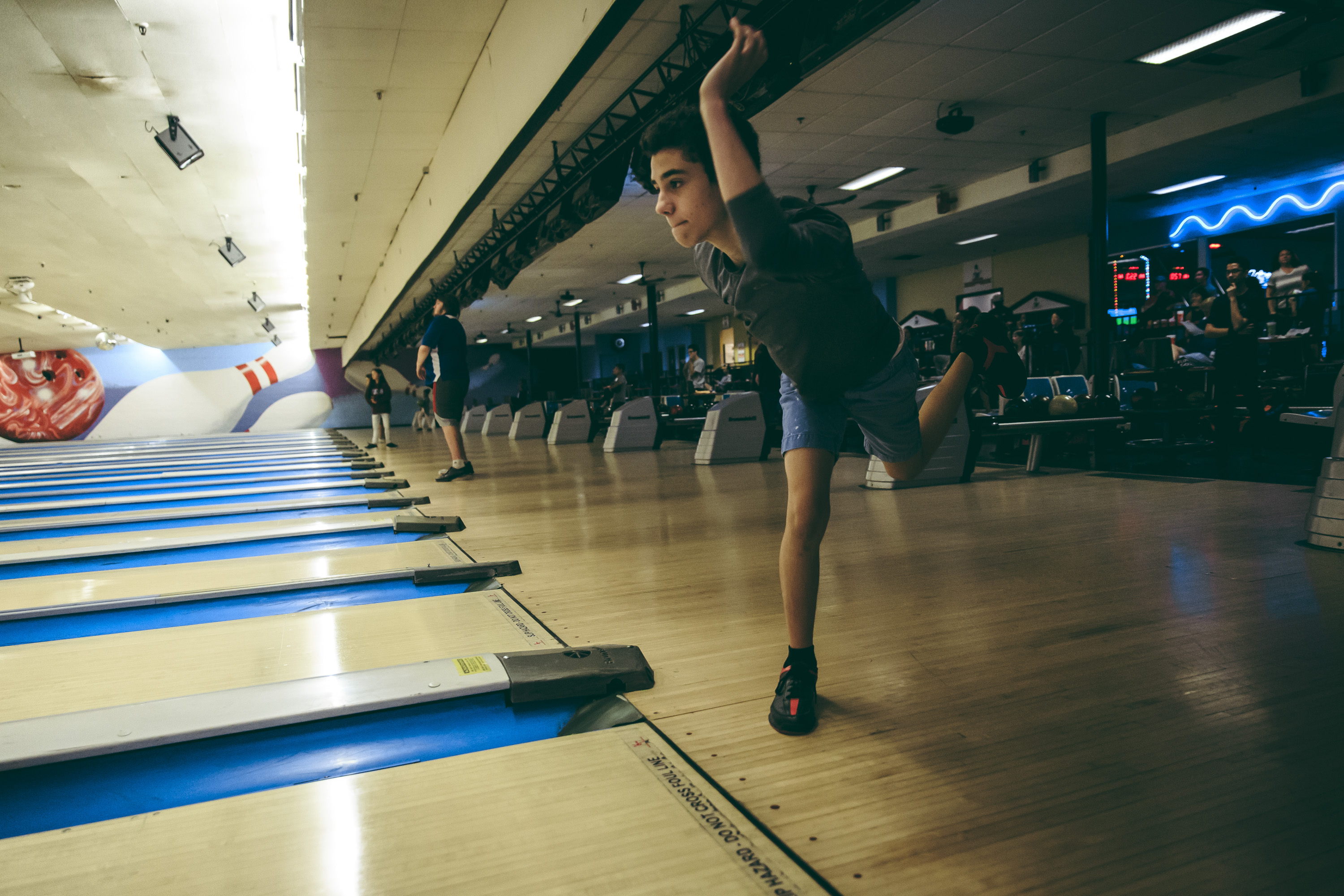 There is a reason kids as talented and driven as Marquan and Solomon make the trip to Norwalk a couple of times a week. The league they use as a practicing ground and home base is overseen by a man named Armando Zavala, a lifelong bowler who has ensured that southern California's best young bowlers have a place to practice on a variety of different oil patterns. In serious competition, bowlers will face numerous different patterns, each of which affects the ball differently as it travels down the lane. If you're a good casual bowler and assume you could make the jump to the pro ranks with a few months of practice, you're wrong, and the oil is the chief reason. Basically, the oil on a lane can help your ball move and hook toward the pocket. On forgiving "house patterns," the kinds of the oil patterns you find at a standard alley, the patterns are long and loaded in the middle, which allows bowlers to miss their targeted spot on the lane but still have the ball break toward the pocket, where it needs to be for a strike. But sport patterns, used it competition play, can vary significantly, and are often shorter and more evenly-distributed, meaning bowlers have a much smaller margin for error.
Most of the bowlers at Keystone mention the PBA or PWBA Tour as a longterm goal, and the road there runs through college bowling. The near-unanimous dream schools for these elite bowlers are Wichita State and McKendree University, a tiny liberal arts school near St. Louis, each of which have revered coaches and attract the premier amateur bowling talent. Fortunately, this is one of the few sports where athletes can benefit financially while remaining NCAA-eligible, through a system that allows them to put their winnings towards college tuition instead of simply turning it down.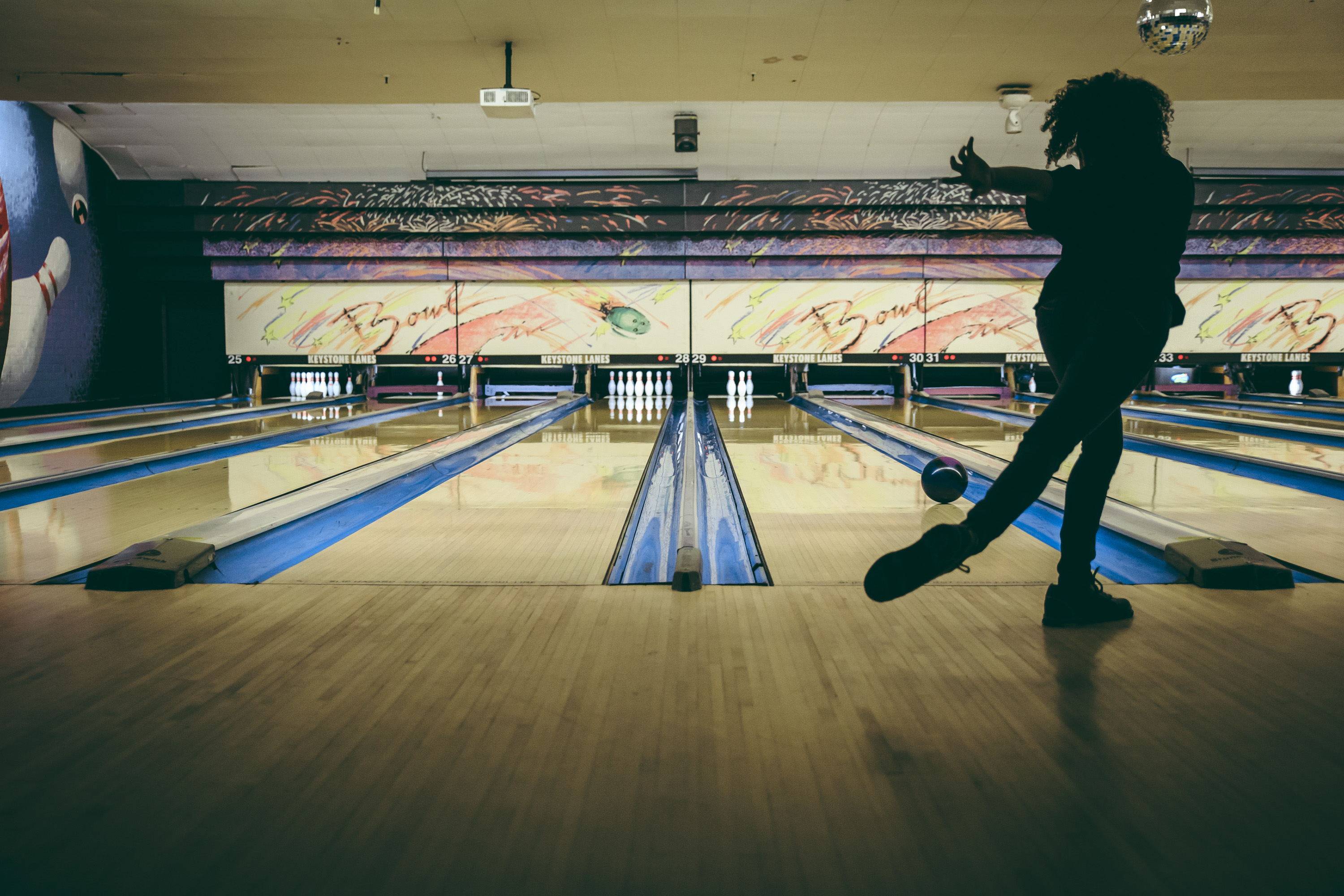 Keystone Lanes today is full of kids who, like Marquan, bonded with their parents over the sport. That phenomenon is carried to its logical end by the Azvedo family. Jaclyn, 14, and Alli, 13, are both exceptional bowlers: Alli claimed the U12 state title in 2016 (among numerous other tournament wins), and her sister has climbed up into the top tens of tournaments as well. Given their lineage, it's no surprise. Their mother took up the sport while she and her sister were physical education students at UC-Irvine, and met her husband at a bowling alley in Fountain Valley. While that might be an extreme example, the idea of bowling as a communal experience runs through this group of kids.
To watch any of these bowlers—the ones mentioned or others, like 15-year-old Cameron Criss or 16-year-old Roger Chavez, also competitive at the top levels of their age brackets—is to appreciate the sheer physical skill required to bowl at such a high level. And yet in their analysis of the game, each speaks about its more cerebral qualities. "Forget about everything else that's happening around you," Cameron says. "Pay attention to where you're gonna throw the ball."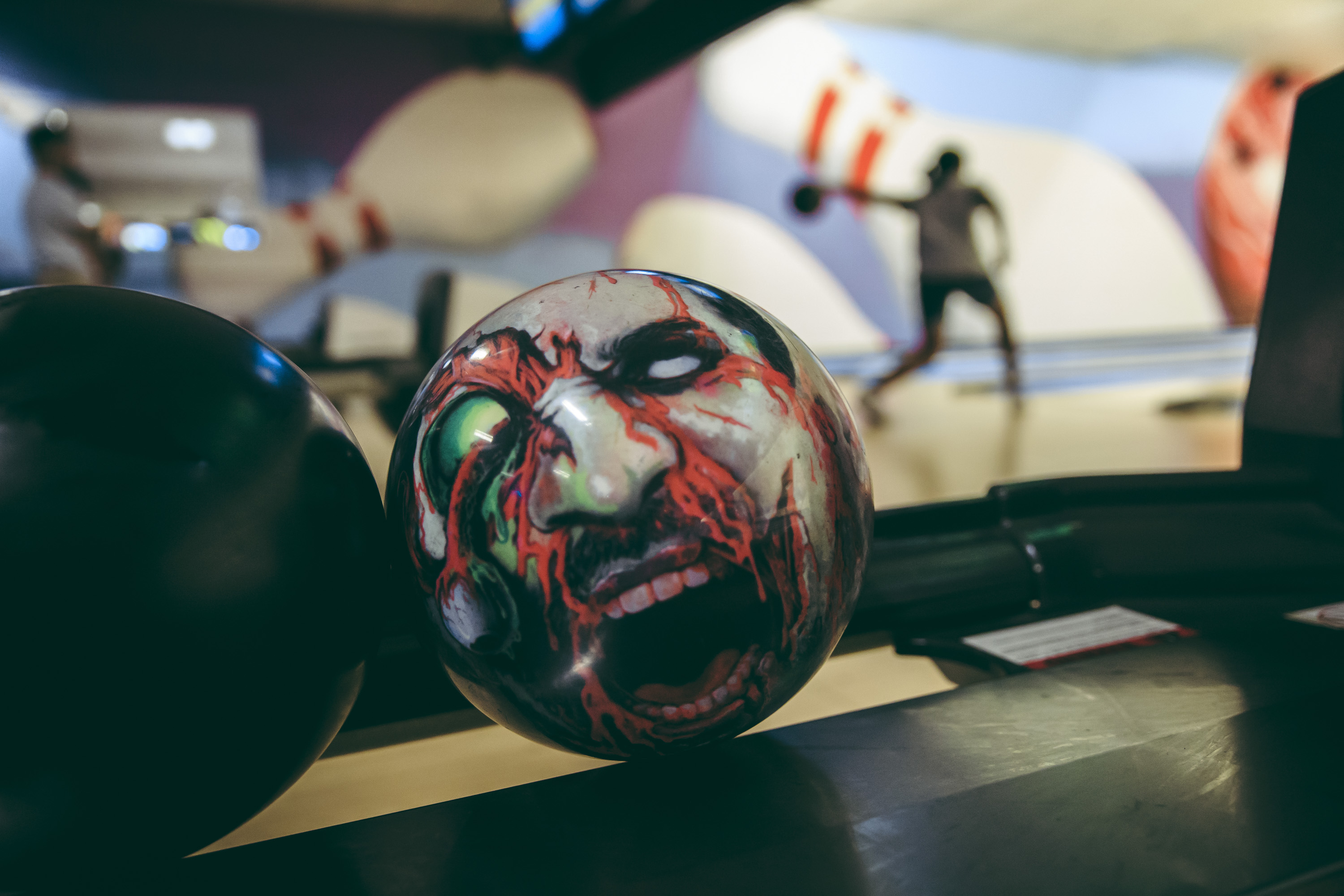 More than anything, the bowlers embrace a unique contradiction: that while bowling is accessible to everyone, it makes them unique among their peers. "Anyone can bowl," says Solomon, kindly omitting the fact that no adult in a fifty-mile radius is likely to beat him two out of three games. But as Dejah Pope, a phenomenally gifted 14-year-old who has placed highly in various state-level tournaments points out, "It's not a common sport, so it makes you different."
Marquan, who was narrowly edged by Solomon in his final practice game, explains the balance he seeks—and often finds—through the sport. "I liked the competitiveness," he says. "Sometimes you'll stress out, but you've gotta let go of that. It's a fun environment."