This article is part of Pay Day, our look at wealth, money and class in Australia. Check out all our coverage here.

You knew affordable rent in Australia was basically a myth. Well, now it appears to have achieved veritable urban legend status, according to new figures released by Anglicare Australia's 2018 Rental Affordability Snapshot.

The advocacy group surveyed 67,365 rental properties via realestate.com.au on March 24, looking in particular for abodes someone on government support could afford. They defined "affordable" the usual way: rent that comes in lower than 30 percent of a person's total income.
There wasn't a single rental property affordable for someone on Newstart or Youth Allowance in Sydney, Canberra, Melbourne, Adelaide, Darwin, or Perth on the "snapshot" day. In the whole country, there were only three properties. According to the Department of Social Services, there are approximately 760,000 people on Newstart in Australia, and more than 95,000 on Youth Allowance.

The analysis showed that overall, Australians on government support payments can afford just six percent of rental properties in the country. The table below lists how each of the various low-income households fared: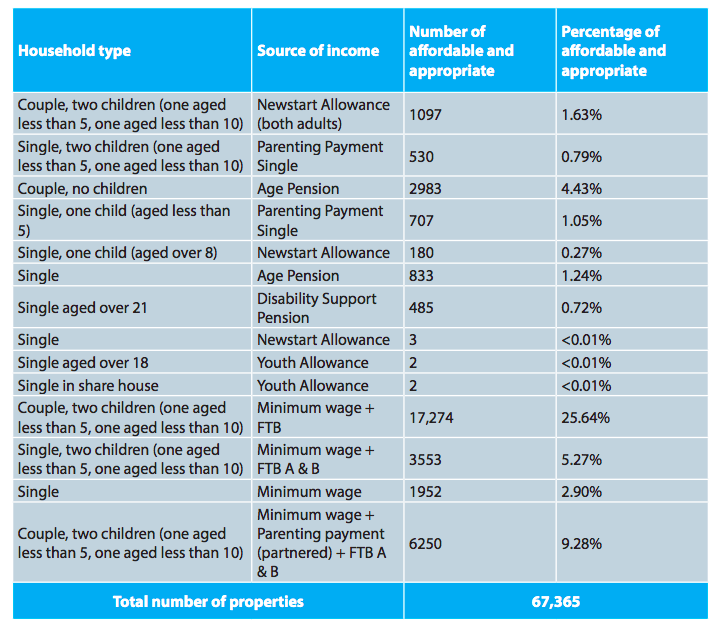 Sydney, unsurprisingly, stands out for all the wrong reasons: "There were no affordable and suitable properties for any household type, with the exception of a couple where both are earning minimum wage, and for them, there was just 4% of properties available," the report says.
The report blames current government policies for the dearth of affordable rental properties, stressing that "billions of dollars more of public funding" is funnelled into supporting housing investors, rather than ensuring all Australians, including those on low incomes, can be housed. It suggests a range of solutions, ranging from government investment in homes for lower-income earners, increased tenant rights, and tax reforms that would see negative gearing disestablished.
"Our Rental Affordability Snapshot shows that renting in the private market is simply unaffordable for people on government income support," the report surmises. "Meaning that to have a roof over their head, people on very low incomes are having to sacrifice other essentials. Sadly, this is no surprise to us."