Generally speaking, a music festival is the worst possible environment to see live music in. Your average festival will usually be unforgivably hot if it's in summer or maddeningly cold if it's in winter, and overcrowded regardless of season. The sets are shorter than a regular show, and the sound is often unforgivably bad at best.
So it's a shame that Sugar Mountain, the one-day festival that's essentially become Big Day Outfor Melbourne cool kids, consistently books such uniquely compelling lineups. In past years, the festival has played host to legends, icons and rising stars, among them Suzanne Ciani, Nas, Jessy Lanza and Kelela. This year's lineup continued in that vein, rich with luminaries and favourites like Laurel Halo, Honey Dijon and Cut Copy. After a 2017 outing that felt slightly less daring than Sugar Mountains past, this year's festival proved felt fresh, playful and –– surprisingly, for a festival –– politically vital.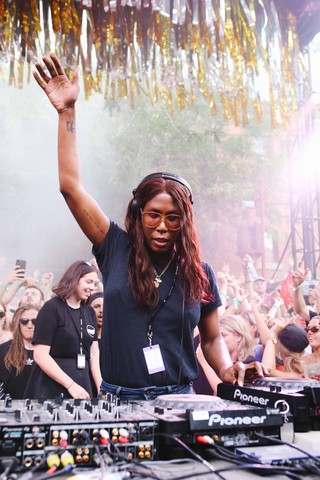 Festival attendees –– and, I'd bet, especially the attendees of Sugar Mountain –– are beginning to engage in a meaningful dialogue about representation of marginalised people on festival lineups. So it's refreshing to see Sugar Mountain not only booking an appropriately representative lineup, but giving women of colour like Sevdaliza and Jamila Woods prime playing times towards the end of the day. It feels like a commitment and an acknowledgement of the power of these artists. This year, there was also a dedicated Future Culture gallery space focused on cultural exchange and amplifying the voices of young women and non-binary people of colour. Walking into the Future Culture space, it didn't feel like an afterthought, as it could have. Instead, it was well curated and well planned, a highlight of the festival program.
While this year's program was scaled back compared to last year (three stages instead of four) compromises still had to be made in deciding who to see. Kardajala Kirridarra were skipped to see Laurel Halo, A.B. Original took precedence over Justin Shoulder and Corin's collaborative work, and, in one of the most unfortunate clashes, we chose to see Jamila Woods instead of the legendary Honey Dijon.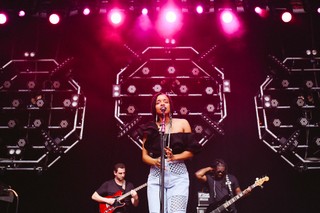 Stepping into the Malthouse's Merlyn Theatre to see Laurel Halo, it was so dark I couldn't see anything except her onstage, illuminated by a single spotlight beam. Halo's set was revelatory and confounding, often at the same time. We were treated to a series of long, surreal vignettes of disparate sounds: the sighs of a breeze atop hazy synths, or Halo's vocals atop a shifting, irregular beat. The space – darkened but airy – felt like the perfect place to the Halo's set; a real-world construction of the mood she created on 2017's Dust.
The perfect sound for Halo's set didn't extend to the main stage artists, although it's a hard ask for sound to be perfect at a festival given such short sets and shifting conditions. A.B. Original, one of the best rap groups currently working, put on a set that was funny and fiery and politically resonant, but the duo's vocals were often drowned out by their band.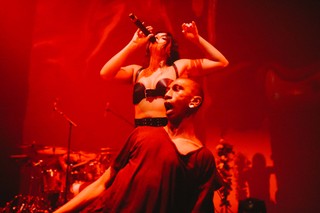 Chicago native Jamila Woods, playing after A.B. Original, fared better. Her experimental pop feels well suited to a festival stage; it's spacious and upbeat, and anchored by an incredibly strong voice, honed from years of singing in choirs. Woods' lyrics are crucial to her music: her songs discuss black womanhood and police brutality candidly and smartly.
The festival's closing 1-2 punch of Joey Bada$$ and Cut Copy seemed designed to cater to all bases. A good portion of the crowd appeared to be at the festival exclusively for Bada$$ – after Woods' set, droves of people began migrating from the Boiler Room to the main stage. While I was initially skeptical of Bada$$' booking –– last time I saw him it was woefully uninspired –– Saturday night's set was something else. Joey Bada$$ has hits, and the crowd was on a constant high. Even an unreleased song, "Pull Up", didn't faze the crowd. When he urged us to repeat the hook back to him, the audience screamed as if it's just another album track. As his electric performance of 'Devastated' ended and he retreated from the stage, I couldn't help think Bada$$ should have been playing last, after dark. Guy's got some fucking star power on him.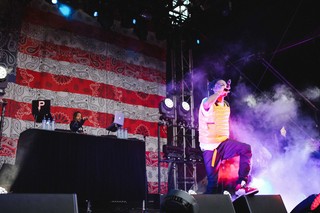 Cut Copy were fun, despite pulling out a set that leaned too heavily on songs from their watery latest album, Haiku From Zero. The hits, though, are still there: "Need You Now" is an incredible set opener, and "Lights and Music" is the perfect closer. Sure, there are some less-than-stellar songs in the mix, but who really cares when Cut Copy made "Hearts On Fire", literally one of the greatest Australian tracks of all time? Boredom is erased when the track is played. Even now, ten years on from when it was released, it still sounds euphoric and perfect and unreal. It's the platonic ideal of a 'festival song': it's loud, it's pounding, and hey, it doesn't matter if the sound's crap –– you'll be singing along too loud to notice.
Follow Shaad on Twitter.