News emerged overnight that Canberra's Spilt Milk festival will no longer play host to Australia's first legal, professional pill testing service next month. The festival announced via Facebook that it hadn't received a number of documents from the group that were planned to conduct the testing, STA-SAFE. So Spilt Milk's organisers lodged their official paperwork with the ACT's National Capital Authority (NCA) excluding the pill testing plans.
"It comes down to STA-Safe," Spilt Milk director Ryan Phillips told ABC Radio. "They need more time to provide documentation, insurance, legal framework to operate on federal land."
According to members of STA-SAFE, Spilt Milk told them on Wednesday that additional documents were required. The pill testers pushed back, advising two days wasn't enough time to get everything together. Then, just 24 hours later, STA-SAFE was told by Spilt Milk it was too late to send the documents over at all.
"My strong view is that some political pressure has been applied through the local Liberal party to the national Liberal party," ACT Greens leader Shane Rattenbury told VICE. "This event was taking place on Commonwealth land... the [National Capital Authority] don't have the power to directly stop the pill testing trial, but what they can do is indicate to the promoter that they won't give an approval for the event if pill testing is taking place, and we think that's what has occurred."
If true, this is exactly what Shadow Attorney-General Jeremy Hanson requested in a letter to federal Senator Fiona Nash, who is territories minister, and Minister for Health Greg Hunt about the pill testing pilot on 28 September. Hanson reminded the pair that "the Minister may give the authority general directions in writing as to the performance of its functions" and cited the "Commonwealth government's anti-drug campaign [and] Minister Hunt's recent comments against pill testing."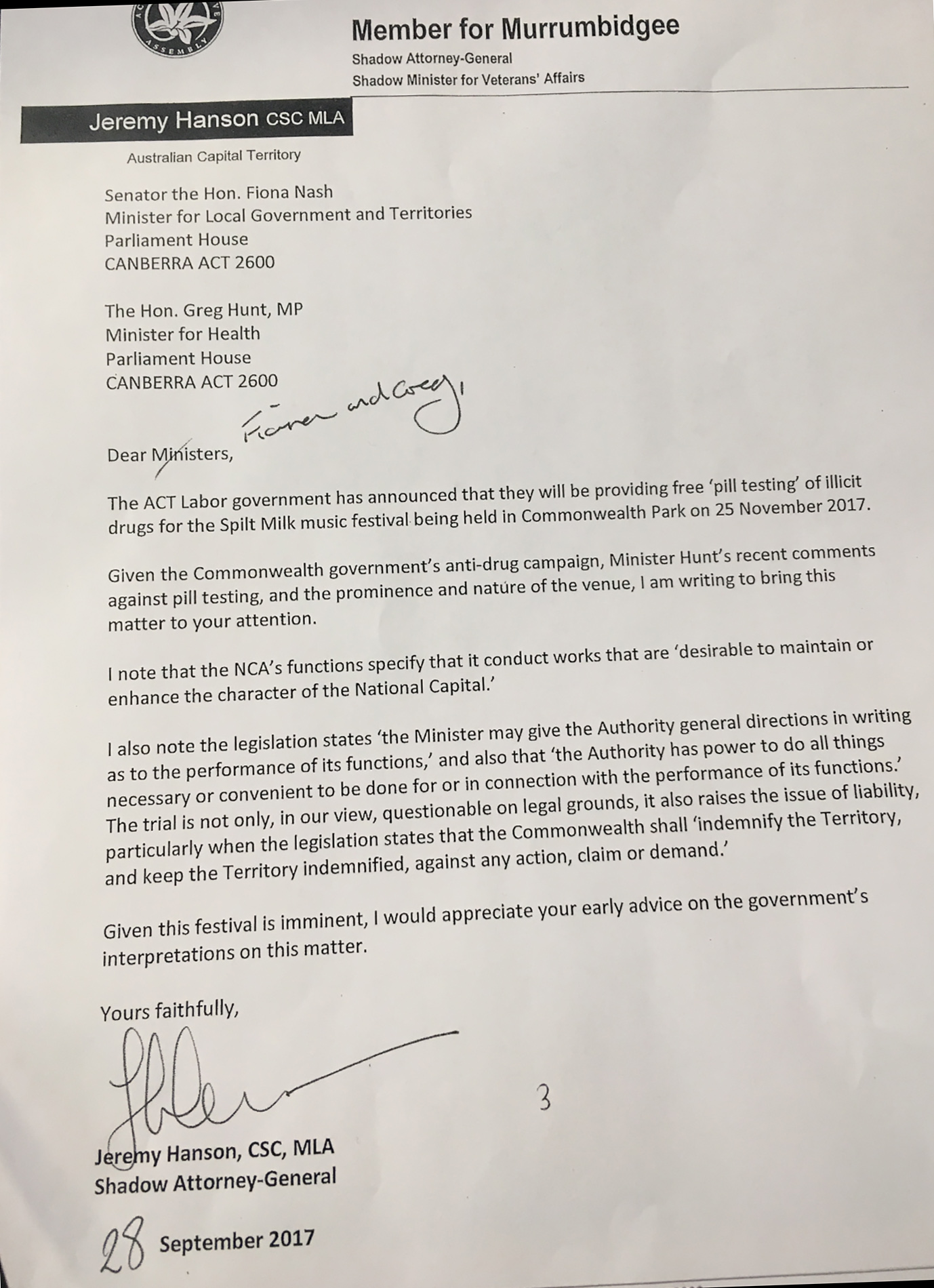 In its media release, Harm Reduction Australia also hinted to this noting that "the comments made by ACT Shadow Minister for Health, Vicki Dunne, that the Spilt Milk Festival is on Commonwealth land and that the Commonwealth Government will ensure that pill testing will not occur are telling."
However, when contacted by VICE, Senator Fiona Nash strongly denied she had taken any steps to block pill testing in the ACT. "Not at all, absolutely not," a spokesperson said when asked whether the minister used her powers to instruct the NCA. Instead, they said Senator Nash ignored Shadow AG Hanson's letter and never wrote to the NCA.
An FOI request filed by VICE confirms that neither Senator Nash nor ACT Shadow Attorney-General Hanson have contacted the NCA about the pill testing trial or Spilt Milk in the past month. However ACT Greens leader Rattenbury suggested that as federal health minister Greg Hunt "also has a line of sight on this."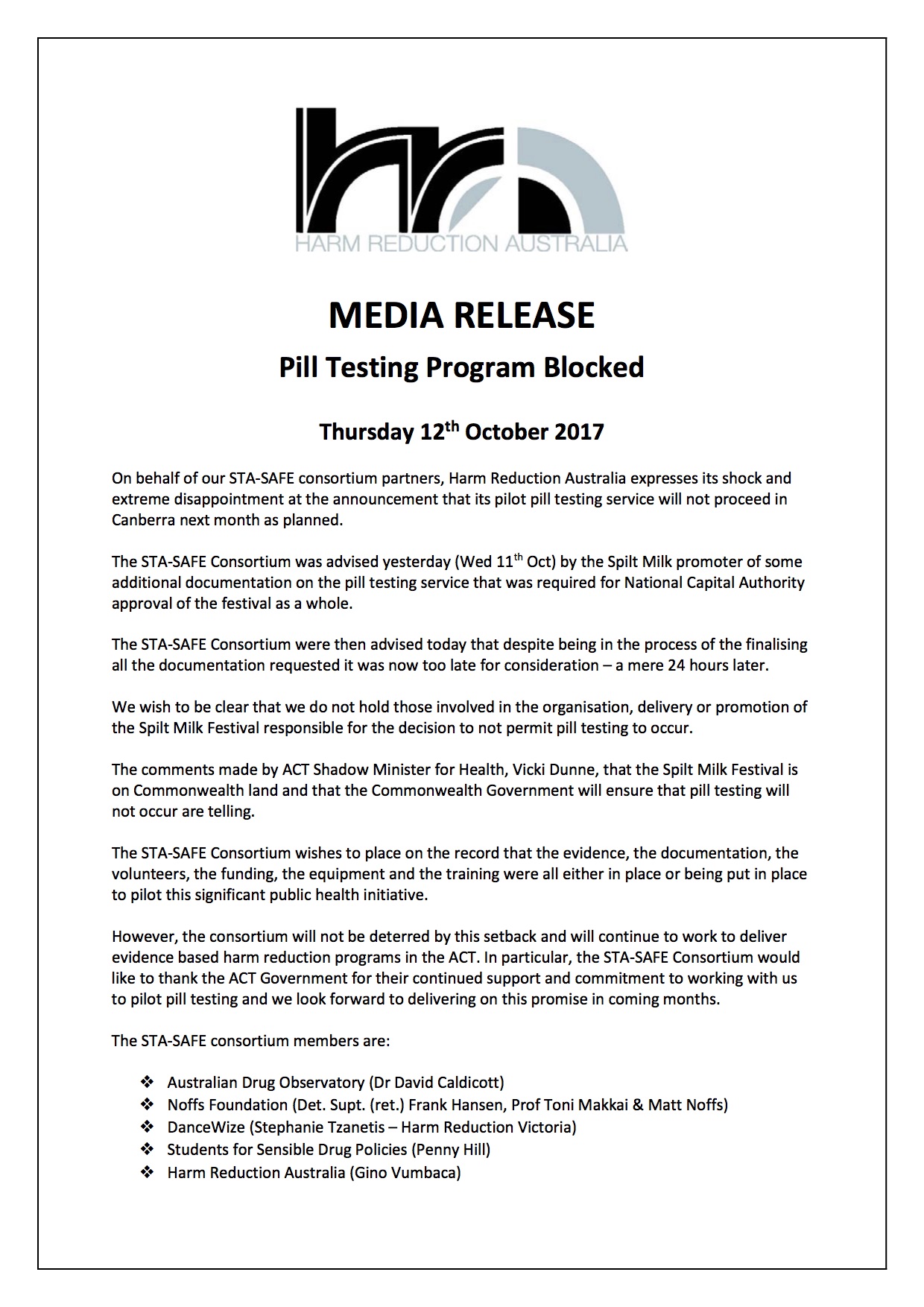 As for the ACT Government, they say they are disappointed with the decision and will try and find another way to push forward with testing at Spilt Milk.

"Through the risk assessment process we undertook, [we] determined that pill testing was appropriate to reduce the harm of individuals engaging in recreational drug use," an ACT Government spokesperson told VICE. "This was the opportunity to hold the safest festival in Australia. We will be looking into whether we can provide any further information before any final decisions are made."
VICE has contacted the NCA and ACT Shadow Health Minister, Vicki Dunne, for comment.
More as this story develops.

Follow Maddison on Twitter