This article originally appeared on VICE Indonesia
Someone opened a bundle of donated clothes at the remnants of the Rohingya refugee camp in Kalindi Kunj, on the outskirts of Delhi. People emerged from behind bedsheets functioning as makeshift tents. Men, women and children jostled to pick the best of the used clothes.
The camp—home to around 230 residents escaping religious violence in Myanmar—had been burnt to ashes a week ago.
The residents are currently rebuilding their homes, adjacent to where the fire took place on April 15. Most of them claim to have lost all their savings, belongings and most crucially the UNHCR cards—the only source of identity in India, where their existence has become a political slugfest.
Abdullah, 26, a resident of the camp and one of the few Rohingya who spoke Hindi told VICE that people have no idea how the fire started. "I think it started when an electricity wire short-circuited on its own. Some people think it's a sabotage. These are the only two probable reasons as nobody would cook at three in the night," he said. (The official explanation from the police is a faulty short circuit.)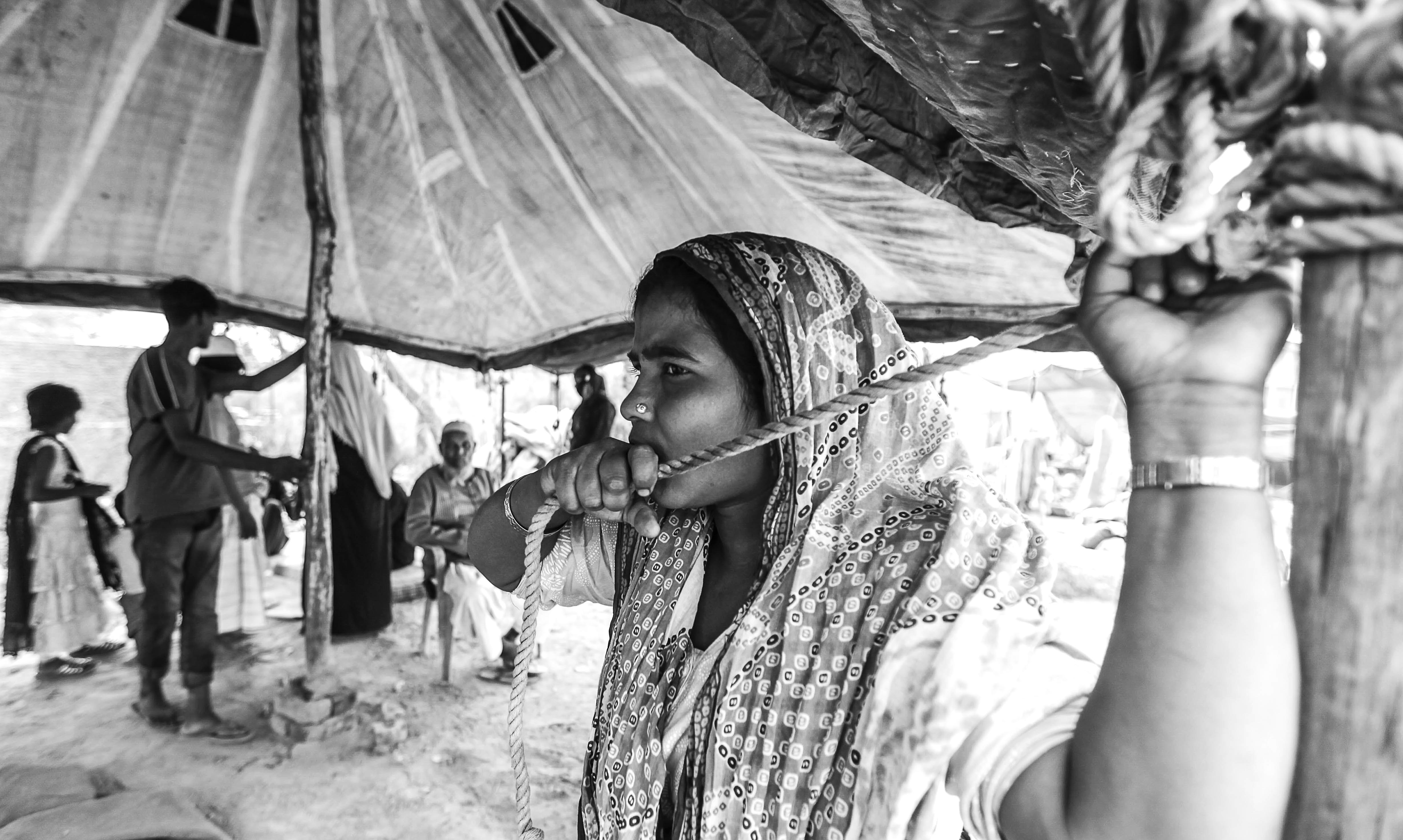 "Nobody will give you such a nice lehenga," Mumtaz Najmi, secretary of the Zakat Foundation, which administers the camp, told a woman handing her a pink-and-green skirt. The organisation has been collecting clothes for the 65 families residing there, apart from temporarily providing a plot to build makeshift tents until the original site is cleared of ash and debris.
"People from Delhi, Noida, Ghaziabad and nearby villages have themselves came out to help these people", Najmi said. "If there are any clothes left afterwards, we will donate them to other needy people in the city."
Last week Mahesh Chandela, a youth wing leader of the BJP, claimed responsibility on Twitter for the fire. Senior advocate Prashant Bhushan files a complaint against him; the youth leader later deleted his account and the case is under investigation.
Ali Johar, one of the representatives of the Rohingya community, said that though there were mostly minor injuries, the physical damage would set back the people a while. "The fire has killed their entire community economy, the tailor shops that women ran and the makeshift mosque they had." He told VICE this was not the first fire that the camp has had. Around a year ago, around the same time there was another. "It could be a conspiracy, after all," he added.