Sydney's scorching heatwave saw saw hundreds of bats "boiled alive" this weekend, according to local wildlife rescuers. Volunteers from WIRES flocked to Campbelltown in the city's west, where more than 200 bats died in the 40-plus degree heat, most of them babies.
"I don't know how many times I bent down and got on my knees to pick up a dead baby," WIRES volunteer Kate Ryan told the Campbelltown Macarthur Advertiser. "There were dead bodies everywhere."
In high temperatures young bats "basically boil," Ryan explained to the paper. "[The heat] affects their brain. Their brain just fries and they become incoherent."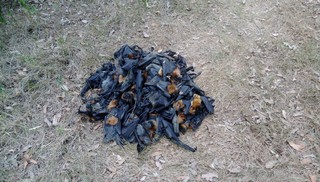 Volunteers were able to nurse around 100 bats from the Campbelltown colony back to life, but are fearful of what will happen the next time Sydney's temperature tops 40 degrees. And given, you know, climate change, that will likely happen soon rather than later.
Sunday was Sydney's hottest day in 80 years, with temperatures in Penrith in the city's west hitting 47.3 degrees. This gave the suburb the unenviable distinction of being the hottest place on the planet for the day.
To be clear, this heatwave isn't an anomaly, or some blip caused by El Niño. According to the Bureau of Meteorology, seven of Australia's ten hottest years have occurred since 2005. And last year was the country's third hottest year on record.