Coming Home to Australia Where My Marriage Isn't Recognised
After two years overseas where she married her girlfriend, Mikaella Clements finds Australia no closer to marriage equality.
|
12 September 2017, 7:52am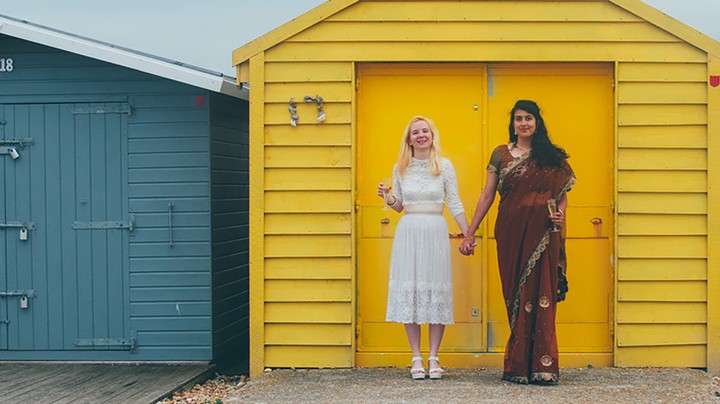 In Germany this June, same-sex marriage appeared on the horizon as a hopeful possibility, leapt into the lower house of parliament, enjoyed an emotional but brisk 40-minute debate, and was then legalised—all in five short days. I sat gaping in my Berlin apartment, parsing news articles with a shaky grasp of German. Then I rolled out of bed to meet my partner and kiss her in the street. Some passing women beamed at us. We drank beer by the canal and laughed, giddy at the speed and joy of it all.
It was about as different from Australia's approach to marriage equality as you could imagine. For me, an Australian living in Germany, it seemed impossible: That a simple question from journalist Ulli Köppe to Chancellor Angela Merkel at a Q&A session—"When will I be able to call my boyfriend my husband?"—could create such a fast and thoughtful response to marriage equality. I'd become so used to Australia's drawn out, exhausting crawl towards even the possibility of legalising same-sex marriage. A 14-year slog that's built to today, when the first ballots of the Australian Marriage Postal Survey are sent out.
Two weeks ago, I came home to Melbourne for the first time in more than two years. It's lovely to be back. I missed my family, and Australian accents and manners—Melbourne's straggly gum trees and the Dandenongs all purple and misty out my kitchen window. I missed Melbourne's LGBTQ scene, in which I grew up; kids prowling glittery down Smith Street on a Thursday night.
But, god, I haven't missed Australian politics.
Watching Malcolm Turnbull tell us we must be "prepared to give respect to the No case [voters]" and the Catholic Church urging Australians to vote "No," I started to feel ill. I'm one of the lucky ones—my dad is incredibly supportive, my mum has spent the month since the announcement furiously campaigning to support the "Yes" vote. My siblings take my right to marry as an indisputable fact of life.
But it doesn't matter how positive the marriage equality conversation around me is: the reality is I'm still constantly listening to people affirm my right to be treated the same as others, which feels an awful lot like people affirming that I'm human. It doesn't matter whether or not you say "Yes" to that; the very fact that Australia is giving credence to the question makes me miserable.
Still, there's a lot to be proud of about the way Australia has responded to this postal survey. Watching friends and family cold calling and door knocking has been inspiring. Asking to see more photos of my partner, my 78-year-old grandmother patted me on the arm and rolled her eyes at "how ridiculous" this vote is. But the fact that we have to vote at all is revolting. And when you look at how other countries have done it—from the US' Supreme Court victory to the UK's 2013 parliamentary vote, not to mention our neighbour New Zealand's legislation in 2013—Australia's protracted process seems cruel.
Germany's not perfect by any account, and Merkel herself has a lot to answer for. Her party, the Christian Democratic Union of Germany, is certainly responsible for keeping same-sex marriage off the agenda until this year. But Merkel did an excellent job managing the struggle Australian politicians have been whining about for years. The leader of a Christian party and with a largely Christian constituency, Merkel personally voted against same-sex marriage. But she did so after quietly helping orchestrate a vote that would almost certainly go "Yes," and making her own statements of support around same-sex adoption and emotional wellbeing. It wasn't perfect. But it's a lesson for Australian politicians about how to stay true to whatever Christian values feel so important to them without fucking over the LGBTQ population.
I'm celebrating another anniversary during this trip home. Two years ago, my girlfriend and I entered into a civil partnership under the UK's same-sex marriage laws. We didn't get "officially" married for various reasons: we were getting hitched young to help my visa application, we wanted to save the real wedding for a big party all our Australian friends and families could come to.
But it was beautiful to know that we could get married, and it's opened more doors for us than I ever expected.
Not just the visa: housing applications were easier, people looked at us in a different light. From officials at universities to insurance companies to employee packages—our partnership certificate made people take us more seriously. And it made me quietly, stupidly, profusely happy.

But she's not here with me, and coming home to Australia during this anniversary—during this vote—feels strange. I mentioned "my wife" to a family friend and was met with a confused, blank stare. This country doesn't recognise our union. A sad fact we realised when we briefly looked into visa options for my partner, a choice wiped away as though it never existed. We're divided not only by location but legislation.
I'm not stuck in Australia, I know that. I've heard the "if you don't like it, leave" argument more than once in my life. This is home though. Even if every time I leave Australia, with its easy manners and smiles on the street and my friends and family, it's getting harder to come back. It's hard to return to this wide open country, which prides itself on its optimism and its pluck, and see it get meaner and smaller every year. It's hard not to think: If you don't want me, I don't want you.
Follow Mikaella on Twitter