Natasha Vomit Is Angry, Frustrated, Anxious and Wants You to Dance Hard
Listen to 'Problems', the first track from En.V's debut cassette of angsty and agitated techno beats.
Image: Jack Mannix
Natasha Vomit is uninhibited, tough and provocative. She's also vulnerable, anxious and angry. This combination has fuelled the birth of En.V, a Melbourne-based electronic act that screams pop diva as much as punk renegade. Singing unapologetically about her frustrations coping with anxiety, crying and men over beats reminiscent of 90s house and techno, En.V creates bangers that are both liberating and unsettling. A song called "Anxiety Is the New LBD" pairs samples from a BDSM pony play video with an extremely danceable and muscular industrial track. Other songs include samples of women crying and teachers yelling, violently whacking rulers.
En.V's upcoming debut EP Ur future is Bright is a hypnotic ride between catharsis and euphoria. It's a homage to dance music as much as it is a salute to those crippled by social anxiety, choosing to stay home punishing nangs over the weekend instead of going out clubbing.
Growing up in the DIY punk scene, Natasha played in Angel and Baby Chain before moving on to dance music with her partner Luis (Zanzibar Chanel) under Cheap Present . This is her first solo project and it's marked by a tough-femme and fuck-it attitude.
Listen to the track "Problems" and read a chat with Natasha about En.V.
NOISEY: How did En.V come about?
Natasha Vomit: En.V started because I was frustrated. I wanted to play gigs but Cheap Present weren't getting as many shows. Luis was touring a lot [with Zanzibar Chanel] so I was freaking out thinking I wasn't going to be able to play music for months. I also wanted to do something that was more self-directed, tougher and in your face. I wanted to reach out to girls and gender diverse people and make them feel like they have a safe space where they can rule in.
How does En.V achieve that safe space?
I imagine myself as a singing bouncer ; "you fuck with the gals, you fuck with me". I've had dudes removed from the venue because they were being really intense and kept trying to touch my equipment. I stopped singing, yelled at them and got security to kick them out. I don't play masc dominated line-ups. I invite people to dance on stage. When it comes to writing the music itself I think about girls working it on a dance-floor, a pole,or a bedroom - in no way do I think about men dancing to it. I try to envision girls getting ready or being out at the club frustrated and wanting to look and feel good whilst fist pumping. That is the kind of space I want to create. A space where instead of feeling shame about being angry, or threatened, you feel liberated by your anger.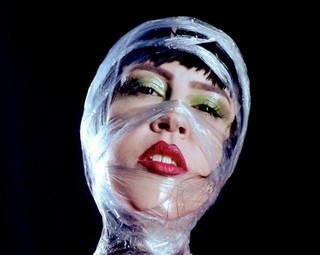 Image: Adam Hammad
Your lyrics are quite dark and anxious, none of that put your hands up in the air shit.
That's a really huge aspect of En.V for me. Quite often in dance music there's this euphoric element to it even though we live in a world where I don't think there's much to celebrate. I'm interested in the idea of having dance music coupled with the fact that the reason we feel drawn to euphoric music is because we all feel pretty negative in the first place. I write down the most negative things I have to say on purpose, and it's all a bit tongue in cheek. Instead of pretending and saying "it's all good" I want to say "it's all fucked, fuck this" and dance.
Do you feel like En.V belongs within any particular part of Melbourne's music scene?
I guess it fits into the queer scene, where historically there has always been more support for the fun and experimental aspects of pop music and people actually dance during your sets. In general I feel like I don't really fit in, but I also don't try to belong. Growing up in the DIY punk/metal scene I learned to be okay with being an outcast and doing things independently, so now I am doing something that feels like DIY pop.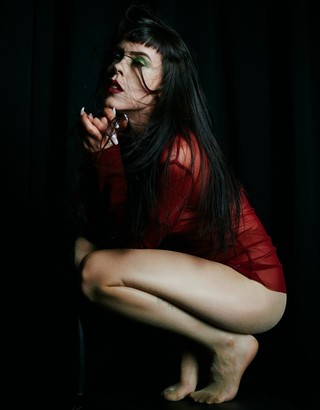 Image: Adam Hammad
What's something that the punk scene is missing that you've found with pop?
The element of fun and femme-empowerment. I grew up pretty poor in Australia and had limited access to musical education and instruments, so the DIY music scene has always been important to me in saying 'we can all do this!'. However, the punk/metal scene can be really masculine, so I spent my teenage years watching mostly dudes in bands being glorified. I also wore dresses and make up and enjoyed dancing as much as head banging so I was never fully accepted. It's funny because at the end of most punk shows people enthusiastically put on dance music, but at all other times they pretend like they don't like it. They think that dance and punk don't belong together, but they do. En.V is an attempt to merge both genres whilst opening a portal for femmes to say "fuck it" as they punch the air.
Your EP is going to be the first release by record label Dero Arcade.
Dero Arcade is run by Jack Mannix (Circle Pit, Kiosk), who's been my friend for years. Jack had been talking for a while about creating a record label for artists who have limited access to labels or feel like they might not fit in due to their genre or artistic vision. Dero Arcade is about actualizing what the artist wants, as opposed to having the label's own vision enforced. For the release of Ur Future is Bright we will run a limited edition of 200 red-glitter cassettes that come with an En.V embroidered patch, an enamel pin and a zine with my lyrics and artwork.
'Ur Future is Bright' is available soon on Dero Arcade.
Catch En.V at these shows:
July 31 - Adelaide at Format with Suckdog (USA), Terminal Infant
Aug 4 - Sydney at Red Rattler with WDK, Luis CL, L.A. Suffocated, Gas W
Aug 6 - Melbourne at Hugs & Kisses with Callan, Paraphilia, Nina Buchanan, Terminal Infant