Ballarat band The Dead Salesmen. Courtesy of Heart of the Rat Records
JD Future Legends & Noisey present THE NEXT ON TOUR series of summer gigs. Hitting six metro and regional cities around the nation, THE NEXT ON TOUR will showcase some of Australia's rising musical talent.
Melbourne bruisers Power team up with Ballarat locals Lime Lagoons and Tropical Snakes for a big night of rock at Ballarat's The Eastern Thursday March 17. Entry is free but you need to RSVP now!
Think all there is to Ballarat is Sovereign Hill and Kryal Castle? Think again.
The regional Victorian city has changed dramatically in the last half-decade, surging with new residents as more people are priced out of Melbourne's inflated housing market. Ballarat's food and arts scenes have thrived in response, with the forward-thinking Thai restaurant Catfish rivalling Melbourne cuisine and the majestic Ballarat Art Gallery hosting the Archibald Prize. The coffee is getting better (Yellow Espresso) and so is the beer (Hop Temple).
As for the bands—they've always been good. For decades, Ballarat's music scene has punched well above its weight. Acts as wide-ranging as The Dead Salesmen, Gold Fields, The Mavis's, Hunting Grounds, and Epicure have all come out of Ballarat. Before closing in 2003, The Bridge Mall Inn served as a brilliant beacon for local misfits and touring bands alike in the 80s and 90s. Karova Lounge has carried the same torch for more than a decade, making sure residents of the region get to see bands like You Am I, Cosmic Psychos, Adalita, and The Preatures on a regular basis, plus a swath of international talent.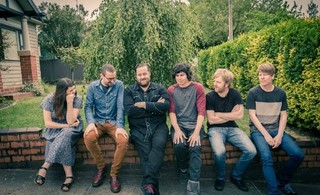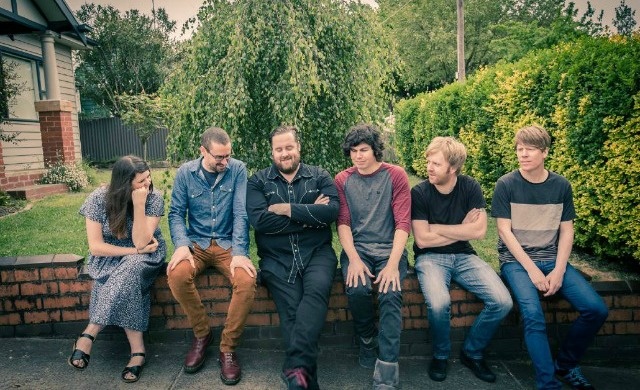 Mark With The Sea. Courtesy of Heart of the Rat Records.
The influx of new blood into Ballarat has diversified the music scene while strengthening the bonds built over the previous decades. And just like in Melbourne, many of the bands overlap: Aaron Matthews and Marc Oswin both play in Matheson and Mark With the Sea as well as run local indie label Heart of the Rat, curating vinyl reissues for Ballarat bands and releasing music by acts from Melbourne (Brendan Welch) and even Berlin (HEADS.). Oswin also nurtures the more electronic solo project A Miner, and Matthews plays in punk trio Swhat alongside Brett Dunbar from The Yard Apes, a long-standing Ballarat band spanning garage, punk, rockabilly, and surf.
Likewise, Melbourne's breakout indie pop band Crepes has strong ties to Ballarat and has shuffled members with the similarly melodic Robot Fox as well as the scruffier Tropical Snakes. When Ballarat indie quartet Bel Air disbanded in 2015, its members went on to start the equally promising Gangz and Way Dynamic. For a town that's home to so much robust punk and metal, those acts represent more of a jangly, radio-friendly sound, with touchstones closer to The Shins or Mac DeMarco. Not so far across the spectrum, Desert Mules are more psych-tinged and Sound Mountain tighter and more Beatles-y.
The louder, spikier stuff is still thriving, though. Tsugnarly lead the charge with an explosive strain of grunge-damaged surf-punk, while their drummer moonlights in both the blues boogie duo Mick Dog's Boneyard and Good Time Aussie Bogolars, who are matched in ocker spirit only by Dewey & The Panel Beaters. Beyond that, 23rd of Elvis proudly channel Motörhead (and include The Dead Salesmen's ace guitarist), Trash Fairies wrangle stoner-friendly indie rock, and the grunge-leaning Mourning splinter into a handful of different bands chasing tangents of metal, punk, and more.
Other bands are harder to classify. Horris Green lodge somewhere between The Black Keys and DZ Deathrays, whereas Matt Malone cites his two biggest influences as Swans and Hank Williams while juggling his solo material with various noise and drone-based collaborations. Freya Josephine Hollick prospers in the rich spaces between frisky bluegrass and lonesome country blues, and Lime Lagoons bring a tangled hookiness to bratty, lo-fi punk. Terminal Sound System bridges ambient and doom, just as dubstep producer Acting Damage plumbs frazzled mood swings.
Venues have diversified along with the bands, with Sutton's House of Music boasting the best-sounding room in town, Main Bar hosting more intimate songwriters, and the atmospheric hideaway Babushka Bar keeping Ballarat weird. The Eastern, where I help book gigs, has an Old Bar-style small-pub vibe and has hosted louder Melbourne bands like The Meanies, The Peep Tempel, and Batpiss plus overseas acts including Guantanamo Baywatch (US), Acid Baby Jesus (Greece), and White Fang (US). Live music is serious business in Ballarat: January's Summer Sundays concert series in the Botanical Gardens drew more than 2,000 people each week and featured visiting acts like Thelma Plum, Montaigne, The Reprobettes, and All Our Exes Live in Texas.
On the radio front, community station Voice FM offers a passionate alternative to the mainstream with music-and-interview programs like Collision and The Show With No Name. Meanwhile, you can go digging for vinyl at a staggering number of op shops or pick up new wax over coffee and food at L'espresso before popping a couple doors over to Rediscovery for still more secondhand treasure. Or if you just want to listen to vinyl, student-friendly hangout The Unicorn spins it nonstop.
Melbourne may get endless press for its devotion to live music, but Ballarat isn't far behind—and it's catching up fast.
This article is presented in partnership with JD Future Legends.
Drink Responsibly.