Photo courtesy of Twitter user Zeemuffin
Yesterday began with an ominous drizzle, the kind of rain that might be a welcome reprieve from the New York summer heat under the right circumstances. As it coincided with a music festival, though, it was a dark omen of the standing in a muddy field to come. Walking across the bridge from Manhattan to Randall's Island, where Governors Ball is held, this impression only intensified: A rainy mist cut the view short, and a digital sign flashed a warning that read "Manhattan Closed" (upon closer inspection it said "Manhattan Span Closed 6/12," but still, it was dramatic). It looked dark. When I arrived, it was to news that one half of Rae Sremmurd had badly injured himself jumping off a speaker. It looked darker.
And then Future arrived at 3 PM—a ray of light, a beacon of hope—and the clouds parted. The rain stopped. One by one, the crowd lowered their umbrellas. Future took the stage, running through some of the many highlights of his recent trio of mixtapes: "Monster," "Peacoat," "March Madness," "Trap Niggas," "Real Sisters"—the list goes on. Those tapes—56 Nights, Beast Mode, and Monster—are rap's current preeminent string of releases, and it's a run made all the more impressive by the fact that they came out in one giddy six-month span. Future could have done an entire greatest hits show just based off of those three mixtapes. But that would be ignoring the reality of rap over the last four years, a period in which Future has quietly built up not only one of the most vital sets of radio hits but also made some of the best rap music, period.
His set included obvious highlights like "Bugatti," "Same Damn Time," and "Racks," but it also made room for "Itchin'," a 2011 street hit that, although it would be enough to sustain other rappers' entire careers, could have easily been lost to the annals of history in favor of Future's bigger pop successes. Fortunately, it's become a live staple instead. He even played it during his truncated SXSW set with Mike WiLL earlier this year.
That song's persistence is indicative of Future's enduring and, in fact, growing appeal. (To quote the bard Future Hendrix himself: "See how consistent I am?! / see how persistent I am?!") While there was a moment where it appeared that Future might be headed for a true A-list pop breakthrough, he's instead settled into something more satisfying, which was driven home yesterday by the way that Drake, one of rap's actual true A-list pop stars, tackled playing the same stage six hours later in the day. Drake's set is grandiose and polished, each move a carefully calculated study in likeability. Like a Future performance, it is very fun, and even more people know all the words. Future, in contrast, is not necessarily a great performer. He raps over a backing vocal track, and, since the sound from his microphone yesterday was not always wholly audible, he played almost more of a role of turn up conductor, running across the stage with his dreadlocks flailing around his head and grinning at the crowd. It was wildly exciting.

Photo courtesy of Instagram user nottherealsneek
Future's whole career is a little too rough and messy to be that perfect, polished act: He warbles about addiction with a voice so bent out of shape it sounds like a dispatch from the end of time; he plunges into ugly emotions with stoic resolve, painting a portrait of self-loathing at his own post-relationship monstrosity; he retreats into the beautiful spaces of Zaytoven and Mike WiLL Made It beats and builds up a safe, Xanax-cushioned alternate reality. Yesterday he didn't play three of the best songs from his recent mixtapes, "Codeine Crazy," "Throw Away," and "Just Like Bruddas." Those songs find Future at the edge of collapse, mired in self-destruction ("Fuck the fame I'm sipping lean when I'm driving") and wallowing in post-relationship torment ("Do you feel better by yourself/ Did you feel better when I left?"). They cut straight to the darkest, grimmest tendencies that live within someone in the wake of a relationship collapse or similarly traumatizing experience. Like the substances that play a prominent role in them, they have a numbing, calming effect. They are endlessly replayable, the answers that they hint at just, tantalizingly, out of reach.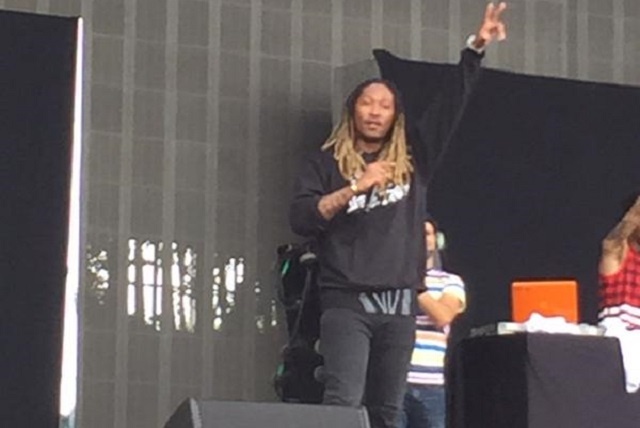 Photo courtesy of Zeemuffin
Yet there's also a power to those songs that comes from the music that surrounds them, in particular Future's prevailing hit right now, the song that possibly captures his appeal more clearly than anything else in his catalog, "Fuck Up Some Commas." It's a beautiful, triumphant, grimy, no-fucks-given celebration of technically money ("let's have a money shower"!) but mostly life itself. It makes any situation feel cooler. It's the token of hope that redeems all the crushing despair of those dark Future songs. It's not an obvious hit; like Future it's a little rough around the edges and idiosyncratic. And it's awesome.
Future played it to close out his set yesterday, and by the time he was done the sun was fully out. No comma was left unfucked. The grim portents of rain and sadness and mud had faded away. The afternoon ahead looked beautiful. Life itself seemed brighter. Optimism and a general hope for the continued power of the turn up was in the air. All the music was great, but this music was the best.
Kyle Kramer is obsessed with commas. Follow him on Twitter.