Who Killed It at Governors Ball 2015? An Investigation
We used forensic analysis to calculate the festival's highlights.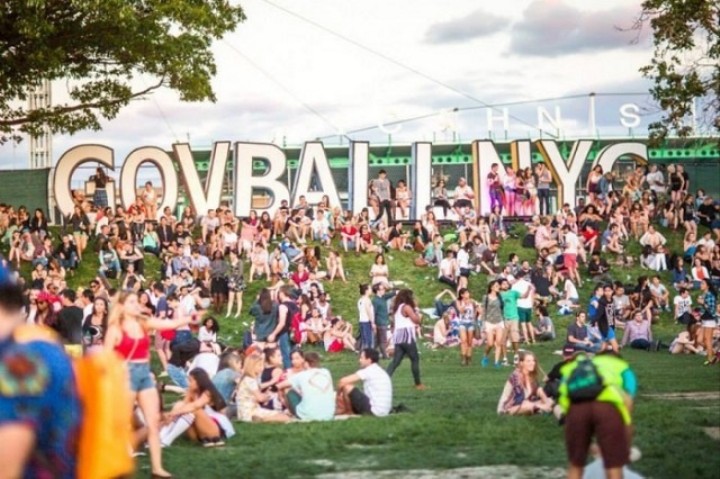 Photo courtesy of Governors Ball
New York's annual Governors Ball Music Festival wrapped up this weekend at Randall's Island, and idyllic sliver of land nudged between Manhattan, Queens and the Bronx. The three-day blowout touted a lineup ranging from rap (Drake, Future, Rae Sremmurd) to rock (My Morning Jacket, the Black Keys, St. Vincent) to electronic music (Björk, Clean Bandit, Deadmau5) and more. How'd it go? Let's have a look. "Killing it" has become the primary objective for a musician in the live setting, and your career is in serious jeopardy if you can play a show and no one in attendance comes away feeling as though something was killed. The success of Governors Ball, therefore, can be measured by the extent to which the many artists featured there succeeded to kill it, the overall length of time in which it managed to be killed throughout the weekend. Since tweets are the primary unit of social commerce in 2015 America, we've decided to analyze who exactly killed it at Gov Ball and how badly it was killed using tweets documenting all of the many times this weekend in which it was killed. If you're one of those Law & Order: SVU types who can tell within ten minutes who the killer is, try and avoid spoiling it for everyone else.
Drake, St. Vincent, Björk, and Florence + the Machine are the festival's breakaway successes. Each played a set that audience consensus dictates to have killed it. The Black Keys appear to have discovered a way to kill it as well. Noteworthy artists who are not confirmed to have killed it are My Morning Jacket, Echosmith (who didn't kill it at Gov Ball but is widely believed to have killed it at Summer Jam this weekend), Vance Joy (who's killing it every night on the 1989 World Tour but somehow didn't here), Hot Chip, Sturgill Simpson (I demand a recount!), and Conor Oberst. Respect is due to everyone who showed up and gave it their all but failed to kill it this weekend. Tomorrow's another opportunity to wake up and kill it somewhere else. (If a band plays in the woods and no one's there to hear it, did they kill it? Makes you think.) Below you'll find a complete list of everyone who succeeded in killing it at Governors Ball 2015 along with proof of how and when it was killed.
Continued below
Day One
Rae Sremmurd
MØ
Future
Rudimental
Odesza
Charli XCX
Death from Above 1979
Ratatat
St. Vincent
The Decemberists
Chromeo
Florence + the Machine
Drake
Day Two
HOLYCHILD
Kate Tempest
White Lung
Rustie
Moon Taxi
J. Roddy Walston & the Business
Kiesza
Clean Bandit
Marina & the Diamonds
Atmosphere
Little Dragon
SBTRKT
Future Islands
Flume
Ryan Adams
Björk
Deadmau5
Day Three
Hermitude
Chronixx and the Zincfence Redemption
Mayer Hawthorne
Logic
Royal Blood
A-Trak
Flying Lotus
Big Gigantic
"Weird Al" Yankovic
The War on Drugs
Tame Impala
The Black Keys
Lana del Rey
Craig Jenkins did not kill it, but neither did you. Follow Craig on Twitter.