Stina and Cinta's 'Awake and Dreaming' Merges 80s Pop, Chopin, and Feminism
The Melbourne duo are helping to correct Australian music's gender imbalance, one synth pop song at a time.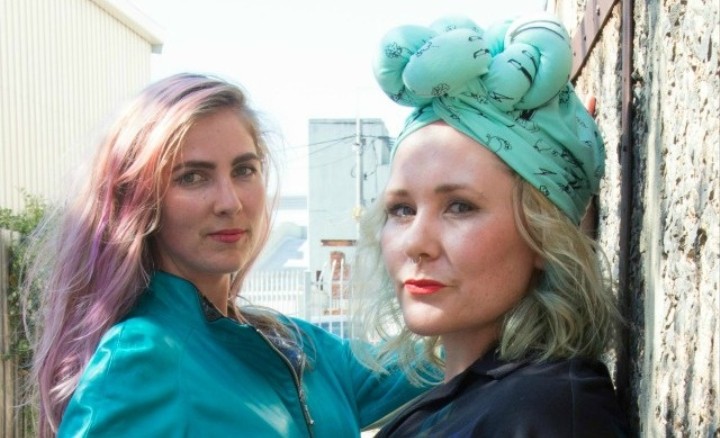 You might remember Stina Tester & Cinta Masters from their band Gold Tango, whose self-titled 2009 EP melded the influences of Bauhaus and Devo to create some pretty tight goth electronica. Since that release they've been kicking around the Melbourne scene pursuing separate projects, with Stina playing in Spite House and Cinta in the long running Useless Children.
The duo have reunited to finally put together their debut album, Awake and Dreaming, an 80s influenced synthfest with plenty of dreamy weirdness to explore. Think throbbing bass and soaring melodies that manage to be a little bit mournful and ecstatic at the same time.
Awake and Dreaming is available April 1 on LISTEN records, a Melbourne-based label that supports underground Australian women and LGBTQIA+ musicians. The label emerged from the LISTEN project, an online community that aims to generate discussion about the gender imbalances inherent within the Australian music scene.
With this in mind, Noisey caught up with Stina and Cinta to talk about pop music and the patriarchy.
Noisey: What and who are the inspirations behind Awake and Dreaming?
Cinta: These songs were written over many years, so I think there are heaps of different influences on our sound. For me, it started out being very post punk, goth and 80s pop inspired. I love Fleetwood Mac and I was listening to Tango in the Night and "Rhiannon" a lot. Also Siouxsie and the Banshees, Bauhaus, Depeche Mode....
Stina: Somehow as a teen in the country I had missed out on discovering punk and post punk. I learnt classical piano for a few years as a teen and it wasn't until my early twenties and the early stages of this project that a lot of that music was introduced to me. Before that it was mostly pop music and Chopin [laughs]. So I guess for me those two worlds kind of merged in creating Awake and Dreaming.
Was it important to release your music with a feminist, LGBTQI-friendly label?
Cinta: Yep, I think it's important to recognise that gender inequality exists in Australian music and to actually do something about it, and that's what LISTEN does!
Stina: We can't not. We are women in the music scene, so we are part of the conversation. For me it's been a great learning experience going to gigs put on by LISTEN. A real eye opener, and I think it's so important to keep learning and stay open to new and different thoughts and ideas around these topics.
How did you get involved with LISTEN initially?
Stina: Cinta was really proactive about emailing and getting in touch with people once we had the record ready, and she just put the word out and people started getting back to us about the LISTEN project and LISTEN records.
Cinta: I was emailing around for a while and I kinda got sick of no one getting back to me. I thought our album was pretty good, so I posted on the LISTEN Facebook page asking if anyone was putting out music by women these days.
What are the gender imbalances in Australian music as you see it?
Cinta: The gender imbalances in Australian music are huge and they are everywhere. From festival lineups, to songs played on the radio, to bands in music magazines, film clips played on Rage. It's something we all need to pay more attention to.
Stina: It's hard because I guess we are active within in a certain music scene bubble. I've pretty much always played with at least one other female in the band, and a lot of my female friends play music. But I know within the larger bubble it's not like that. When you look on bills for bigger festivals and stuff, there's often quite an imbalance going on and that's shitty.
So what can we do about it?
Stina: Bookers and curators need to be mindful and make an effort. Be brave, think outside the patriarchy box and you'll create inclusive and exciting environments that will appeal to a lot more people and keep the conversation open. Do it!
Cinta: There need to be more female musicians played on the radio, more publicity in local magazines and street press. There need to be government incentives, money put into supporting women into music. There also needs to be commitment from labels big and small to put out female music. And not just from female musicians who make music that is the same as what the men are making.
Right on. What music by women artists are you listening to right now?
Cinta: I am listening to loads of music off the Hyperdub label. They put out heaps of music by women, they're fantastic. Jessy Lanza is on my record player at the moment.
Stina: Bjork and Kate Bush, always. More contemporary artists like FKA twigs. White Magic are an interesting female fronted band. I listen to lots of local stuff too, I really like Philippa Omega , Stations of the Cross and Empat Lima.
'Awake and Dreaming' is available on vinyl LP and digitally April 1 on LISTEN records.
They launch the album April 8 in Melbourne at the the Curtin with Simona Castricum, Empat Lima and Shag Planet.
Also catch them tonight March 31 at Polyester Records from 6pm
Follow Kat @normcor3