Okay, let's get a couple things out of the way before we jump into this. One, Sky Ferreira's last name is hard to spell and people tend to confuse "Ferreira" with "Fieri," which leads to people (or maybe just me) making "Sky Fieri" jokes where Sky Fieri is indie music's number one Michael Bay-esque chef and pours melted cheese on her drummer. Two, "Everything Is Embarrassing," her Blood Orange-produced single from her Ghost EP, might be a legit candidate for "Song Of The Year." Three, it's great that Sky has a stunner of a single, because the rest of the EP is all over the place and not always in a good way. Four, more than anything Sky Ferreira is endemic of how artists get broken in 2012: grassroots movements, staged by major labels with major transparency. She is indie culture's way of atoning for what we did to Lana Del Ray, which is good because Sky Ferreira is way better and smarter and in control of her own destiny than Del Ray, even if her name is harder to spell.
Let some time pass, and suddenly Ferreira's controlling her own destiny and actually doing the damn thing. "Everything Is Embarrassing" is pure pop pleasure, something that would have wormed its way onto a vintage John Hughes soundtrack, and the single that's really propelling her career at this moment. Elsewhere on Ghost, the pace falters, largely unable to meet the standard set for it by "Everything," which was in many ways her reintroduction to the spotlight. The songs she did with Shirley Manson of Garbage are fine, as is "Sad Dream," the EP's first track, a lamentation on her broken relationship with her father. Workmanlike in their own ways, they fail to pack the punch of "Everything Is Embarrassing."
The good news for Ferreira is she's way better live than she is on record. She won rave reviews for her CMJ performances, and at Glasslands she justified her major label status fully and completely, delivering a performance full of carefully-practiced drama and gravitas, one weirdly high-budget for a show taking place at Glasslands, which while not expressly a shithole definitely has a balcony that everybody assumes is going to collapse at any minute and kill a bunch of people. Which is to say, her light show definitely set off my "This Singer Is Signed To A Major Label" radar. Which is fine. Anyways, Sky Ferreira was great and you should definitely see her live if you get the chance (she's playing again at Mercury Lounge tonight). I legitimately expect great things from her upcoming debut album, which she's making with Jon Brion.
What follows is an alternate review of the show written as if she were Guy Fieri's long-lost daughter and I were a person who wrote as how I imagine Guy Fieri thinks: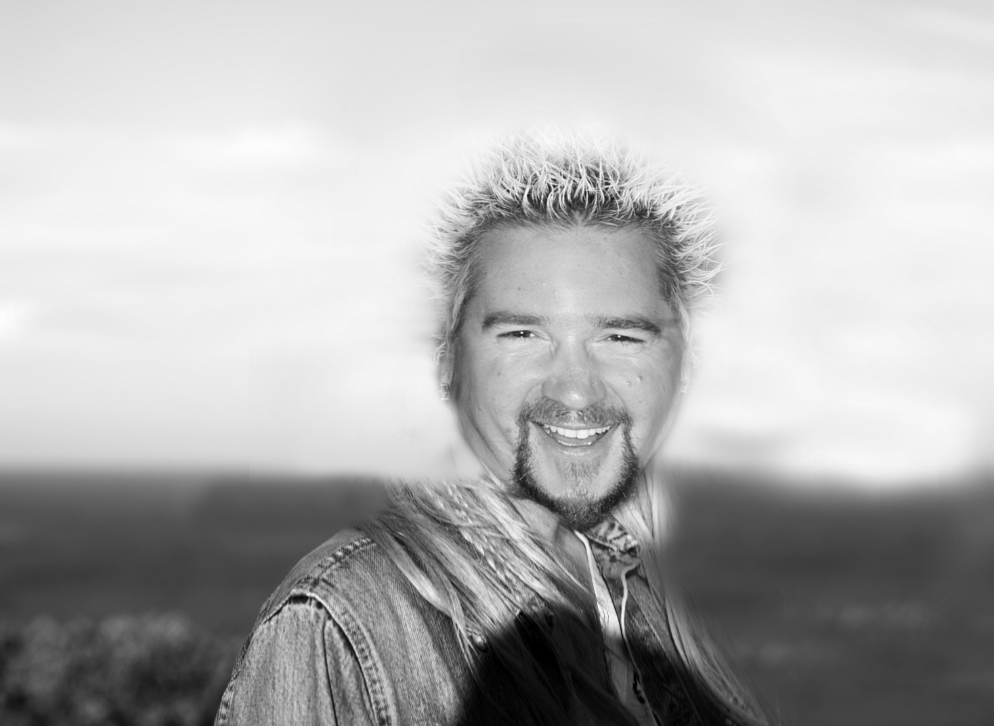 Sky Fieri by @chaambler
Why Glasslands? Why not Guy Fieri's American Kitchen And Bar in Times Square? Shitsville on synergy, brah! First they could have them reunite tearfully over a plate of Vegas Fries slathered in Donkey Sauce, and then Guy could have hit the 1's and 2's while his daughter kicked slick American jamz with a capital Z! Z for Zawesome! But last night's Sky Fieri show at Glasslands was not Zawesome! It was like the FlavorTown of drama, mandingo.
Sky can kick a babejam, man, a heartstring-tugger, but her tunes are straight Looney sometimes, nahmeansayn? There can only be one Bugs, and that's "Everything Is Embarrassing," and the rest of them are those weird unbrolic forgettable ones like Dr. Frankenbeams and Little Blabbermouse. Bro. You still with me bro? Bro! BRO. A trickin' pop jamzilla is like a pulled pork egg roll, my Lord And Flavor Savior. Each side has to give a little. You can't have the twang of the Southern smoke tryna kick it with the egg rollls in their natural habitat! There needs to be a hyperbaric chamber of sound and soul, balls-out collaboration and idea-sharing, doggfather!
But I'll tell you what, brahmst. Last night Sky Fieri took us to FlavorTown. All the way up in that motherfuckin' flavor, breh! Fog on Caliente Margarita. Light show on Donkey Sauce. Backing band on Bourbon Brown Sugar BBQ Sauce. Old career on zilch. Not in Guy's House. Sky Fieri is gonna be alright.