It was a decade ago that The Nation Blue hilariously got to open for Foo Fighters on their Australian arena tour. So it's been 10 solid years of exploiting the story of how I managed to snap my knee three-songs into our first show at the Brisbane Entertainment Centre. Technically it was a dislocation, but with my kneecap floating somewhere behind the back of my thigh, I managed to finish the set while being propped against a fold back wedge and a mic pointed at my head.
I played the rest of the tour on crutches and in a leg brace. But this was not the highlight, by any measure. On the third show we met Lemmy.
How this came about feels as surreal as actually getting to spend a solid 30 minutes with the man.
The Foo Fighters dudes and crew could not have been more friendly and accommodating. The Kaiser Chiefs, the main support and an overnight success story from the UK, were absolute cunts.
After each set the Kaiser Chiefs would escape back to their hotel leaving their backstage room full of American cereals, chips, fruit platters, decadent plates of dips and cheeses, candy bars, and a sizeable variety of alcohol and beers.
We had a broom closet sized room with a six-pack and a mystery meat platter. Two of us are vegetarian.
By the third night, we headed into the Kaiser Chief's room armed with empty backpacks. But while stuffing our Jansports with hummus and pale ale we thought we'd been busted by an official looking gentleman with a thick English accent.
It turns out the dude was looking for Kaiser Chiefs autographs for his daughter.
He was Lemmy's bass tech, Tim.
Motörhead were touring with Motley Crue and had come to see the Foo Fighters on their night off . We tried not to punish Tim too hard, but couldn't help but ask what it was like working for Lemmy. Tim's response – "He's just down the corridor. Do you want to come and meet him?"
Our response was a more expletive filled version of, "Yes. Yes, we would."
Tim headed down the corridor, and finally led us into another backstage room.
And there he was. Mr Kilmister. Sitting by a table with Jack and Coke in one hand as he sucked back a durry, less than a meter away. It felt exactly like the moment Wayne and Garth are led in to meet Alice Cooper in Wayne's World.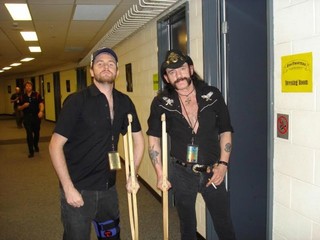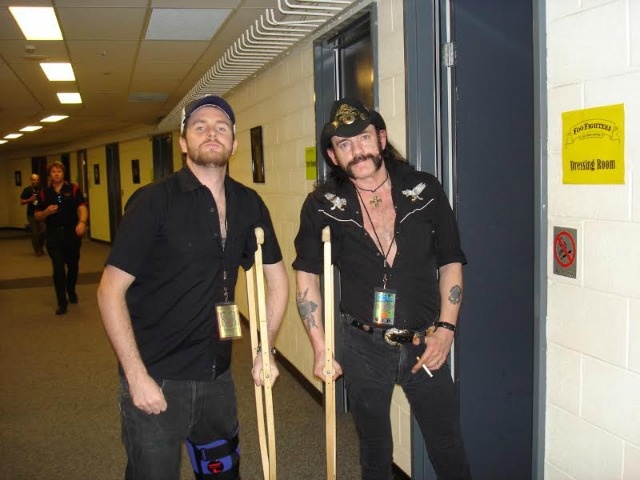 Lemmy looked me up and down, saw the crutches and started laughing. I explained the knee blow out, and Lemmy traded stories of Motorhead blowouts, including how their drummer 'Philthy' had smashed his fingers so bad that he had to gaffa tape the drum sticks to his hand to get through a show. He was also convinced that I'd be much cooler with a parrot on my shoulder to go with the crutches. He taught our guitarist Tom how he hides drugs in a compartment stitched into his rolled up sleeve that had his medicine in it and that he manages to walk through airport security without any trouble.
Tom had spent most of our sets trying to over compensate for me being stuck in a leg brace, by smashing his guitar into his forehead and opening up the same wound, resulting in a blood soaked finale.
Lemmy took one look at Tom's butchered forehead and told a story about how he preferred violence on stage rather than in the crowd. He recalled seeing a kid crowd surf and fall, breaking his neck and dying. He said that had stayed with him. He went on to talk about how much he hated being stuck on festivals with all the nu metal bands for that reason.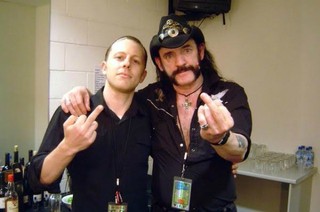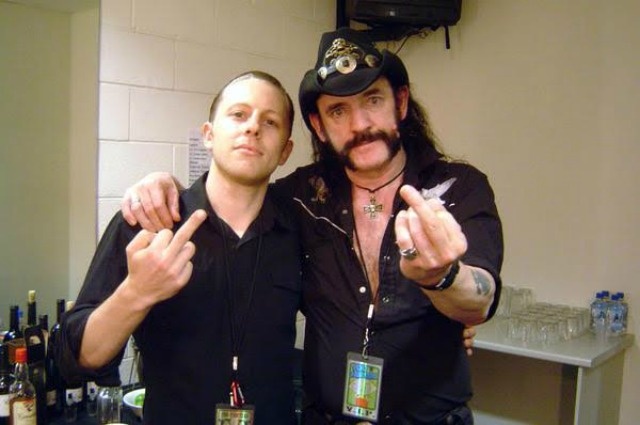 Lemmy was friendly and warm. At no point did he act like he had somewhere better to be and seemed content to just have a drink and talk shit to whoever was in the room. He was a great storyteller, and asked a lot of questions. He was extremely generous. We got to spend a solid half an hour with the man before we figured it was probably time to get out while we were ahead. He graciously posed for a few photos and he signed my crutches "HA, HA, HA. Lemmy".
I always thought that he'd outlive us all.
It feels strange to recall this tiny snapshot that would have been one of the most unspectacular days of Lemmy's life on tour, but still made an enormous impact on the three of us.
It was an honour to be in your presence, Lemmy. Killed By Death.
Matt Weston plays bass in the Nation Blue and High Tension.