Images: Karin Yamasaki
Like a weird amalgam of a market research group, jury duty, and a musicians support network, we sat Bespin, Boycrush and New Gum Sarn in a hotel room, supplied them with beer and asked them to critique each others music. To be honest it didn't get as bitchy as were hoping but it did offer some honest and unique musical appraisals.
All three acts are nominated for the Critics Choice of the 2015 New Zealand Music Awards which will be announced in Auckland at the Kings Arms on November 5. Each band will be playing at the announcement so fingers crossed the bitchiness goes up a notch then. We are secrelty hoping for an overturned table or two.
In the meantime have a listen to some of their tracks (including the world premiere of Bespin's "Take Control") and read some civilsed music feedback.
BOYCRUSH – "I Don't Want You"
New Gum Sarn: I like how it's danceable. It's probably a little fast for my taste but I like that it harkens to polyrhythmic African music but then uses modern technologies.
Boycrush: Yeah… I guess that I kind of stumbled into dance music. I played drums in bands.
New Gum Sarn: Who for?
Bespin: Neil Finn.
New Gum Sarn: Didn't you play with The Ruby Suns too? That was a great band.
Boycrush: Actually, Ryan [McPhun] from the Ruby Suns got me into electronic music. I often want to make it sound like it could be real drums.
Bespin: I thought that was a club banger. It's rhythmically really tight. You clearly spent some time making it really pop. My favourite part was the breakdown. You may have seen me with a little smile at that point.
Boycrush: It's like you get punished up until that point hey? And then you stop getting punished.
Bespin: Yeah well not punished, but you're definitely taken on a journey it had a real good build to the whole thing. Actually that's the best thing about it, it's patient. It gets to where it wants to go, but…
New Gum Sarn: It's just like a story. And it was a story of dance. I respect that you're making dance music, as New Zealand seems like a really hard place to find good dance music. I want to be able to dance, but I don't feel like I have that many options. This is music that I want to dance to.
Boycrush: A lot of people reference point for dance music in this country is the viaduct, and it's actually not in that many other countries. We're kind of unfortunate in that sense. The lyrics are basically about the rat race and not wanting to be in it anymore. It's also about lost love and shit.
New Gum Sarn: Lost love and fuck the rat race!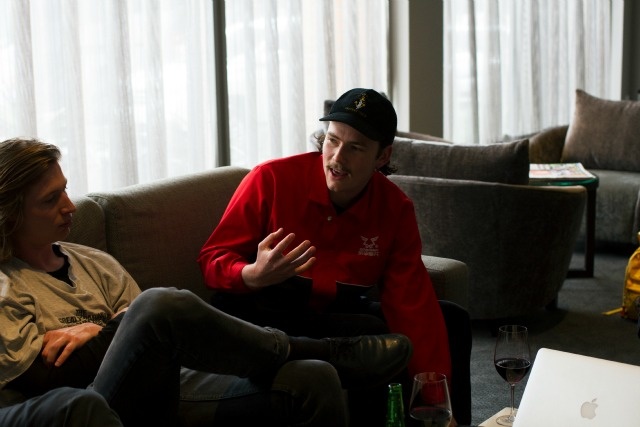 New Gum Sarn – "New Gold Mountain"
Boycrush: It's not too loud, but it kind of IS too loud, like the vocals or whatever. You know how Lee Scratch Perry just suddenly drops out the rest of the band, and you have no idea if that was actually the plan or maybe a mistake? Anyway I found it to be really bold. Recenlty I've been thinking that Talking Heads' "This Must Be The Place" is the ultimate song.
Bespin: I feel the same!
Boycrush: It's the title track of your album right? No wonder that's the name of the song because this is home you know? We're here now and it straight away transports you and makes you feel that same thing as "This Must Be The Place", which is really nice. When that shit goes a little bit nuts at the end it's nice, this kind of tribal humanity. It's a bit like punching yourself in the face, or smashing something. A feeling that's real human, we're fucking alone motherfucker.
New Gum Sarn: It's kind of what it feels like when we play it live. I think that's a bit of a common theme throughout the album is just us wanting to have that humanity in the song. We get to a certain point in the song where we're just like, let's do the thing, let's do the big noise! And listening back to it, it feels like over indulgence as it's just us wanting to fucking jam, I think it's really good to remember that whilst it's being recorded somebody is moving and making stupid dance moves and making a stupid face. You can't see that, but there's humour in it too.
Bespin: You've done a great job of preserving the feel of a band in a room. I've seen you guys live and I think you've translated it real nice and that's hard to do..You've got quite a distinctive voice. It's great!
Boycrush: I also just wanted to say sick drumming Sophie. Very cool.
New Gum Sarn: Really? I've always wanted to redo the drumming on that song, as I've always thought it was just the tiniest little bit off time, and it pisses me off every time.
Bespin: There's simplicity in patience and restraint in that song. It was a good decision.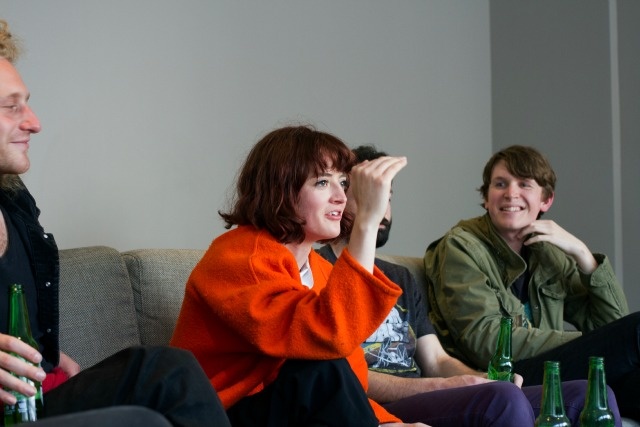 Bespin – "Take Control"

New Gum Sarn: It's definitely a wall of sound. You can feel it in your fuckin chest. I'm in awe of how you do that. It's compositionally really good as well. I love to hear drums and bass in the pocket.
Boycrush: Thirty seconds in and I realised that the melody is not the guitar but the bass. The guitar actually stops a couple of times, and the melody is still going. It's nice to hear the bass present like that. There's this wizadry that comes in on this track. How are you doing that? It's not just one chord, notes change things have to change but somehow you make it work
Bespin: It was a technical exercise in building it as big as I possibly could. I'm not doing this again. I built it too big maybe.
New Gum Sarn: You built it too big for that speaker. I think lyrically it's subtle. How many guitar tracks are in there?
Bespin: Well there's an acoustic
New Gum Sarn: There's an acoustic? Woah. I wish we could isolate that.
Bespin: It's subtle but it's there the whole time underneath. Maybe one or two big rhythm ones and then a lead line coming in over the top every now and then.
Boycrush: The vocal is really assured. I'm not making comparisons between you and Tame Impala but the vocals know what they're doing. The bits you sing really high remind me of Panda Bear. It's really fucking great but when you play live you never turn up the vocal
Bespin: I'm trying to drown it out!
Boycrush: Are you not feeling confident with your own vocal? You're obviously an awesome singer
Bespin: I'm getting better with that, I think there is definitely a disconnect with hearing your own voice and freaking out about it. But I agree with you. It's like it's your own dick. It's yours and you've got to own it. There's no changing who you are or what you sound like.
New Gum Sarn: I think what he's trying to say is you can only piss with the dick you have, and if you don't like that dick, you've just got to learn to live with it! But I do think its great singing. I did feel like the lyrics were on top though. Like when I was listening to the song I imagined an actual wall and it's so stupid, but I was actually thinking about it.
Bespin: I don't know what it sounds like out the front in a live setting. So in that regard you're telling me things I guess I will never know!
New Gum Sarn: What are the lyrics leading up to the take control hook?
Bespin: "I am defeated in an eyesore, miniment excess, karma divine, I can't feel it like I ought to, with both hands on the wheel, watching as they take control."
New Gum Sarn: It's poetry. And that's awesome to hear in music. I love that. Does it have anything to do with the social climate of our lives?
Bespin: Yeah!
Catch Bespin, New Gum Sarn and Boycrush Nov 5 at the Kings Arms.