See Marissa Nadler's New Video for "Dead City Emily" and Read Our Extensive Interview
"I'm a feminist and I wanted my music to stand on its own."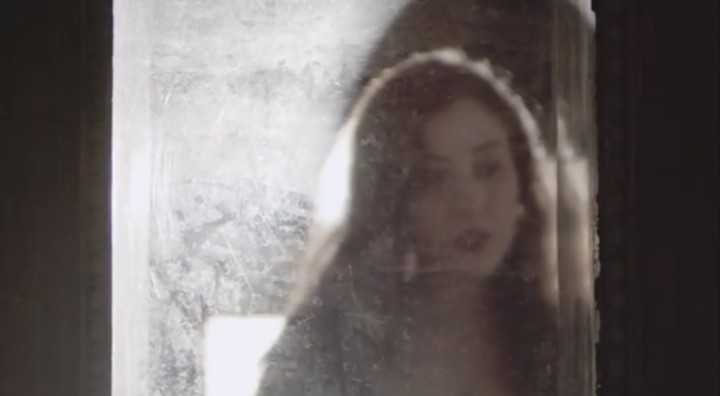 Marissa Nadler quit music. She sold all her instruments. She got a job teaching painting to troubled high school teens. But then she found an old email, and it changed her mind. Caleb Braeeten of the independent label Sacred Bones had expressed interest in working with her, and exhausted from self-releasing her music, she wrote back to him on a whim. Thanks to that whim, her sixth record July will come out on February 4. Above, Noisey is happy to premiere the video for "Dead City Emily," the album's first single.
Nadler has been making order from the chaos of the universe for a decade now, and the darkly lit July is a moody trip through heat spells and night drives. Her spectral voice earns comparisons to a siren, and July's production from black metal soothsayer Randall Dunn adds deadliness to her sound. Armed with brand new label bona fides, Nadler's quiet songwriting and ethereal sound give July a sound that's, at times, almost sinister.
On a recent morning, we called the Boston-born singer up and she talked about why she almost left music altogether, listening to Willie Nelson, and why she won't sexually objectify herself.
"Dead City Emily" sounds darker than your previous work. Would you say that the rest of July is similarly dark?
It is. I think that there's a lot of different emotions on the record but, honestly, there's a darkness. Well, it's multi-emotion. I think that working with Randall Dunn—he's worked with a lot of heavy bands—brought it out of me a little more. But my music's always had that dark undercurrent.

Did he try to infuse any black metal into your album?
[Laughs] He did not. I think that's funny because it seems people think of him like "oh he's worked with all these black metal bands," so he might take me and try to make me like this black metal concert pianist. Or the female version of Stephen O'Malley or something. But Randall, he's also interested in songwriting—he wanted to work with me because he likes my songs. I think he was excited to work with someone who wasn't so completely heavy. The form of my music, that there's choruses—it's not just ten minutes of ambient zoning.
How did it come about that you guys started working together?
My ties to this community go back a long time. It's been ten years since I put my first record out—a whole decade! So when I put my first record out I put it out on this underground vinyl only label called Eclipse Records. Their booking agent called started booking me but she also booked (Boris) and Earth and Sunn O))). So I had the opportunity when I was 22 to meet all these people and I kept in touch with them. So Randall messaged me on Facebook of all places saying he wanted to work with me! I wanted to try something new, I loved working with Brian McTear, who did my last two releases, but I also wanted to try a change.
Sacred Bones also seems like a step toward heavy or punk releases. Did that change the way you approached recording at all?
I had vowed I would never work with another record label ever again so it was shocking to find myself working with both Sacred Bones and Bella Union this year. But after self-releases I was like shit, I cannot do this anymore. I didn't want to be spending my time reading my own music reviews, it's really bad for the soul. It was killing me! I sold all these instruments and I was like "Fuck it, I'm not doing this anymore. I need a change in my life."
But I had a change of heart. I went back in my inbox and I saw an old email from Sacred Bones, from Caleb [Braaten], from a couple years ago saying that he wanted to work with me. I think his heart is like mine, he likes songs but he also likes heavy shit. But he has pretty versatile taste in music. I didn't feel pressured to make a heavy, heavy record. It could've been, but I wanted the songs to stand on their own without heavy-handed production.
And how'd you get connected with Bella Union?
Well, it's just the wonders of the internet! After I made up my mind to try this again, I saw that Simon [Raymonde] played one of my songs on his radio show so I reached out to him and then that happened. It was really a wonder of the modern world because I had a rare moment of being proactive about myself. He was like "I would love to work with you, I love your records." So that was how it happened. I'm trying to not be too fan girl about it, I love The Cocteau Twins.
July sounds more full-bodied and fleshed out than some of your earlier records. Was that a conscious decision?
My biggest goal with the songs was actually to make catchy choruses, and tell a story—to really focus on the craft of the songwriting. I wanted them to be good songs whether I was playing them or someone else was playing them in a different style. Take a song like "Drive," the first song on the record. I wanted to do songs that stuck in people's heads. I listen to a lot of old country music. I have satellite radio in my car when I tour.
Who do you listen to?
I listen to Willie's Roadhouse! I like old country. I like the accessibility of the music and the thematics. How every person can relate to it. As far as it sounding fuller, the one difference between this record and my other records that is really palpable is I wrote all the harmonies and the background vocals before I went into the studio so they were actually parts of the song. Every single harmony that is on that record was actually written before I hopped into the studio.
What was the impetus behind naming the album July?
There's a song on the record called "Firecrackers" and that is the crux of a lot of it. I named it July because it talks about this kind of traumatic breakup, blowout, drunken, messy low point of my life that was on the Fourth of July two years ago. I had broken up with my boyfriend and I moved into my parent's basement for a couple months. Then, we got back together and we're together now, so the record itself kind of details one July to the next, the ups and downs of this relationship. So it's a lot of reflection about coming back home, finding some solace and peace after mental chaos.
You've been in this industry for like ten years. Obviously, you've dealt with labels and self-releasing. But how have you dealt with the fact that the music industry is a boys club? Have you seen any positive change in a decade?
Let me give you just a little anecdote. I recently put together an all-female touring band for this album because I wanted to bring the harmonies to life on this record. I noticed working with these women that they're just so on top of their shit. It was not like that when I had this dude band for touring my 2009 record. There's a lot of sexism and pressure to be not only talented but also beautiful. It is tough, how far do you go to sexually objectify yourself? I've never done it. I don't have sexy clothes in my videos or anything. Maybe if I had done that years ago, I would've had an easier time in the industry.
But I'm a feminist and I wanted my music to stand on its own. It's just over and over again dealing with the same shit! I come into a venue and even though I'm on my sixth record and I've been touring for over ten years they're still like "oh just an acoustic guitar and blah blah." It's like did you even listen to the fucking record? It's actually not just that. But I think I've gotten more confident. And I think that there are a lot of great girl bands coming out these days! La Luz in Seattle and Speedy Ortiz—all of the Western Mass bands that are coming out that are female-fronted. It sounds like things are changing.

I was raised on the kind of music you make, obscure, medieval stuff like Loreena McKennitt. Do you think there's been a resurgence of this kind of sound?
I think maybe there is a renaissance going on, I think maybe it never went away. It's just what's in fashion, but people have never stopped making songs like that. People are just paying attention again.
I was so happy to see Sharon Van Etten do so well in 2012 with Tramp, I love her music.! We actually came up at the same time, we recorded our first records with the same guy, Greg Weeks. She's the real deal. She's also never presented herself in a way to sell records, it's always been about the music. It's the same with Angel Olsen too. Angel had actually opened for me in Chicago. It must've been five to seven years ago when she was 18 years old! So I met her back then. When Acrobat came out I wrote to congratulate her.
It's important for female musicians to support each other. It's tempting to be threatened but it's so important not to be. There's power in numbers and the more people playing great music with real songs, the better. I'm so happy to see their success.
It does seem that the Kurt Viles and Woods are kind of getting the "rock star" cast, and yet we've had no Joni Mitchell figure emerge. As far as women getting famous, they have to pop stars!
Like Lana Del Rey?
Yeah, she's kind of operating more in this style of music but with all these sexual and pop star trappings.
It is weird. I guess Sharon was the closest we got to the "rock star" and I was so happy about that. It is strange, with female musicians versus male musicians, I wonder is there an expiration date on when you're marketable versus male musicians? Like if people don't want to fuck you anymore because you're past 21 years old is it going to be an issue for your career?
You recently collaborated with Angel Olsen for the Mickey Newbury cover "Frisco Depot." is there anyone else that you want to work with?
There's some dream collaborations being on Sacred Bones. It's cool to be labelmates with two directors that I've been obsessed with since I was a kid, which is David Lynch and Jim Jarmusch. It would be cool as I've been more and more into soundtrack work to lend my vocals to some dreamy music similar to Julee Cruise Floating Into the Night, like the Twin Peaks soundtrack or something. That's my pipedream right now.
Caitlin White is a writer based in Brooklyn. She's on Twitter — @harmonicait