Image by Daniel Boud
St Jerome's Laneway Festival has a habit of curating simple-yet-inspired lineups; not heavy on clichéd headliners but rather packed with relevant and diverse artists. This year's tour has been no different. With a variety of genres and styles spread across four succinct and specifically curated stages gracing each city.
The Melbourne date of the tour has a habit of falling on one of the hottest days of the year and 2015 was no different with Laneway getting served another scorcher. But the heat didn't seem to deter the sell out crowd, who started filling the Footscray Community Arts Centre from early afternoon.
It was clear from the outset that clashes would be a problem, with Milwaukee Banks, Eves The Behaviour, Mansionair and the illusive Connan Mockasin kicking things off on their respective stages. But it's a credit to Laneway team for pulling out a lineup that ran so deep that there were packed crowds for the 1pm slots.
Of course there were teething problems; the eternal struggle to escape the heat/sun amongst thousands of people; and the daunting prospect of gaining a decent viewing point from what is usually a western suburbs street. But with the kind of talents and performers hitting the stages (including the undeniably lovely MC Agnes DeMarco) combined with technical precision in sound quality and stage production - Laneway is the kind of festival where you take the small annoyances with a smile.
Here are some of the acts that made us smile the most.
Reporting by Tom Hutchins, Josh Gardiner and Nadia Jones.
Image Katie Fairservice
Connan Mockasin
Mac Demarco might not be playing until much later in the day but here he is - all toothy grinned - at the starting gun walking Mockasin on stage. Before the kooky Kiwi picks up his turquoise teardrop to prove he's the most relaxed talent around, Mac's helping him out of those extra layers and smacking a familiar kiss on the lips by way of good luck. No one but Mockasin could sing about dolphin love without making you wince. If Mockasiin was a soft toy he'd sell millions. (Josh Gardiner)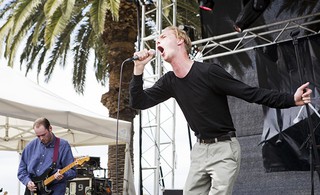 Image Katie Fairservice
Eagulls
As a few have already noted, the Leeds four piece have clearly listened to Joy Division. But then, who hasn't? Making small concessions throughout the set for their wilting British flower-ness, they run through a searing set of raw, phasing guitars, with their foppish frontman's stick-thin frame and flopping barnet calling to mind Chariots of Fire. Run boys, run. (Josh Gardiner)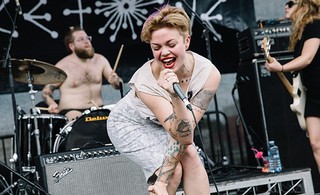 Image by Daneil Boud
Perfect Pussy
From squeezing blood from a cut on her knee to throwing up in her mouth, PP's Meredith Graves is a whirling dervish who's combative, charming and unstoppable. When a long-haired fan pounds the barrier and pleads for the band to make his ears bleed the laugh from the guitarist is as genuine as the unfettered volume blazing from his Marshall stack. These guys are having a good time and it shows. Cheek-burningly great. (Josh Gardiner)
Angel Olsen
Another act troubled by the heat, it's a strange brew of a setting for Olsen and her "babies" (that's us, by her count). She starts a bit late and can't seem to keep her guitar in tune but there's nothing wrong with her voice or sense of humour. Her's was one of my favourite albums of last year and no matter the soup we're swimming in, finally hearing it live is soothing. One of the best things about festival sets is that musicians tend to let their guard down a little and roll with the punches. Watching Olsen laugh her way through a tearjerking ballad while two boys in the front row sway in a cuddle makes you like her all the more. (Josh Gardiner)
Image by Daniel Boud
Mac DeMarco
Even with an early set in sweltering conditions, Mac had one of the largest crowds of the day. Introduced beautifully by his mother, the band began by referencing a Limp Biscuit DVD live performance – and 'threatened' to "blow up that boat". Melbourne seemed to receive one of the more standard sets of Demarco; free from fuck-ups, make-out sessions, Kirin J Callinan and mother-son dancing. But it still retained the ridiculous banter, the coy attitude and on point performance. Mac's voice seems to be at it's strongest, as he held notes longer and with more power. And even with all the stupidity we love; each track was full of energy and the band worked cohesively to provide perfect instrumentation. As Mac concluded with his patented "Still Together" crowd surf, you realised there are so many reasons to love this guy. You can just take your pick. (Tom Hutchins)
Jungle
The seven piece UK collective, headed by best friends J and T, were an impressive force on stage. Like a hybrid choir, with four vocalists crooning together alongside trills of electric keyboard, bass and rhythmic percussions. The soulful funk of "The Heat" radiated through the crowd. "Busy Earnin'" shook the side of stage screens as Vic Mensa cameod the with tight versed raps before the last chorus. By the opening bass lines and tambourine shakes of "Time", the crowd was going wild. One enthusiastic (read: entirely fried) punter shimmied his way up the electrical pole much to everyone's approval. Jungle were graciously overwhelmed by what they described as their largest crowd so far, and there was a mutual affection from all. (Nadia Jones)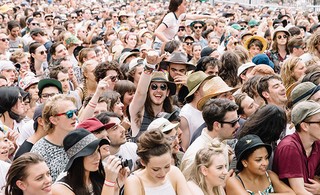 Image by Daniel Boud

FKA twigs
As dusk settled crowds legged it back to the Dean Turner stage for FKA Twigs. There's no one more mythical in pop right now and with the stage filling with mist there was the sense that we were about to experience something otherworldly. Despite a notoriously reserved persona with the press, the 26-year-old has an incredible stage presence. Her vocals were remarkable as she opened with "Preface," and her three band members on electric drum kits surrounding her. Twisting, turned and ground low to the stage while maintaining a near-perfect vocal execution of "Numbers." The lagging and swelling tempo of "Video Girl" paired with her airy, angelic vocals were hypnotic. Though at times the crowd doesn't seem to know quite what to do with their own bodies as Twigs pumps her own with deft skill, they seem happy enough to stare wide-eyed, rocking back and forth. She finishes the set with "Two Weeks" and now the crowd screams along and convulses to the throbbing bass. Forty minutes and everyone has fallen just a little bit in more love with this goddess. (Nadia Jones)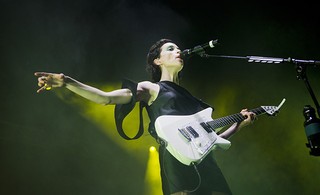 Image by Katie Dearservice
St. Vincent
It seemed a little ironic that before St. Vincent hit the stage, a computerised voice told the crowd to avoid capturing the performance digitally. You know, since there was more than twenty photographers in the pit waiting to capture her performance digitally. To some it may have felt odd to have Annie Clark as a headliner, but really she's the headliner for those who hate headliners. With stunning stage production backing her, Clark whipped out a stunning set that covered most of her well-known tracks – but with an added flair that no one else but her could provide. The set was diverse, her vocals powerful, yet delicate - and at times the sharp sounds were confronting, which worked perfectly with her robotic choreography. Combined with the charismatic demeanor of a natural performer, Clark took Laneway into a completely different world. (Tom Hutchins)