Walk the streets of Dinkytown, a historic Minneapolis neighborhood and it's impossible not to notice the dominance of the University of Minnesota. 'Go Gophers' signs and stickers cover house and car windows, the maroon and gold of the university's Golden Gophers sports team hangs from storefronts and the presence of the hulking TCF football stadium looms large.
Welcome to College Town, USA.
I'm here to meet Southern California punks FIDLAR and Southern Hemisphere surf party punks Dune Rats, who tonight play the Varsity Theatre in the heart of Dinkytown.
Neither is your typical college rock band and the closet surf beach is a couple of days drive away, but for the next week I will join the bands on the Midwest leg of their 33-date US tour. This will involve travelling many highway miles, drinking our body weight in cheap beer and eating a startling array of yellow colored food.
On my way to the venue I pass frat and sorority row; where the clean cut and khakied children of the American Midwest BBQ on front porches that are draped with US flags. Dinkytown could be one of the whitest areas in the United States, a place where they riot over ice hockey games, but the first person I meet is R. Kelly. Actually I meet two R. Kelly's. Two life-sized mannequins that flank FIDLAR each night as they enter the stage to Kelly's "Ignition".
The Kelly's are at the venue but everyone else seems to have sound checked and headed for dinner.
I track down the Dune Rats – Danny, Brett and BC – playing pool in an Irish bar around the corner. Introductions are made and beers are drunk. While sitting outside another bar waiting for the doors of the Varsity to open we are approached by Tank.
Tank isn't a student. He's odd. That he's holding a staff with a tennis ball stuck to one end is a giveaway. His willingness to demonstrate his Chewbacca impersonation is another. The Dunies love Tank and Tank loves the Dunies. I quickly learn that the band's infectious enthusiasm and their genuine nature makes them a very likable bunch of guys who happen to have a song that is basically a two-minute chant of "Dalai Lama, big banana, marijuana".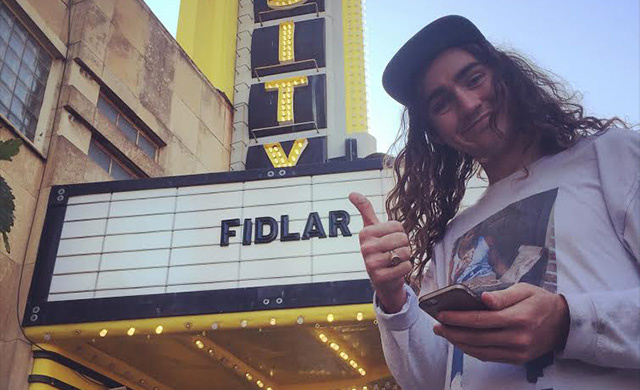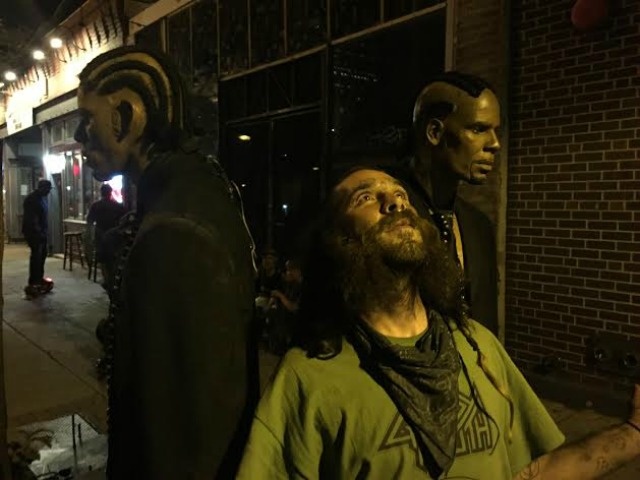 Later backstage I meet with FIDLAR; Zac, Brandon and brothers Elvis and Max as well as their tour manager Matt. The show is a good one. A young audience goes nuts for both bands and, despite Danny twisting his ankle during the Dune Rats third song, everyone is keen to party on. But jet lag can be a bastard so after FIDLAR's set I hop it back to my hotel.
It's a five-hour drive from Minneapolis to Omaha. Danny's ankle has swollen to the size of a dead puffer fish but he self medicates with Budweiser and laughs. Though the band have played in China, South Africa, and South East Asia, these 33-shows across the USA with stops into Canada will be their longest. For the next eight-weeks their van will be their home but it's a large and comfortable RV that is able to accommodate four guys, merch, gear and luggage. A toilet and well-stocked fridge means that beers go down well on the long drives. Later in the day we stop to change the grey water, which is polite RV talk for saying the shitter needs to be emptied.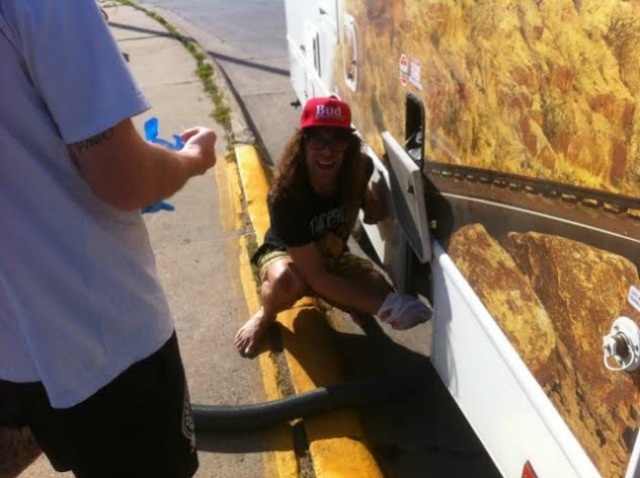 Anyone who has spent time with the Dune Rats or has watched an episode or Dunies TV will be familiar with 'Straight Up', a game of daring and risk that involves challenges, a lot of yelled numbers and loads of laughter. Over the week I experience bets and challenges that result in people necking beers (numerous times), wearing a t-shirt that someone else had just pissed on, asking a waitress if she could spit into an iced water, to BC entering and eating in a Midwestern diner shirtless except for a bath towel with a hole cut into it poncho style.
This time around Brett was an unlucky loser in 'Straight Up Emptying the Shitter'.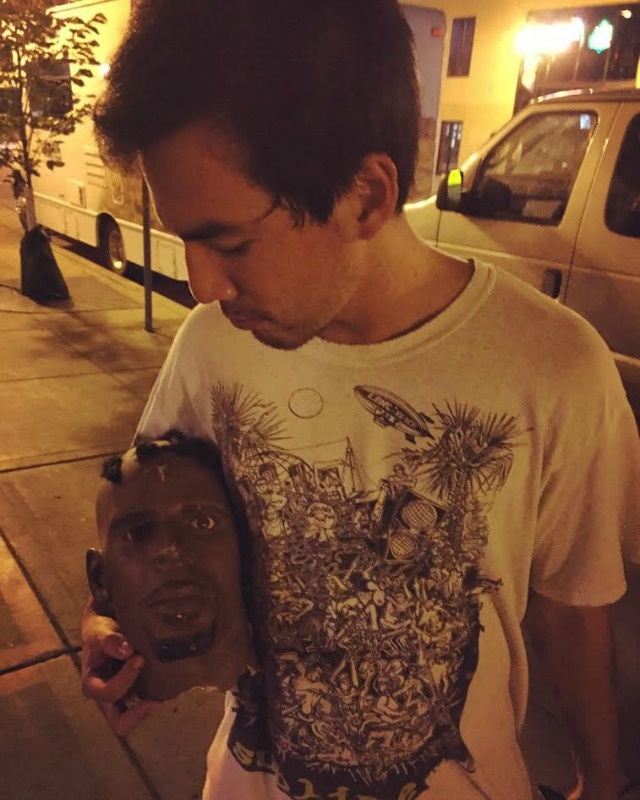 Though they are around the same age, FIDLAR and the Dune Rats approach touring differently. Whereas the Aussies are all wild-eyed enthusiasm and games of 'Straight Up', FIDLAR's Zac Carper, who in the past has spoken candidly about his problems with drugs, takes a more sober view.
"Part of being on tour is to party all the time and sometimes that gets dark. That's where shit develops," he explains. "For me it was heroin and meth and now I just don't party at all. But when the Dune Rats party they are never fucking bummed out. It's crazy. They are just completely fired up on life 24-7. It's fucking great for them. I don't know how they do it."
The Dune Rats have toured a lot but FIDLAR have toured an insane amount. In 2013 the release of their first album sent the unknown band around the world opening for the Pixies and The Hives. It seems like they've been on the road ever since.
Zac understands that being a "fucked-up party band" is not sustainable for long and he and the band look for longevity. Fidlar's latest album Too was the first time they had worked with a producer and Zac seems interested in developing a sound that reaches beyond the fun punk to include a more introspective and revelatory approach to songwriting.
There are talks of Zac recording the new Dune Rats album and he spent one afternoon in their van helping them develop a song. "Those guys have such an amazing number of little quotes and sayings and games they play. I'm like that's a fucking song right there. That's a hook right there."
Tour driver and merch guy Wes, with his long hair, Vans and chilled demeanour, could easily be mistaken as the unofficial fourth Dunie.His day job as a San Diego ambulance driver makes him an even more valuable member of Team Dune Rats.
Outside Terre Haute, Indiana, home to a super max Federal Penitentiary, the flashing lights of a highway patrol car appear in the van's revision mirror. Thoughts of super max prisons cross our minds as we pull over to the side of the road and Danny flushes the small amount of weed down the toilet. It turns out that Wes has been driving too long in the overtaking lane. As far as rock and roll outlaw goes the misdemeanor ranks up there with jaywalking or littering, but we're thankful that the cop is cool (if a little bemused as to why longhaired Aussie musicians are travelling down his highway).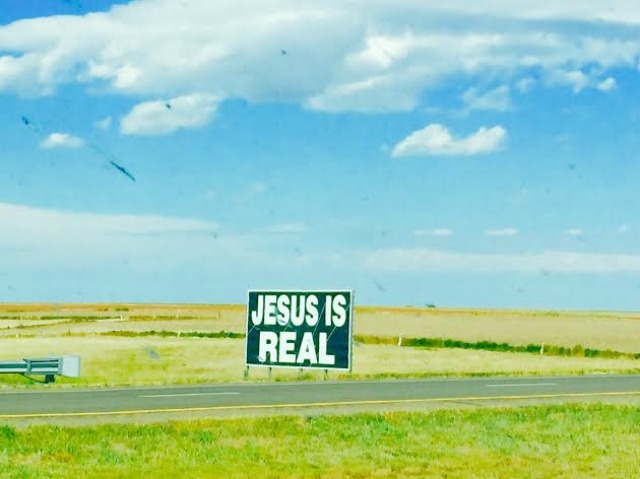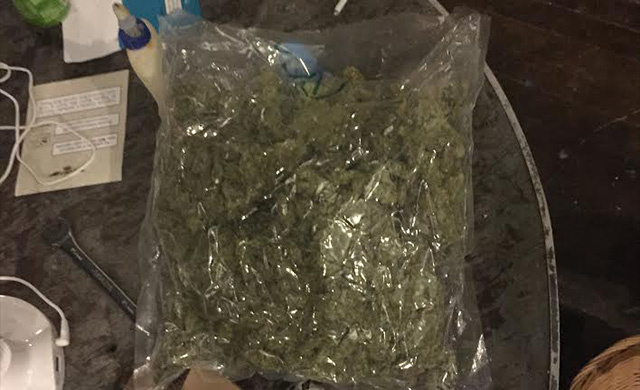 Columbia is another picturesque college town that is home to the University of Missouri. As we pass churches on the drive to the venue talk turns to weed. Luckily the sound guy hooks us up as soon as we arrive and we blaze up at sunset in the beer garden. Later we are taught how to play corn hole, a game that involves throwing beanbags through a hole cut into shiny sloped boards.
The show was solid with the young crowd going especially mad for the Dunies tracks "Fuck It", and "Red Light, Green Light" and the entire FIDLAR set. A girl invited us to her sorority house, which seemed interesting, but when a guy called Josh offered for us to go drink at his brewery the answer was a unanimous, "Hell yes!
We get free beer, a tour of the Logboat brewery and a place to crash. A good night all round!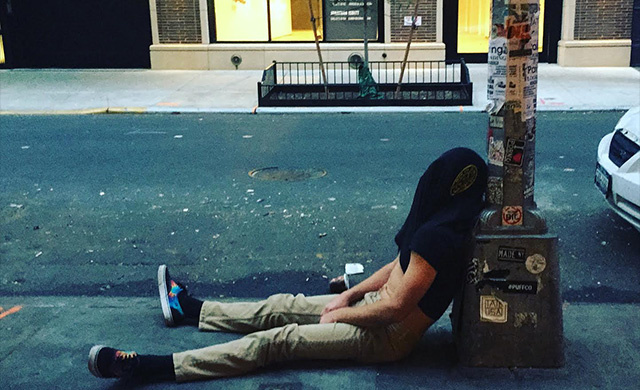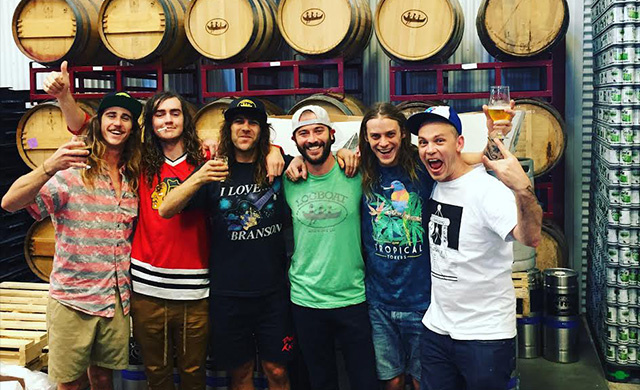 A Walmart stop in Missouri the next day allows us to stock up on food, more beer and Brett's 'stead attire'. Basically it's low-end clothing that involves white no brand sneakers, cheap stone washed denim and trucker hats. Imagine a cross between Kansas retirement home fashion and Jerry Seinfeld's wardrobe.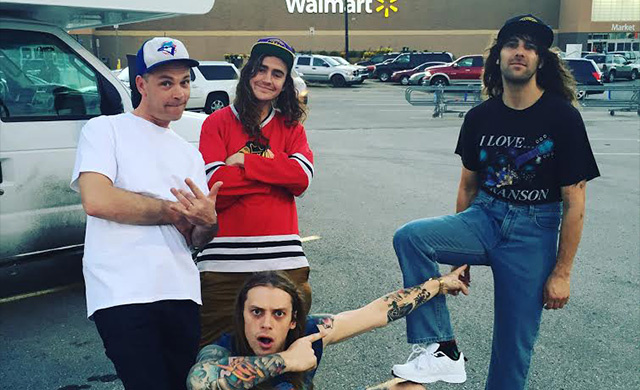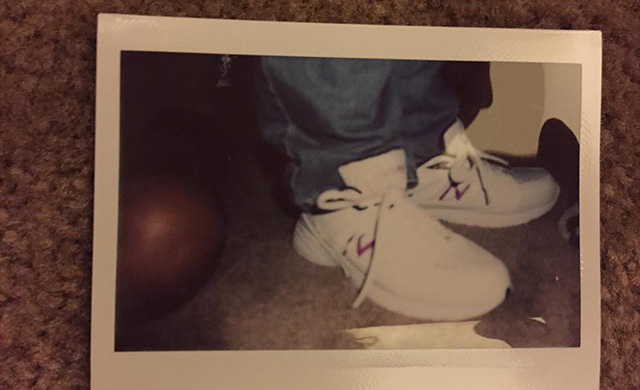 Newport, Kentucky is a mid-sized city that lies opposite Cincinnati on the banks of the Ohio River. The venue is Thompson House, a 200-year old mansion once home to General Southgate John Thompson (inventor of the Tommy Gun submachine gun), and a tour of the builidng includes a warren like maze of stairways, signs warning of the danger of dancing on old floorboards and a basement that had been used as a jail.
A balmy Friday night with a boisterous crowd up for drinking led to the best show that I had seen both bands play. The Dune Rats came out swinging and were quickly surrounded by stage divers many of who are hauled off by security only to run around and jump up on stage again.
Brett's demonstration of a 'shoey' (skulling a beer from a shoe) is met by equal parts disgust and awe. By the time FIDLAR take the stage it is late and the crowd have drunk their share of Pabst Blue Ribbon. When they break into their hit song "Cheap Beer" a lot of it is flung around the room. By the time they get to "40oz" the leading track and first single from Too, things start to get beserk.
Like most nights the party starts around the merch table after the show. The Dunies come out to chat to people, sign shirts and drink shots bought by shirtless bros with backward caps.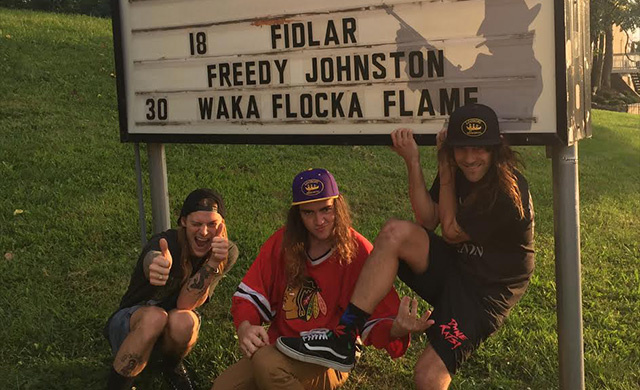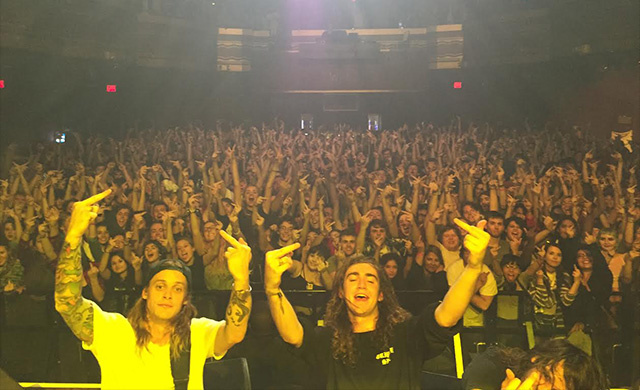 Zac later tells me that in many ways the Midwest is similar to the small town he grew up in Hawaii. "Small town syndrome. You can't wait to leave this town kind of thing. If you don't surf or do any sports there's absolutely nothing to fucking do. There's just a lot of the attitude in general."
But there's no denying the genuine hospitality of people who live in these college towns. It may seem that there's a church on every corner but there's also beer in every gas station and the people at shows are friendly and enthusiastic.
The next day we enter the outskirts of Detroit. KISS' "Detroit Rock City" gets a belting on the stereo before BC changes it to Eminem, one of his favorite artists, and we sing along while checking out some of the city's shelled out buildings.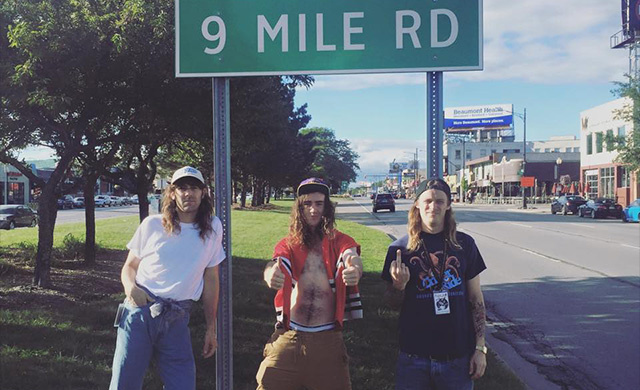 My last night with the bands is at a sold out show at a converted brothel called the Loving Touch. Brett writes the set list on the front of his shirt. Both FIDLAR and Dune Rats play hard and after the show Danny goes somewhere and comes back with some of the best tasting hot dogs ever. We drive back to my hotel so the band can do one last check of the van for contraband before crossing the Canadian border. Though tired, they are in good spirits and ready for another month of shows.
We say our drunken goodbyes, I crash out and they drive towards Canada. Two hours later I receive a text. I reach across to the bedside table and read, "We made it across the border. All good. Party on!"
Catch FIDLAR and the Dune Rats
Oct 8 Houston at The Studio
Oct 9 Dallas at Club Dada
Oct 10 Austin at the Mohawk
Oct 11 San Antonio at Lime Light
Oct 13 Oklahoma City at 89th Street Collective
Oct 15 Albuquerque at Launchpad
Oct 16 Phoenix,at Crescent Ballroom .
Oct 17 San Diego,at Observatory Northpark
Oct 19 Salt Lake City at Complex
Oct 20 Boise at Reef
Oct 22 Portland at Wonder Ballroom
Oct 23 Seattle at The Showbox
Oct 24 Vancouver at The Cobalt
Oct 27 Sacramento at at The Press Club
Oct 28 San Francisco at Slim's
Oct 30 Los Angeles at The Regent Theatre
Oct 31 Los Angeles at The Regent Theatre