On her immaculate smash hit single "Dreams," the British popstar Gabrielle rose from Hackney and into the charts with the message "dreams can come true" but "you gotta have hope," "you gotta be strong." It was her debut single, and it reached number two in the charts: an inspiration and a banger.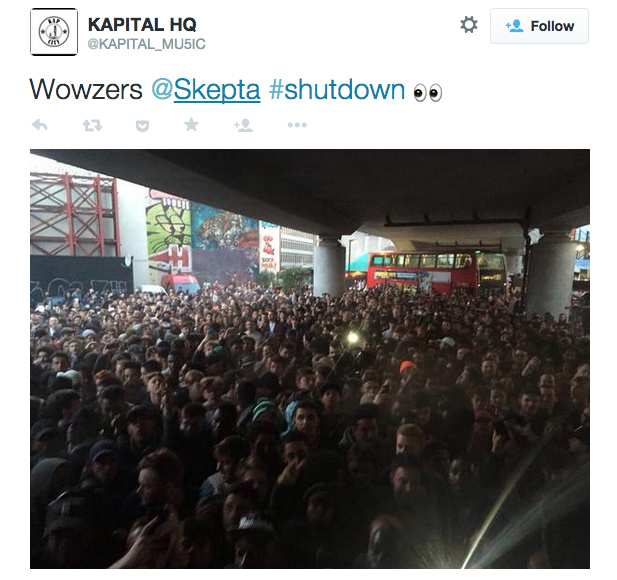 Realizing your dreams takes hard work. They don't just, y'know, happen. You have to put the time in. For the last eight years, one of those dream-chasers has been Skepta, who has gone from releasing his debut album Greatest Hits in 2007, grinding through the ups-and-downs of grime's changing fortunes, to bursting back like a phoenix clad in an agglomeration of Sports Direct stock. Five years ago he tweeted, "One day I'm gonna have a party in a car park and you can all come for free". And last night this happened:


His dream could only have been realized through steadfast commitment. As he told an audience at a Red Bull event last year, "At one stage when I felt that the UK music scene was going a certain direction, I wasn't happy with the music I was producing so I purposely took a risk to go back to square one and took a risk for people to say, 'Oh Skepta fell off.' People said I was shit, I got called weird."
That belief in what he was doing paid off in 2014 with the release of "That's Not Me." Its refrain of "Act like a wasteman? Nah, that's not me" exorcized the years in which Skepta—like most of grime's original set—dabbled in chart rap, releasing songs with the likes of Puff Daddy. It was a bold move and one that put him back on the map in a way unparalleled by his counterparts. The follow-up track "It Ain't Safe" confirmed that this was a new Skepta with a new vision.

On February 25 he received his biggest co-sign yet: Onstage at the Brit Awards Kanye West shouted out, "Yo Skepta! Thank you" as a crew that included grime artists Novelist, JME, and Stormzy stood behind him. Wiley called it "a massive statement." It was a new era.

"I know what [Skepta's] thinking," Wiley told NME. "He's looking back at the reason he hasn't been given his dues, he's laughing at all the labels who didn't sign him […] it's revenge: 'I've worked hard, I've broken my neck and you don't give it to me, you're killing me. But check this out, Kanye likes me. You lot are wrong.'"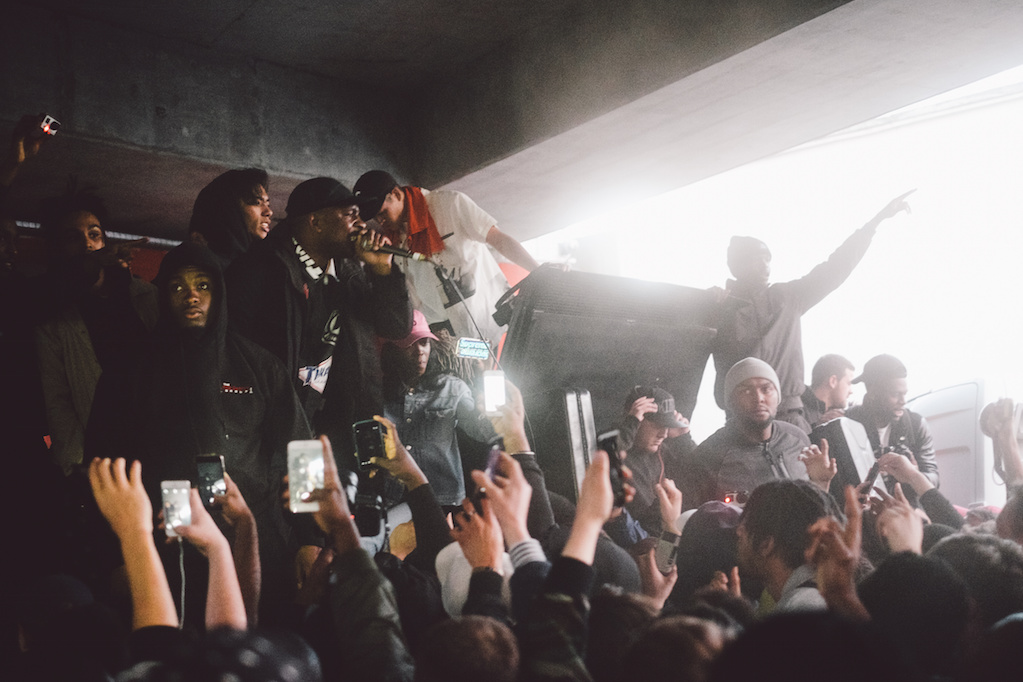 What followed was "Shutdown," arguably the biggest song of Skepta's career in that it offers a mission statement: Let us through. We will shut it down. And that's exactly what happened last night.


The show, which Skepta tweeted out only hours before and which was held in celebration of "Shutdown's" official release, took place in a car park in Shoreditch. Doors were for around 7 PM. Skepta was on stage for half an hour, booked in between 8 and 8:30 PM. The venue was packed: Some guys were sitting on rooftops...
... and buttloads were trying to scale fences.
Within minutes of Skepta coming on stage it went off. Just check out the visual evidence of him opening with "That's Not Me":

This was followed up with "It Ain't Safe," at which point Skepta addressed the crowd and said something along the lines of "I didn't think we'd even make it past the second song. I thought the police would come and shut it down." They didn't though. Although there was a heavier police presence than your average Streetfeast Event—a couple of riot vans and squad cars at the end of the road—they never reached the venue or tried to make those in attendance disperse.
Skepta finished with "Shutdown," reloaded twice, and was joined on stage with the rest of Boy Better Know. He thanked the crowd for attending. He said he had "worked hard on a two year vision." He repeated the motto "Boy Better Know forever." It was a defiant end. Despite some initial contention in the form of "let us carry on!"—which felt keeping with the "Shutdown" theme of the party—he ended at the time he said he was going to. It was a great exercise in doing shit right, shutting it down without any trouble, and something both sides—grime and the police—can learn from. It felt like a breakthrough.
More than anything, though, this was a moment for Skepta. As he said on his 2006 single "Duppy," he's "doin' it again," "they tried to stop [him] but he's doin' it again." It was inspirational, even more so than Gabrielle's "Dreams" mantra.
You can find Ryan Bassil on Twitter.