'Fuck Depression': Why a Kiwi Wrote This Blunt Book on Mental Illness
In the last year 606 New Zealanders have died by suicide. 606.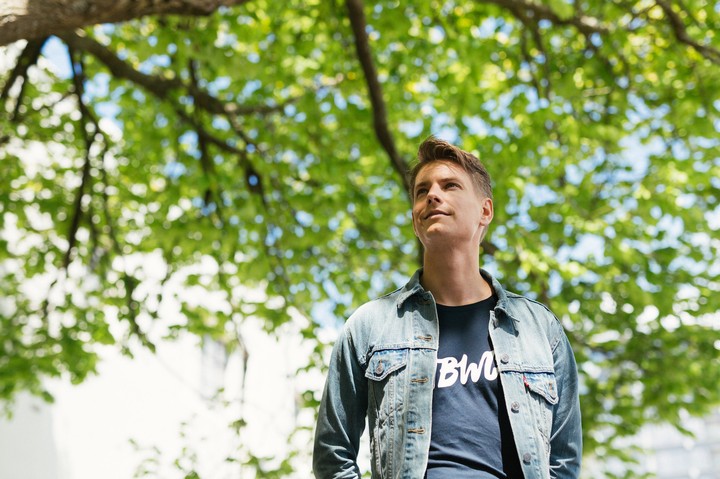 Jack Stack.
Jack Stack is sick of losing friends to suicide. And he's sick of living in a country in which 606 people took their lives last year. And having endured his own two-year bout of depression a decade or so ago, he thought he had something to say on the topic. Fuck Depression is the result, an informative, chatty, and freely downloadable book—"essentially, the conversations I wish I'd had with the people I had lost"—in which Stack outlines the steps he took to get over his own debilitating depression.
VICE caught up with Jack to talk about his hopes for Fuck Depression, the increasing pressures of being young, and how to make the national conversation around mental health and suicide as inclusive as possible.
VICE: Hey Jack. So what was the inspiration for writing Fuck Depression?
Jack Stack: What motivated me to write this at this time in my life was losing another friend. I've had several friends over the past decade pass away after losing their battles with depression. And this time around, which happened a month or two ago, really affected me because it didn't really have an effect on me. I didn't have the emotional response the way I've had in the past so I wasn't really gutted, I wasn't really sad, I was angry. And that said a lot to me. I was angry that he'd chosen to do this—make a horrible decision—but I was also angry at myself that I had never talked about my own battles with depression in the past and opened up the dialogue. And that change in emotion in me after having so many friends pass away over the years made me realise I'd become kinda desensitised to it. So I decided I was going to write down everything I did when I went through my bout of depression, which lasted a couple of years about a decade ago, and I wrote it in a way that would sound like a conversation between two friends.
Is that almost lighthearted tone a reflection of the direction in which you think the conversation needs to go?
I think the clinical approach to it serves a purpose—it definitely serves a purpose—but it isn't necessarily effective with everyone. Just like certain ways of dealing with illnesses aren't applicable for everyone. I think we need to cover more bases and take different angles. For example, if a person who comes in with a technical, clinical background and starts talking to me, it doesn't resonate with me and I kinda think they don't understand what I'm going through and so I feel like I'm being talked down to. And that means I'm less likely to potentially adhere to the advice I'm being given. I feel that we need to have this conversation in a whole bunch of different ways.
In your own life, you used depression as a kind of spur to get your life going down a better path.
Absolutely, and it can motivate you to change your life in a positive way. And we often look at it like 'Hey, this is a really bad thing.' What has happened in my life is it has actually resulted in good things post-depression, so I'm actually kinda glad I went through that shitty period because I came out so much better off. That's obviously not the case for everyone but that's kind of the way I've looked at it.
New Zealand's atrocious suicide statistics are proof that not everyone comes out of it like you did.
It's so fucked. Having 606 kill themselves last year in New Zealand is fucked. It's so fucked. And we talk about how it's sad and it's a national tragedy and all that, but it shouldn't be like this. We live in the best country in the world, with so much potential… We shouldn't have 500,000 plus people suffering. Not in today's society.
So what's going on then?
You've got this generation of people being raised in a time where most certainty around careers is gone. They don't know where their jobs are going to be. There are all these concerns. You've got massive student loans racking up, you've got social media pressures, you've got body-image issues—so much stuff happening and no one seems to be really addressing it so I was like, "I'm just going to write down my experiences and everything I did to deal with it." Hopefully in a way that engages with people. And it seems to have worked.
Tell me a little bit about that success.
So I wrote this thing and my plan was just to make it look presentable enough that I could put it on social media and hope that some people would read it and not be like "too long; didn't read"—you know what millennials are like. I wanted something that would engage with people and I was hoping to only have like 50 people read it, 50 of my friends. I remember saying to my girlfriend when I put it out, "If I get 100 people, I'll be so stoked." Within the first week I had 1000 people and then 2000. I've done absolutely no advertising, it's completely off word of mouth and people just sharing it, which is phenomenal. I never expected that could've ever happened.
Does that say something about the need for people to get mental health information in a more relatable way?
I remember when I was going through my stuff, I felt like I was the only person in the world feeling this way. I'd look at any resources available and they were all just matter-of-fact and very clinical, very sanitised. And that didn't feel like I was talking to anyone; it didn't make me feel like that person understood. They were just rattling off facts. They didn't really help with the feelings of isolation, so I really wanted to do something that just sounded like a conversation, and talking about it like a mate would. And when talking to mates, you don't just say, "Three hundred million people around the world are suffering from depression and these are the medicines you should take," you talk in a completely different way, like, "Bro, that sucks, fuck this, let's get you back to feeling like a champ again."
So the goal is that people both get the information they need and feel less alone because it's almost like talking to another person?
Absolutely.
Need to talk?
Free call or text 1737 any time for support from a trained counsellor
Lifeline – 0800 543 354 or (09) 5222 999 within Auckland
Suicide Crisis Helpline – 0508 828 865 (0508 TAUTOKO)
Healthline – 0800 611 116
Samaritans – 0800 726 666
Follow James on Twitter.