A crowd gathered in Redfern today to mark the 14th anniversary of the death of Thomas "TJ" Hickey, a young Aboriginal man whose death sparked the 2004 Redfern Riots. Aboriginal elder Ken Canning, Aunty Gail Hickey, and NSW Greens MP David Shoebridge spoke. As did Leetona Dungay, the mother of David Dungay who died in the custody of NSW police in December 2015. Speeches ended with Cheryl Kaulfuss of Indigenous Social Justice Victoria who led the crowd in chants of, "What do we want?" "Justice for TJ!" and "They say accident, we say murder!"
The protest then marched from Redfern park to NSW Parliament to demand Minister for Family and Community Services Prudence Goward reaffirm her commitment to build a memorial to Hickey at the site of his death in Waterloo. Demonstrators also called for an end to all Aboriginal deaths in custody across Australia and that a parliamentary inquiry be conducted into Hickey's death to address the failings of the NSW coronial inquiry and police self investigation.
According to police, Hickey died from horrific injuries he sustained when his bike collided with a gutter. However, this is contested by the Hickey family and their supporters. They say witnesses saw the 17-year-old flung from his bike after he was clipped by a police vehicle, impaling him onto a 2.5 metre fence.
The police claim they administered first aid until NSW ambulance officers arrived to transport Hickey to the Sydney Children's Hospital, where he died the next day surrounded by family. The Hickey family claim their son was removed from the fence against medical recommendations and police protocol. They also allege an officer, Constable Hollingsworth, sent the police rescue vehicle away when they arrived on the scene.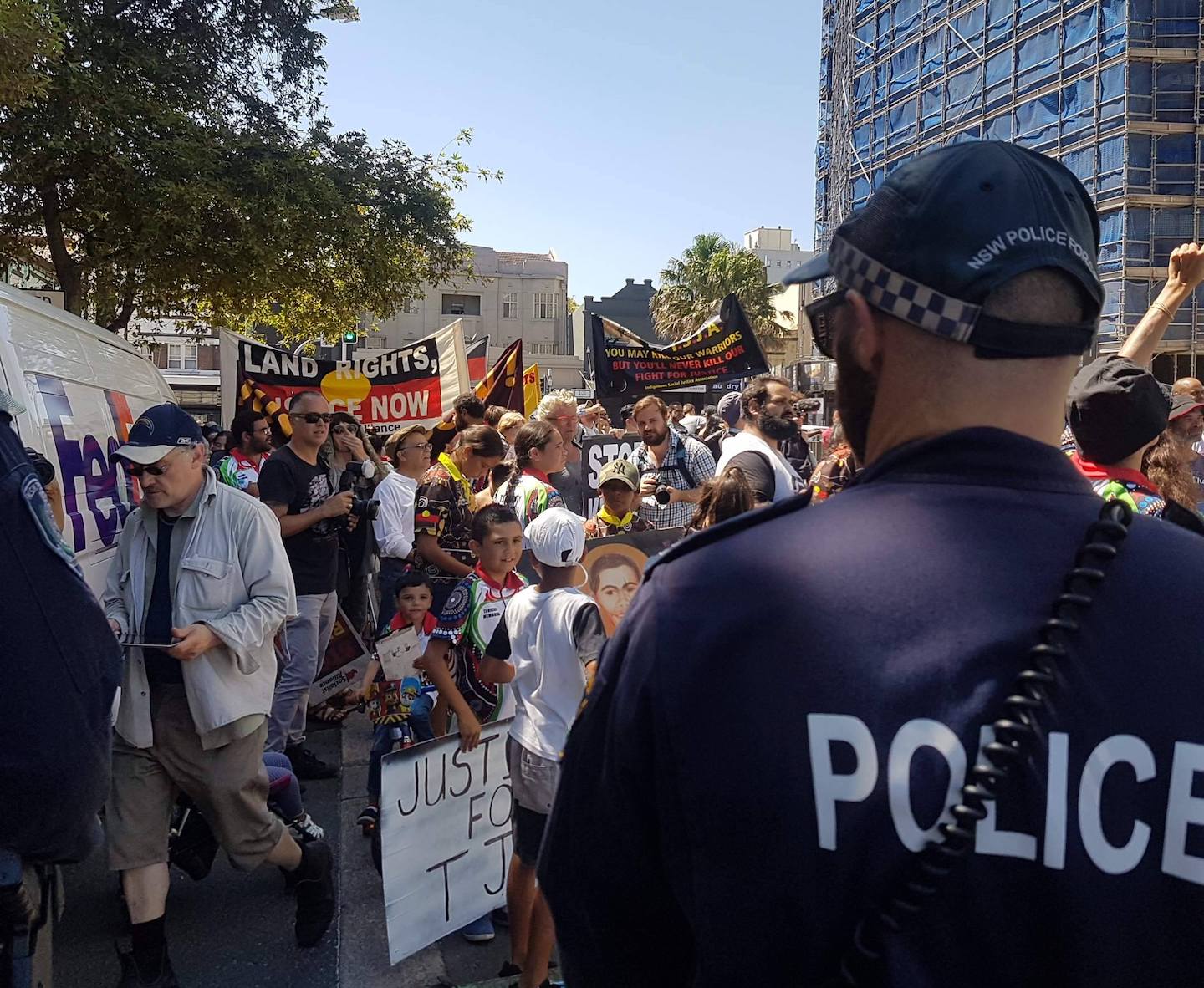 In Redfern today, every speaker reminded the crowd that the NSW Government had ignored repeated calls to reopen a coronial inquest into Hickey's death. The coroner cleared the police of any involvement in 2004, but the Hickey family has never accepted this finding. During the inquiry, Constable Hollingsworth refused to give evidence on the grounds it could "incriminate" him. The NSW coroner ruled no adverse inferences were to be the drawn from Hollingsworth's refusal.
Speakers also demanded today that if Minister Goward doesn't confirm the erection of a memorial to Hickey, one should be put up independently. In 2005, the University of Technology Sydney's students' association donated a plaque with TJ's portrait; however, the government refuse to use it unless the words "police pursuit" are replaced in the inscription with "tragic accident." Gail Hickey and her family have continually refused to concede to this demand.
The family and their supporters say they will continue to protest each year on the anniversary of TJ's death, until their demands for justice are met.
Follow Liam on Twitter