Last week, Germany's parliament voted in favour of marriage equality. Soon it will join Argentina, Belgium, Brazil, Canada, Colombia, Denmark, Finland, France, Iceland, Ireland, Luxembourg, Mexico, the Netherlands, New Zealand, Norway, Portugal, South Africa, Spain, Sweden, the United Kingdom, the United States, and Uruguay in legalising same-sex marriage.
Missing from this list, obviously, is Australia.
While the rest of the world has moved towards marriage equality, Australia has fallen behind—bogged down in debates over plebiscites, parliamentary votes, and six words that have proven tricky to shake free from: "between a man and a woman."
This year marks 13 years since then-Prime Minister John Howard amended Australia's Marriage Act to restrict the right of marriage to hetero couples "to the exclusion of all others." Every year since then, thousands have gathered for Equal Love rallies around the country, and 2017 will be no exception.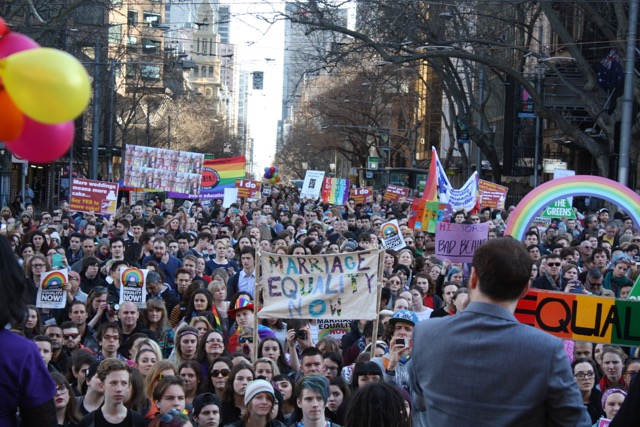 On August 26, Equal Love is expecting its biggest ever turnout. Included in the rally will also be a mass illegal wedding ceremony, held in front of Melbourne's State Library of Victoria. Priests, celebrants, and ministers will come down on the day to officiate these unions, and Equal Love will issue marriage certificates.
"This year, we are expecting even a bigger turn out as our federal politicians drag their feet more and more," says Anthony Wallace, a campaigner for Equal Love. "To put it plainly, Australia is without marriage equality today because Turnbull wants to keep his right wing cronies happy and his backside planted in that PM seat."
A bit of history on how Australia came to deny same-sex couples the right to marry highlights how politicised marriage equality has always been in this country. "Back in 2004, two couples—two women, and the other two men—planned on challenging the federal government in allowing and recognising their marriages that had taken place in Canada," Anthony explains.
Then-Prime Minister John Howard was advised the couples were likely to win the case, which would extent all couples the right to marry in Australia. At the very last minute though, Howard's Attorney-General Phillip Ruddock introduced a bill amending the Marriage Act, and legally restricting marriage to include only "a man and a woman to the exclusion of all others."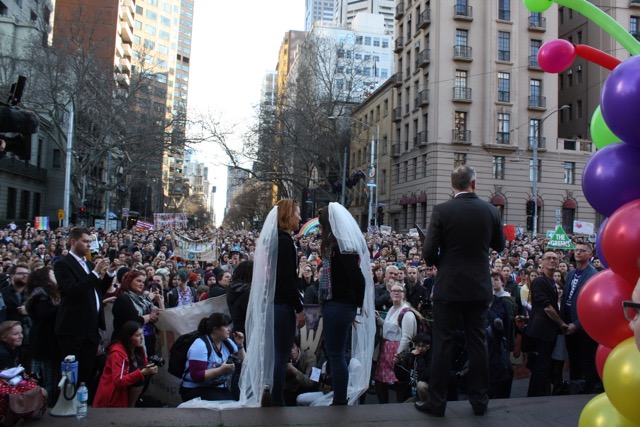 "In just under two hours the law was formalised squashing any chance of the two couples winning their challenge against the government," Anthony says. "This was the day prior to the case being heard and the two couples decided to drop their case... Since then, for the past 13 years, there has been growing support and demand to remove that added discriminatory amendment and extend marriage to any two adults regardless of gender."
In 2004, John Howard told reporters his government decided to push through the changes to "make it very plain that that is our view of a marriage, and to also make it very plain that the definition of a marriage is something that should rest in the hands ultimately of the parliament of the nation." In 2017, the Turnbull Government refuses to have a free vote in parliament, and insists the only way Australia will see marriage equality is if there's a national plebiscite vote on the issue.
But Anthony says that while politics has lagged behind public opinion on marriage equality, this year marks a watershed moment. "For the first time there is overwhelming support in the lower house and upper house and both leaders of the Government and Opposition support marriage equality," he explains. "It would be passed into law as quickly as it was banned, in hours!"
The 2017 Equal Love rally and mass illegal wedding will take place on 26 August, 2017.
Follow Maddison on Twitter