"I've got a few, you know, and they mean everything to me. My tattoos remind me of a certain stage in my life, and whether I regret it or not it was what I wanted at the time. I've got a massive cross on my sternum, right at my core, and inside the cross it's just flesh within an outline. That's the only part of me I want to keep free, because that's what I've been raised on: Christ, church and clean living at the centre of my core."
Conor Benn is less physically imposing than one expects from a professional boxer. Were it not for the labyrinthine body art which snakes out below his shirt sleeves, over his collar and round the back of his neck, he would look much like any other 20 year old, or at least any other 20 year old who is relentlessly photographed in plush hotel foyers and travels by chauffeur-driven car. He currently fights at welterweight, so a Herculean physique and hefty body mass aren't really the name of the game, but at such a young age he himself admits he has the potential to hone his body further. "I ain't even got muscle density yet, and look at the way I'm fighting," he says. While he only stands at 5"8, the muscles he does have still look like they could pack an ironclad punch. He wants to conduct our interview in his ride for the day, a sleek black vehicle settled in the eerie expanse of tarmac and concrete at the front of the Intercontinental Hotel in Greenwich.
Son of the iconic Nigel Benn, 'The Dark Destroyer' whose middleweight rivalry with Chris Eubank was a defining part of the nineties heyday of British boxing, Conor moved to Spain with his parents around the turn of the millennium, before moving onto Australia a few years before the start of his professional career. His father found religion after struggling with mental health and addiction issues following his retirement, and it's clear from the Christian iconography inked on Conor's body and his own references to faith that he has much the same convictions as his dad. Speaking about his ambitions for the future and how he sees his endgame in boxing, Conor says: "I want to be world champion, have a nice life, work on my own time; have a few investments, have a beautiful family, have a beautiful missus; live abroad, live in Sydney, live with my family, that's what I want. However much I have to graft now, I know: 'Graft now, rest later'. It's all fate, and I trust in God, I trust in the process."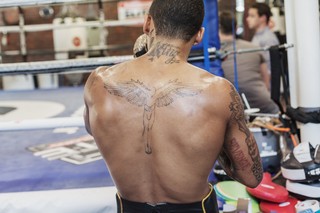 Unlike some of the more cynical operators in the fight game, Conor has an earnest and sincere manner, and is perhaps less jaded than some of his elders after only a few years in a sport which has a reputation for exploitation and a cutthroat attitude. Certainly his father's standing in the sport has been exploited in a bid to hype up Conor's professional fights, of which there have only been six to date, ending in four KOs and six wins. Asked whether being the son of a boxing hero has been a help or a hindrance in his career, Conor recognises that his famous parentage correlates directly to his level of exposure. "Look at the life I get to live today, that's because of my dad," he says. "This early on in my career, 20 years old and six fights in, to be able to sit in a car like this, that's one of the blessings my dad has given me." The fact that the interview is taking place in a luxury vehicle provides us with a visual metaphor here.
READ MORE: Benn and Eubank, The Best of Enemies
That said, Conor seems philosophical about his advantages and keen to separate the cosmetic from the essential. "That stuff is not going to get me a world title around my waist," he adds. "You've got to have a balance, and think: 'This ain't because of me; the life I live ain't 'cos of me; the nice gaffe I got and the nice watch I got ain't because of me'. You have to keep giving yourself that reality check and try to be your own harshest critic, 'cos at the end of the day if I lost my next fight all this would be gone in a click of the finger." While his association with his father's legend has doubtlessly drummed up considerable publicity and interest from boxing fans, the acute pressure of the Benn legacy slices both ways. "There's definitely more pressure. People judge me as if I'm a 28-year-old grown man, a seasoned pro who's been doing this for years. I'm not, I'm a novice, I'm a little boy compared to other fighters in this sport."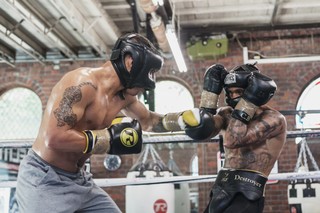 It's clear that Conor considers his father a major influence, even if there are downsides to being the son of a hard-as-nails boxer with a formidable personality and a military background. On Conor's official Twitter, his pinned tweet reads: "I never use[d] to understand my dad when I was a kid. Now I see things too clear." Asked about what he means by this, Conor says: "My dad was really harsh on me as a kid. If I fell over and scraped my whole face, I'd get up and cry and he'd be like," – Conor assumes a gruff Nigel Benn voice here, putting emphasis on every word – "'Stop being a little girl'. He weren't really compassionate when I was a kid, but he raised me to be a solid, strong young man. Financially as well, he never gave me no money. He provided me with a good lifestyle, but he never spoilt me with money, so I learned my own values."
READ MORE: The Cult – Nigel Benn
While the values might have been consistent, Conor's upbringing could not have been much more different from his father's in a material sense. Nigel Benn was born to Barbadian parents in the stern surroundings of sixties Ilford, and by his own admission spent much of his youth fighting in the streets of East London and going toe-to-toe with the National Front. Conor speaks about the contrasts of his own circumstances as a teenager, which were tough and relatively privileged all at once. Still speaking about his dad's insistence on his financial self-reliance, he says: "Sometimes I'd be like: 'Dad, you're driving around in a Porsche, you don't work, we're living in a mansion in Spain'. I just thought that was a normal way of living. Him not giving me money has shown me today how to value money, though. I was doing painting and decorating in Spain for €20 a day – €20 a day, from six to five – and people don't see that side of things. Some people say I'm 'silver spoon this, silver spoon that', but you know what? You can't choose the life you're born into. I'm working hard now so I can give my kids a good life, so they don't have to understand the struggle, and that's what it's all about."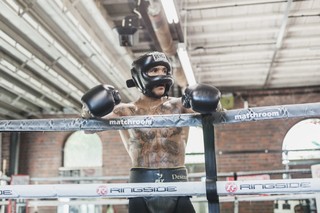 There are contrasts in the life of Conor Benn, then, in that he seems to share the same working-class ethic as his father but is still, inescapably, the son of a millionaire. This is another aspect of the Benn legacy which could be a cause of internal tension, though Conor appears to have squared these conflictions with himself without it causing him too much angst. As he has already acknowledged, to continue his rise through the ranks in boxing he will have to succeed on his own merits, whatever his family legacy. His next challenge comes in the form of an as-yet unconfirmed opponent, but Conor will certainly be expected to win. The fight comes on the undercard of Frank Buglioni's light-heavyweight title defence against Ricky Summers, on 1 July at the O2 in London.
Conor hasn't fought since December 2016, having broken his jaw and gone through a period of training and rehabilitation. While his first few fights came at a frenetic pace, he has had more time out to think, reflect and hone his technique ahead of his next bout. While he stresses that his preparation has gone well and he has returned from injury with a renewed hunger, he also admits that training camps can be a psychological burden of sorts. "It's very lonely, very lonely," he says. "You know what, when everything goes wrong, who's actually there? I'm realising all this stuff now while I'm young, it's all character-building and it's only going to help me in the future. I'm still learning, man. There's so much about life to learn."
While Conor shatters this contemplative moment with the admission that his most recent life lesson was that he needs to pay for a TV license ("You've gotta pay to have a TV, you've gotta pay to have Sky, and you've got to have a TV license. What?"), he has a reflective side which sets him apart from many other elite athletes. Ultimately, luxury cars and watches aside, he comes across as a fairly ordinary 20-year-old attempting to get his head around an extraordinary life. He also comes across as a son who lionises his dad, which certainly isn't exclusive to the world of boxing. Conor is at his most thoughtful when he speaks about his father's rematch with Steve Collins, with a shock clash between the two fiftysomethings announced on the morning of our interview.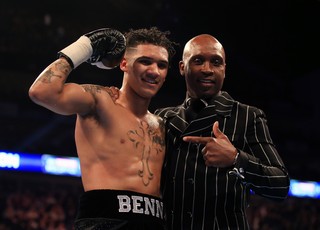 "I don't want my dad to fight, you know," Conor says. "He's had a great career, and when it's someone you love and care about, boxing is a brutal sport, and once you get in that ring you're on your own. I don't want to see him fight again. It's putting your health at risk, and while boxing is one of them sports and has done him the world of good in his life, there's no mercy or grace in the ring, and your health's on the line. When you're at the age of 53, you know, it's one of those things. You don't want to see your dad go through that... I know how hard it is, and I don't wanna see my dad get hurt, get rocked, get wobbled at the age of 53."
Rematches between retired legends certainly reflect the more exploitative face of boxing. "Although he's fitter and better and stronger [than most], it's a different thing getting blows to the head when you've been out of it for 20-odd years," Conor goes on. "I don't want him fighting, no way. He's got everything, he's going to be the richest man in the graveyard along with my mum, you know what I mean? It would have been good to see my dad in his prime, but I don't want to see him get in the ring again, I don't think that will entertain me really. It'll be a great fight for the public but for me, as his son, nah. I just want to see him as a healthy old man, so he can see my kids come through."
Safe to say Conor Benn won't be fighting in his fifties, and has already learnt that a career in boxing has its limits. Thankfully for fight fans and those with their eye on the new 'Destroyer', he's got a long way to go before he reaches his.