This article is part of a series, presented by QLD Government, where we look at the effects of car crashes and how we can improve awareness about road safety.
In 2013, Ebony Harrison's dad was involved in a serious crash. She tells VICE about how it changed her whole family.
I can't remember what I thought about car crashes before, but since my dad was involved in a serious crash, they've become demystified: they're real things that can actually happen. A series of events align, something goes wrong, and not much can be done to stop it.

Dad's crash happened just over four years ago. Dad, Sean Harrison, was 47 at the time. He was strong and healthy, and had taken an interest in motorcycle riding—it was fun, fuel-efficient, and it got him from A to B.
On Sunday, the 6th of January, dad didn't quite make it from A to B. Him and his friend were on a leisurely ride in Queensland's north. They'd peaked a mountain, and both decided to return home.
Dad doesn't remember much about descending the mountain, largely due to the whirlwind of the crash to follow—but he does remember waking up on the road and thinking, 'I'm not going to get up and walk away from this one.' He'd had a serious crash, a head-on collision with a car.
The crash resulted in a host of injuries: a compound fracture in his left leg, every tendon torn off his right knee, five fractured ribs, which punctured both a lung and his spleen, and a bruised kidney.
His spleen was removed in an emergency surgery, but rupturing the spleen itself caused an internal Ecoli infection, which meant living with an open incision in his stomach for 10 weeks until it drained and healed (it's as strange as it sounds).
He was put in an induced coma for days, and eventually left ICU for a regular hospital bed, where he was given access to a wheelchair.
The wheelchair was a big deal: for dad, it symbolised freedom. I'd never previously considered wheelchairs to be synonymous with freedom, but I guess that's perspective for you.
The wheelchair was a chance to leave the confines of the hospital room. He also used it to wheel himself up and down ramps near the hospital bus stations.
"For me, exercising in the wheelchair was about constantly moving forward, moving in a direction that meant I was getting better and stronger and faster," he recalls.
From the minute he could, he wanted to be on the road to recovery. This determination lead to a short hospital stay, totalling just 7 weeks and 2 days. He left on February 26, 2013.
"I'm not waking up in hospital on my birthday. I refuse to be in hospital on my birthday. I wanted to wake up at home," he tells me, and even now I can hear in his voice what going home that day meant to him.
Out of hospital, dad began the long journey to his 'new normal'. Dad's full-time job became getting better. The extent of physical recovery was significant: re-strengthening muscles, constant day surgeries, and the toll of pain, medication, and sheer exhaustion on his body. But it could have been much worse.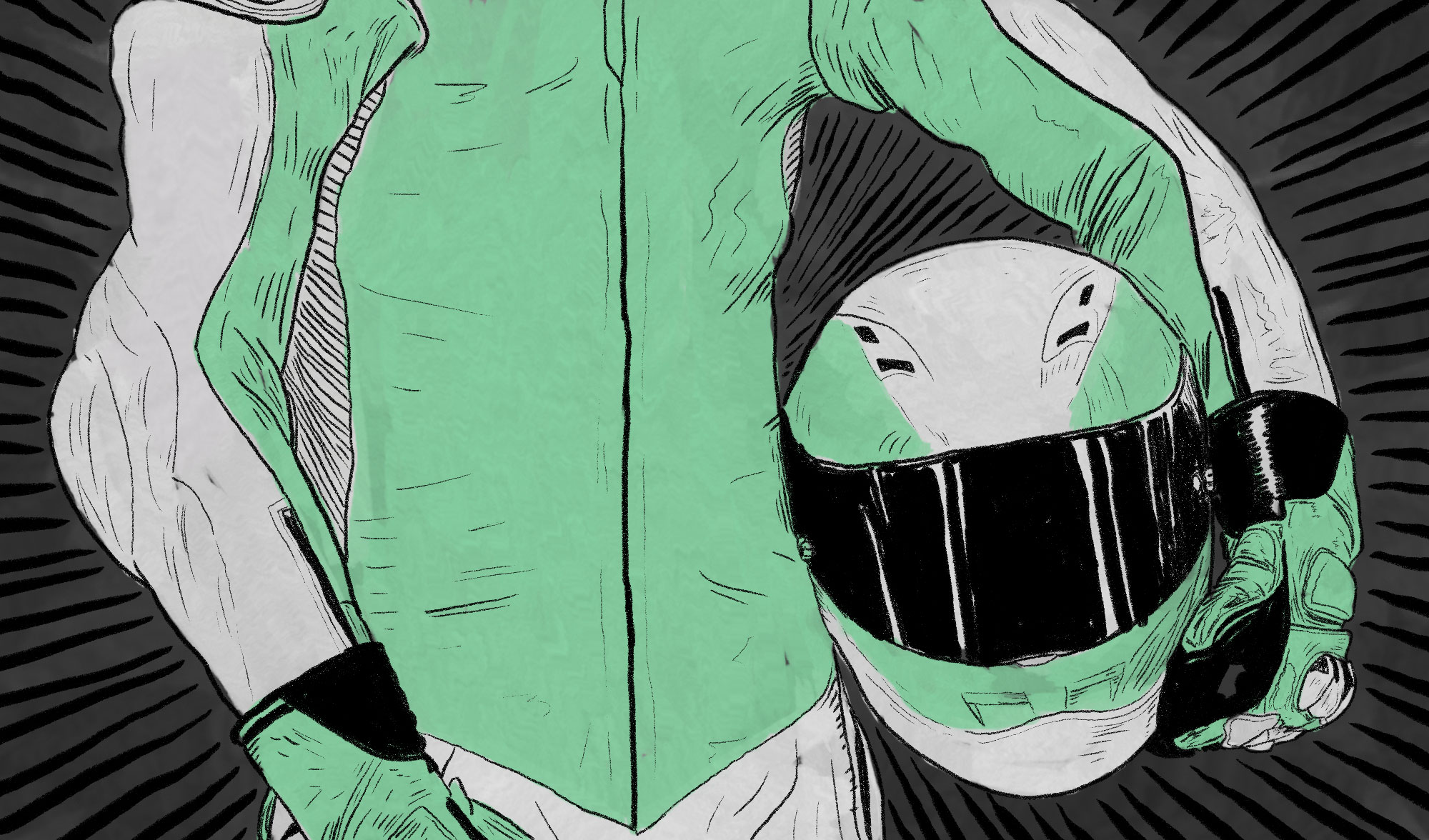 Thankfully, dad never rode his bike without full protective clothing, which drastically hastened the speed of recovery. Without protection, the crash would have taken on another dimension; he would've almost certainly lost a leg, and suffered severe skin damage and infection.
It made me truly appreciate this iconically 'dad' move; I questioned myself for ever thinking twice about wearing even just a bicycle helmet.
A bad hair day is a small price to pay for your brain, and it's never too hot in Queensland to be wearing full leathers on a motorbike.
The physical injuries—while the most immediate, visible, and probably most confronting aftermath of the crash—weren't the only effects on dad and the entire family.
It was already a transitional time; my mum, Lorraine, had started a new job after 18 years at her previous one, and my sister, Jade, was starting high school. I'd flown the coop by then, and was living a student life.
Jade and mum were together on the day it happened, and Jade says it was the worst night of her life. She witnessed the doctors cutting dad out of his gear and the frenzy of emergency ward activity.
We both felt the same sense of mortality about our parents on that day. Dad, the pillar of strength, was suddenly and unwelcomely human.
Not only was Jade processing the event, she also became a support for my parents. She willingly took on domestic tasks like cooking, grocery shopping, and caring for our pets. My parents agree that this has been integral to their ability to rebuild their lives after the crash.
Mum also rose to the circumstances, and their challenges, admirably. At 19, we bonded as adults and I greatly respected her emotional resilience and practicality.
A lot of people—myself included—see dad as a kind of new man these days. It's a total cliché, but it exists for a reason. These kinds of traumas do change people.
It's easy to see from afar what this looks like—a man collided with a car, and came home someone new, with a new lease on life. He's chattier, he smiles more, he gets excited, he's overwhelmingly proud of my sister and I (and he's vocal about it). Dad doesn't see it, but I think that's because the crash for him is not a singular event. It's an ongoing process, a redirection of his life map that changed everything.
Of course, those little changes are nice—but the most significant factor, and the key to our optimism throughout that time, was the fact that dad survived.
Our collective response was built almost exclusively on that fact. I can't begin to imagine how the situation would look, or what things would be like now, if he hadn't. For us, a bad thing happened and we were able to make the best of it. But we are certainly among the lucky ones.
This article is presented by QLD Government. Find out more about road safety and Join the Drive to save lives here