When a band is known for making distinctly guitar-oriented music and the lead guitarist decides to move on that could easily be the end of said band (should be in some cases). But that wasn't what happened with New Jersey's Real Estate. Last year it was announced that Matthew Mondanile had left the band in order to focus on his other project Ducktails. Being one of indie rock's most gifted guitarists, Mondanile left a pretty massive void to fill, but like the temperate rock music they make, the rest of the band—singer/guitarist Martin Courtney, bassist/singer Alex Bleeker, drummer Jackson Pollis and keyboardist Matt Kallman—remained calm. Longtime friend Julian Lynch, a successful solo artist himself and known guitar virtuoso, stepped in and gave Real Estate the refresh they didn't realize they needed. "Basically, Alex, Matthew, Julian and I all met around the same time—I actually met Matthew and Julian on the same day, when I was 14 years old," explains Courtney. "So he's an old, old friend. It was more than asking some musician guy we knew to join the band: It was asking someone that we grew up with. It made a lot of sense for him to jump in at that point."
Formed in 2008 by high school friends Mondanile, singer/guitarist Martin Courtney and bassist/singer Alex Bleeker, Lynch very much could have become a founding member of Real Estate. ("He was in grad school and has been in school since then—it just didn't make logistical sense," says Courtney.) When the band began turning heads, they were considered an immediate breath of fresh air for American indie rock. Calling upon the chilled guitar vibes of bands such as Galaxie 500, the Grateful Dead and The Feelies, not to mention just about every jangly band on the Flying Nun roster, straightaway Real Estate found their devoted fan base with singles on Underwater Peoples and a self-titled debut LP on Woodsist. After signing with Domino, they dropped two near-classics, 2011's Days and 2014's Atlas, which both demonstrated that sometimes rocking out can be done while remaining cool as a cucumber.
If the idea of Mondanile not being a part of Real Estate still feels a little strange, one listen to the band's new, fourth studio album, In Mind, should allay any weirdness. If anything, this new version of the band encourages Lynch to show off his unique style, which is what made him such an obvious choice to join the band. "Since we grew up together we share those deep high school influences and we have these formative musical memories because we played together in high school," Courtney says. "That part of it makes a lot of sense, but he's a very different musician from Matthew, all around. We weren't asking him to join to replace Matthew. We were asking him to join in order to make the band new. He was a friend, yes, but it was an added bonus that he would be pretty different from Matt. So it was exciting for us to see what that meant."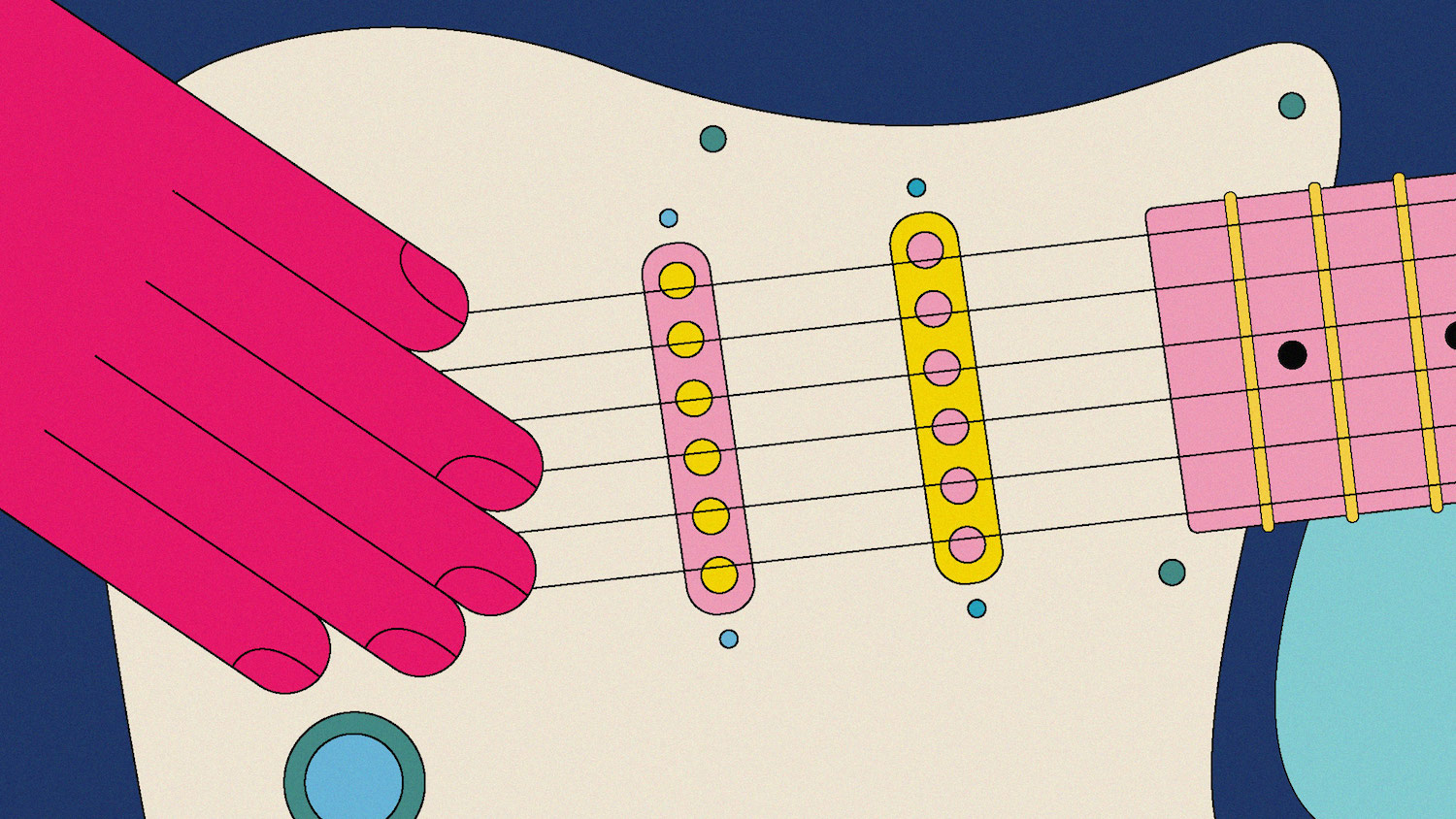 In addition to Lynch's contributions, Courtney has found new subjects to inspire his songwriting. Real Estate songs have always provided the listener with a soft-focus sense of nostalgia, but on In Mind his thoughts are just as much on what's happening now, as casting a glance over his shoulder. Becoming a father of two since Atlas was released has provided Courtney with newfound inspiration, which is most evident in the chorus of "Stained Glass": "There's no place I would rather be right now / I'd love never to leave but I just don't know how." And it may have been inadvertent, but it's hard not to hear "After the Moon" as some perfectly formed, quixotic lullaby for his two little babes. It's not quite Raffi, but this deeper level of placidity makes In Mind feel like the prettiest Real Estate album yet.
Noisey called up Courtney while he was driving around his neighborhood running errands to talk about life in the band without Mondanile, the uncommon art of writing out your own guitar tab, and why he'll always have a soft spot for the Wendy's Spicy Chicken sandwich. (Note: he quickly made it known that he was using a road-safe, hands-free headset.)
Noisey: How much of a surprise was it to learn that Matt was leaving the band?
Martin Courtney: He didn't really leave. It was more of a mutual kinda thing. I don't how to exactly put it. But it made a lot of sense to everyone involved. It was definitely not a shock. He was doing Ducktails, but it happened when we were just about to start working on Real Estate again. We kinda saw it coming.
You, Alex, and Matthew all met in school as kids. How hard is it to say goodbye to someone you grew up with and started a band with?
It was a little weird not having him around because he was the lead guitar player and a founding member of the band, so he was involved in all aspects of the band, including the business side of things. It was a change. But the four remaining members—including Matt Kallman, who had been in the band for three or four years at that point—were already a tight unit without Matt in the picture. So it definitely felt good for us to still be making music. By the time we got together to start working on new songs, we hadn't really played with each other in seven or eight months, so even then it just felt like a good time to start playing together again. It just felt fresh in a nice way. So it was a positive time and it was a good experience making this record.
What I've always like about Real Estate is that you guys have a distinct sound that you don't mess with. Some bands want to reinvent their sound with each album. Is there ever any discussion about changing directions for Real Estate?
We talk about it in a very self-aware way, like, we don't want to keep making the same record again, if only for our own sake, so we feel like we're evolving as musicians and trying new ideas. But at the same time we joke that we're not going to arbitrarily make changes just for the sake of sounding different. Any difference on this record came really naturally. I hear people say that, and I'm glad it's a good thing in people's minds that we're consistent. For me, I feel like we're getting better. Obviously there are elements that are unchanging, like my voice and the way we use guitars as the basis around how the songs are built. But we have messed around with song structure, arrangements, and there's a lot more keyboard on this record. It feels different to me in a really nice way. But yeah, we didn't make a dance record. The way we write feels really natural to me, so that's why I love this band. That's not gonna change too much.
Does an album that is written in the cold months of the year in upstate New York change at all when it's then recorded in the hot Los Angeles summer?
[Laughs.] That's the best way I've heard that question put. Because it's hard for me to tell. By the time we got to the studio all of the songs were put together, which isn't to say we didn't experiment in the studio. Maybe it had to do with where we were, or that it was in the summertime, or we were just excited optimistic about the songs. I think there are a lot of reasons as to why the record feels very bright. It could be that we were in LA or that we were in a stoked mindset. I was excited to throw sounds into the mix that we maybe wouldn't have put on previous records.
You guys released a tutorial on how to play "Stained Glass." You did the same thing for the "Crime" video . Do you write guitar tab for all of your songs as you come up with them?
No. I don't. We did the "Crime" one and I thought it was cool. Each time we had to sit down and write out the tabs, and that's the only time I've ever written tabs for my own music. I don't know why any musician would, unless it's a very specific band where one person writes it and then teaches the song to other members. Generally I wouldn't tab out my songs. But I'm glad we did those videos because they're pretty sweet.
Have you checked YouTube to see how many earnest or even parody covers of that song have been recorded?
We put up the tutorial video for "Stained Glass" without sound, and then people sent in their own videos playing the song. I thought it was really cool that our fans did it. It was to see the way in which people work on music in their own homes. They were using loop pedals, ProTools, and Garage Band. Some people were filming themselves and then editing the video so that the audio would overlap. It was all before anyone had heard the actual song, so it was all based on the tab itself.
I don't generally go on YouTube and look for covers of my own songs. Although I have stumbled across some over the years, and I'm always shocked and honored that someone would take the time out of their day to do that. It's something I used to do. I would record covers of songs I loved and I think that helped me learn how to write songs. Alex and I were in a high school band together called Marc, named after that guy in Empire Records, and it was a cover band. Just taking songs apart and learning how to play them was helpful in learning how to write original songs.
I'm gonna throw back to an old song of yours and ask: Is Budweiser Sprite your choice of beverage now that you're a family man living in upstate New York?
[Laughs.] Umm, no. I've never had one. We just thought that sounded funny. Actually, I think it was this guy in Portland that inspired that song. He's a noise musician who's name was Budweiser Sprite. That's what he went by. I think Matt Mondanile just said that while we were demoing it. But to this day I've never tried it. I should even though it sounds pretty gross. I think it's more like a beer and lemonade. It's close to a shandy.
How has becoming a father or just being a family man affected your songwriting?
It's affected the way I approach songwriting and also in how I have to set time aside to write songs. Whereas in the past my days weren't as structured as they are now. I'm a lot busier now in a very good way. But it's obviously there in the lyrics. I was thinking a lot about that while I was writing these songs. Just about what it meant that I was making a record and that I would have to tour. I was very aware of that huge commitment of time. In the past it was easier to make that commitment. When Atlas came out I had a kid and it was a learning experience touring that album. Now I'm fully aware and I have another kid. So early I was thinking about that and it reflected in the songs, this hesitance about whether I was sure I even wanted to be doing this. There is a push and pull feeling of as much as I want to be making music and be able to do that as my career, I also feel almost guilty that I chose to do this for a career, and now I feel trapped. Because now I have to leave my family for these long stretches of time to do this thing that I love and I'm doing it so I can support them. I find I'm very torn. It's not really resolved. I'm dreading all of the touring that comes with releasing this record. It's this weird thing where if I decide not to tour or to tour drastically less I am undermining my career and being able to support my family. It's a Catch-22. It's something I never had to think about before.
Finally, I was happy to see that Angelfire homepage for your old ska band Fletcher and the Sticky Wickets is still alive. I need to ask you: Do you still believe that Wendy's is the best fast food on the continent ?
Well, you know, we've had the opportunity to travel all across the country and try a lot of incredible local fast food establishments, like Cook Out in the Southeast. That place is amazing. California has a lot of great burger joints like the Habit Burger. There are a lot of Triple A league fast food that I'm more fond of than Wendy's. I also don't hit up fast food as much now as I did when I was 15 and in a ska band. I think if I was desperate and felt like I wanted some fast food I would just hit up McDonald's and go for the true, full nasty. Why not go for the original? That said, I will vouch for Wendy's. They're good. That Spicy Chicken is a classic.
Plus they have the square burger patty, which I believe is unique .
Yeah, for sure. They're good. Definitely give props to Wendy's.
In Mind is out on March 17 via Domino.
Illustration by Xavier Lalanne-Tauzia.
Sometimes Cam Lindsay makes his seven-year-old daughter do his work for him. Follow him on Twitter.