It goes without saying, Donald Trump has ushered in a new era of politics. Chief among these seems to be the notion that fallible human leaders get votes, while career politicians lose by slim margins. And while academics and commentators rush to explain what this means for democracies everywhere, Australian politicians seem to have responded by just calling each other "rich." Or so it seemed in the latest squabble over harbourside mansions.
It started with Shorten calling the Prime Minister "Mr Harbour-side Mansion" a few too many times, at which point he turned on opposition leader Bill Shorten in a fiery speech. "He was a social-climbing sycophant if ever there was one," shouted Turnbull in parliament, delighting his backbenchers. "Harbour-side mansions—he is yearning for one. He is yearning to get into Kirribilli House. Do you know why? Because someone else pays for it. Just like he loved knocking back Dick Pratt's Cristal!"
But Turnbull didn't win that day. Neither did Shorten. Unintentionally, Labor shadow treasurer Chris Bowen walked away victorious. While seated behind Shorten, Bowen was seen turning to deputy leader Tanya Plibersek and asking "What's Cristal?" She looked at him and appeared to answer "it's an expensive champagne."
"Oh," Bowen replied, pulling a classic well there you go expression.
Social media loved it. "Bowen still a true-blue battler!" tweeted the Australian's Caroline Overington. It was the sort of just-like-us coverage most politicians would kill for, and Bowen scored it by accident.
So again, it would seem that a lot of voters want politicians who aren't polished, who talk and act the way the rest of us do. But is that actually something we should want from them?
I would say no. We should not want our politicians to be relatable. These are people tasked with commanding Australia's trillion dollar economy, with deciding which countries we should or shouldn't go to war against, with keeping the wheels of a 7.692 million km2 country from falling off. It's not important they also be able to chat with us about the latest episode of Married at First Sight. In fact, it would be enormously preferable if this was a task they couldn't perform because they spent all their free time feverishly watching the markets open in Europe.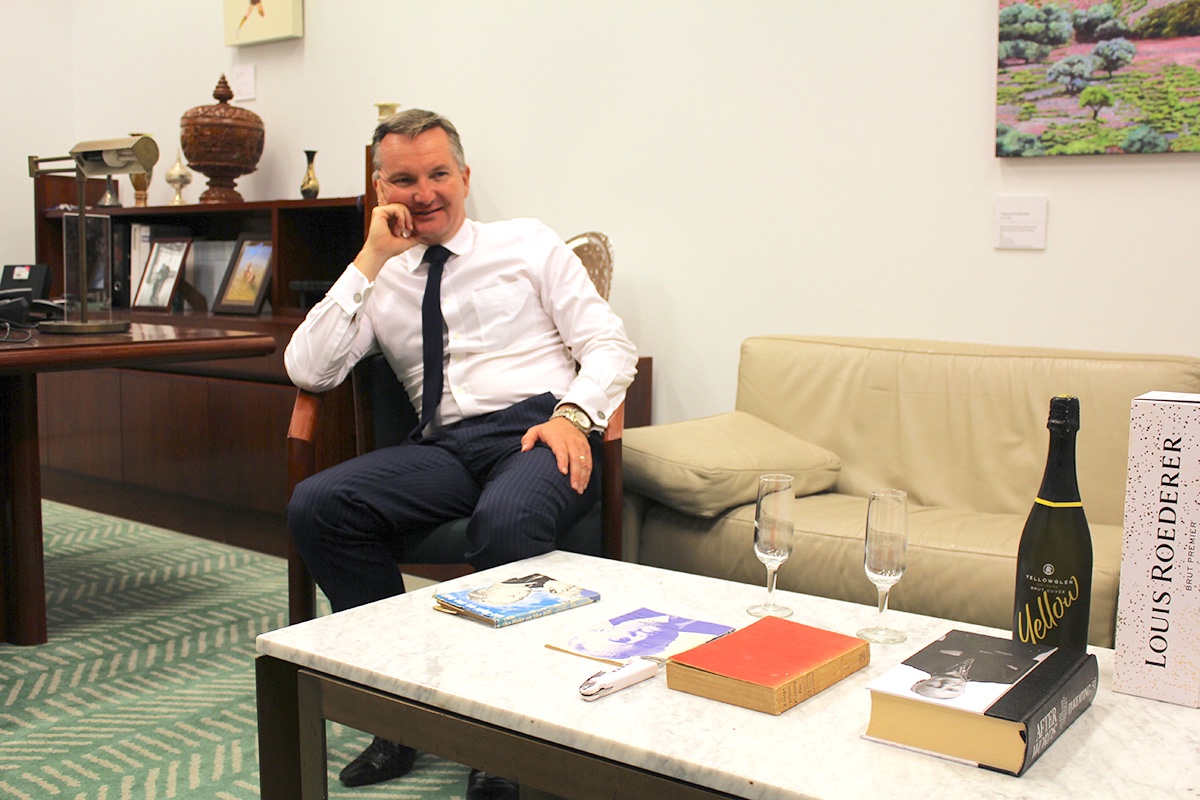 So instead of helping Malcolm and Bill try to connect to the common voter, I decided to go the other way. I was going to help Chris Bowen become less relatable. I set off to Parliament House with a bottle of Cristal under my arm. If I could introduce the shadow treasurer to the finer things in life, maybe I could turn him into the high-brow sort our politicians need to be.
(Okay, so at $300 per bottle I couldn't actually afford any Cristal. But I did pick up some Louis Roederer non-vintage Brut Premier champagne, and since Louis makes Cristal I figure it's close enough. I also brought along a 10-buck bottle of Yellow Glen sparkling plonk for comparison.)
"Did you genuinely not know what Cristal was," I ask Bowen in his office, "or is it like pretending not to know who the Kardashians are?"
"No, I had no idea," Bowen says. "[Turnbull] kept saying it, and at first I thought he was talking about crystal glassware, but he was saying it funny. He said it about three times and eventually I just turned to Tanya, not thinking that the cameras were on me. But it was just one of those little things in that split second when I was asking Tanya they got the back shot of Turnbull."
I ask Bowen what his drink of choice is, and he says either beer or red wine. He sips at the Yellow Glen and considers it. "That's drinkable. That's drinkable." This is all too relatable for my liking. "I was drinking Spumanti when I was kid," Bowen adds, referring to the ultra-cheap fizzy wine favoured by teenagers. "In western Sydney, Spumanti was the bee's knees."
I open the Louis Roederer and ask Bowen about the concept of personality politics. "I think the reason people liked your moment in Parliament so much is that it was a moment of authenticity in amongst a very inauthentic argument about who was the most authentic," I say. "There's been a lot of energy devoted to who's the most out of touch and why, and it's coming from both sides. How do you think people react when they see that?"

"I can understand people's frustration about the state of the debate," Bowen says. "I think it's a legitimate topic when there's issues at stake. So the general issue of who's more in touch—if you're cutting this from the pensioners, and what do you know what a pensioner is going through?—it becomes a legitimate debate."
So the argument isn't that Turnbull is generally out-of-touch for being independently wealthy; it's that he can't identify with the people he's legislating against. I hand Bowen a glass of the Louis Roederer.
"It's a lot bubblier," he says. "It's fine, it's nice, but I'm not sure. What's that bottle worth?"
"That one is $85," I say.
Bowen nods at the Yellow Glen. "And that one's, what, $20 or so?"
"I think that one's $10."
He considers the disparity between the two bottles. "I'm not sure the value's there for the extra. I reckon I'd go the Yellow Glen!"
You can clearly take the boy out of western Sydney, but not the western Sydney out of the boy. Claiming to prefer the $10 bottle of Australian bubbly over the expensive French champagne would definitely qualify any politician as the sort of "man of the people" title they all crave. But speaking as someone who would definitely prefer an overpriced bottle of wanky French champers, I find it difficult to relate.
Follow Lee on Twitter
Lee Zachariah is journalist, TV writer, and author of Double Dissolution: Heartbreak and Chaos on the Campaign Trail, out now from Echo Publishing. You can also follow him on Twitter.