"Cheer Up Try Hard Tear Up Cry Hard is the story of my life," explains Wellington-based multi-instrumentalist, producer, and vocalist Alexa Casino. "Creating it was a cathartic experience. I hope my music feels real. I'm at my most earnest. You can learn a lot about me listening to this EP. But also what's real cool is that I know I'm definitely not alone in this mental illness game of life and I hope all the sad peeps can relate."
Clocking in at a concise five songs, Cheer Up Try Hard Tear Up Cry Hard is a unique proposition. It's intimate, in the way that the best bedsit folk and lo-fi records are. However, as opposed to making use of the guitar-led aesthetics of those forms, Alexa takes the spirit of 90s rave and screws it down into haunted dreamscapes dripping with pop RnB aspirations, and the rhythmic flourishes of trap rap and UK grime. It's a record about dealing with yourself, dealing with the world, finding the courage to be strong, and still being soft enough to let yourself come undone when you really need to.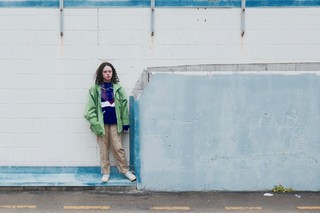 As the above sentiment suggests, the emotional heart of Cheer Up Try Hard Tear Up Cry Hard is Alexa's creatively auto-tuned vocals. In keeping with the tradition established by idiosyncratic US rap stars like T-Pain, Kanye West, Lil Wayne, Future, and Young Thug, Alexa doesn't use auto-tune to correct herself. Instead, she leans into its cyborg embrace to extend the musical and expressive possibilities afforded to her by voice. "I love autotune!" she enthuses. "I think Kanye West is who first got me into it, with 808's and Heartbreak. But auto-tune is on so many songs, and I love it - I was listening to a lot of trap when I made the EP. Love Future's auto-tune. I guess the appeal also is I feel less self-conscious and more comfortable with raw imperfections in my recordings." With that being said, she sees the studio as the studio, and live performance as something else. "My live sets don't have auto-tune," Alexa continues. "I like having a different dynamic to my music in recording."
Alexa was born and raised in Lower Hutt near Wellington, where, as she puts it, "the music scene is non-existent." She started playing the violin at age seven, picking up guitar and bass at high school, and spent time in orchestras, jazz bands, and string groups, before starting to play around with Garageband on her iPad. As with many 90s kids, Alexa spent a lot of time online and drew both knowledge and calm from her relationship with the digital aspect of our world. "I remember having dial-up [internet] and waiting half an hour to download a song," she laughs. "I'll admit, most of the time I don't have some sort of internet connection available to me I feel uncomfortable. There's something so safe about the internet, and it has always made me feel less alone."
While she came to playing music through practice and performance, Alexa discovered her capabilities as a vocalist through something a little bit more light-hearted. "Karaoke is my entry point to singing," she recalls. "I have been very passionate about karaoke for a long time. I entered my school idol in 2005 and came second, singing "Build Me Up Buttercup," by The Foundations. My karaoke go-to is "Promiscuous," by Nelly Furtado and Timbaland. I prefer to perform both [vocal] parts."
Alexa started to take the idea of making her own music more seriously after she finished high school. As her songs and stage show developed, she drew influence and inspiration from contemporary music icons like Frank Ocean, Mal Devisa, Justin Timberlake, Kelela, SZA, Rihanna, and Princess Nokia. She was tentative with fully committing at first, and in her words, "took two years to make a facebook [fan] page," before fully diving in. "As a teen, I remember really looking forward to going into Wellington on the weekends to see gigs," Alexa remembers. "I think before I started doing this, I felt extremely isolated. I never considered myself to have the capacity to write and record my own music, but I did want to play in a band and be a rock star like Karen O from the Yeah Yeah Yeahs. I think once I started going to the rock shows is when I decided pop music was cooler."
After playing her first live shows around Wellington, Alexa was asked if she'd like to start DJing at parties. She taught herself the basics and discovered a passion for it. "I take my DJing very seriously; I practice every day. I really love and appreciate having a good dance and I really just want everyone else to have a good dance," Alexa says. She feels a warmth whenever she witnesses a room of people dancing to music she loves and generally mixes styles in her set. In her words, "while it's very standard to play house, I know people also really enjoy listening to my sad pop remixes and queer hip-hop in the club. Everyone is Wellington is sad. Dancing heals. I want to help with that." Earlier in the year, I watched her play a dreamy set with a slow-smoldering and sultry pulse inside an inner-city basement. Eyes shut, and lost in the moment, the crowd was hers to lead, temporarily slipping out of their worries and concerns into that space where time stops.
Alexa has been dropping releases on her Bandcamp page for a couple of years now, but Cheer Up Try Hard Tear Up Cry Hard is easily the most well-realised we've seen from her yet. Last month she launched it at Wellington's Caroline venue. Hotly-tipped local dream-folk sibling band Womb played support, which was fitting, as their frontwoman Charlotte Forrester was also in attendance at Alexa's debut performance. "I feel I've been really lucky to have met Alexa at a time when her music really blossomed," Charlotte explains. "Her first gig was such a special night. Her music and her performance of her music is always evolving so beautifully. I like that she never settles for the same set twice: there will always be a new song or a new sound within a song. She really knows how to execute sad pop like no other, to make you feel like dancing and crying at the same time."
At present, her project is a completely D.I.Y exercise. She creates every aspect of the music herself, makes her own artwork, and handles her own bookings and promotion. "It feels like it's very completely me and definitely helps with maintaining authentic self-expression," she explains. "It is also very overwhelming, and I think collaboration is what I'm going to look into doing next." Difficulties and challenges don't really matter though because for Alexa making music is a need, an answer, and a place of comfort amidst uncertainty. "I make music because I love to and it helps me in so many ways to get through my life," she admits. "It is so fun and creative productivity is really fulfilling. Making music is the thing I'm sure about."
'Cheer Up Try Hard Tear Up Cry Hard' is out now via Bandcamp.