TV Host Investigated After Sexual Harassment Allegations From Former Mayoral Candidate
Sarah Thomson claims TVO host Steve Paikin asked her to sleep with him during a business lunch.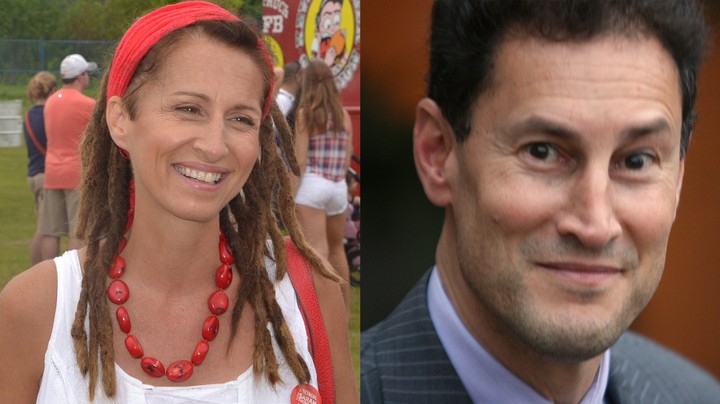 Photos via Thomson's 2014 campaign and Wikipedia.
TVO is investigating TV host Steve Paikin after allegations of sexual harassment were levied against him by former mayoral candidate Sarah Thomson.
Thomson, who ran unsuccessful but headline grabbing campaigns for mayor in 2010 and 2014, made the allegations in a blind post on her website, Women's Post on Friday. Thomson—while not naming Paikin directly—says that the incident happened during her candidacy in 2010 and took place during a business lunch between Paikin, herself, and her assistant in regards to possible appearance on Paikin's show, The Agenda.
"Not five minutes into the lunch the host asked me if I would sleep with him. My assistant almost spit his drink all over the table. I politely told the host that I loved my husband and would never do that. I then excused myself, went to the washroom and called my campaign manager," reads her account.
Steve Paikin is the host of the popular current affairs show, The Agenda, and will not be suspended during the investigation. Lisa de Wilde, TVO's CEO, confirmed they will be investigating the claims in a statement released to their website. She said they first became aware of the allegations on February 3 after Paikin forwarded an email he received from Thomson to the company.
"We believe it is important that allegations be fully heard and investigated. Therefore, TVO is appointing an independent third party to investigate Ms. Thomson's allegation," reads de Wilde's statement. "However, based on the evidence to date, TVO sees no reason to remove Mr. Paikin from his role as Host for The Agenda pending the outcome of the investigation."
TVO states that "stories related to this subject matter" will be reported on by other journalists employed by the company. In her story, Thomson writes that in the years following the incident Paikin has approached her "several times, usually at political functions, to suggest we 'sleep together' and he always laughs about it."
Thomson also famously raised allegations against then-mayor Rob Ford in 2013, prior to the first reports of the so-called crack video. Thomson stated that Ford, while drunk, groped her at a party by "grabbing her ass" and "suggested I should have been in Florida with him last week because his wife wasn't there."
Follow Mack Lamoureux on Twitter.