Marcus Stroman is having an outstanding season. We know this not just from watching him carve up opposing lineups, racking up wins and WAR, and groundball outs. We know it from the fact that he's been getting quite a bit of national attention in the United States for his possible (though highly unlikely) availability on the trade market, his All-Star snub, and his continuing emergence as one of the game's great, fun, swaggering characters.
From his MVP performance for Team USA at the World Baseball Classic through Tuesday's strong 6.2 innings at Fenway Park, this has felt like Marcus Stroman's year.
Last season, by contrast, was merely good. Maybe even just OK. Stroman's first half of 2016 was a little bit rough. He dealt with a mechanical issue, struggling to stay on top of the ball, and thus to generate the kind of downward action on his pitches that is necessary for him to survive and thrive as one of the shortest pitchers in the game. He rebounded in the second half—Jeff Sullivan of FanGraphs had an excellent piece about some of the adjustments he'd made that were paying off—but overall his numbers didn't exactly jump off the page.
But there's a funny thing about those numbers—a funny and fascinating thing. If you look past Stroman's ERA and his strand rate, there are a whole lot of similarities between his "merely good" 2016 and his breakout 2017.
---
---
This season Stroman is sporting a tidy 3.10 ERA, whereas last year it was 4.37. Part of that is because he's pitched better with runners on base, posting a 79.5 percent strand rate as compared to 68.6 percent in 2016. Dig a bit deeper, though, and the numbers start to converge.

FIP: 3.71 in 2016, 3.82 in 2017.
Strikeout rate: 19.4% and 20.3%.
Groundball rate: 6.3% and 6.6%.
Home runs per fly ball: 16.5% and 17.3%
Batting average against: .262 and .263.
WHIP: 1.29 and 1.26.
BABIP: .308 and .312.
The especially strange thing about it all is the fact that the defence behind him has been so much worse. Granted, the Jays' biggest problems, defensively, have been in the outfield, which don't impact a groundball pitcher like Stroman quite as much, but the infield defence has graded out poorly, as well. Right now the Jays, as a team, are 10th by UZR at second base, 27th at shortstop, and 20th at third base. Last season those rankings were 12th, 10th, and 8th.
You'd think that there would be a greater discrepancy in terms of BABIP. You'd think his strand rate, aided by double plays, would maybe go down and not up. You'd think that all else looking pretty close to equal, a groundball pitcher with worse defence would be performing worse than a groundball pitcher with better defence!
Is it all just down to extraordinary luck, perhaps?
Well, there's always an element of luck that will cloud our numbers. But there are other things going on that we need to investigate first.
Stroman this season has essentially been a "FIP buster"—someone whose ERA (3.10) is considerably better than his FIP (3.81). FIP is purported to be a better indicator of a pitcher's "true" value, as it filters out messy data compromised by the defenders behind him to focus only on the things that a pitcher can supposedly control: walks, strikeouts, and home runs. Around these parts, however, we know quite well that there are guys who have seem to have the skill to suppress quality contact. R.A. Dickey's (occasionally) dancing knuckleball helped him induce more weak contact than a typical pitcher, as does Marco Estrada's use of his great changeup and his ability to keep hitters off balance (or... it at least seemed to until maybe six weeks ago).
Could Stroman have quietly become one of these guys? Could his hiccups, stalls, and quick-pitches be throwing batters off balance enough to have changed the quality of the contact they're making against him, without necessarily changing the nature of that contact?
Maybe! It's a nice theory—though the nature has changed a little bit, too. His line drive rate is down (from 19.6 percent to 17.3) and his fly ball rate is up (from 20.4 percent to 21.6).
Things really look interesting, though, when you dig even deeper. Compare his 2016 and 2017 spray charts against right-handed batters: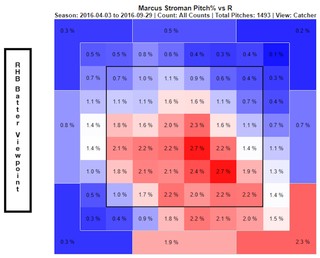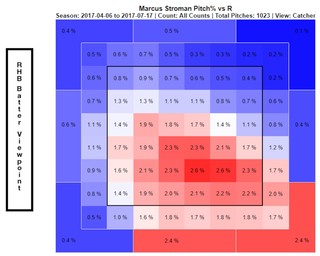 Where did those doubles down the line, in the gap, or in the corner go? Where is that cluster of singles to the pull side?
Granted, Stroman's only pitched about 58 percent of the innings as he did in 2016, so the picture on the bottom is naturally going to look a bit sparse. But here's one place where we do see quite a discrepancy: In 2016, right-handed batters pulled the ball 42.8 percent of the time against him. This year they've done it just 32.3 percent of the time. And the effect is even more pronounced against left-handed hitters.
We can see in the location charts below that Stroman in 2017 has been noticeably better at locating his pitches, and avoiding catching the heart of the plate or the inner half: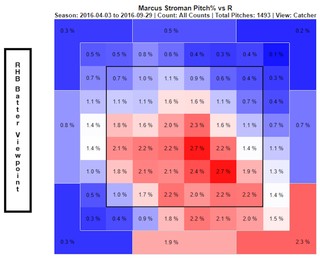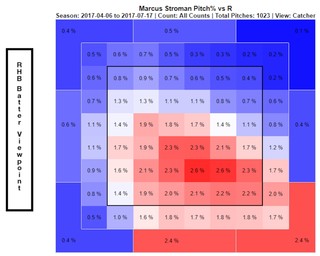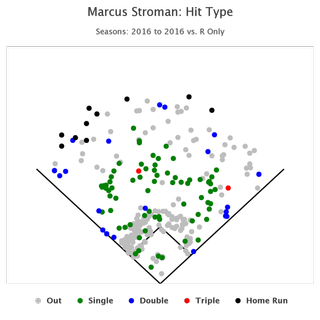 It doesn't hurt that his slider this season has also been utterly ridiculous at times.
Stroman's slider certainly passes the eye test, and his usage of it is, perhaps understandably, up. He's throwing the pitch 18.8 percent of the time according to data from Pitch Info available at FanGraphs, as opposed to 15.8 percent last year.
What really jumps out from Pitch Info's data, though, is Stroman's sinker.

Stroman threw a four-seamer 35.9 percent of the time when he arrived in the big leagues in 2014, with his sinker rate sitting at just 18.3 percent. Last season 48.9 percent of his pitches were sinkers. This season? 57.4 percent.
Pitch Info calculates "pitch value" for every type of pitch thrown by every pitcher, and—holy piss!—Stroman is making bank with that slider of his. Part of it is that he throws it so much (pitch value is a counting stat), but the list of pitches that have been more valuable than Stroman's sinker this season is a list of some of the most impressive in the game: Chris Sale's fourseamer, Jason Vargas's changeup, and the sliders of Max Scherzer, Corey Kluber, Chris Archer, and Clayton Kershaw.
Of course, Stroman's success isn't about just one pitch. As FanGraphs explains in its library entry on Pitch Value, "pitching is complicated and interdependent. Sure, you got a batter to swing and miss at a fastball, but that swing and miss didn't occur simply because you threw a good fastball. That swing and miss occurred in part because of the quality of your other pitches, your location, and the sequencing of those pitches."
The Jays have one of the best behind the plate to help Stroman with sequencing and with framing. But Stroman this year has checked off all the other boxes: quality secondary stuff, and outstanding command.
Sure, there's probably been some element of luck in there, too, but his uptick in results, even if some of the peripherals look quite similar, can hardly be explained by only that. He has been a cut above in terms of his skill set on the mound. It's been a hell of a thing to watch.
All charts via FanGraphs