Stanton Hucks His Glove Over the Wall While Trying to Make a Catch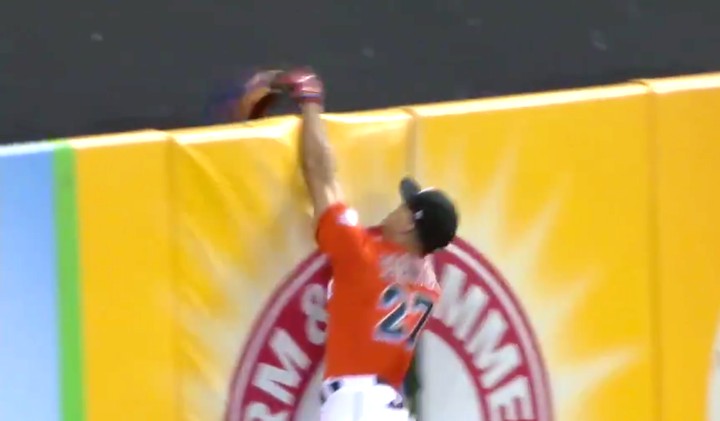 Screenshot from @Cut4
Maybe the game doesn't need gloves anymore. Maybe they're too soft. Giancarlo Stanton doesn't need no stinking glove to catch a ball. Although, he didn't come away with either—ball or glove—after going up for a dive and hucking his mitt into the deep abyss behind the Marlins' wall. So maybe let's keep the gloves.
During today's game between Los Angeles and the Miami, Dodgers shortstop Chris Taylor cracked a deep drive that Stanton started tracking to the wall. Stanton jumped up, looking over his shoulder, and lost the ball behind him. Meanwhile, in front of him, he lost his external-floppy-leather-ball-hand over the wall. Just watch it:
Thankfully Stanton had some backup, because Taylor's triple might've even been an infield home run amidst the confusion.
One lucky fan got to a view of the glove in its abysmal grave:
A batboy soon brought Stanton a replacement. Someone buy that man some tape.