All images from Michael Nicoll Yahgulanaas' 'War of the Blink'
This Indigenous Artist Has Reimagined Traditional Stories As Manga
Check out pages from 'War of the Blink'—Haida artist Michael Nicoll Yahgulanaas' new graphic novel.
All images from Michael Nicoll Yahgulanaas' 'War of the Blink'
Culture, like anything on this planet, is contested. If you present something to the world—even something you find meaningful or beautiful—there is always the possibility that someone out there will challenge it, take it, curse its name, or flat out ignore it.
For so much of history there was only one kind of person doing all this choosing, challenging, taking, and ignoring. That cultural tides have shifted enough so that the powerful are finally thinking twice before mocking or rebranding the things they have no right to—at the very least to avoid Twitter roasting—is novel on many levels.
Here's where Haida artist Michael Nicoll Yahgulanaas proves the conversation on cultural appropriation is far from settled. He's reimagined his ancestors' art both as large-scale mural and as serialized pages of Japanese manga-style comic book. It's a project both thematically and stylistically about war.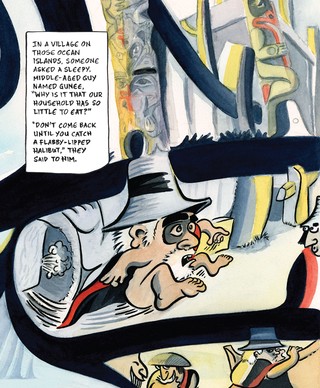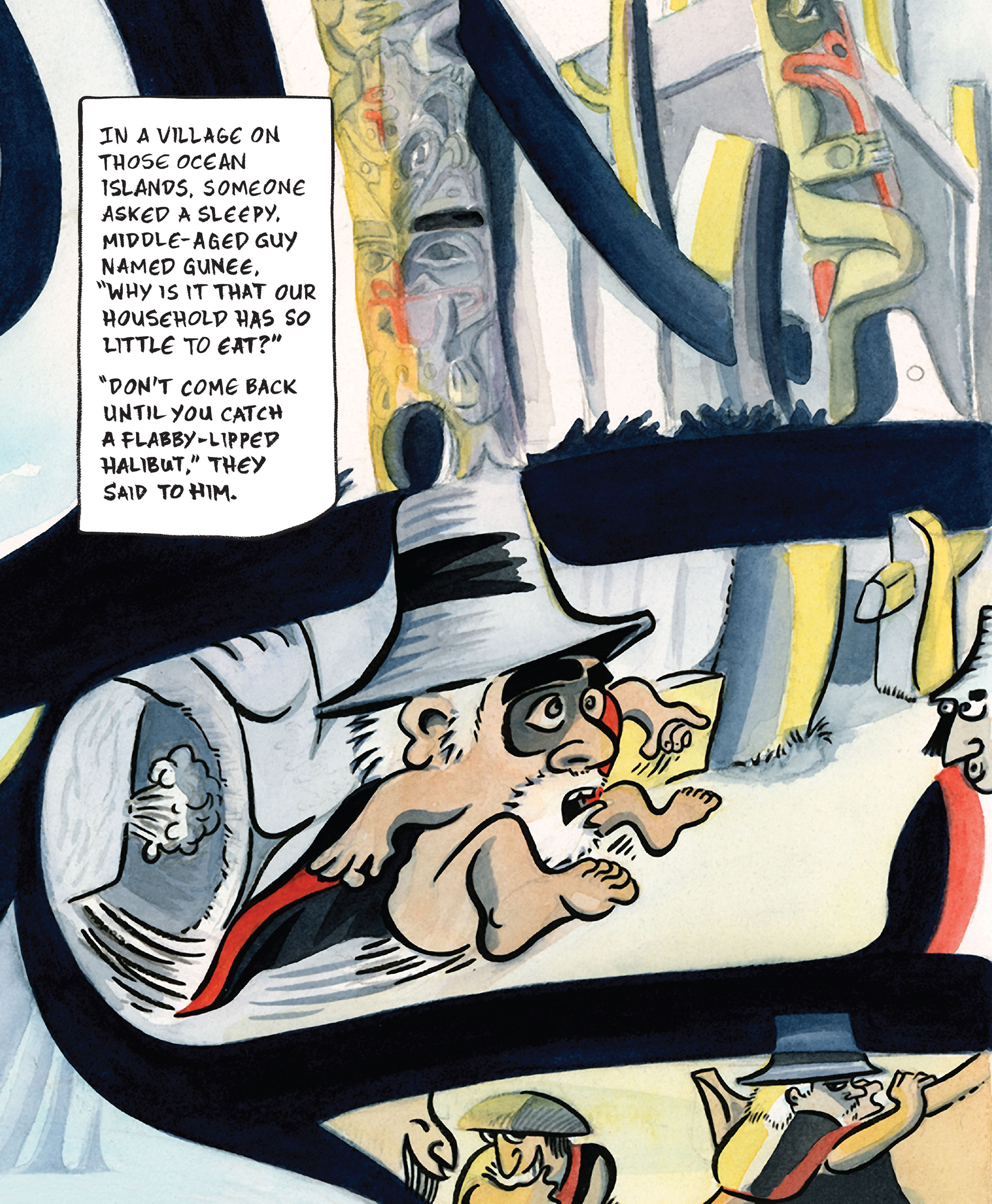 "The undeclared war against Indigenous people in North America is marked by an almost unbelievable 'taking'—an assault on every element of personal social intellectual and material identity," he told VICE. "It is hard to identify a single characteristic of Indigeneity that has not been persistently and systematically assaulted over the last hundreds of years. The aggression is a marked and repeating feature of successful efforts to weaken the Constitution of Canada by legislating violence and theft."
Yahgulanaas questions the borrowing in his own work, wondering if it is indeed a form of artistic "salvage" or "reconstruction" after centuries of destruction. "How is mimicry different than any other of the ongoing and historical 'taking's? How does cultural mimicry materially or morally contribute to the much attacked source of their artistic inspiration? Is it possible that they are just doing more of the same?"
At the very least there isn't a stark systemic power imbalance that separates the two styles Yahgulanaas works in. It's also not the first time he's explored the same hybrid medium. He says both War of the Blink and his popular 2009 graphic novel RED: A Haida Manga play with the idea of separation, isolation and desire to connect with something "perceived as great, powerful and dominant."
"I experience this when visiting the Notre Dame cathedral in Montreal. No doubt we have all stopped with mouths open and looked at huge edifices and symbols of authority," he said. "Parliament buildings and corporate offices and castles and temples are much invested in the grand edifices. The great scale is intended to create a sense of insignificance in the observer. The observer then becomes a carefully crafted place encouraging passivity and subjection to a narrative designed to separate and isolate that which is made desirable and apparently powerful."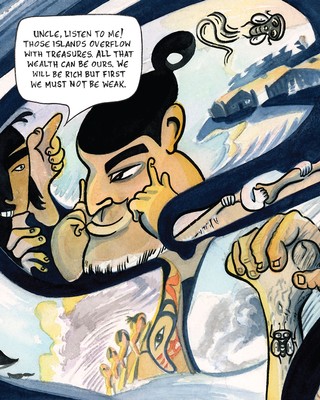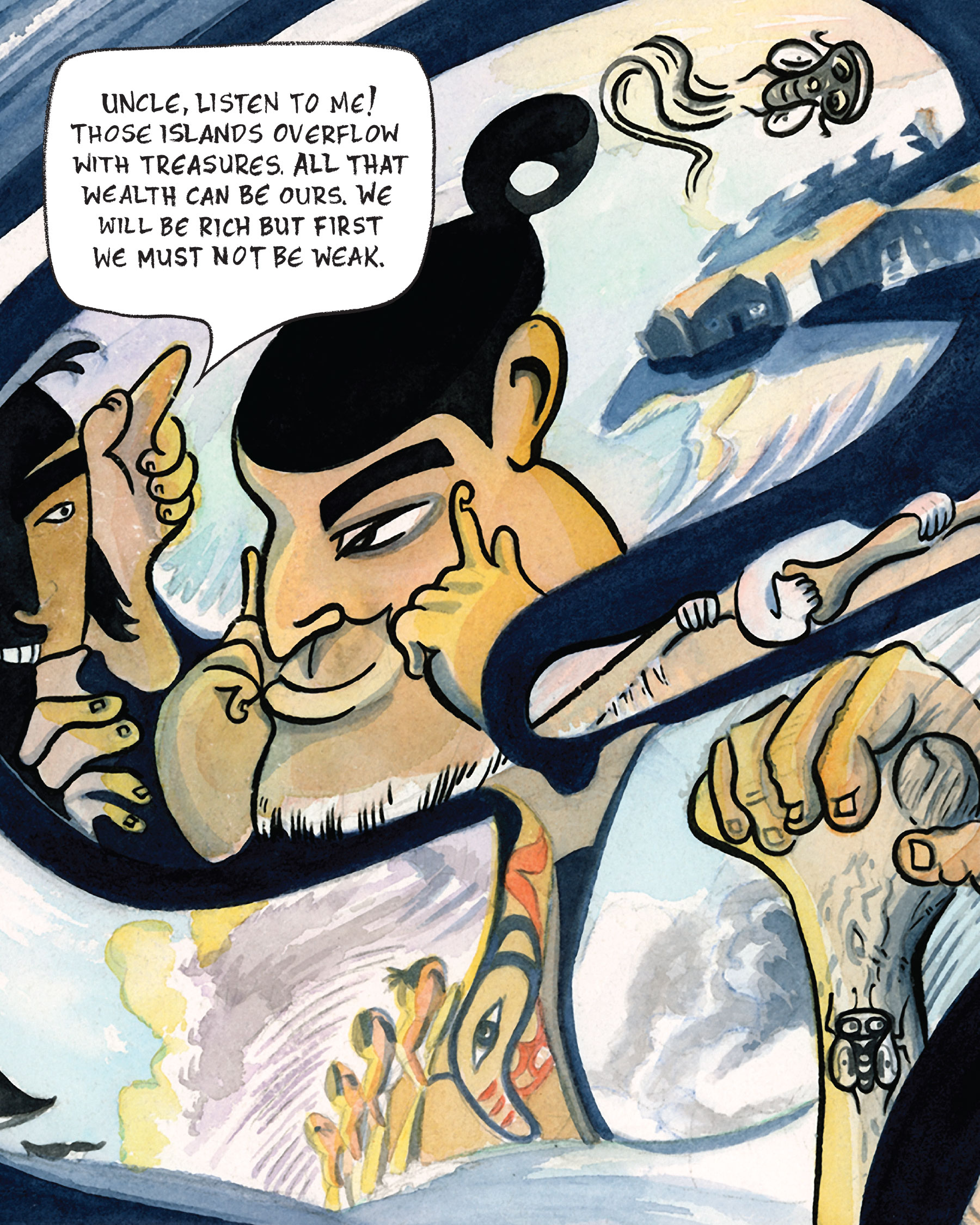 To mark its release this month, VICE has excerpted panels from War of the Blink which give a sense of the scale and relationship to power Yahgulanaas describes. If assembled just right, the panels tell the same story as an intimidating, nonlinear, six-foot-tall whole.
"The mural approach that I am exploring replicates the monumental but is also married to the intimate and accessible book. Unlike the monumental a book is held in one's hands," he told VICE. "The reader is no longer an observer but now an active participant turning the pages forward or backwards, deciding when to read and when to stop. Contemplation and reflection and authority is encouraged in the intimacy between reader and narrative. They are conjoined to a greater possibility."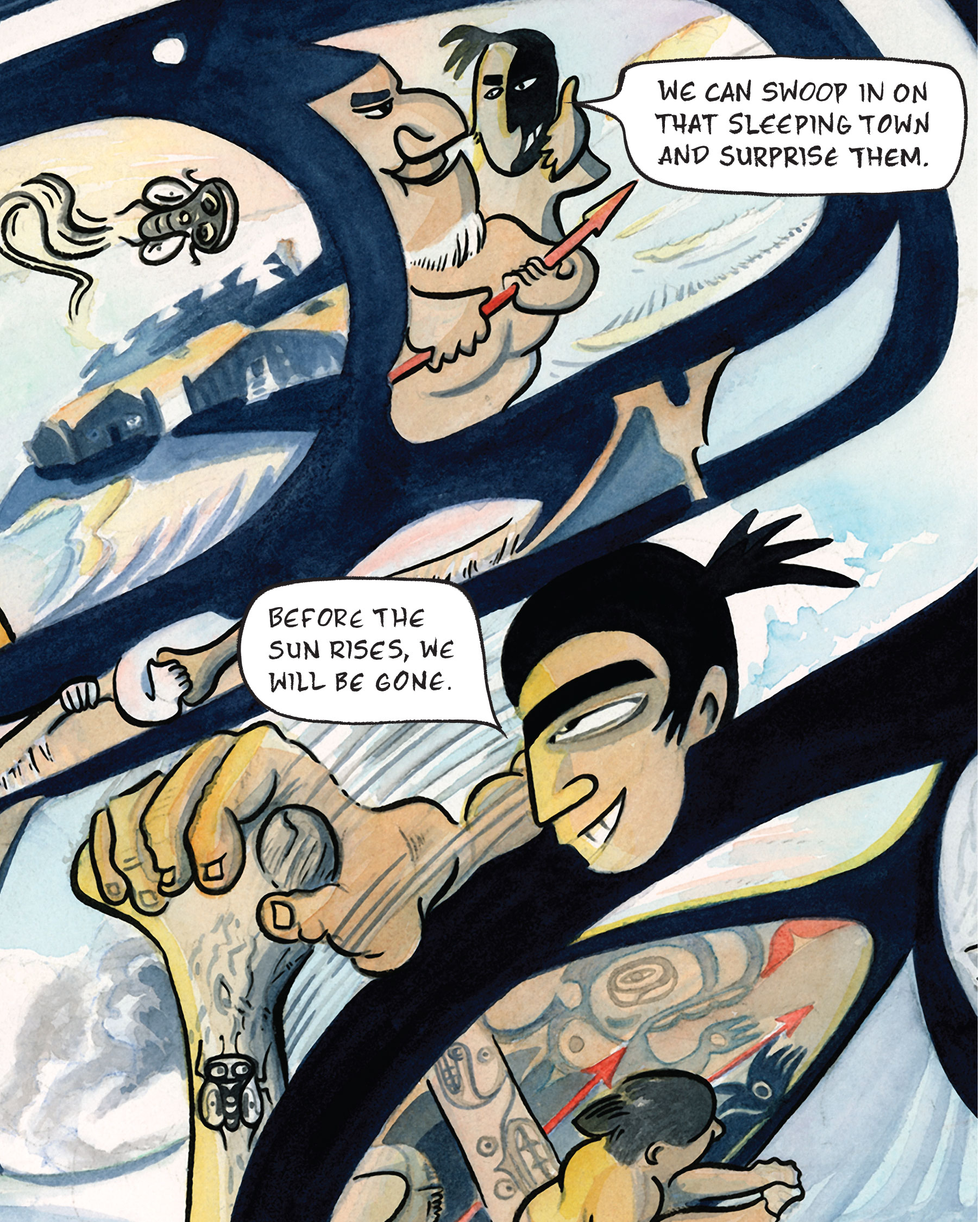 Yahgulanaas' other works hang in the British Museum, the MET, Seattle Art Museum, and Vancouver's art gallery. He's also a council member of the Haida Nation. Whatever reaction his new book elicits, he hopes it isn't passive. His work reflects a heated, messy clash, and yet calls for appreciation of a wider political picture.
"Our current national society is much fashioned on the principle of passive citizens lending their authority to the elected and specialized institutions of federal and provincial and municipal governments. This generally works but the cost is borne by individuals of good moral conscience who have to grapple with some of the brutal economic and legislative desires of a small group of people, the elected, all who experience various degrees of disassociation from their own electorate."
"Canada has a remarkable opportunity to learn from Indigenous government structures which at the very core are based on notions of inclusivity and responsibility to individuals and to the group."
Follow Sarah on Twitter.