After spending a half-decade or more near the top of their division, the Tampa Bay Rays are nearing the end of an era. Yeah, Corey Dickerson is somehow hitting out of his mind, Evan Longoria is still productive at age 31, and Kevin Kiermaier is a bona fide defensive stud, but the team as a whole has slumped out of the gate in 2017; they're now 19-22 and in fourth place in the American League East. And with the Boston Red Sox firmly in the middle of their window of contention, the Baltimore Orioles playing surprisingly well for the third consecutive year, and the New York Yankees on a path of brilliant ascent, the medium-term future in Tampa doesn't look too bright, either.
Which means that Chris Archer, the Rays' 28-year-old ace whose performance this year to date—a 3.13 FIP, a 3.70 ERA, and ten strikeouts per nine innings pitched—puts him among the very best starters in the game, is just too good for the team to hold on to much longer.
Archer joined the big club in Tampa as a 23-year-old back in 2012, having arrived in the organization the previous year as the centerpiece of the deal that sent Matt Garza to the Cubs in the waning days of Chicago's Tribune era (Tronc'd!). Back then, Archer was meant to be the pitching star of the next great Rays team, taking his place alongside Matt Moore, Jake McGee, and Jeremy Hellickson once David Price and James Shields departed through inevitable-even-then free agency.

That vision never became reality. Moore, McGee, and Hellickson have yet to develop into the stars they could have been (though Hellickson is getting somewhere close to solid, albeit now for the Phillies). The Rays have yet to find a positional star who can replace the excellent but aging Longoria. That's what happens when you're a small-market team with no money to spend in a league where two consecutive CBAs have driven dollars from amateur acquisition to big-league free agency.

The Rays found Archer, though. His success to date is the product of not only a remarkable ability to sequence his pitches in a way that sets hitters up for failure but also his reliance on two pitches—maybe three, if you count his rarely used circle change—that look virtually identical coming out of his hand, with consistent, repeatable release points. It's hard enough to hit a fastball coming at you at 96, with movement. It's even harder when you realize, halfway through the ball's journey to the plate, that it's actually a hard slider at 88. That's what Archer has been able to achieve.
It's the Mariano Rivera effect in reverse, at something like 75 percent effectiveness (there's a reason Mo was one of a kind—he could throw one pitch and make it look different every time). So far, it's working like a charm.
That's why Archer's fWAR (1.4 so far this year) is so high even though he has no truly standout pitches and his strikeout rate isn't in the top ten in the league. Batting against him is typically an exercise in physical discomfort. Hitters try to get their bodies ready for the fastball inside, when the slider away is just as likely to come, and that obvious challenge is only compounded by the significant mental stress of all the overthinking: Which pitch is coming next? With Archer's clean, repeatable mechanics, it's hard to tell.
He's not without his flaws, of course. Archer has a tendency to get rattled after small things go wrong, which can lead to big innings against him if the opposing offense gets going, as it did Monday night against Cleveland in a five-run first inning. His lack of a third regular pitch hadn't hurt him yet, but it does narrow the margin for error when one of his other two isn't working. And his fly-ball tendencies could hurt him in a park other than Tropicana Field, although he had done a reasonably good job of limiting home runs allowed so far.
But those are little things.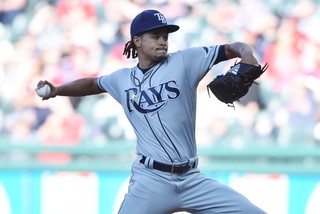 Archer has the kind of compelling personality that baseball might make into a national star if he played almost anywhere else (and if baseball had any idea how to turn compelling personalities into big national stars). His turn, this past postseason, as a sharp-eyed broadcaster for ESPN's October coverage alongside Jessica Mendoza and Aaron Boone was well received by viewers.
All that success and attention, on the field and off, leaves Archer a bit out of place in sleepy Tampa. He's a major star, or could be in another market, and there's little point to him pitching as well as he's pitching now for a team that's a few years and a new stadium deal—at the very least—away from relevance. If fans were coming out to see him, that would be one thing, but the Rays have the worst average attendance in the game. More people came out to see the Cubs in spring training, on a per game basis, than are watching Archer pitch in Tampa this year. Who does it serve to have him stay there and wallow?
Not the Rays, who'd likely get more in return for Archer in a trade today than they would ever get out of his next five years of team control, were he to continue pitching under the dome. Not Archer's teammates, who'd benefit from playing behind a pitcher who knows he's part of the next great Tampa team, and is able to buy into the franchise and the city he's playing for accordingly. And not Archer himself, who clearly likes the big-city lights and the opportunity to perform on the biggest stages possible. Five more years in Tampa will chafe.
The Rays have been reluctant to pull the trigger on an Archer deal so far because they know they have just one chance to haul in a king's ransom—their asks have, reportedly, been absolutely huge—but the longer they wait the less they'll be able to get back from interested teams. There are other good starters out there, after all. So look for Archer to hit the market again this summer, for real this time, as the Rays fall out of contention and a handful of first-place ball clubs look to lock up the top half of their rotation for the next half-decade or more.
Fact is, the next good Tampa Bay team is still a while away, if it ever even arrives. One way or another, Chris Archer won't be on it. He's just too good to stay.
Want to read more stories like this from VICE Sports? Subscribe to our daily newsletter.