The thing no one tells you about winning a championship is what's supposed to happen next.
For Toronto FC, whose MLS Cup title win on Saturday night capped off the best year by any team in league history—a campaign that also included winning the Canadian Championship and setting the record for most points in a season—the practical answer to "what's next?" is pretty straightforward: keep those wins coming.
Retain the Supporters' Shield. Retain the MLS Cup. And go make history as the first Canadian team to win the CONCACAF Champions League and compete in the FIFA Club World Cup.
Sure, that's easier said than done—especially since MLS's arcane, parity-driven rules make it tougher to keep dynasties intact, while playing in Mexico or Central America carries its own collection of unpredictable pratfalls. But with most of TFC's core roster likely set to return in 2018, it's perfectly reasonable to envision the team reloading its trophy case within the next year.
TFC's transition from being joke fodder to being on the cusp of continental supremacy was relatively sudden but, in retrospect, also pretty straightforward. It all came down to two guys named Tim.
The first, Tim Leiweke, brought a weird, un-Canadian trait to the table: Ambition.
"Why can't we be great?" he famously asked at a press conference in 2014. At the time, the correct answer was "duh, have you actually seen this team play for the last seven years?"
But in his role as president of Maple Leaf Sports & Entertainment, the well-connected Leiweke—who'd brought David Beckham to MLS years earlier—let loose with the deep-pocketed ownership group's chequebook.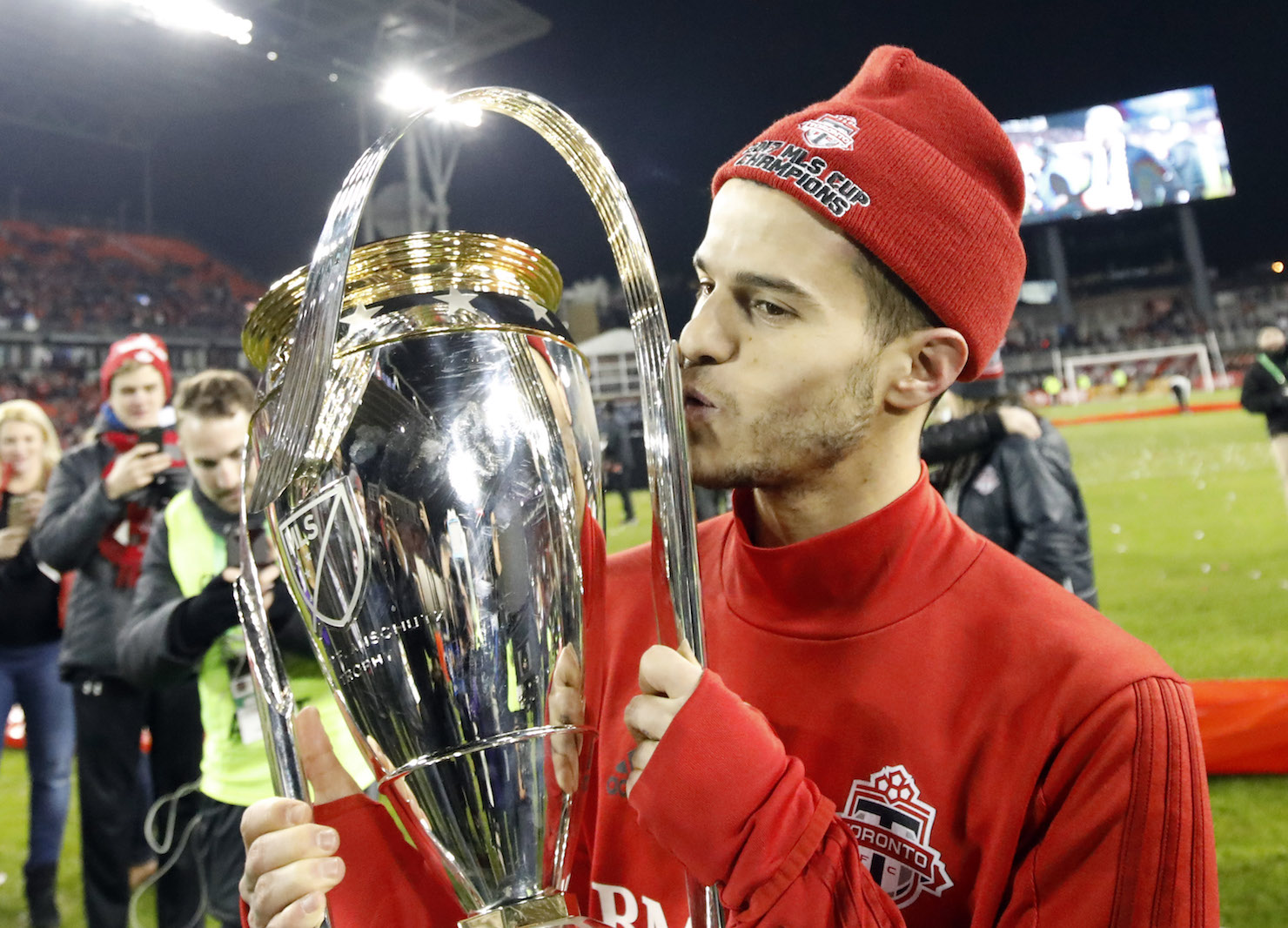 Of course, spending cash has never been MLSE's problem; spending it correctly has. Enter the other Tim, who came aboard in 2013 as the team's general manager.
Tim Bezbatchenko had previously worked for MLS, carrying a deep knowledge of its convoluted rules—specifically, how to make the most of GAM and TAM and SPAM and all the other mechanisms that let teams squeeze more and more talent under the, ahem, "salary cap."
By 2015, Toronto FC had the league's second (Sebastian Giovinco), third (Michael Bradley) and eighth (Jozy Altidore) most expensive players. In what is likely not a coincidence, that was also the year the team made its first-ever playoff appearance.
The team's depth was backfilled admirably heading into the following year, while head coach Greg Vanney (despite early skepticism about his suitability for the role) found a way to balance everything out, including coming upon a massively effective 3-5-2 formation toward the end of 2016.
That team came within literal millimetres of winning the MLS Cup on home turf. Then, TFC managed to add two more high-quality starters (Victor Vazquez and Chris Mavinga) in the offseason, making their march to glory in 2017 seem inevitable.
Even so, the ghosts that had haunted BMO Field for years still lurked in the air on Saturday night, gaining strength with each fingertip save by Seattle Sounders goalkeeper Stefan Frei. This is all a long con, the fans creeping ever forward in their seats couldn't help but think. They're finding a new way to break our hearts.
But in the 67th minute, when the ball came off of Altidore's left foot and hit the back of the south-end goal, the team had no downtrodden past and no upbeat future—only the pulsating, irreplaceable present.
The delirium following Vazquez's stoppage-time insurance goal just confirmed that, belatedly but irrevocably, Chapter 1 of The Story of Toronto FC was finally finished.
Oh yes, despite all of the bizarre twists, the hundreds of players, the seemingly yearly cosmetic adjustments to BMO Field, this has all just been one chapter.
The theme of Chapter 1 was that Toronto FC, despite the unflinching love of its deservedly mythologized supporters groups, was still defined by the perpetual question of its place within the hearts and minds of the city it represented.
It's tough to remember now, amidst the haze of championship glory, but it was just a few years ago that TFC's long-term (or even short-term) survival was being called into question after yet another futile campaign.
The question was never whether Toronto is a soccer city. Of course it is. Look at the parks where kids play, the pubs where followers of faraway super-clubs get together every weekend, the impromptu street parties that erupt during every World Cup or Euro tournament.
No, the worry was that TFC would, if it remained solvent at all, forever be simply a niche pursuit, a novelty, some weird creature caught between multiple dimensions, in limbo between a multicultural metropolis' obvious love for the sport and the peculiar brand of self-loathing that characterizes Canada's largest city.
Chapter 1 concluded with a title win that cemented TFC as a part of the sporting firmament in the city, never to be undone by the backslide into mediocrity that befalls all North American franchises sooner or later. Will they ever reach the same plateau as the Blue Jays, Raptors or—dare we even suggest it—the Maple Leafs? That's to be revealed in future chapters.
Also yet to be written is the chapter about the knock-on effects for Canadian soccer. Only one local boy, Jonathan Osorio, featured for TFC in their MLS Cup win; but how many future professionals from the GTA—a la the Vince Carter effect with Canadian basketball—will someday trace their pursuit of the game to childhood excitement at watching these magical TFC seasons play out?
---
---
Like any good story, the coming chapters will have more twists, more turns, and a whole host of surprising heroes and villains. There will be flashpoints and crisis moments (just wait until they try to change the team crest some day), and there will be intermittent flashes of euphoria.

But for anyone who was there to see the sheer perfection that was the end of the Reds' opening chapter, there will surely never be anything quite like that night in Toronto.