Friends of Siasi Tullaugak describe her as a fighter, a feisty woman with a presence much bigger than her petite five foot frame. "She wouldn't take crap from anyone," outreach worker John Tessier told VICE. "She was really tough, but very tender to those who were her friends." Sharon Baron, meanwhile, was known for her cool demeanor and her generosity. "She had a swag about her," Tessier recalled.
Both women were found dead last week: Tullaugak was discovered hanging from a first floor balcony in downtown Montreal, while Baron's body was discovered in her Dorval home a few days later. The cases were both ruled as suicides, but friends and family of the two Inuit women are urging investigators to dig deeper.
"There's a lingering feeling of fear," said Tessier, who works at the Open Door shelter the women frequented. "There are still rumours, no one believes it's suicide."
Jessica Quijano of the Native Women's Shelter of Montreal says what seems like overly hasty investigations add to a deep distrust the community has towards police. This, she says, has been amplified by the fact that so many murdered and missing Indigenous women and girls' cases have been tied to police malpractice.
Bolstering some of these rumours is the police report on Tullaugak's death, obtained by VICE, which shows that the 27-year-old had spoken with SPVM officers earlier that night after they received a call that a man was trying to force her into an alley.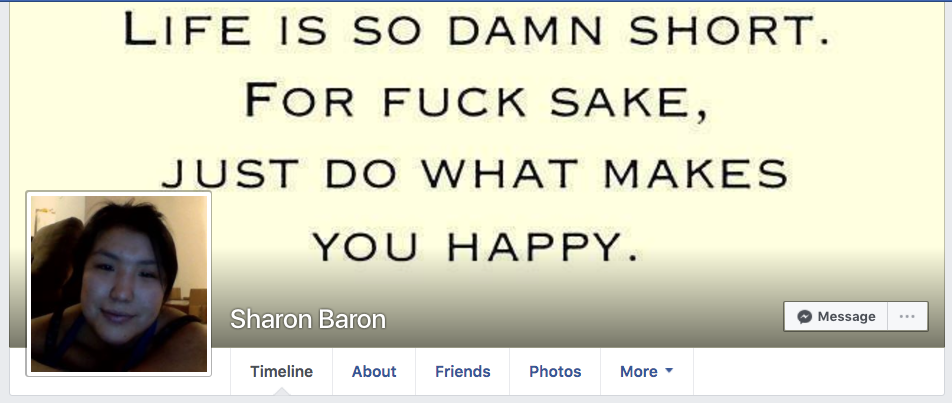 Loved ones claim the women were not suicidal and say both had recently been seeking out ways to travel up north to visit family. Both women used drugs and worked in the sex trade, and some of the stories circulating around the Cabot Square park they frequented involve a vindictive drug dealer or a violent john.
"People believe that there is somebody out there killing women on the street, so they're really fearful," said Quijano.
While there is no evidence that this is the case, she claims police do not seem to have explored this theory.
The SPVM declined to respond to VICE's questions about the extent of their investigation, stating that since the deaths were not linked to a criminal act, they could not provide any details.
Yet information obtained from those who were with Tullaugak in the hours immediately before she passed match some of the details included on the police report, namely that she had felt threatened. Certain witnesses also said they'd seen her leave with a man shortly before the time of her death.
One woman told VICE she had spent time with Tullaugak that night. After they had parted ways, she said she heard a scream coming from a block away, on the street where Tullaugak's body was eventually found.
Community outreach workers fear this information was not gathered by investigators: they told VICE most of Siasi's friends and acquaintances were never questioned, and that those who did speak to police claim the officers did not take notes.
"We reached out to the detective that was in charge of Siasi's case and gave him an open invitation to come and speak more to the people who were with her that night," Quijano explained, "The police hasn't taken us up on that opportunity."
She also claimed key details might have been overlooked, and questioned whether police had looked into phone records, which could provide insight into her death.
"There are a lot of unanswered questions, and people would just like to know that police have looked into those things."
Over the years, journalistic investigations into the death or disappearance of dozens of Indigenous women have revealed what appeared to be incomplete police work, an issue that is now a key part of the national inquest into the matter. In many deaths ruled to be accidents or suicide, police were shown to have glossed over unexplained injuries or failed to interview key witnesses.
"The SPVM has vowed to work on its relationship with Indigenous communities in Montreal as part of the reconciliation," Quijano said. "I feel if they make these kinds of statements they really need to own up to it."
Follow Brigitte on Twitter.