All Photos via Facebook
Appropriating indigenous culture involves privilege—it means benefitting from an experience while skipping out on a lived history of oppression. Inspired by the kulintang traditions of the indigenous Maguindanoan and T'boli peoples of the Southern Mindanao region of the Philippines (kulintang is a pulsing, tonally charged instrumental form of music from Southeast Asia involving knobbed gong-chimes arranged horizontally according to melodic relationships, similar to a marimba or a xylophone), Toronto-based all-women Filipina-Canadian ensemble Pantayo isn't exempt from that evaluation. While the seven-member group's version of the music is informed by their individual experiences as diasporic Filipinas, they update it all with modern instruments like bass synth and kick drum, and their adoption of the traditional form is anything but casual, it's still appropriative.
They're also the first to admit that they aren't exempt from that criticism. "We're not indigenous, we're diasporic," original Pantayo member Kat Estacio is quick to point out. If a result of the Philippines's colonial history, kulintang is still a part of the greater culture she and the other members of Pantayo grew up in, and for them, it is a meeting ground that connected them in their experiences and anchors them to their heritage. Estacio, for instance, had experienced the instrument as a student in the Philippines as a young girl, but she only connected with it upon moving to Toronto, where she saw Santa Guerrilla—a group that collided the traditional music with hip-hop.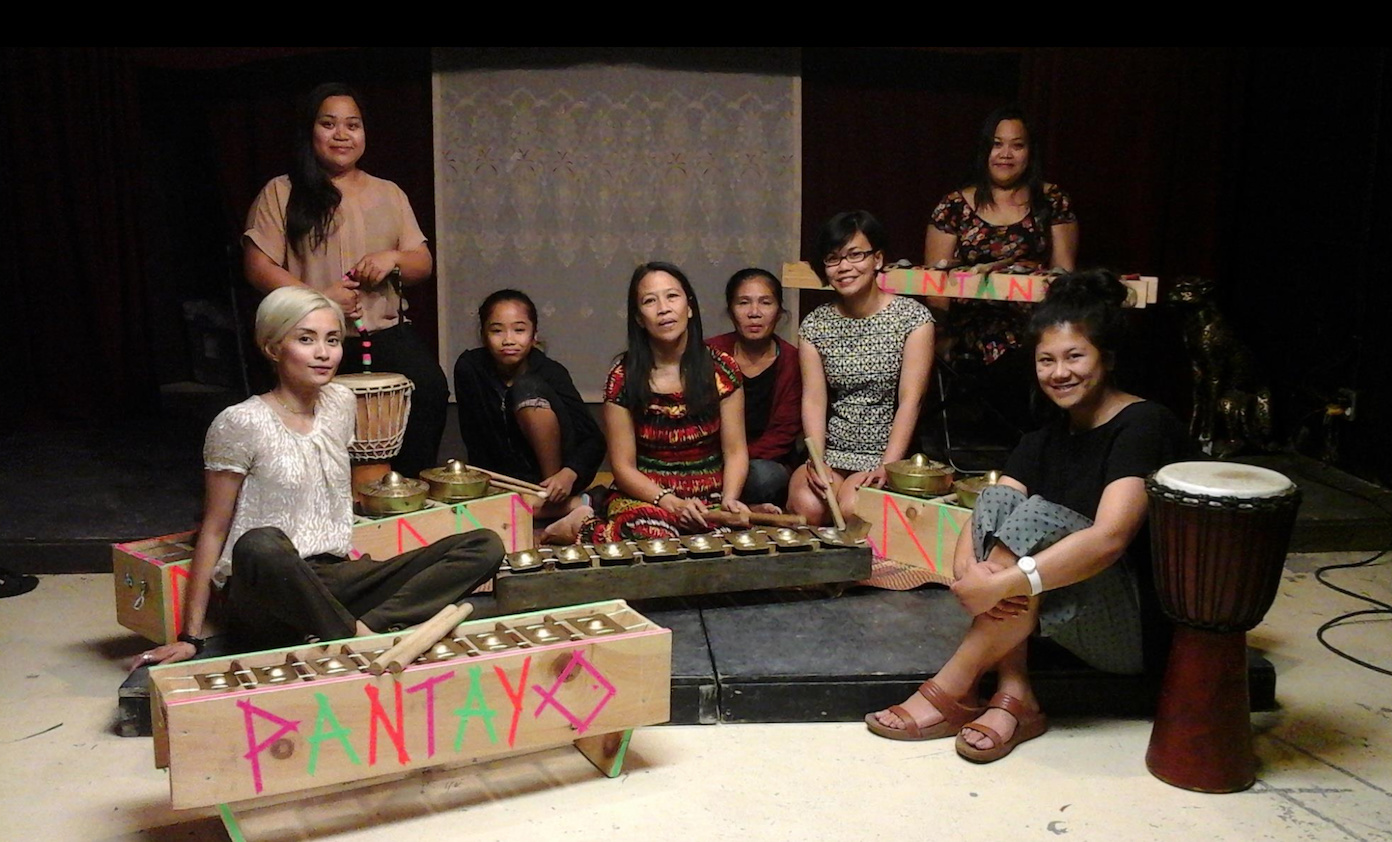 Pantayo members with Maria Todi (Cultural Specialist), Barbara Fanuy Kibed (Dreamweaver) and Andrea Todi Wanan (musician) from the T'boli School of Living Tradiitons who were in Toronto for the TBOLIxTO Cultural Exchange organized by Kapwa Collective.
"I went to a school in the Philippines—this all-girls school on top of a mountain—and they used kulintang to teach music theory," Estacio says. Although she admits to paying little attention to it then (she attributes this to a deeper systemic colonial influence on the Filipino experience), she describes her first exposure to Santa Guerilla in terms of fascination. "I was like, 'There's kulintang in Canada? What the hell? Why didn't I pay attention?'
When Santa Guerrilla dissolved after 10 years in 2010, Estacio approached former member Christine Balmes about forming a new kulintang project, and that led to a workshop program that involved educating participants on the kulintang and its accompanying instruments at the Kapisanan Philippine Centre for Arts and Culture, a community hub for Filipino-Canadian culture. Balmes, Estacio and her sister Katrina, Michelle Cruz, and Marianne Grace Rellin met regularly in that setting, sowing the early seeds of Pantayo, and today Kapisanan is the location of their studio.
"We're part of a community of Filipino artists and also Filipino community people that have different talents, so we try to showcase them as well when we can," says Balmes. The group's history as a vehicle for community building is in line with kulintang's historical role in Filipino social life; in the Philippines, the music has long been present in ceremonial events celebrating incoming visitors and at weddings and healing rituals—kulintang was actually developed out of a signal language used for communicating long distance messages between villages. Pantayo furthers that interest in kulintang as a community apparatus, meanwhile, engaging other Filipino-Canadian artists in the city like Hataw (a troupe that explores the possibilities of traditional Filipino folkdance through the Filipino-Canadian lens), and arnis (Filipino martial arts) fighter Paul Ligmenco for multi-faceted, trans-media live performances. Offstage, they continue to strengthen dialogues and through facilitating kulintang workshops, and they recently contributed to a soundtrack for the upcoming DrinkBox video game Severed together with Yamantaka // Sonic Titan, a group of musicians of mixed diasporic and indigenous heritages, with whom they now share some members.
Balmes looks to the tradition as a social justice tool that will help "decolonize" and "reindiginize" the land—healing music. But for that to be effective—especially coming from a group of diasporic, non-indigenous Filipinas—she says, the group has to actively challenge their listeners. Recently, that's resulted in the group using its live performances as platforms to locate where they play in terms of indigenous space, alerting audiences to the indigenous origins of the music, and signal boosting current events involving the oppression of indigenous Filipinos. Debuting a new seven-piece iteration of the group at this year's instalment of the Music Gallery's annual X Avant festival in Toronto, they turned their focus to ongoing mining encroachment in the Philippines in a spoken statement that called attention to multinational companies (including Canadian mining companies) infringing on indigenous land and the killings and displacement of Lumads in the Minadanao region that's allegedly occurred as a result of related paramilitary involvement.
According to Balmes, mining activity has resulted in limited indigenous access to the metals needed for the production of traditional kulintang gongs, so Pantayo has started working with indigenous groups in the region that manufacture gongs out of alternative materials.
Not to take away from more regional instances of indigenous strife, Pantayo also asks audiences to consider how this treatment of indigeneity compares to the legacies of Aboriginal communities in Canada that have been on boil water advisories—some for as long as 20 years. The group also makes a point of calling attention to the ways in which they are complicit in the oppression of indigenous cultures, especially the ones they benefit directly from.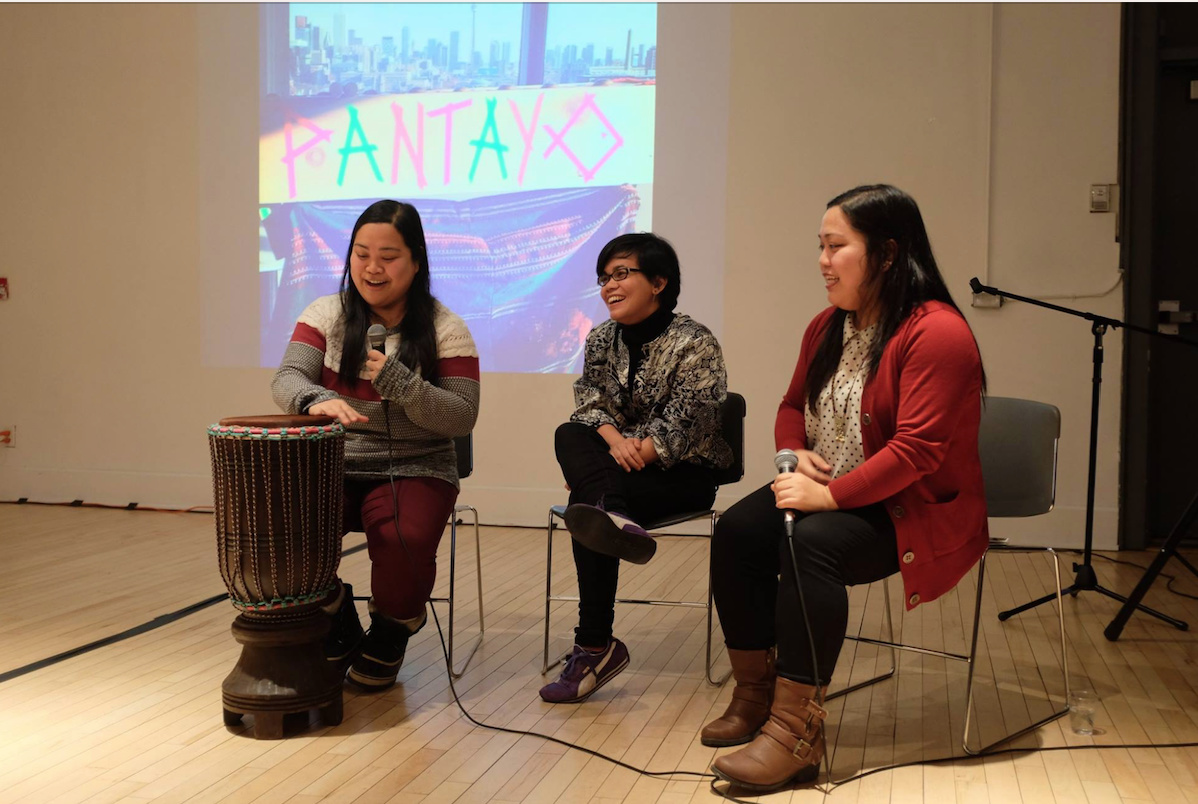 "Our pension plans benefit off of these mining corporations that are active overseas, and to not bring that up… yeah, it's been talked about and stuff, but to resurface that and contextualize how much we're benefiting from it is very important," says newer member Joanna Delos Reyes. This dedication to accountability also informs the way the group conducts itself as a provider of kulintang music. According to Balmes, the production of the instruments requires metals that are only accessible on lands owned by the same Canadian mining companies currently encroaching on the Mindanao territory, so the group has started working with indigenous groups in the region that manufacture gongs out of alternative materials.
They're also careful not to let their version of kulintang represent the multiplicity of indigeneity within the Philippines.
"We cite the Maguindanao and the T'boli, but there's so many other indigenous groups in the Philippines that are also using this instrument—we're just not familiar with them," Balmes explains. "The Maguindanaoan version is the one that's the most studied, so that's what we have access to music-wise; the music transcripts that get into our hands are mostly Maguindanaoan. So we're definitely very much informed by the academic research that has happened around kulintang music."
Approaching kulintang from post-colonial, postmodern, diasporic, millennial, queer, and feminist perspectives, Pantayo borrows an music form that predates modernization, and filters it through a rainbow of intersectional experiences, sharing it publicly and transparently, ready to be held to task on their choices. By calling attention to this, Pantayo offers audiences access to a challenging landscape depicting their navigation of an experience that is essentially Filipino, and then asks their audiences to run the gauntlet, too, further pacing out an environment of respect and communication with each of their performances.
"It's very healing. It's decolonizing," says Balmes. "It's just very fulfilling in a deep way to be able to do something like that and to be able to actively do something rather than critiquing all the time with nothing to do with it."
Pantayo borrows from tradition to give back to the place it comes from, embracing the complexities parcel to entering a foreign economy of Likes and Shares with borrowed goods. Their music participates in a tradition of bold, concentrated mindfulness that serves to strengthen the voices that provided them with their own, signal boosting survivor nations that continue to compete against their extermination, elsewhere taken for granted and reduced to casual fashion accessories. It's postmodern healing music at its best.
"You can't just keep taking culture," Estacio imparts. "We're taking this culture, but we need to also give something back. So for people that are consuming our music, hopefully that's something for them to think of: how do you give back?"
Tom Beedham is an arts and culture journalist living in Toronto. Follow him on Twitter.