What I Learned About Style from Chris Holmes' "Let it Roar"
What could possibly be more heavy metal than ice cream and yacht vandalism?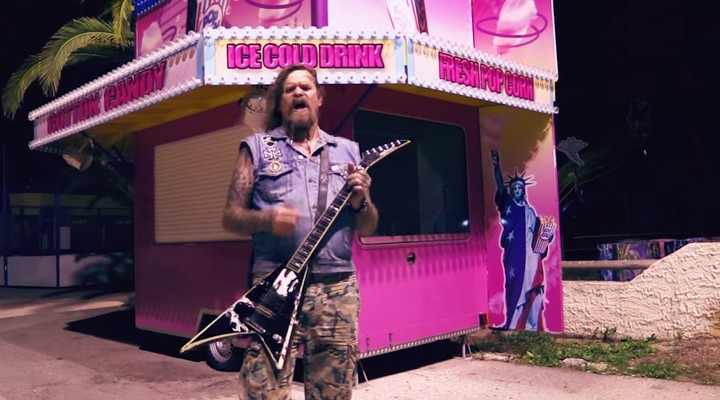 You remember Chris Holmes? He was California heavy metal when heavy metal was heavy metal. He played guitar in W.A.S.P. for most of the 1980s up until early 2000s (excusing a short break in the late 1990s). Recently, Holmes picked up and left his home of Los Angeles and moved to Cannes, France with his wife because (as he told Blabbermouth) only hip-hop artists and gangster rap make money in America now. "I'm not 100 percent sure," he said. "But I when they go to school and they listen to hard rock, it's called 'pussy music.' They are told, 'You need to listen to gangster rap.' I think that's what it is."
So Holmes sold his life, grabbed his (third) wife and went to France, where heavy metal roams free (That was basically a rhyme, FYI.). I do not blame him. Even metalheads need to go where the money is when there are bills to pay and mouths to feed.
Last week, he released a single for his up-coming album Shittin' Bricks. The project is known as Mean Man, and the song is titled, "Let It Roar". I learned a lot about style from this video (mainly what I have to look forward to when my husband hits his mid-50's.)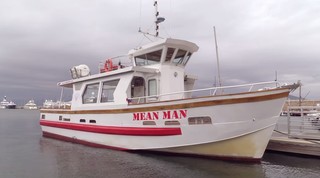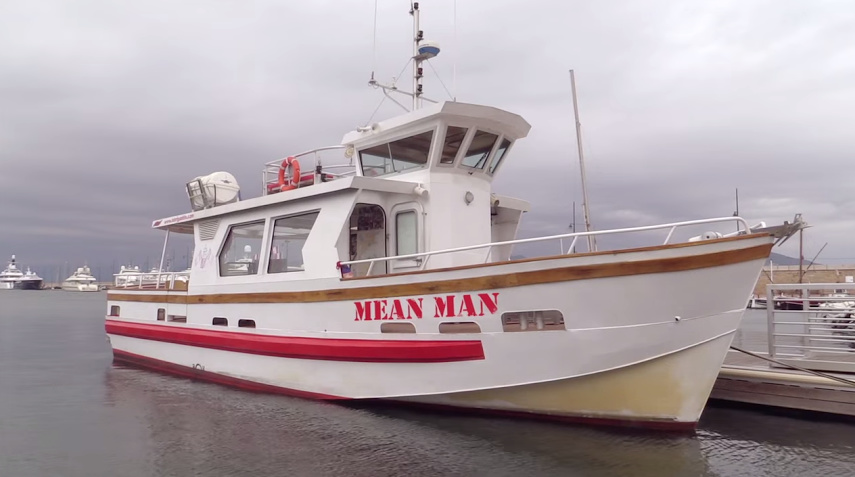 WHEN YOU GOT THE DOUGH, BRAND YOUR BOAT
Patches, stickers and your band name spray painted on your guitar case are pretty much just jokes compared to having your band name on your luxurious boat. I don't know if this is really Holmes' ship and even if it is not, it's almost way more bad ass that he decided to graffiti a random boat with the "MEAN MAN" stencil. Some French man is going to walk down the dock in the morning with his three shots of espresso, lopsided beret and just flip out. Maybe accessorizing your band name on high-priced modes of water transpiration that do not belong to you is the new circle pit?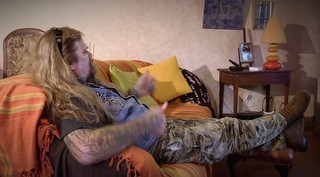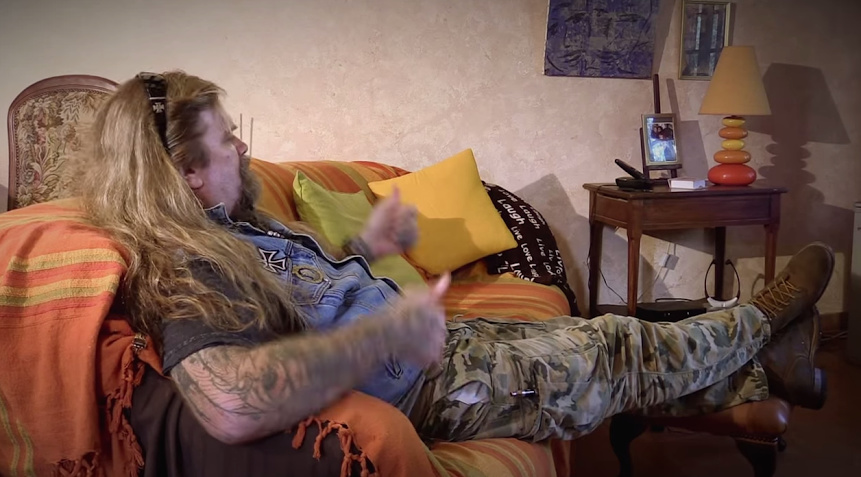 FUCK JEANS, FOREVER
After a certain age, Holmes believes that jeans are just out of the question. Function over fashion. Comfort rules your bottom half. Holmes keeps with the cut-off jean vest he's probably had for years (toting a giant fist on the back flipping off the world and Nazi-inspired biker symbols.) Besides, camouflage cargo pants are practical when hiding in the deep brush of the French beach side when you are fishing, eating ice cream or just playing solos on your Flying-V while the sea breeze rips through your hair. Jean are constricting and, compared to cargo pants, have so little utility. Why not kick back in what makes your bottom half feel good and comfortable—one step away from sweats.
SUNGLASSES ALWAYS
Playing piano is blinding and dangerous. All those bright white keys? It's like someone who wore Crest White Strips for a whole 24 hours is smiling right up at you. You must wear your shades and, for Satan's sake, make them the wrap-around kind so there's no chance of a sunlight leak passing into your precious retinas. Plus, you can go from the piano to your FXR without changing your accessories.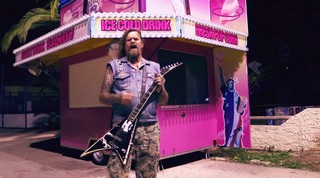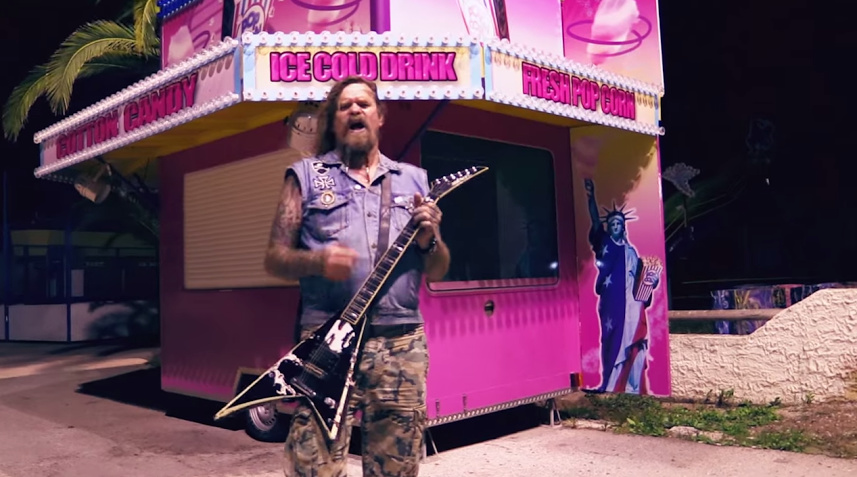 HOT PINK LOOKS GOOD ON ANYONE
In these shots of him playing his Flying-V outside a closed-for-the-evening ice cream joint, Holmes proves that hot pink is a back drop anyone can pull off. We know that cupcakes like Megan Trainor and infamous pop princess Avril Lavigne love to stand by the flamingo paint, but Holmes is out to prove that pink is heavy metal, because not giving a fuck is heavy metal and you can "fuck off" if you think otherwise. What kind of nerd would care anyhow? Who says pink isn't all about stark, hard-edged masculinity? Vaginas are pink and god damn it, you know Holmes love a good puss.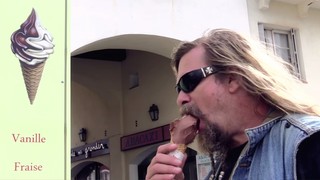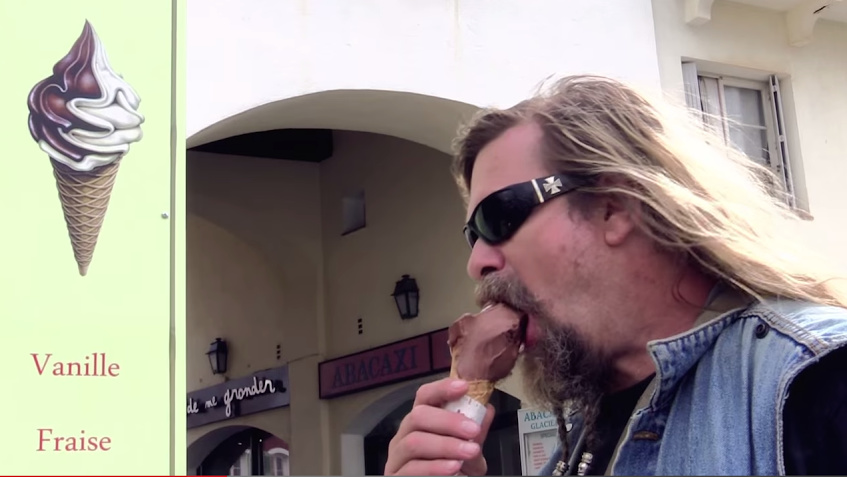 LA METAL HEADS AND ICE CREAM
What's with metal heads and licking ice cream cones in their music videos? A while back I covered L7's "Andres" and Suzi Gardner (the band's lead guitarist) was all over her ice cream cone. She coddled it around on screen like a security blanket. Maybe it's a Los Angeles metal thing? Is ice cream is a euphemism for something I am not quite hip to yet? I will get to the bottom of this, but in the mean time, looking good, Holmes. Normally when men eat ice cream cones it becomes the opposite of sexual, but he's devouring that thing like he did Lita Ford's pussy during their short two-year marriage.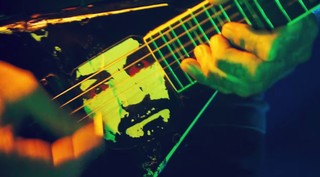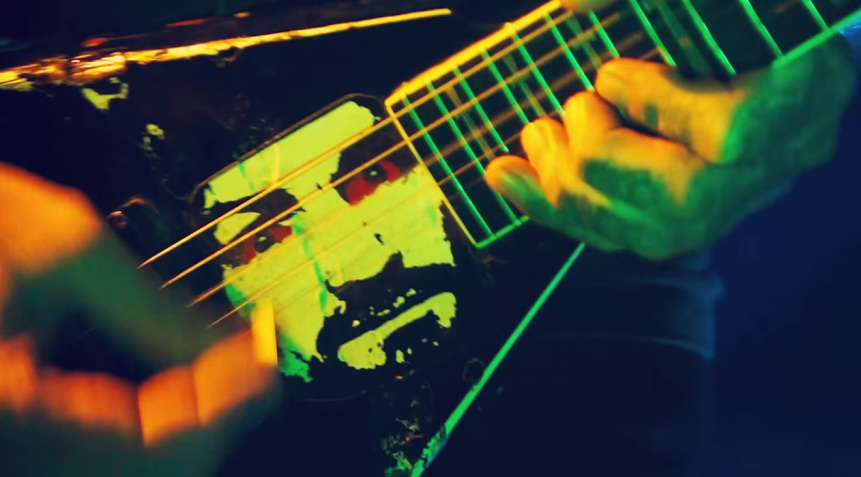 KEEP YOUR HOMETOWN IDOLS CLOSE—LIKE ON YOUR PIC GUARD
Even though Holmes has left California, it is clearly important for him to keep his hometown heroes closest to his personal magic and in this case, the customized Charlie Manson pic guard is doing the trick. Not only is it personalized, gorgeous and reminds people where you stand when it comes to The Manson Clan, but it insures that your guitar (excuse me, "axe") is special and if it ever gets stolen and pawned, you could easily track down that mother fucker and give him a little Manson treatment. Murder is so trendy this year, guys.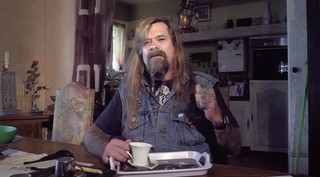 FACIAL HAIR, DON'T CARE
"Not giving a fuck" has always been the cloak in which to cover up the "actually giving a lot of fucks" a lot of punk and metal heads wear. When one is young and participating in a certain subculture that makes them feel very safe, secure and welcome, they naturally take on the aesthetic of that movement. It's how you separate the niche groups who do not dare interact. However, once a man reaches a certain phase of life, he really no longer gives a fuck. Merle Allin and Chris Holmes exemplify this well with their facial hair. Braid the beard? Dread the beard? Bead the beard? Why not. It makes sipping small espressos easier and everyone know Holmes quit drugs and booze in 1996. When a man gives in and does whatever he wants with his facial hair, that truly is not giving a fuck.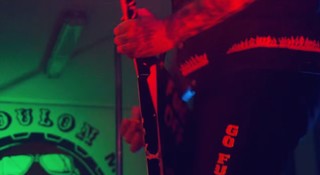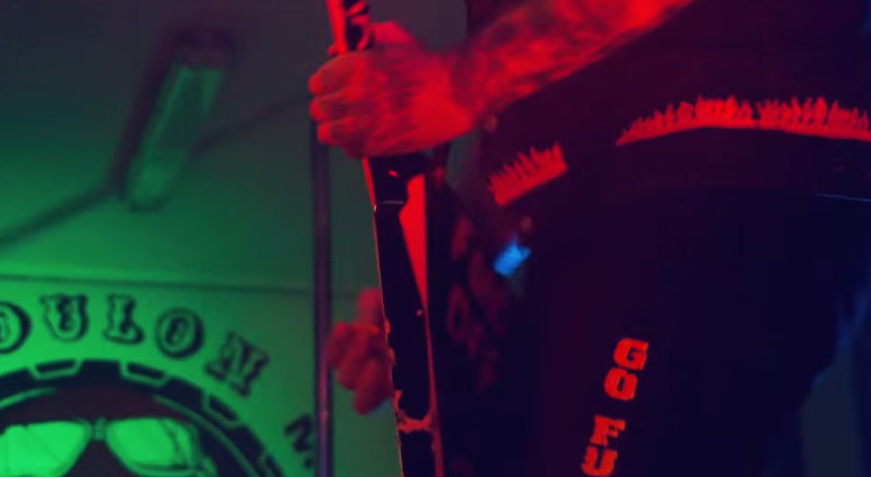 AGAIN. FUCK JEANS, FOREVER
It's really hard to see in this screen grab, but I am fully convinced that Holmes is wearing black sweatpants with letting up the side. This is next level. He's perfectly okay with dressing like a Jersey girl who just spend her last $25 at the mall and that, my friends, is how you do metal at 56 years old.
Love you, Holmes. Let it roar.
Mish Way is taking style tips from Blackle Lawless on Twitter.