There is meaning around Reading Festival where I grew up in North London. For us it is a classic post-GCSE tradition that should be upheld, and a weekend to end the summer by getting very twisted and camping in too much mud. And this would be my first ever time.
On Thursday morning there's no live music, just Sam Smith's album booming from the bacon roll stand which made for a very emotional welcome. As I searched for a place to pitch up, groups of people, (already gurning and stumbling around) were socialising optimistically, stepping out of tents with smoke pouring out from a fresh hotbox.
It's very clear from my first Reading experience that the crowds attending the festival can mostly be split into two categories. One half of the festival are the newer audience, the type who would say they came to see rap or dance, whilst the other half came to mosh their troubles away on the main stage to Metallica or Royal Blood. A few groups were eager to see the Libertines on the last night, but it was clear the bulk of 16-18 year olds were getting hyped for Boy Better Know in the dance tent.
My favourites were probably Run the Jewels and Knife Party on Friday. Saturday showcased some incredible house from MK, the smooth flow of South London's Loyle Carner and also Rebel Sound, the best crowd and atmosphere I witnessed. A final emotional drum and bass remix of "Stay With Me" by Sam Smith left the crowd pining for more. The final night Kendrick took to the main stage and blew everyone away with his live band arrangement and talent. Closing the weekend was Boy Better Know (seen performing below) obviously, and the whole tent was packed with young fans of grime.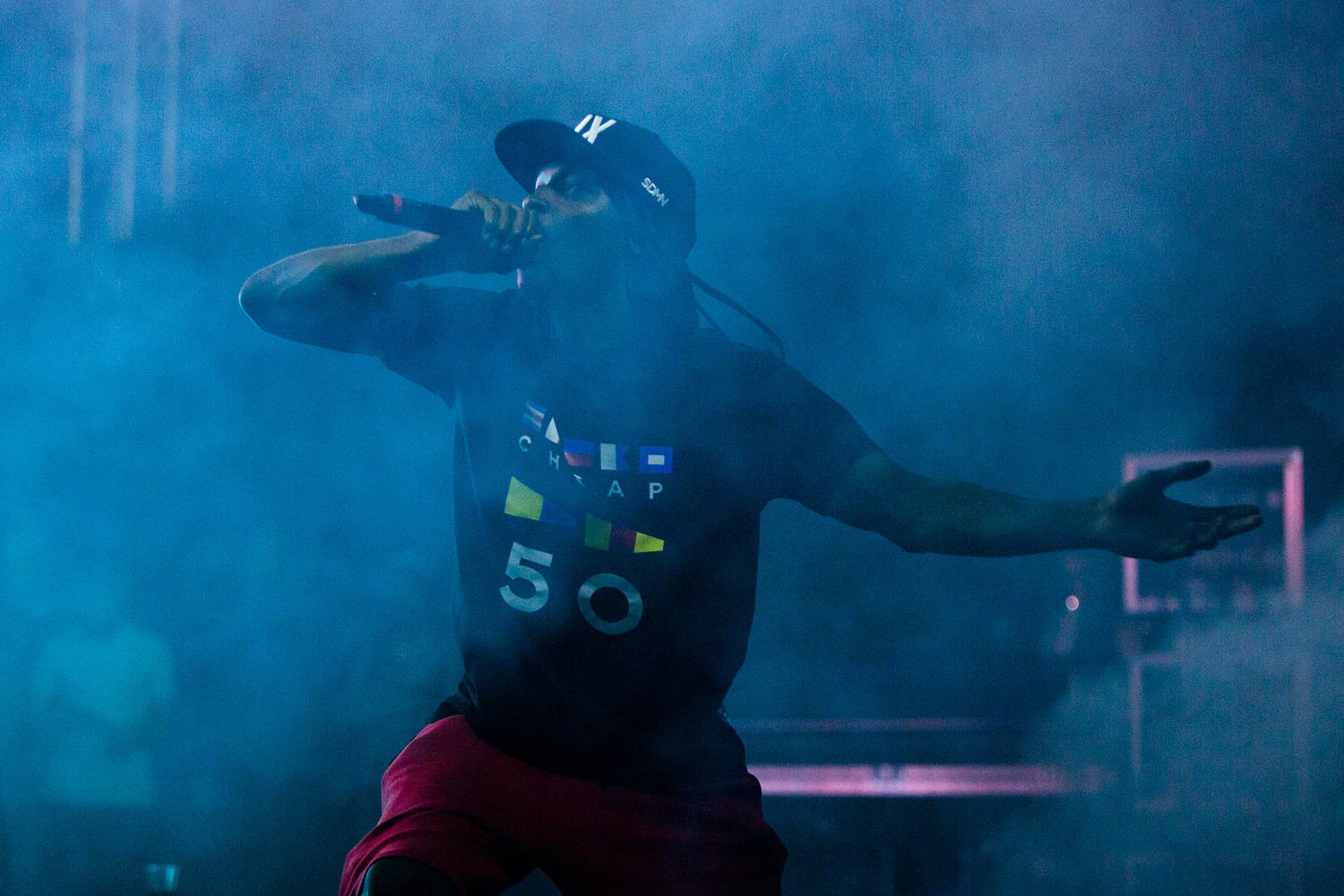 When not at a stage watching music, the main things me and my friends tended to do was catch up on missed hours of sleep, spend way too much money on quite average and unhealthy food, light a zoot to help with an awful comedown, walk 40 minutes into Reading town to use Costa's actual toilet, and speak to people from completely different walks of life. Reading has a pretty diverse crowd and it's amazing.
Some said last year was better, but the weekend was still a seriously special end to summer, even though the toilet conditions were shocking (no idea how they are within health and safety regulations). The security guards provided top banter - when confiscating a friend's stash one of them put on rubber gloves, asked him to step to the side and said: "Would you prefer cocoa butter or Vaseline?" He then burst out laughing while my friend was recovering from nearly shitting himself.
Festival wear seems to be less Coachella in England and more sportswear now, probably due to the younger crowd of Reading. I saw Ellesse jumpers on every next person, along with bucket hats, Ralph Lauren Polo caps, and pretty much anything Adidas. Girls are keen to paint each other's faces with glitter and to French braid their hair, disguising the whole "no shower for four days" thing (which really is as disgusting as you think).
Continues below

As Reading is the last rush and hope of an amazing summer, everyone is eager to leave the stress of reality away for four more nights, and people just started to get more and more off their face. I met a guy on five grams of molly on Sunday night who seemed pretty content. People dragging their friends through the mud showed a sense of carelessness and freedom of our generation, who will gladly pay over £200 on a weekend to camp in a field, get soaked in rain and watch their favourite artists for four days. I will do it all over again next year, but maybe not at Reading. Reading was slightly traumatising to be honest.
On Monday morning I saw the very traditional act of burning down abandoned tents, which lead to floods of security patrolling the camps with plastic fire extinguishers strapped to their backs, looking like a really shit Ghostbuster fan club.
If there are any lessons to be learned from the weekend, it's probably the key things you need to survive the festival well.
- Bring a camping chair, and make a conscious effort for it not to get stolen.
- You will need a blow up mattress; a comfortable sleep is worth everything.
- Bring a disposable camera, you will want to capture these memories for a time when you aren't so fucked up and can really appreciate it.
- Lastly, bring more weed, you will run out fast.