Meet Hedi Slimane's Latest Crush: Twin Brothers, The Garden
We talked to them about catwalks, cross-dressing, and twin stuff.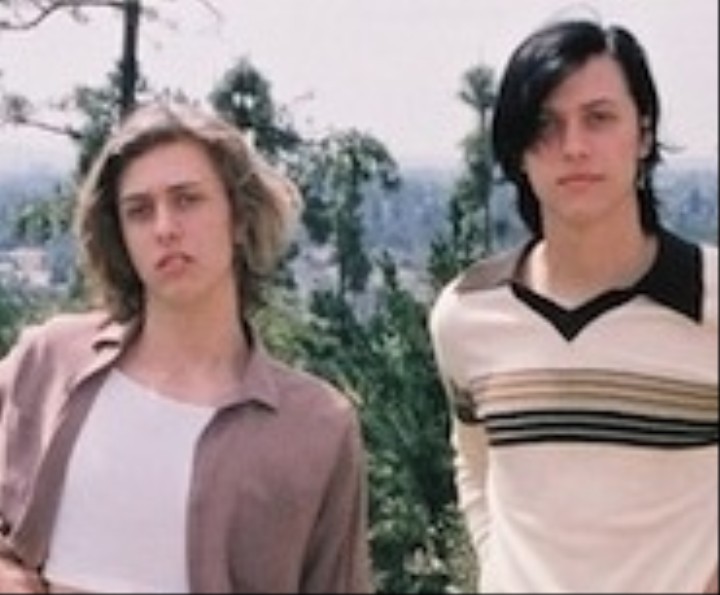 Photos by Rachelyn Remz
The Dos Equis guy has a cool accent and a virile beard and all, but Fletcher and Wyatt Shears, the 19-year-old twin brothers who make music as The Garden, definitely give him a run for his money in the "most intriguing men on the planet" department. They look cool, have impeccable bone structure—which Fletcher often highlights with make-up—and they're apparently really good at hockey. Oh yeah, they've also been making pretty great lo-fi, gothy garage-punk since 2011. These days they're part of the Burger Records family, whose roster includes Black Lips, Ty Segall and the Cosmonauts. What's even crazier than the fact that they're identical twins, which is really nuts when you really think about it, is that earlier this year they were handpicked by designer Hedi Slimane and whisked off to Paris to walk in the Saint Laurent AW13 menswear show. I caught up with the twins in the garden (of course) of their idyllic childhood home.
Noisey: Hi guys. How's it going?
Wyatt Shears: It's going pretty good. Just woke up.
It's 11:14AM. It's good to be a band dude, huh?
Wyatt: Not necessarily. [Laughs] I don't like the unproductiveness.
How is The Garden different from your previous band MHV? Why did you guys decide to start The Garden?
Wyatt: For one, it's just bass and drums and now I sing. Plus we wanted more creative freedom.
Fletcher Shears: We just felt better together.
Wyatt: When it's just us two, we don't have to worry about anyone else. That twin telepathy kind of thing.
Do you feel like it's better being in a band with your twin because it's just easier to be around each other for long stretches of time?
Fletcher: One hundred percent.
Wyatt: We never get annoyed with each other, or feel like we need some time off. Whenever we're even semi-frustrated, I'll go pour a bowl of cereal or something and then everything will be fine when I get back.
Let's talk fashion for a second. How did the Hedi Slimane/Saint Laurent thing come about?
Wyatt: We were playing a show at The Echoplex with The Abigails, and apparently a guy named Patrick was in the crowd and saw us, and he emailed some people. Long story short, Saint Laurent emailed us. We didn't really know what to think about it, but we finally emailed them back, and it was actually the real deal.
Fletcher: We didn't even know what Saint Laurent was. We don't know anything about that stuff.
Wyatt: We had to look it up.
After you guys exchanged the emails, did you meet up with Hedi?
Wyatt: No, we just went straight to Paris and then we met him and everyone there. We had to find our hotel and everything. It was stressful for the first few hours and then after that it was the best time ever.
Fletcher: Yeah, like jet lag, cold, trying to find people…
Wyatt: No one wants to speak English to you…
Fletcher: We're going back this June to walk in the Saint Laurent show again though.
What was walking in your first fashion show like? Were you freaked out?
Wyatt: The only thing that bothered me was the jet lag honestly.
Fletcher: We were mostly just giggling and making jokes with each other backstage. Everyone else was being really serious, but not us.
Wyatt: We were taking it seriously, but we were also having our own personal good time, not trying to be models or anything.
That's probably what Hedi wanted—for you guys to be yourselves and not serious models.
Fletcher: It was more of a natural thing, yeah.
Did you talk to any of the other male models?
Fletcher: I talked to a couple of them.
Wyatt: They were essentially friends for that night that I will never talk to again.
What part of the show did you walk in?
Wyatt: I walked first. I opened the show. I just had to get my timing right, and my footing. That was the only part I was stressed about.
Fletcher: I walked last. I closed the show. It was pretty exciting to be honest.
You guys didn't have any music in the show right? The whole thing was scored by Ty Segall?
Wyatt: We didn't have any songs in the show but we performed at the after party with Franz Ferdinand. It was super fun.
Fletcher: We got an encore. Franz Ferdinand didn't get an encore.
You're obviously stylish men, even if you're not super into high fashion. Where do you draw your style inspiration?
Wyatt: I don't even know…
Fletcher: I've always—and this sounds stupid—but I've always just worn clothing I like. If I like it, it doesn't matter if it's chick clothes or guy clothes, I'll wear it.
Have you always dressed a bit differently than the crowd?
Wyatt: Yeah that started probably around fourth grade.
Did you used to wear matching clothes?
Wyatt: Only when we were really little. I wouldn't be opposed to it now though.
Fletcher: Sometimes we both wear black long sleeve turtlenecks with black pants when we go out.
Wyatt: It would be a little corny when we played, but I would be down.
How would you say your personal styles are different?
Wyatt: Other than the lady clothes thing, I would say it's pretty damn similar. Like I'm wearing his pants and shoes right now. And he's wearing my shirt.
Basically you have double the closet.
Fletcher: Yeah, there are things that are his and things that are mine, but we switch things all the time. Same underwear, same socks…
Wyatt:There's no real separation.
Fletcher, when did your interest in cross-dressing and androgyny start?
Fletcher: I think I started dressing in women's clothes around late 2009 or 2010. Even before that, I was interested in it. I just like to look pretty.
Are there specific items of women's clothing you would wear and some you wouldn't?
Fletcher: Wearing women's clothing is like wearing men's clothing; I just find what I like. But I am open to anything. I just like the way they look on me.
Let's talk make-up. Did you teach yourself how to apply make-up?
Fletcher: Yes. A lot of bad re-dos.
Wyatt: A lot of modern jokers.
Are there any other musicians out there whose style you really admire?
Fletcher: If I had to pick one person, I like the way Mykki Blanco dresses.
Wyatt: To be honest, I'd probably say Mykki Blanco too.
Say you could raid anyone's closet, living or dead. Who would you choose?
Wyatt: Robin Williams.
Fletcher: Tim Allen.
The Garden's debut album The Life And Times Of A Paperclip comes out on Burger Records in June. They're on tour with the Cosmonauts throughout May.
Yasi was so enamored with the Shears twins she wants to carry them around in her backpack. Always. She's on Twitter - @YasiCultist
Style Stage is an ongoing partnership between Noisey & Garnier Fructis celebrating music, hair, and style .