Pete Wentz's Decaydance Label Is Back With a New Name and New Artists
It's called DCD2. We talked to Pete about building a more eclectic roster, musical wrong turns, and Fall Out Boy fan fiction.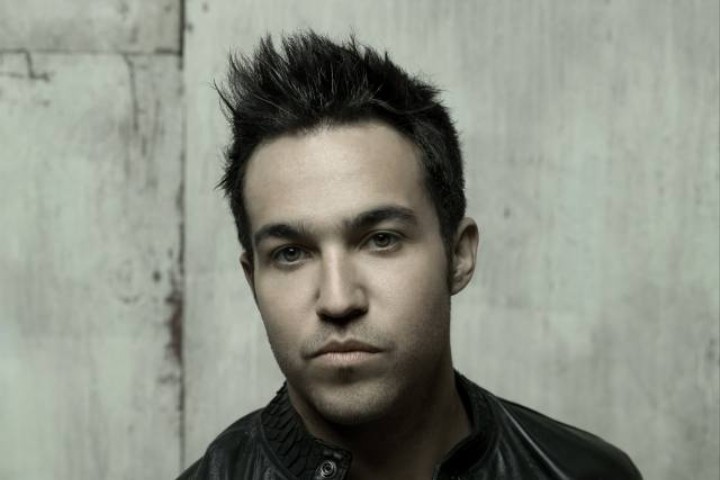 Pete Wentz, photo by Pamela Littky
Shit just got real. Who's been wondering where the fuck Fall Out Boy's been? Do you find yourself reading and annotating passages of Fall Out Boy /fiction every day waiting for the second coming? Do you still wonder whether Patrick or Pete is the cuter one? Well you're in luck, because Pete Wentz's Decaydance is back, rebranded at DCD2. The label is launching with two new signees: LOLO and New Politics. The current catalog also boasts Wentz associated mainstays like Cobra Starship, Panic! At The Disco, Gym Class Heroes, and Travie McCoy, though Wentz says this is just a building point, calling it an "expansion" of Decaydance. Either way, we're fucking amped, and we reached out to Pete to find out what the deal is.
What made you decide to rebrand the label into DCD2?
I think that the time we took off from the band... I kind of took time off from the label as well. The thing I hear from people all the time is... people complaining about music not being exciting or people complaining about what the state of the industry is, and I think that that's just not true. I think it's counter-intuitive to think that, and I think that music's more important now than ever. You know things like streaming services are just in the background of everything. People are listening to music all the time. Finding new music's really exciting. Like, finding New Politics was crazy to me. They're like kindred spirits. They're like a band that I could have pictured us being like or a band we could have toured with, but like 12 years after we started. Really it's about finding music again, and, with rebranding, it's us saying that it's not going to be a legacy thing. It's not going to be the artists that we've worked with before. It's going to be about new music and new art and new ideas.
Would you say that in rebranding there's a different audience you're going for? Or maybe a different aesthetic choice with the music?
New Politics is a band that we might have worked with before. They could sit in the lane. I think LOLO's outside of that. She's interesting and definitely something that's not in our lane.
She's a bit more electronic.
Yeah, and to me that [is something] I like. People used to be like "I'm just a fan of dance music; I don't listen to any of this stuff." Or "I'm more into metal; I don't like hip-hop." And I think with the younger generation of kids it's more genre-bending than it's ever been before. And to me, that would work to our benefit. I think in the past we had issues with getting people who liked Panic! At the Disco to listen to Gym Class Heroes and stuff like that. And now more than ever, kids are open to listening to different songs that they like. And that's something we've always wanted to embrace. To be able to come back and embrace that is very important.
There are reports that you are selling your house in California. If I were to make you an offer on that house, what would be the coolest thing I would find in it?
Yes! I'm selling it. It wasn't like the craziest house on the planet to be honest with you. I think the craziest thing you would find is that there's a little house at the bottom of a hill in the backyard. The kids could use it as a playhouse because it's built into the hill. You can hang out there and have little... tea parties or something (laughs). And there was a cool Koi pond there, but it wasn't that crazy. The thing that I liked most about it was that it felt like you weren't in Los Angeles. People would come over and be like "Oh this is just like New England!" or something like that, and I liked that it didn't seem like LA.
Tea parties at the house sounds rife for Fall Out Boy fan fiction, which is a great segue into my next subject: Fall Out Boy fan fiction. Have you read any of it?
I haven't personally read any of it. The thing that's craziest about Fall Out Boy fan fiction is they're at the point where there's like a whole bibliography for it. There's so much of it. I remember my manager was into some of those antics when we were shooting our videos and stuff like that. His girlfriend—now wife—read some of it, and got super pissed about it because she thought it was real (laughs). And it's not real. Very, very not real.
Yeah I have a pass—[Right when I was about to read a passage of fan fiction to Pete concerning a will-they-or-won't-they kissing scene on the beach, the publicist jumped in and made me change the subject back to the label.]

New Politics, photo by Brendan Walter
Do you feel that because your bands like Fall Out Boy and your other side projects have been around for so long now that you have less pressure to appeal to a certain genre? That perhaps you have more freedom in terms of content?
I think the minute that you reach that kind of critical mass where you can do that…I think there's some people on the sideline who are just waiting for you to make a wrong turn, so they can be like "Yeah, he doesn't have it." I feel like that was what happened for me, growing up with Metallica. Everyone, post-Black Album was like "oh yeah, I knew Metallica was blah blah blah" [insinuating that they now suck], and it's like: No, Metallica's an awesome band. And they had become the biggest band on the planet. And it goes for every band like that. The minute that you're liberated and are able to do something like that, you definitely open yourself to becoming a target. You can take a chance, but plenty of people are waiting for you to take the wrong chance.
Have you ever felt that you took a wrong turn?
No, I think when we made Folie à Deux... it was a bit of a left turn. I liked the record, but when I listen to it now it feels a little unfinished. Like it needed to incubate a little bit longer. We took a really big leap. But it was interesting to me because I got to hang out with Rivers [Cuomo] years ago, and I told him that Pinkerton was my favorite album. And he was shocked by it. He was like, "I can't believe that that's your favorite Weezer album." That's how I feel when people come up and say that about Folie à Deux. Because it doesn't seem done to me, and it does feel like a little bit of a wrong turn to me. The thing I do like about it is that when I look at the history of musicians that I really like, all of them made odd choices, and I still really like them. I even like some of the odd choices. Everyone, when given the chance, gets in a giant lemon at some point.

LOLO, photo by Harry Carr
Right, like Loutallica. As a Metallica fan, what did you think of Loutallica?
I listened to a little bit of it. It was not for me. Is that the last thing that Lou [Reed] did?
He did that, and then I think the very last thing he did was review the Kanye West album.
Oh right, that was awesome.
You had a big hit with Elton John on a single. Are there any ideas for more out-of-left-field guest stars in the future?
When the song would call for it, it's be cool to do another collaboration of some kind. One thing that I've been thinking about lately is that I've never done something with a big soulful, female singer. Like something punk-rock too, like Courtney Love or something. I don't have a song or an artist in mind. We could expose other people to that and Fall Out Boy fans to that. In general, I think people have a short memory with music videos and stuff like that, so at some point we need to get back into making more noise and making more music. We've got to tell a different story than "Save Rock and Roll" and "My Songs Know What You Did in the Dark" did.
What do you hope for the future of the record label?
I feel like with the record label, we're going to start slow. And starting slow means starting with New Politics and new stuff like that and then maybe one or two bands we've done stuff with in the past. Whether it's Cobra Starship or something like that. But then I really want to expand out. I really have big goals. I want to be able to expose Fall Out Boy fans to something that's—I would like to go to somewhere else in the world where music isn't center stage or in front of anybody. But regardless, from taking time off I've realized that this is something I'm really passionate about. I really want to embrace younger artists, take them under our wing, and help them out. I think that's our job as a label, to let them find their own ideas.
Well thank you so much for the interview!
We should talk fan fiction sometime!
Jon Peltz can't wait to talk fan fiction with Pete Wentz, like, for real. He's on Twitter - @thecrazypman
--
Want more Pete Wentz? Check these out:
Fall Out Boy Played Us the Hardcore Songs They Made with Ryan Adams
Pete Wentz Is the Last True Punk