Photos courtesy of @KirschKush
My date with Yeezus wasn't planned: call it divine intervention via conveniently placed advertisement. My boyfriend and I were taking our first steps off the train we'd taken to Montreal for a short Reading Week vacation — my first time ever spent outside of Ontario. While walking through the station we came across a poster for the Yeezus Tour: the apotheosis of Kanye West, the man himself held aloft under a beam of light. We were ready to leave it behind without a second thought when we noticed the show was taking place the day after next. A few hours later, we were sitting in our rented apartment with two freshly purchased tickets, eager to receive Kanye's testimony.
Montreal was the last place I expected to catch a Kanye performance, one Anglophone watching another in a city that ranges from bilingual to almost wholly Francophone depending on where you're standing, but I wasn't going to decline a chance to catch the tour given that I had missed his Toronto date a few months earlier. Peak hysteria surrounding the tour had passed even before that — I had long since made second-hand acquaintance with the mountain, the monster, and the Jesus through a steady diet of tour recaps and essays — but I could still feel an undeniable tingle as we tried to navigate the Bell Centre before the show began, dealing with surly security guards and a nebulous web of escalators and staircases.
It turns out that no amount of Vines, GIFs, and hastily composed blog posts can quite capture the experience of seeing Yeezus in person. How could an Instagram video distill the Klaxon-on-acid screech of "On Sight" and the kaleidoscopic beauty of the "New Slaves" outro, the desolation of "Coldest Winter" and the irrepressible joy of "Through the Wire," the agony and the ecstasy into a 15 second clip? Watching the show forces fans to confront both the sheer bulk of Kanye's discography — hit after hit after banger after hit, all being shouted by a crowd of thousands — and the thwack of internalized prejudice that's been force-fed to your generation and the generations that came before you. Rather than attempting to escape the discomfort, Kanye seeks to cultivate it: he drops his Cruel Summer remix of Chief Keef's "Don't Like" and soaks in thousands of white people bellowing "nigga," standing alone on a gleaming triangular platform like a gladiator having survived the trials of the Colosseum. Crimson lava trickles down the slopes of the mountain as "Blood on the Leaves" crackles to life, Nina Simone singing about the strange fruit hanging from the poplar trees; buzzed, fratty boys howl in their seats and beg for TNGHT's meaty drop. Nobody wants the aesthete, the mourning son, the revolutionary. They want the douchebag, the asshole, the madmen filtering his pain through autotune.
I'm not sure how much of Kanye's address is recycled from night to night, but in Montreal he was a marvel: rational, inspiration, reflective, and keenly aware of the futility of the entire exercise. He spoke about the creative process, the fine details of making music, and the wayYeezus was his attempt to push boundaries he hadn't yet pushed. He talked about the delicate balance between freedom, ambition, and inspiration, and the responsibility he felt to use the prominence of his voice for good. He lamented the fact that he probably wouldn't get any press for what he was saying unless he went out of control while saying it. And every time he made even the slightest reference to another level of intensity — "I know y'all want me to turn up" — the crowd would start to roar, ready for a moment they've come to expect at a Kanye West show. That's why Kanye's speech was, at its core, heartbreaking: he's made a career of trying to dismantle social barriers and smash conventional, culturally instilled wisdom, only to find that it's impossible to get attention unless his performance conforms to what we expect from black men: aggression and a lack of decorum.
After 20 minutes or so, Kanye moved on, conducting a career-spanning run-through of his greatest cuts from The College Dropout through Yeezus. He was relentless, serving up a minute or two and driving the audience into a frenzy before reaching for another standard, a new peak. It's easy to think about it in terms of the show's nightly structure — Kanye runs through material from Yeezus, rants for a while, then shuts up and plays the hits — but I like to imagine that it's his way of reinforcing his core principles. From "Through the Wire" to "Stronger" to "Niggas in Paris," Kanye's music has always grappled with the same concepts present in his speeches, the ways race and class and style interact and can be transcended through talent and sheer force of will. Sometimes you need to hear a message multiple times in different ways before it penetrates your thick skull; Kanye gave it to the audience in song rather than speech, in the hopes that it would worm its way into their brains.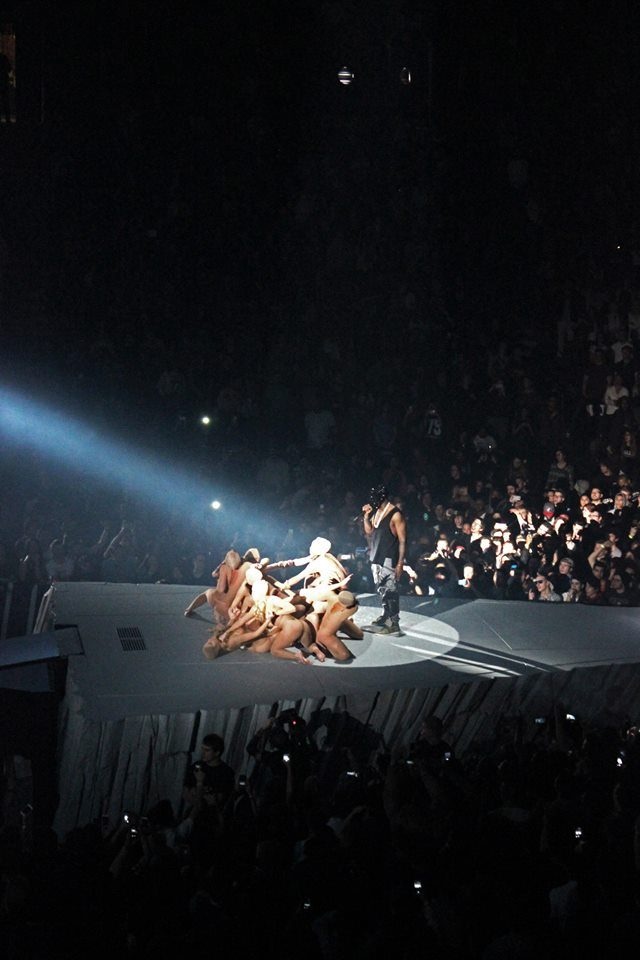 I left the show emotionally drained and physically exhausted, having spent the whole day prior roaming the city and eating everything in sight. As I stepped back out onto the street with a few friends, conversations swirling around me in English and light-speed French, it dawned on me that Kanye's struggle for understanding on his own terms and my intermittent failures of comprehension in Montreal were subsets of the same larger problem: bad communication. He would continue to rail against the barriers and ceilings keeping him from achieving his full potential as a creative force; I would keep shrugging in restaurants, whimpering "Je ne comprende pas" and waving my Visa like a white flag. For one night, at least, we found ourselves operating on the same wavelength: I received Yeezus with open arms, and in turn found myself being understood.
Jamieson Cox is a writer living in Waterloo who is working towards being a mad scientist. He is on Twitter.