Some people to go to a live concert to escape reality. But in this specific case, escaping town was the only plausible way I could take in what would be one of the top live music experiences I've had all summer. Running off a hangover from the night before with an inventory consisting of one cheeseburger and one half-tank of gas, I drove from Halifax to LaHave, Nova Scotia to see Halifax's underrated fuzz-pop degenerates Monomyth perform with fellow Halifax-natives, Walrus and The Everywheres.
For those of you not from Canada, or those of you not entirely confident in where Nova Scotia is even located, LaHave is essentially a very small scenic village about 15 km (9 miles) from Bridgewater on the South Shore of Nova Scotia. In short, it's in the middle of nowhere, it's surrounded by tons of boats, beautiful old buildings, and east coast accents. Having never spent any time in LaHave before, I was told to expect a small village run by young, DIY-types — as opposed to the town before it full of older people doing ALS Ice Bucket Challenges in a grocery store parking lot. My first stop was at the acclaimed LaHave Bakery, which conveniently houses Homegrown Skateboards inside of it, a skate shop owned by a guy named Jesse, the son of the woman who owns the bakery. This is where the show would be held later that night. The building itself is over 100 years old, and any picture of it would have you believing you were in a real life postcard, not to mention the carrot cake, OH MY GOD THE CARROT CAKE.
As the sun went down, our spirits lit up. Homegrown was just a five minute walk from where I parked my car, so after loading up a garbage bag of beer to bring to the show, I was ready. Halifax's buzzing psych-pop band, Walrus opened up the night, and I was glad to have finally seen their full set because I got kicked out of their show the night before in Halifax for mouthing off to a bouncer for pouring out my beer out in the middle of Agricola street, but that's another story.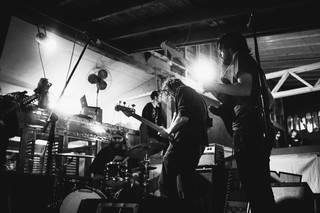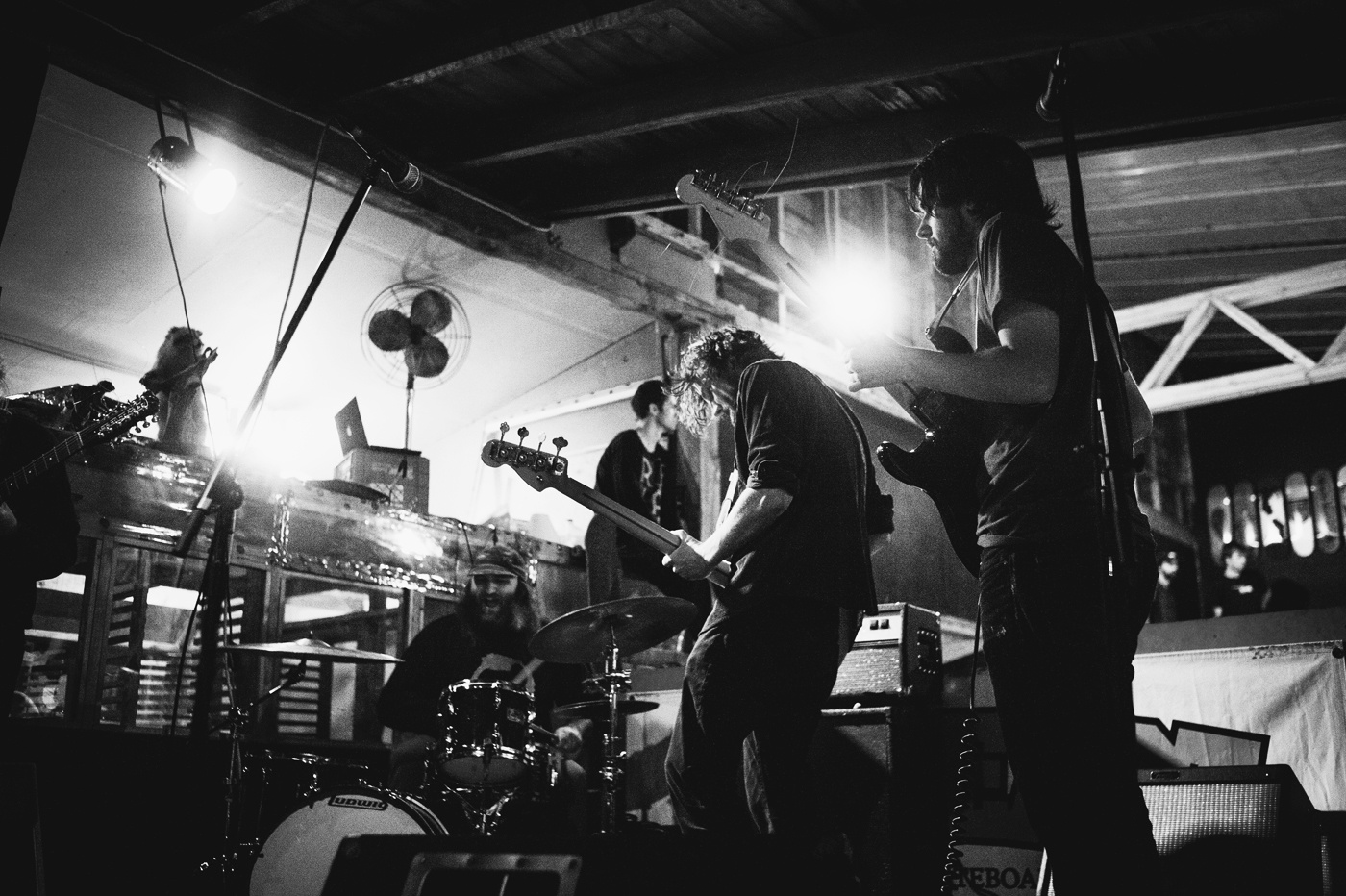 The room quickly filled after the set, and the vibes were just right. People began filling the room up with colourful clothing, weed smoke and adorable dogs who were taking in all the love from drunk and high strangers. As the Everywheres took to the stage, a surge of skateboarders hopped on the bowl directly behind the stage and the occasional sound of cheering and wipeouts were drowned out by music best described as The Kinks meets Mac Demarco, keeping us all afloat. If you were to close your eyes, you'd think this is what 1967 felt, sounded and smelled like. Before Monomyth hit the stage, I waited in line for the bathroom with what appeared to be 3 LaHave "ramp tramps" chugging Mike's Hard Lemonade in the stalls — it was tight.
As I walked back up the stairs just in time to catch Monomyth's first song, the once segregated room of showgoers and skateboarders quickly began merging into one giant room of heavy hearts and big smiles. I cracked the warm beer I stashed under the skate counter and chugged it because, why the fuck not? Opening with "Pac Ambition" from their newest album Saturnalia Regalia, I was stoked to say the least. Soon I had arms wrapped around people I didn't even know, dogs were chilling on my feet, some girl was pinning Monomyth pins to my clothes and I really felt like I was in a true Canadian paradise. Because all the bands were friends, members were swapping in and out of the each other's sets and the energy was undeniably addicting.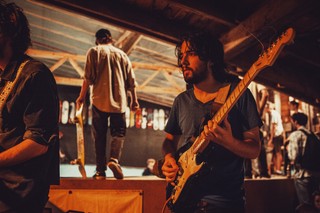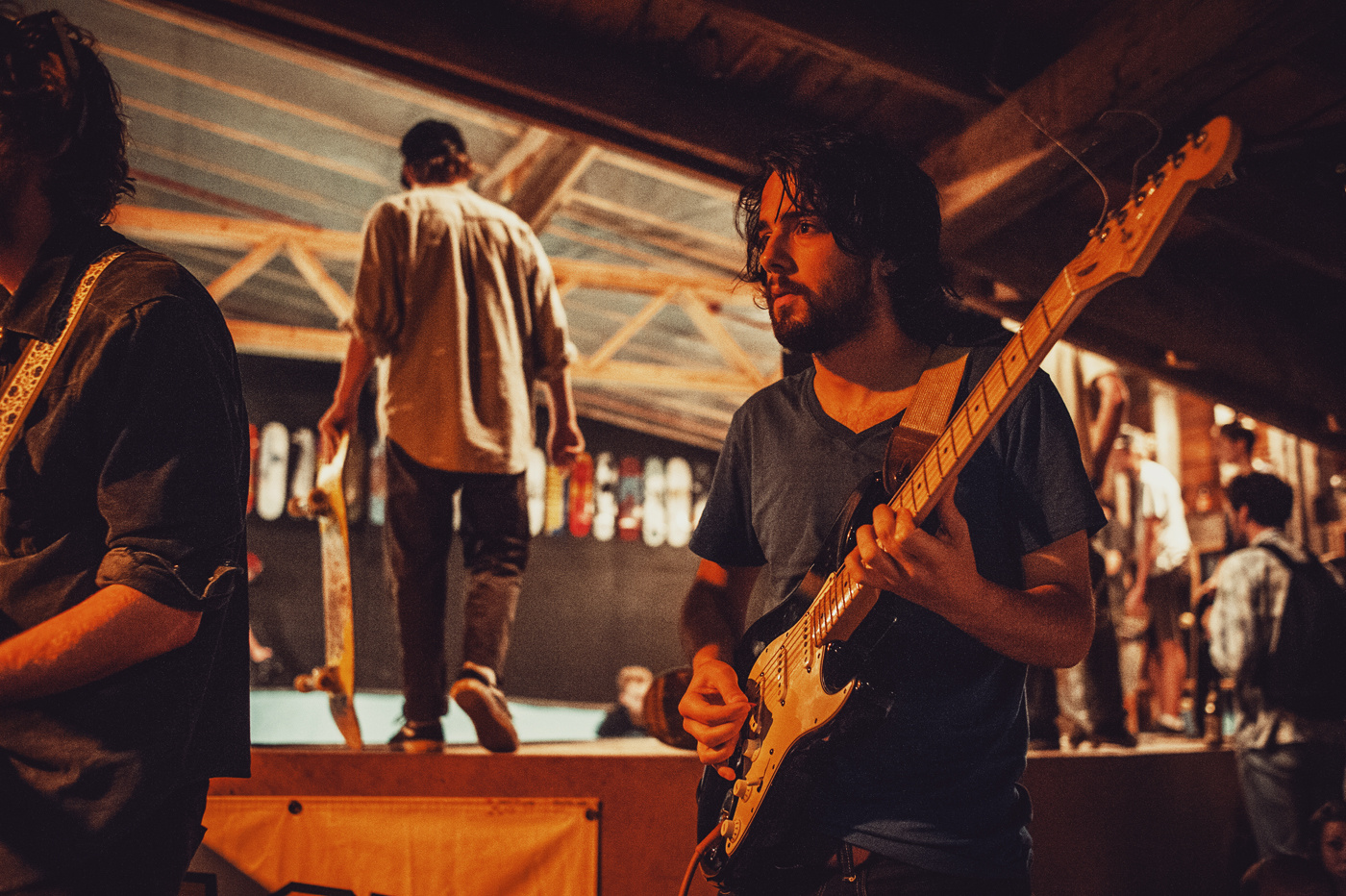 After catching up with the bands and old friends outside, the police shut our shit down pretty quickly. On the walk home, high off life and other things, the grim reality that I had to sleep in my car was sinking in. The next morning, I waited 45 minutes at the bakery for a coffee and breakfast, it appeared as though everyone else at the show had the same idea. After taking in one last breath of the salty sea air, I hopped in my car, plugged in Bobby Shumurda, waved goodbye to my friends and drove away knowing that there's no place like Homegrown.
Breagh Brown is a writer from Halifax, living in Toronto - @Breaghbrown
Curtis Rothney is a photographer living in Halifax - @curtisrothney