All photos courtesy of author
"Who are all these tracks by S. Tunes?" asks Justin Murphy, the guitarist, singer, and songwriter of four-piece rock band Walrus, as he scans the karaoke songbook. His older brother, drummer Jordan Murphy, leans over to him and says, "I think that means Show Tunes, bud." It's a Friday night and me and Walrus are at the Lion's Head Tavern singing karaoke in Halifax's north end.
Walrus' guitarist, Justin McGrath, is hammering out "Sgt. Pepper's Lonely Hearts Club Band" to the rowdy bar. Flipping through pages, the band reveals an encyclopedic knowledge of rock music, from American classic-rock to Brit-pop, which makes sense since Walrus' music draws on everything in between.
In the last few years, Walrus has played a few hundred shows in Canada and the US, toured with Wintersleep, opened for Matt Mays at the iconic Shore Club, played a Dine Alone Records showcase in New York and hit almost every festival east of Toronto. Incredible and technically proficient musicians, they've steadily and organically made fans wherever they go. In a couple months, they'll release a seven-inch and a full-length mixed by Ian McGettigan (Thrush Hermit).
Justin writes down "Champagne Supernova" by Oasis to sing. He sings it well and I find his choice cute, since brothers Justin and Jordan make up the core of Walrus, which they started as an electronic act in 2012. In some ways, they are like the Gallagher brothers, except they're not total dicks; these guys are some of the nicest people I've ever met. While some nerd in a fedora nails "I Believe In a Thing Called Love," we talk about how Walrus got to where they are now.
"We played our first show as Walrus in Montreal in 2012. I think it was, fuckin, Justin on guitar and me and McGrath doing electronics," Jordan laughs. Soon after, they played a Halifax show and bassist Adam LeDrew asked if they needed a bassist. Over the next two years, the band picked up and dropped other players while working on and then releasing the 2014 Glam Returns EP.
If you Google it, you'll find dozens of reviews praising the four-track release, which did pretty well on the Earshot charts. Most descriptions of Walrus include 'psych-rock,' 'psych-pop,' and shit like that. "But we're more of a rock band," Justin tells me, "It got to the point where 'psych' only meant I had delay on my vocals, you know what I mean? But I think we're just a pop-rock band."
McGrath, charming and scatterbrained, pipes up, "It's like this whole 'pysch scene' thing is really popular lately, but I don't think we're really part of that. Maybe at the start, but we're not trying sound like that, or anything, really."
Justin continues: "Yeah, I think it's just more natural rock music, no effects. Just a four-piece rock band. Pop-rock, probably." His big brother elaborates: "There were times when Justin was influenced by like, Ty Segall or whatever, but when he bring his songs to us, it's whatever we feel comfortable playing together from there. I think it could go anywhere. It doesn't really even sound like the 60s." Justin says, jokingly: "Yeah, we could be Sabbath or we could be The Eagles."
Familiar features do appear in Walrus' music, like in the harmonic intros, the solos and the tempo changes, but the collective sound is distinct and, moreover, it's lifted by Justin's high vocal range and sweetness, like on the recent "Later Days." Sure, Walrus is named after "I Am The Walrus," but Justin's got more of the later Lennon sound than Magical Mystery Tour, and anyway, Walrus stands out in Halifax's indie-rock scene because of their technical skill. They're good, steady, rhythmic and they're not limiting themselves to any particular audience.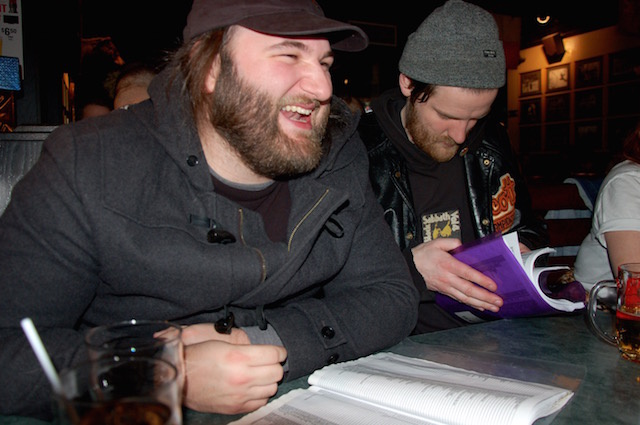 Justin and Jordan go up to sing Shaggy's "It Wasn't Me" and the Jamaican drawl is an obvious struggle for them. "Some of the shit Shaggy's saying doesn't even make sense," Jordan says. Back at our table, I ask how they all met. They've known each other "forever," growing up around Truro and the central-western area of Nova Scotia, which was close enough to Halifax that Wintersleep's first two albums were standard-issue. Wintersleep is an obvious influence, but so are many things; Walrus likes hockey and wrestling as much as Zeppelin and Beck.
"I played shows with Wintersleep in New Glasgow, with my high-school band which was also with Brad Loughead (Each Other, Nap Eyes)," Jordan explains. In the last few years, Jordan's also played drums for Rich Aucoin and hit other sessional gigs. When the Murphys, McGrath and LeDrew all moved to Halifax by 2011, they didn't really know anyone in Halifax's tight-knit indie-rock scene.
"We couldn't get a weekend date to start," says Jordan, as Justin elaborates, "It was a long road. We had to work for every little thing because we didn't get breaks just for knowing the most popular band in town, and we didn't want to play shitty Wednesday night shows so we said, fuck it, we'll do shows somewhere else. So we just worked really hard." Walrus went on three tours across Canada and the US. Last year on the road, they got to know Wintersleep again, who invited them to tour and open for them at several showcases. It's the same kind of story with Dartmouth's Matt Mays. These are full-circle co-signs.
The boys tell me Walrus plans to tour Eastern Canada and the US through the winter and the spring to support the two upcoming releases, as McGrath is singing Rage Against the Machine. We're all starting to get pretty drunk and we're having fun. There's something comfortable about Walrus, with each other and with themselves, that translates onstage. They're also nice dudes, and that has a lot of valuable currency when building a band's reputation and career.
LeDrew, who hasn't said much all night, mentions how Wintersleep's support has been encouraging. Walrus, he says, is just accessible and awesome: "It's like that 'psych rock' thing. Our music actually transcends these different labels and genres, and at the end of the day, I feel like Walrus is a band that can go in any bar anywhere and play to any age or any crowd, and people will like it."
Adria Young is a writer living in Halifax. She likes Walrus. Follow her on Twitter.