Who Will Win & Who Should Win at The 2015 Juno Awards
Leonard Cohen wins everything, but can you believe Justin Bieber isn't nominated for the Fan Choice award?!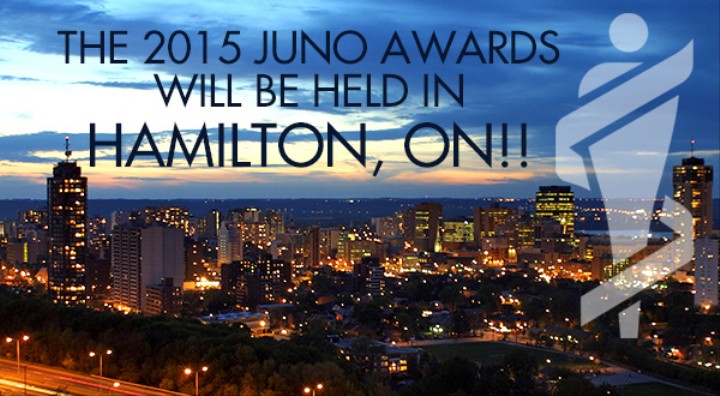 OB's home. Photo via Junos Website.
As proud Canadians, you understand the gravity of the annual Juno Awards. The presentation of the prize shaped like a glass vase and named after the former president of the CRTC and CBC is one of the most prestigious gifts that can be bestowed upon a Canadian artist, and ever since its inception in 1970, the award's recipients have been hotly debated amongst the Canadian art scene. With every passing year, the Juno Awards seem to grow increasingly competitive, which in turn makes them more valuable for an artist to attain. Since 2010 and the introduction of Arcade Fire and Drake into the mainstream, not to mention Justin Bieber and an electronic music scene that seems to get exponentially better with each passing year, the panel has had to face tough decisions now that they simply can't give every Juno to Bachman Turner Overdrive and expect people not to notice.
The 2015 Juno Awards will be hosted in Hamilton, Ontario and features stiff competition in every field. Last year the awards nominated Robin Thicke for more Junos than he deserved, but the eventual winners seemed to be the artists who showed actual artistic maturation. Arcade Fire made the Album of the Year, Drake won for Rap Recording, Tegan and Sara won for Group of the Year, and Serena Ryder was Artist of the Year. For the most part, the Juno Awards got it right in 2014. But this year's award show will be different, since the pool of talent has grown in depth over the calendar year. 2014 had albums come out from (possibly under-rated rock group) Nickleback, Leonard Cohen, Sarah McLachlan, and Bryan Adams. Those four names alone would be enough to pack an enjoyable CanCon playlist, but there were also a flurry of releases by new bands and artists who are just as deserving of the prize as the veterans they're nominated against.
In an effort to make sure that there are some checks and balances implemented between now and March 15, we're going to run through the list of nominees and decide who deserves to win, while also acknowledging which white bearded bro will actually win.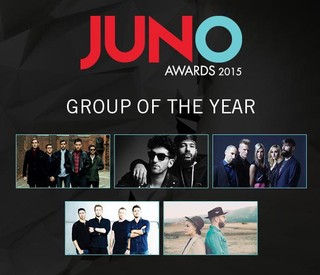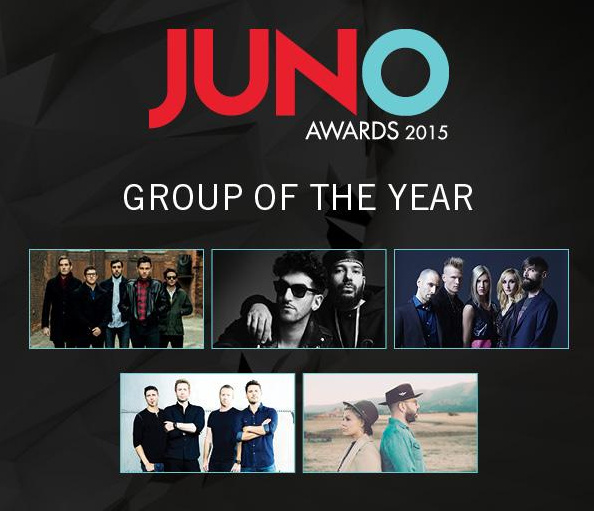 Nominees:
Arkells
Chromeo
Mother Mother
Nickelback
You+Me

Should Win: Arkells
Will Win: Nickelback
What a stacked category to start off with! Let's just go ahead and remove You+Me since Pink! isn't Canadian and their continued inclusion is irksome both for grammatical and logistic reasons. Mother Mother had a great year, but since this is their first nomination as a major label act, this may be their buffer year before dominating all future Junos. Chromeo is too cool to care about being labelled a group, so they're out on principle. That leaves us with Nickelback and Arkells. Although Arkells have home court advantage with the award show being in Hamilton, you can't discount the fact that they're going up against the pop rock dragon sleeping in a cavernous mountain peak on top of a pile of treasure: Nickleback. Advantage, Nickleback.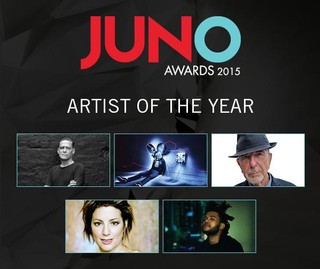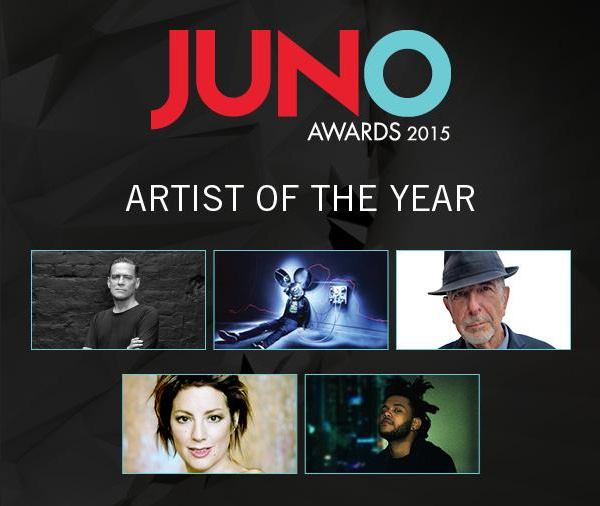 Nominees:
Bryan Adams
Deadmau5
Leonard Cohen
Sarah McLachlan
The Weeknd

Should Win: Deadmau5
Will Win: Leonard Cohen
God bless Sarah McLachlan, who deserves to win everything every year, but likely won't since she's stayed relatively quiet this year. Bryan Adams has a chance if people confuse him for Ryan Adams. The Weeknd isn't the artist of any year, especially a year when he put out two and a half songs. Of the possible selections, Deadmau5 is the only artist whose every public move is scrutinized and blogged about incessantly, whether it was about his car being problematic or his opinion of Paris Hilton being problematic. However, Leonard Cohen wrote "Hallelujah", which is the Adele of songs. It doesn't matter if he wrote it in 1984, or if the song didn't really take off until Jeff Buckley blessed it, it's still the Adele of songs. Leonard Cohen is the artist of the year, and he has been since 1985. Sorry Mr. Mau5.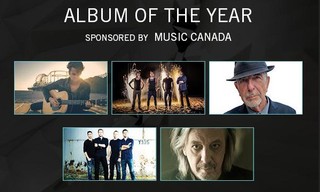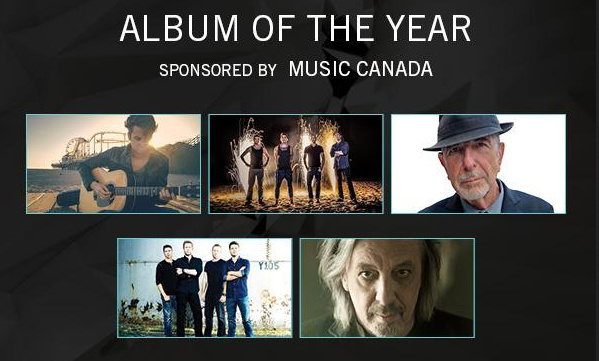 Nominees:
Bobby Bazini - Where I Belong
Hedley - Wild Life
Leonard Cohen - Popular Problems
Nickelback - No Fixed Address
Serge Fiori - Serge Fiori

Should Win: Nickelback
Will Win: Leonard Cohen
Serge Fiori was the lead singer of an influential and progressive French Canadian rock band, so he's out. Hedley technically won their career in a talent contest, so they're out. Bobby Bazini sounds like the name of a loan shark, so he's out. This leaves us with Nickleback—who need to be rewarded every year so that the Faustian contract they signed at the dawn of their career remains valid—and Leonard Cohen. Advantage Leonard Cohen, because he's Leonard Cohen.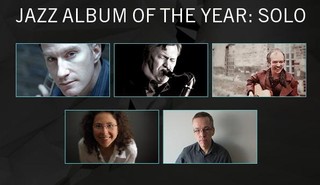 Nominees:
Jim Head - Zoetrope
Kirk MacDonald - Vista Obscura
Lenny Breau - LA Bootleg 1984
Marianne Trudel - La vie commence ici
Owen Howard - Drum Lore Vol. 2–More Lore

Should Win: Lenny Breau
Will Win: Lenny Breau
Canadian Jazz really comes in every shade of white. Wasn't Lenny Breau Frank Ocean's pen name when he was remixing all those R&B songs? Frank Ocean should definitely win a Juno.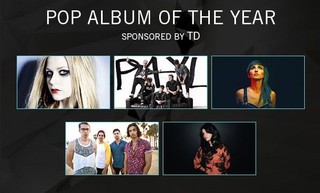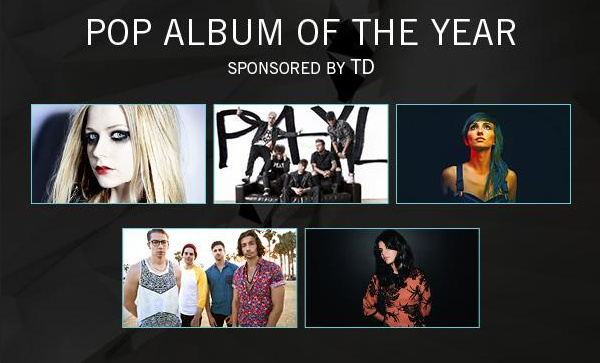 Nominees:
Avril Lavigne - Avril Lavigne
Down With Webster - Party For Your Life
Lights - Little Machines
Nikki Yanofsky - Little Secret
Magic! - Don't Kill the Magic

Should Win: Magic!
Will Win: Avril Lavigne
Nikki Yanofsky is only allowed to be relevant once every ten years, as per the K'Naan "Waving Flag" clause of 2009, and Lights is out because she might say something wild reckless on stage while accepting her award. It's a lot to ask for the judging committee to be able to tell Magic! and Down With Webster apart, as they're both stocked with musicians who resemble rowdy Hollister employees. And outside of the heavy-handed racism, Avril's project wasn't terrible when looked at through the pop lens—just when looked at through every other lens. Magic! should win because their album is a pun on their band name, and you just don't see that anymore.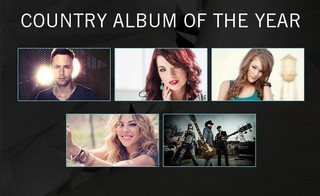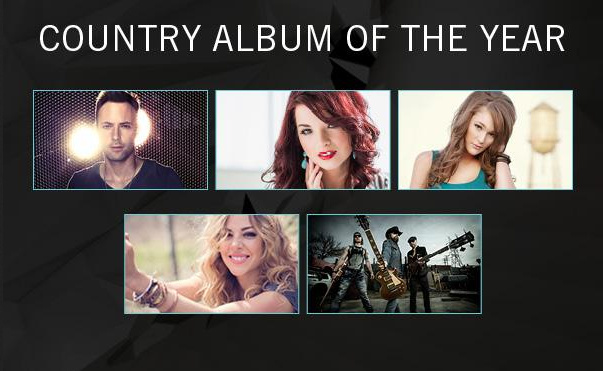 Nominees:
Dallas Smith - Lifted
Jess Moskaluke - Light Up The Night
Kira Isabella - Caffeine & Big Dreams
Mackenzie Porter - MacKenzie Porter
The Road Hammers - Wheels

Should Win: Jess Mokaluke
Will Win: The Road Hammers
Who is the Canadian Sam Hunt? The Canadian Florida Georiga Line? Let's find these people and then give them the award, because right now I'm giving it to The Road Hammers based 100% on their name.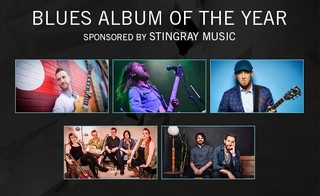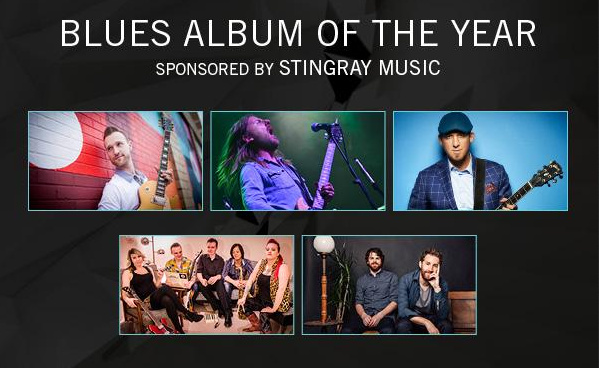 Nominees:
JW-Jones - Belmont Boulevard,
Steve Hill - Solo Recordings,Vol.2
Steve Strongman - Let Me Prove It To You
The 24th Street Wailers - Wicked
The Harpoonist & The Axe Murderer - A Real Fine Mess

Should Win: The Harpoonist & The Axe Murderer
Will Win: The Harpoonist & The Axe Murderer
Obviously the blues band named The Harpoonist & The Axe Murderer have to win everything they are nominated for, lest we face to consequences.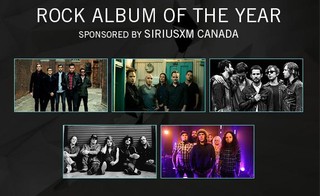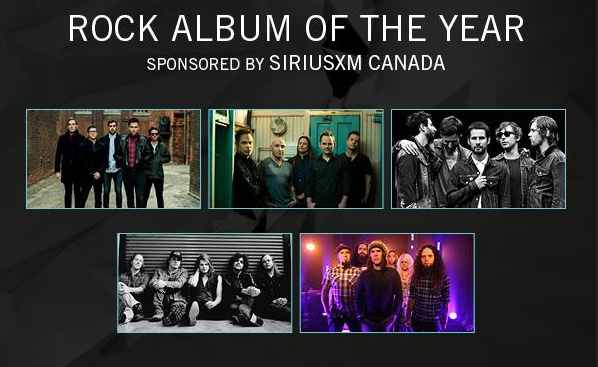 Nominees:
Arkells - High Noon
Big Wreck - Ghost
Sam Roberts Band - Lo-Fantasy
The Glorious Sons - The Union
Your Favorite Enemies - Between Illness and Migration

Should Win: Arkells
Will Win: Arkells
Sam Roberts has one hit every five years, average. Everybody else has had a pretty impressive year, but the fact that Arkells put out one of the strongest rock albums of the year coupled with their hometown advantage makes this as close to a sure thing as you can get.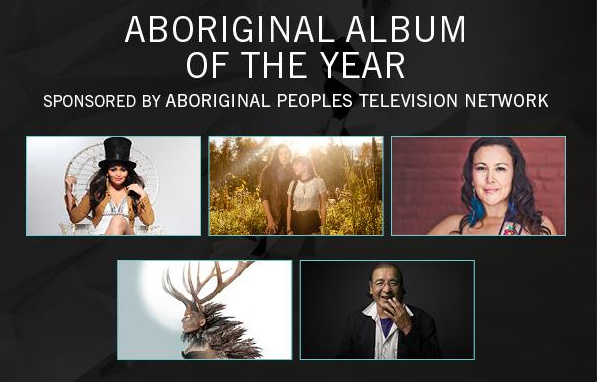 Nominees:
Crystal Shawanda - The Whole World's Got the Blues,
Digging Roots - For The Light,
Leela Gilday - Heart of the People,
Tanya Tagaq - Animism,
Tomson Highway - The (Post) Mistress

Should Win: Tanya Tagaq
Will Win: Tanya Tagaq
If Tanya Tagaq doesn't win something at the Junos this year, people will riot. While it would be amazing for her to take home the Juno for Alternative Album, she faces stiff competition in that category. Tagaq stands head and shoulders above the competition in this category, since her album Animism has received more press than any of the other nominees. Now would also be a good time to mention that if you're reading this and are very knowledgable about the music of Canada's Aboriginal People and would like to write about it, please contact me on Twitter.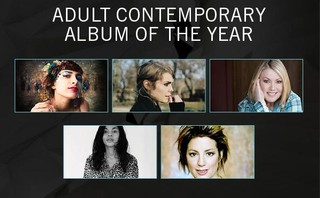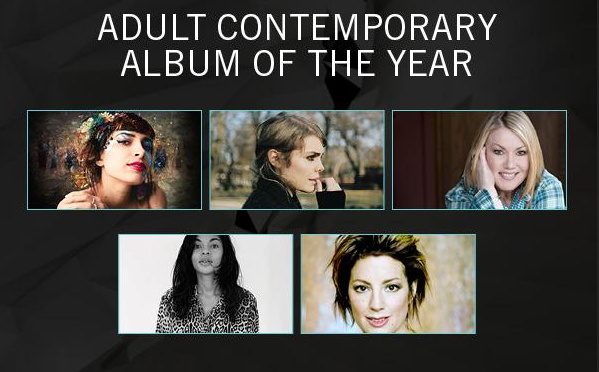 Nominees:
Alysha Brilla - Womyn
Jann Arden - Everything Almost
Coeur de Pirate - Trauma:Chansons de la série télé (saison no. 5)
Ndidi - Dark Swing
Sarah McLachlan Shine On

Should Win: Jann Arden
Will Win: Sarah McLachlan
Horse advocate and best friend of the site Jann Arden has been writing beautiful songs her entire career, and if it weren't for the fact that McLachlan is also nominated, Arden would be the clear winner. Coeur de Pirate is about two years away from making a true adult contemporary album, as she's only really hit her stride recently. Alysha Brilla and Ndidi operate too far on the edge of the alternative spectrum to be serious contenders, ruling them both out. Sarah McLachlan wins the award and captures my heart. Again.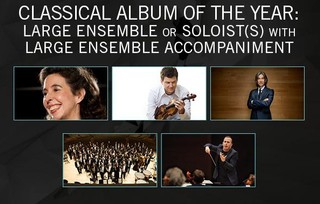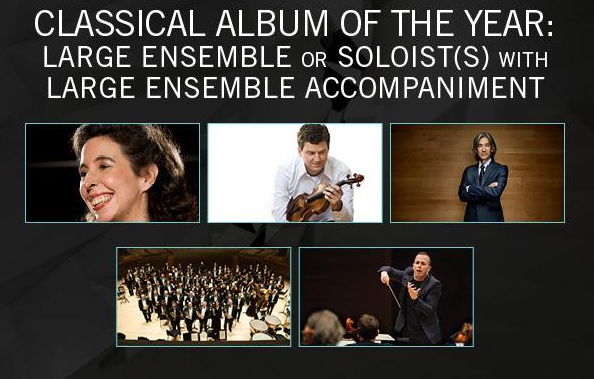 Nominees:
MOZART:Piano Concertos Nos.22 & 24 - Angela Hewitt
Khachaturian/Shostakovich - James Ehnes,
Beethoven: Symphonies Nos. 1 & 7, Departure-Utopia - Orchestre symphonique de Montréal & Kent Nagano
Rimsky-Korsakov:Sheherazade - Toronto Symphony Orchestra, Peter Oundjian, Bruckner 3 Yannick Nézet-Séguin & Orchestre Métropolitain

Should Win: Orchestre symphonique de Montréal & Kent Nagano
Will Win: Angela Hewitt
"Fam, how are you going to tell me that Beethoven: Symphonies Nos. 1 & 7, Departure-Utopia was anything other than pure trash? Shit was not lit in the slightest. But those Piano Concertos Nos.22 & 24 were pure fire flames. That shit was an instant classic, I didn't even need to finish listening to No. 24 to know that. GOAT" - Classical music bloggers, probably.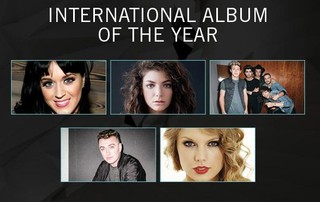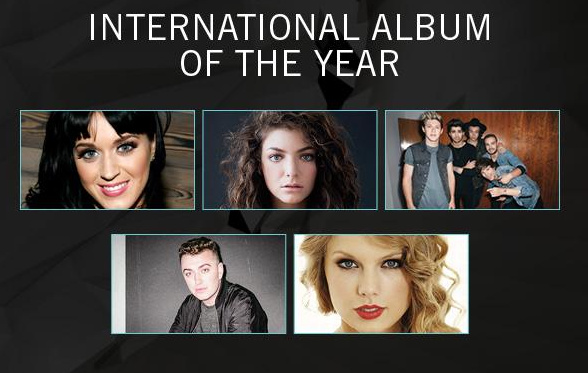 Nominees:
PRISM - Katy Perry
Pure Heroine - Lorde
Midnight Memories - One Direction
In the Lonely Hour - Sam Smith
1989 - Taylor Swift

Should Win: Taylor Swift
Will Win: Taylor Swift
Do you think Taylor Swift will come to Hamilton one day?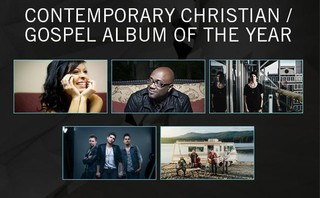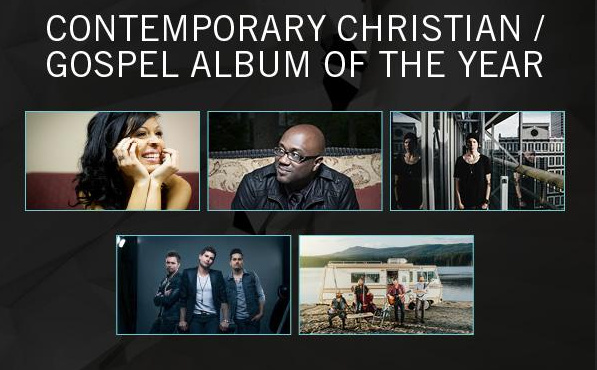 Nominees:
Introducing Chelsea Amber - Chelsea Amber
Analog Love in Digital Times - Drew Brown
The Moment - Manafest
VIP - Manic Drive
The Joy - Tim Neufeld

Should Win: Drew Brown
Will Win: Tim Neufeld
If there's anything Canadians love more than gospel albums that come from the soul, it's gospel albums that were sung by a band whose press photo has them situated inside a mobile home.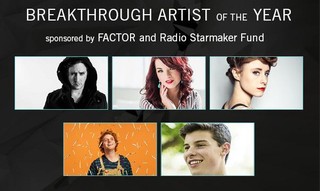 Nominees:
Glenn Morrison
Jess Moskaluke
Kiesza
Mac DeMarco
Shawn Mendes

Should Win: Mac DeMarco
Will Win: Shawn Mendes
Sucks for Glenn Morrison and Jess Moskaluke for getting put into the same category as the three best things to happen to Canada in 2014. Kiesza broke through, but not necessarily in the typical Canadian paths—she reached critical mass in the UK before local radio realized she's a Canuck—which rules her out in my opinion. Mac DeMarco is the loveable goofball that everyone knows, and he deserves to be rewarded for going from being hardly spoken about to getting a blog post for posting his shoes for sale on eBay. However, I believe that in an effort to perform a full Bieber-cleanse on the citizens of Canada, the Juno committee will prime the new prince by giving the award to Shawn Mendes.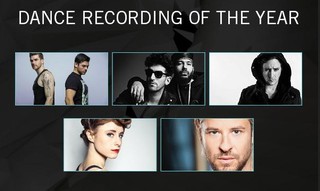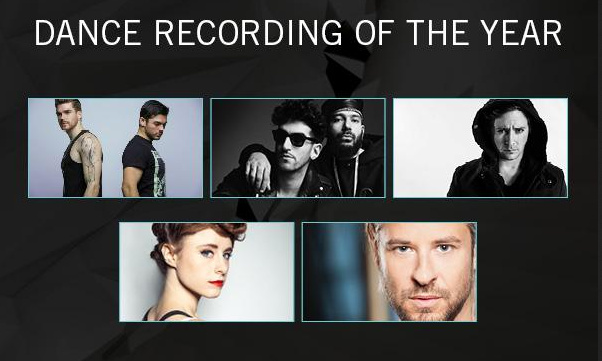 Nominees:
Adventure Club - Calling All Heroes
Chromeo - White Women
Glenn Morrison - Goodbye
Kiesza - Sound Of A Woman
Trevor Guthrie - Soundwave

Should Win: Chromeo
Will Win: Kiesza
There are only two songs on this list that make us want to move out feet when we hear them: Chromeo and Kiesza—both of which would actually make great superhero names, now that we think about it. However Chromeo's song didn't reach a fraction of the audience that Kiesza did, as "Hideaway" was almost impossible to escape from. Just ask Drew Millard, who heard Kiesza while in Toronto over the summer, and was followed by the song until he eventually performed it in its entirety with Kiesza.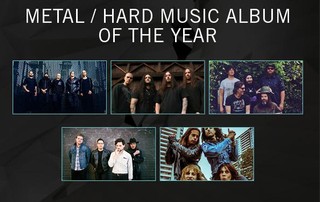 Nominees:
Z² - Devin Townsend Project
Waiting for the End to Come - Kataklysm
Brotherhood of the Ram - Shooting Guns
Negative Qualities - Single Mothers
Chasing the Dream - Skull Fist

Should Win: Single Mothers
Will Win: Single Mothers
According to Noisey contributor Juliette Jagger, Single Mother made the best album of the year. Are you going to try to tell me that the Juno committee knows more about music than Noisey Canada?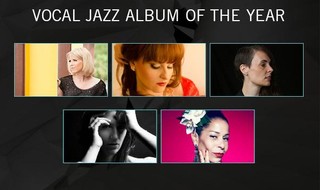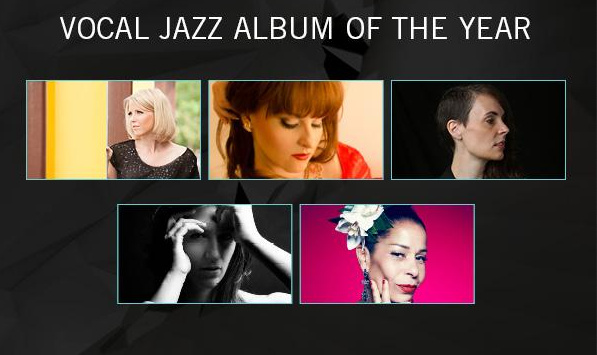 Nominees:
Angela Galuppo - Angela Galuppo
Red Diana - Panton
The Signal Elizabeth - Shepherd
Counting Dreams - Julie Crochetière
Because of Billie - Molly Johnson

Should Win: Molly Johnson
Will Win: Molly Johnson
This award is Molly Johnson's to lose, and if she's going to lose it to anyone, it won't be to a group of artists that look like they knit their own grocery bags in order to reduce their carbon footprint.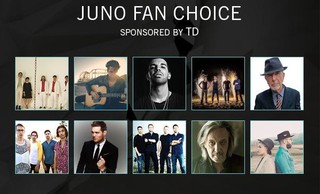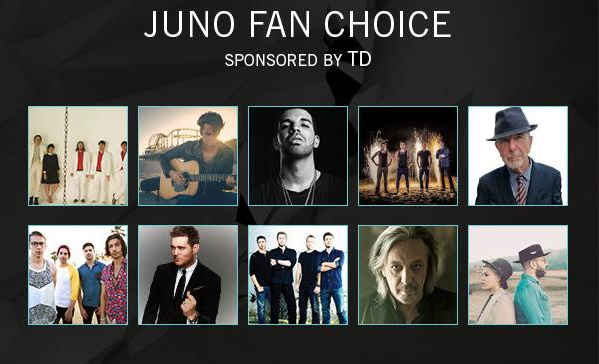 Nominees:
Arcade Fire
Bobby Bazini
Drake
Hedley
Leonard Cohen
Magic!
Michael Buble
Nickelback
You + Me
Serge Frois

Should Win: Drake
Will Win: Arcade Fire
Holy. Shit. Justin Bieber not being nominated for this award may be the most surprising thing about this year's awards. I don't know what to predict. Drake should win since he has the most fans, so many fans in fact that he's able to do ridiculous things like get sponsored by Tide after footage of him removing lint off his pants goes viral. Do you see Win Butler getting those kinds of looks from Unilever? No, but they'll probably still win this award because Arcade Fire is supported by the silent majority of Canada: the hockey dad. Stay woke.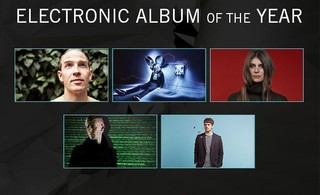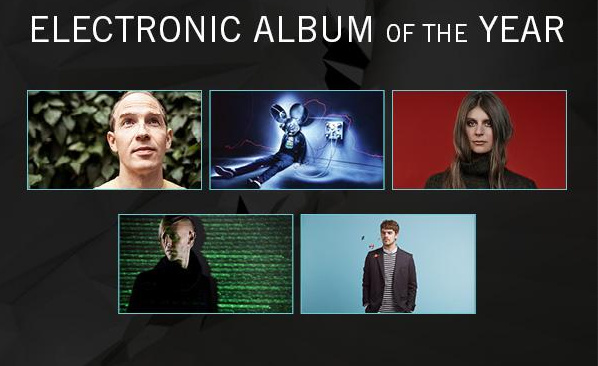 Nominees:
Our Love - Caribou
While (1<2) -<="" i=""> Deadmau5
Right From Real - Lydia Ainsworth
EX - Plastikman
Alone For The First Time - Ryan Hemsworth

Should Win: Caribou
Will Win: Deadmau5
Wow, when did this category get so talented? Plastikman aka Richie Hawtin may be the veteran of this group, but he somehow comes off as the least qualified in this category. Lydia Ainsworth and Ryan Hemsworth both had very strong years, and would both be worthy of the Juno in this field were it not for the competition presented. Caribou aka Dan Snaith made a preciesly symetrical dance album that can be plotted on a line graph to show the Fibonacci sequence (or something), but he's still not Deadmau5 level. The only people currently on Deadmau5 level might be Diplo and Skrillex, and since only one of those acts is Canadian, he'll likely be the one walking away with a Juno.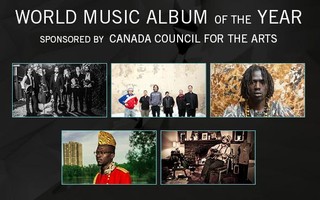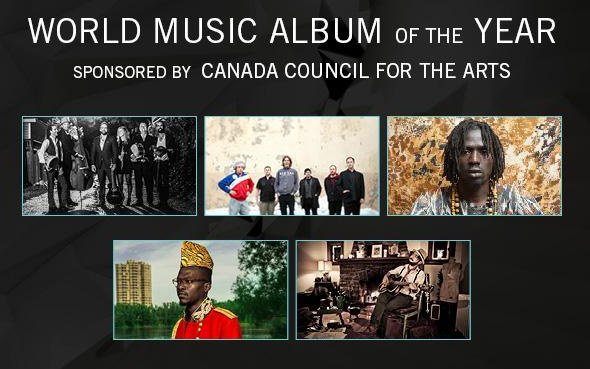 Nominees:
Ayrad Ayrad, Singing in Tongues Eccodek
The Key Emmanuel Jal
Le dernier empereur bantou Pierre Kwenders
500 Years of Night Quique Escamilla

Should Win: Pierre Kwenders
Will Win: Pierre Kwenders
Pierre Kwenders released a whimsical album that he's paired with a live show that's magnificent and visually stunning. Plus he's the only act in this category that I've seen live, so he holds an advantage.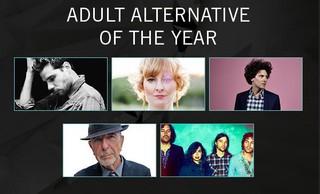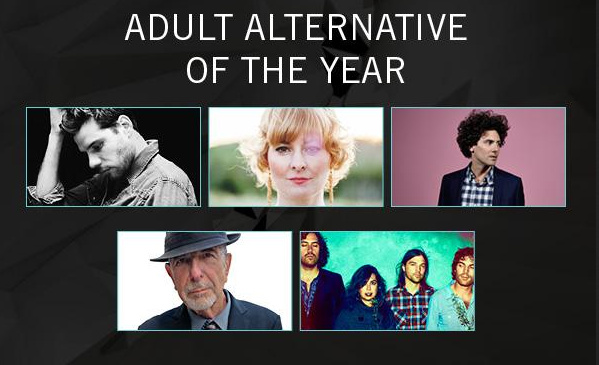 Nominees:
Bahamas Is Afie - Bahamas
Compostela - Jenn Grant
The Lemon Squeeze - Jeremy Fisher
Popular Problems - Leonard Cohen
Sleeping Operator - The Barr Brothers

Should Win: Leonard Cohen
Will Win: Leonard Cohen
Oh look Leonard Cohen is nominated again which means Leonard Cohen wins again!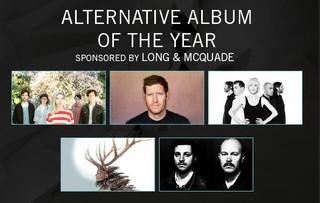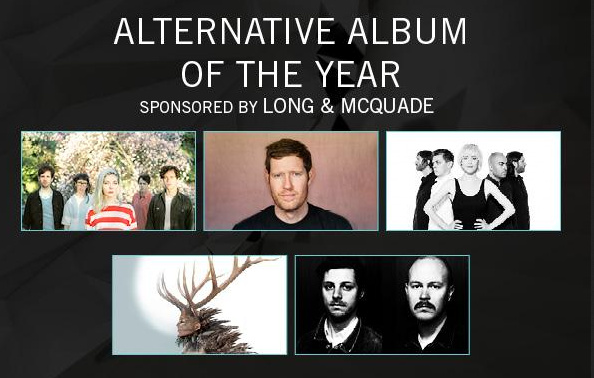 Nominees:
Alvvays - Alvvays
Shrink Dust - Chad VanGaalen
July Talk - July Talk
Animism - Tanya Tagaq
Hot Dreams - Timber Timbre

Should Win: Tanya Tagaq
Will Win: Alvvays
Another stacked category with a lot of talent, this one may come down to accessibility. Timer Timbre made a less challenging album so that they could be more accessible to fans, but it didn't translate to sales. Chad VanGaalen is too happy-go-lucky to make anything but the music he wants to make, and Tanya Tagaq's message in her music is too important to be dulled down. This leaves us with July Talk and Alvvays, two bands who couldn't be more different. July Talk operates on an up-tempo meter with the lead singer's gravel voiced pushing the structure of rock songs just far enough out of the zone of tradition to be considered alternative. But with Alvvays, you're given an album that sounds like the theme song to a cult-80s movie you wish your parents let you watch. Advantage goes to Alvvays.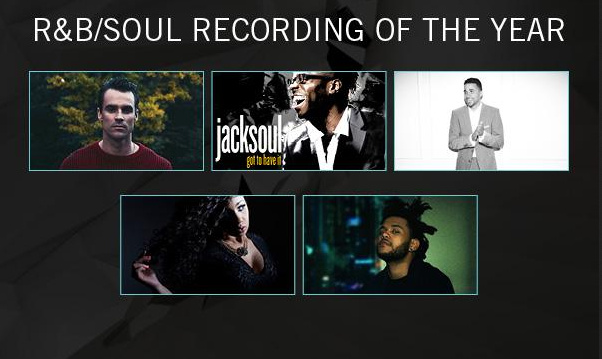 Nominees:
Dirty Laundry - Ben Stevenson
Got To Have It - jacksoul
JRDN - JRDN
Four Seasons - Melanie Durrant
Often - The Weeknd

Should Win: Ben Stevenson
Will Win: jacksoul
Ben Stevenson is the second coming of Sting, as far as vocals go. His EP Dirty Laundry was an underground R&B hit, and it would be great to see what a Juno could do for his career. Melanie Durant and JRDN are two veterans who are unfortunately over the hill when it comes to creating interesting music, and The Weeknd is nominated for a song that sounds like every other Weeknd song ever recorded being played at the same time. jacksoul will likely win because he's a perennial hit maker whose contributions have been on the radio for the better part of the decade, so giving him a Juno would be the respectful thing to do. The Junos are all about respect.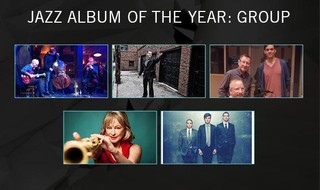 Nominees:
Andrew Downing, Jim Lewis & David Occhipinti - Bristles
Bobby Rice - Bobby Rice Latin Jazz Big Band: X-Treme Latin Jazz
Brian Dickinson Trio - Fishs Eddy
Jane Bunnett and Maqueque - Jane Bunnett and Maqueque
Myriad3 - The Where

Should Win: BADBADNOTGOOD
Will Win: Who cares?
Not including the only Jazz group that people under 50 know about? Well that's just BADBADNOTGOOD.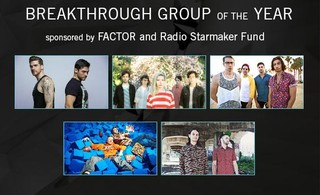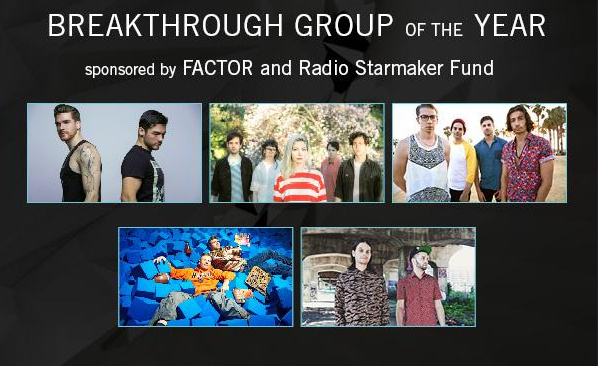 Nominees:
Adventure Club
Alvvays
Magic!
USS
Zeds Dead

Should Win: Zeds Dead
Will Win: Adventure Club
According to an unnamed THUMP editor, "Adventure Club will probably win because their sound is more mainstream, but Zeds Dead has more artistic talent, in my opinion." Who are we to argue?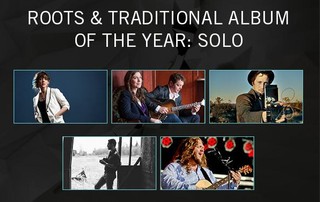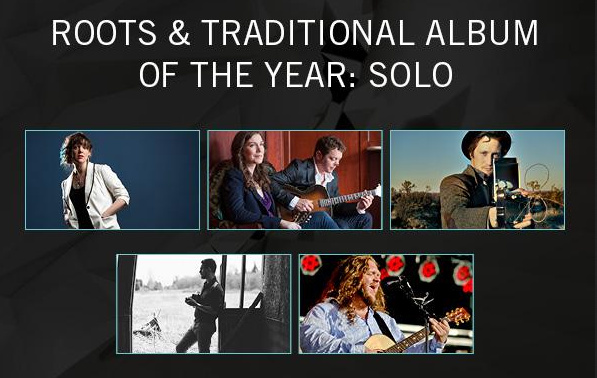 Nominees:
Amelia Curran -They Promised You Mercy
Catherine MacLellan - The Raven's Sun
Del Barber - Prairieography
James Hill - The Old Silo
Matt Andersen - Weightless

Should Win: Amelia Curran
Will Win: Del Barber
Amelia Curran made a project that not only resonated with the mental health community in Newfoundland but also helped Curran deal with some of her own demons in the process. However, Del Barber named his album Prairieography, and a little known loophole in the Juno rule book is that if your album has a "prairie" pun in it, you're automatically given an award.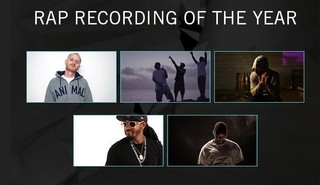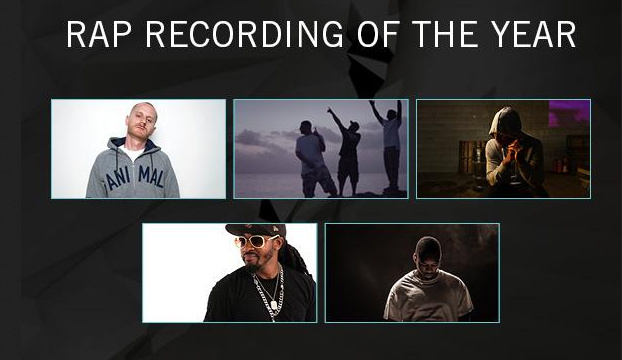 Nominees:
Marco Polo - PA2: The Director's Cut
Naturally Born Strangers - The Legends League Presents: Naturally Born Strangers
P Reign - Dear America
Saukrates - Amani
Tre Mission - Stigmata
Should Win: Naturally Born Strangers
Will Win: Tre Mission
P Reign and Saukrates both overcame a lot of obstacles to make their music heard in 2015, and to completely rule them out wouldn't be fair to the work they've put in. However, what happened with Naturally Born Strangers last year was nothing short of a phenomenon. They managed to bring together a city full of head-shakers and unite them under a black flag of rebellion. That being said, Tre Mission had an outstanding year that saw him finally blossom beyond the online sphere and into his actualized form. He found a way to connect to his passion of grime music while still making rap that translates well to a North American audience, and his album was one of the most cohesive rap projects to come out that year. That's why he deserves the Juno. Also I have no idea who Marco Polo is.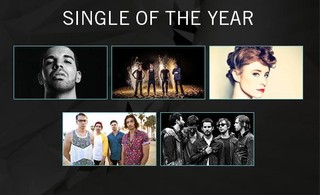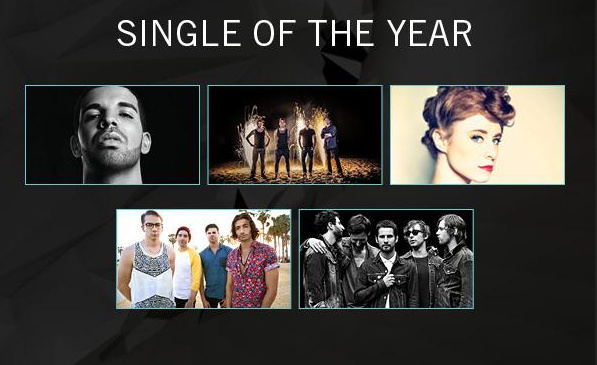 Nominees:
Drake - "Hold On (We're Going Home)"
Hedley - "Crazy For You"
Kiesza - "Hideaway",
Magic! - "Rude"
Sam Roberts Band - "We're All in This Together"

Should Win: Magic!
Will Win: Drake
There were only two songs that managed to get stuck in the head of everyone who heard them. The first was made by a Scarborough band that grew up around Jamaicans to the point where it influenced the way they make rock music, while the second was made by a Toronto rapper who didn't rap a single word of the song he's best known for. Drake will obviously win the award, but not deservingly, as Majid Jordan wrote the song. Magic! should win, because their song made me associate an entire word with a song, doing to "rude" in 2014 what Macklemore did to "thirft" in 2013.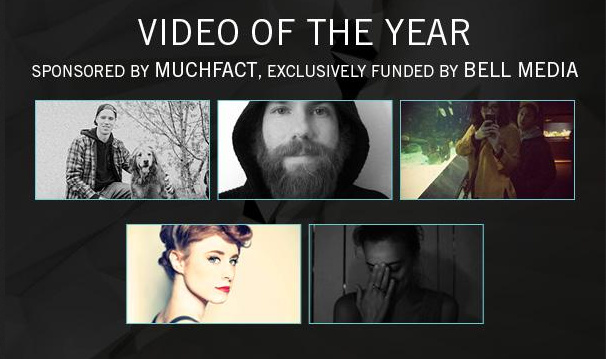 Nominees:
"Preach" - Dane Collison for Sonreal
"Lost You" - Grandson & Son for Zeds Dead ft. Twin Shadow
"Guilt Trip" - Jeremy Schaulin-Rioux and Chandler Levack for PUP
"Hideaway" - Kiesza, Blayre Ellestad, Rami Afuni and Ljuba Castot for Kiesza
"Not Up To Me" - Natalie Rae Robison for Kandle

Should Win: Kiesza
Will Win: Kiesza
A video so nice, we had to shoot it twice.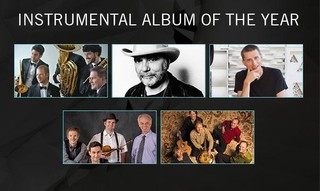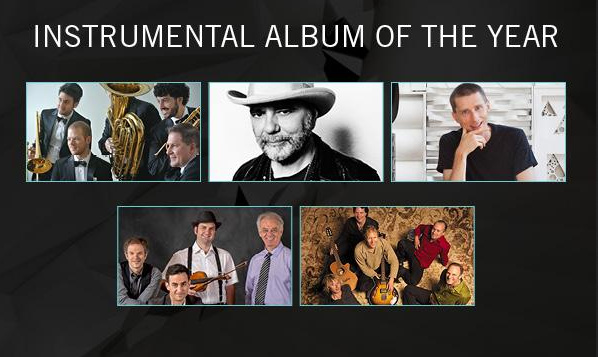 Nominees:
Great Wall of China Canadian Brass
Flesh and Machine Daniel Lanois
Off With the Cuffs John Stetch
Encuentro Quartango
Symphony! Sultans of String

Should Win: Daniel Lanois
Will Win: Daniel Lanois
Daniel Lanois is a goddamn legend. He's probably one year away from having a Juno award named after him, or maybe even having the Junos renamed to the Lanois. We're in your corner 100% of the way Daniel, and not just because you were responsible for U2's best music, or because of your impact on Toronto's punk scene. We're in your corner because you love Lil' Wayne just as much as we do.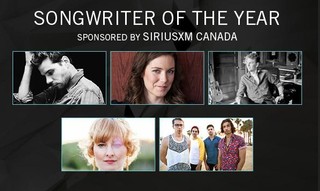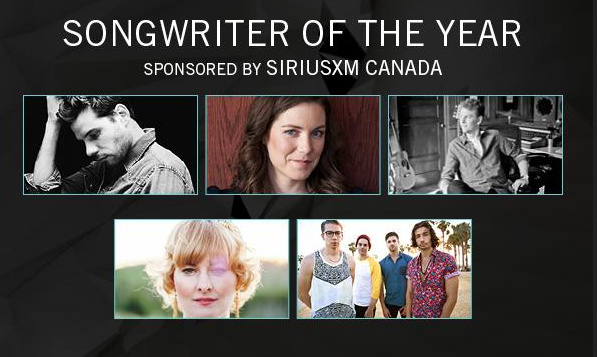 Nominees:
Bahamas
Catherine MacLellan
Henry "Cirkut" Walter
Jenn Grant
Magic!

Should Win: Magic!
Will Win: Magic!
Did you ever wake up, get out of bed, and have a song by Catherine MacLellan stuck in your head the same way you had the hook from Magic! on loop? No, and that's why nobody deserved to win except for the guys who wrote "Rude".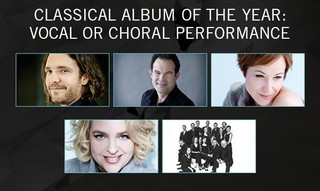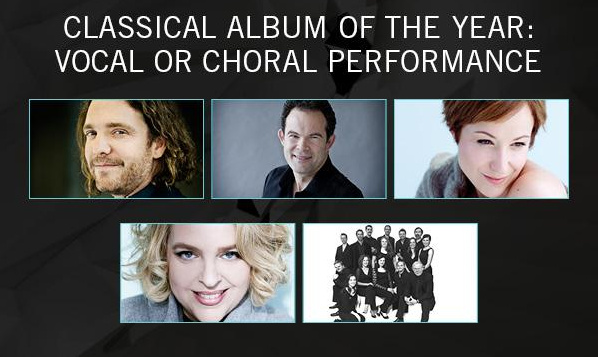 Nominees:
Gerald Finley & Julius Drake - Schubert:Winterreise
Julie Boulianne - Handel &Porpora: The London Years
Karina Gauvin - Mozart: Opera & Concert Arias
Labadie - Les Violons du Roy & Bernard
Studio de musique ancienne de Montréal - Terra Tremuit
Theatre of Early Music, Schola Cantorum & Daniel Taylor - The Heart's Refuge

Should Win: Karina Gauvin
Will Win: Gerald Finley & Julius Drake
Is this segment even broadcast?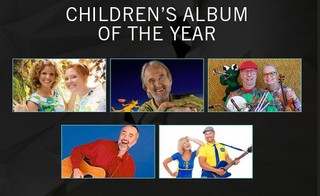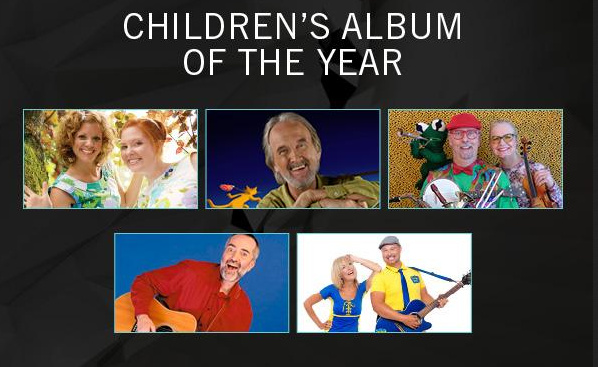 Nominees:
Bobs & LoLo - Wave Your Antlers
Fred Penner - Where In The World
LuLu et le Matou - Le chat botté
Raffi - Love Bug
Splash'N Boots - Happy Times

Should Win: Raffi
Will Win: Raffi
I pity the fool who has to go against Raffi for anything. Whether it's Children's Album of the Year or bare-knuckle fights to the death, Raffi always wins.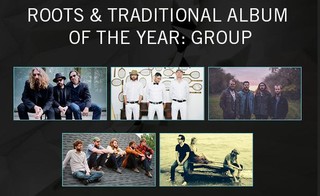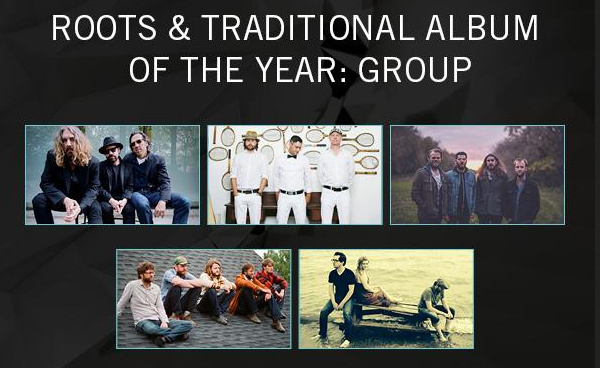 Nominees:
Blackie and The Rodeo Kings - South
Elliott Brood - Work and Love
The Bros. Landreth - Let It Lie
The Deep Dark Woods - Jubilee
The Once - Departures

Should Win: Elliott Brood
Will Win: Elliott Brood
Elliott Brood wrote a song about a lost childhood and the idea of coming home after a long trip. They're also the only band that doesn't have "The" in their band name, so they deserve it.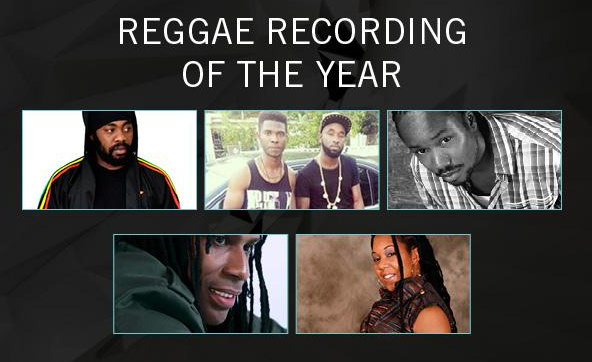 Nominees:
Exco Levi -Welcome the King
Kirk Diamond ft. Bob da Builda - Love Inna Wi Heart
Mikey Dangerous - Wake Up
Steele - Hold On Till I Die
Tasha T - Real Talk

Should Win: Kirk Diamond ft. Bob da Builda
Will Win: Kirk Diamond ft. Bob da Builda
Did Bob da Builda just become my favourite artist off the strength of the name he has chosen to represent him in his professional career? Yes.
Juno who Slava Pastuk is? @SlavaP