We here at Noisey are big, big Kacey Musgraves fans, and it's not just because of her smart, roots-conscious country tunes or progressive views on everything from weed to same-sex smooching (she's down with both, y'all). We love Kacey for the same reason so many others have fallen under her spell: her ability to effortlessly pay tribute to her classic country roots while gently nudging the genre forward into the modern era with a cheeky wink and a knowing smile.
Her Texas twang and down-home, down-to-earth delivery wouldn't sound out of place in any honky-tonk still operating—or on the grand stage of the Opry itself—but her lyrics (and punchy production) are pure 2015, slipping in casual mentions of sex and smoke in between fiercely independent anthems and sometimes sad, sometimes funny tales from small-town, dead-end American life.
Her new video for the delightfully acerbic "Biscuits" is a perfect example of Kacey's crossover genius. In it, she's rocking a cupcake dress and modified Tammy Wynette beehive next to a passel of mustachioed puppets and a checked-shirted cowboys, all the while reminding folks to stay the hell out of her business in the most charmingly, slyly Southern way possible. Lord have mercy.
BIGGER HAIR IS ALWAYS BETTER

The higher the hair the closer to God, and in this video, Kacey's practically the Pope.

NUDIE SUITS ARE STILL VERY MUCH A THING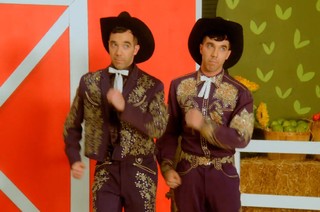 These Doublemint rhinestone cowboys prove that the spangled Nudie suits of yore are still a totally viable style choice.

EVERYONE LOOKS GOOD IN BLACK AND WHITE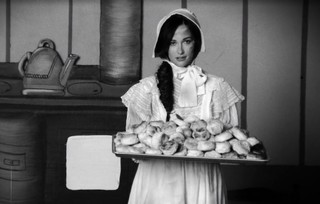 ...even if you're emulating a biscuit-slinging Depression-era housewife!

BAD BITCHES WEAR PLAID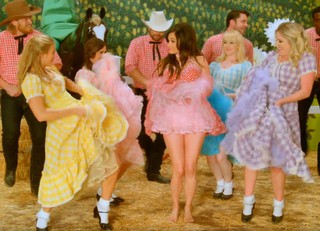 Kacey's squad looks fabulous in their color-coordinated checked maxi dresses, which are obviously versatile enough to handle vigorous hoedown action and to drive those cowboys in the back plumb wild. Seriously, Modcloth, step up your game.

FACIAL HAIR IS SEXY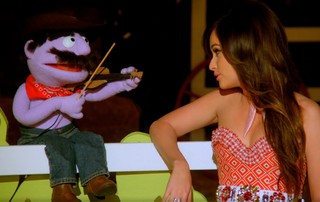 ...even on fiddling purple puppets!

HER BAND DRESSES LIKE CHAMPS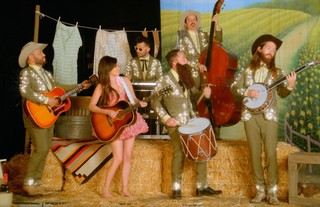 Everything about Kacey's band is perfect—the rhinestones, the olive green color scheme, the suglasses, the diverse tie selection (shout out to that dope bolo), the rugged facial landscaping. I love how the banjo player was like "Fuck y'all, I'm wearing a brown hat" and the drummer just up and brought a fake beard with him, just in case.

NASHVILLE NED FLANDERS SHOWS UP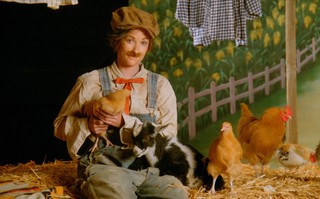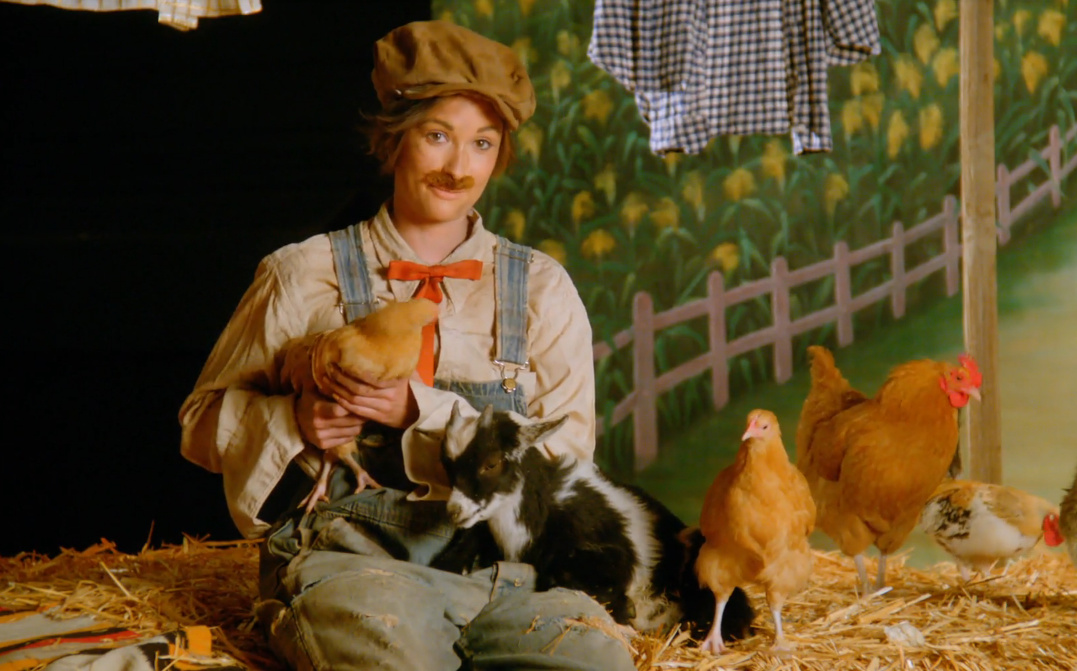 I fully support Kacey's decision to randomly transform herself into a scruffy farmhand and hang out with some livestock. That fucking goat is the cutest thing about this already very cute video. Her mustache-grooming skills need a little work, though—she's veering perilously close to a Ned Flanders special here.

COLOR IS KEY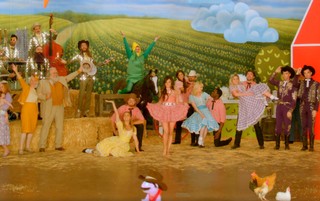 By the end of the video, everyone—even the chickens—has had their chance to shine, and they all come together in a big, beautiful, eye-poppingly colorful Hee Haw-style hoedown.
"Biscuits" is basically a whimsical, country-fried Katy Perry video, if Katy Perry understood the beauty of banjos, dancing grandmas, and cultural appreciation. Since she doesn't, thank the heavens we've got Kacey Musgraves instead.

Kim Kelly is going to spend the rest of the day watching Dolly Parton videos. She's on Twitter: @grimkim