George Pettit killing it at CAW Union Hall
The Queen Elizabeth Highway is an absolute monster. Between December and March each year, one of Southern Ontario's busiest and fastest roads is ravaged by ice storms, drifting snow, high winds and whiteout conditions that often make driving nearly impossible—especially in the treacherous stretch of highway that runs from Hamilton to Niagara Falls. Flanked by a pair of Great Lakes that often fuel gigantic and unpredictable winter storms, the QEW Niagara demands the attention and respect of all those who dare to traverse its icy channels.
Such was my daily commute in December 2010, when I was working as a general assignment reporter at a bustling community newspaper chain based in Thorold, Ont. Each morning, following two cups of black coffee and a quick scan of the local news, I would ease my gently-used Pontiac G5 onto the QEW in the east end of Hamilton, and set off for our company's head office. On a good day, a one-way trip would take roughly 40 minutes. During the winter months, all bets were off.
A few weeks before Christmas, our staff received word that Alexisonfire would be performing at a special homecoming show at the CAW Union Hall in St. Catharines. This would be the group's final concert following a colossal global tour, and their first hometown performance in well over a year. Even though I was a longtime fan of the band, the prospect of tackling the QEW alone, on a Sunday night, with bad weather in the forecast made me pause to reconsider. But as the afternoon progressed and community news briefs were filed, I couldn't shake a feeling that this gig was going to mean something. I was certain that anyone who bought a ticket or somehow found a way to get inside was sure to be rewarded, and as it later turned out, I wasn't wrong. I offered to cover the show (which included a blockbuster opening lineup of Cancer Bats, Billy Talent, Moneen and Chore), secured a photo pass from the band's public relations team and drew a bright red circle around Dec. 19 on my desktop calendar.
The night of the concert, I arrived at the Union Hall following a white-knuckled drive from Hamilton in less-than-hospitable winter conditions. The parking lot and front entrance were overflowing with people and snow, and I squeezed into the hall's main room just in time to catch Alexisonfire's Dallas Green take the stage with Dunnville rock legends Chore to perform a stirring rendition of the latter's most popular track, "The Hitchhiker." During the late 1990s and early 2000s, Green led a well-liked pre-Alexis trio known as Helicon Blue that, for a time, seemed poised to join Chore as one of Canada's most popular emotionally charged independent rock bands. Green's nostalgic performance with the band in St. Catharines was nothing short of remarkable, and set the tone for an evening full of surprises.
As the concert progressed, I decided to leave the photo pit to capture a few shots from the crowd and watch the bands from a different vantage point. I settled into a thin pocket of fans about 30 feet from the left side of the stage, and watched as Liam Cormier, Ben Kowalewicz and Kenny Bridges led some of my favourite Canadian bands through hit after hit, the sound ricocheting off the concrete walls in the venue due to a lack of proper baffling, but in a manner seemed to befit the gigantic riffs and hard-driving rhythms. For a collection of bands that cut their teeth blowing out speakers in sweaty union halls across Southern Ontario, the music almost sounded better when cranked to full volume in a room that couldn't quite handle it.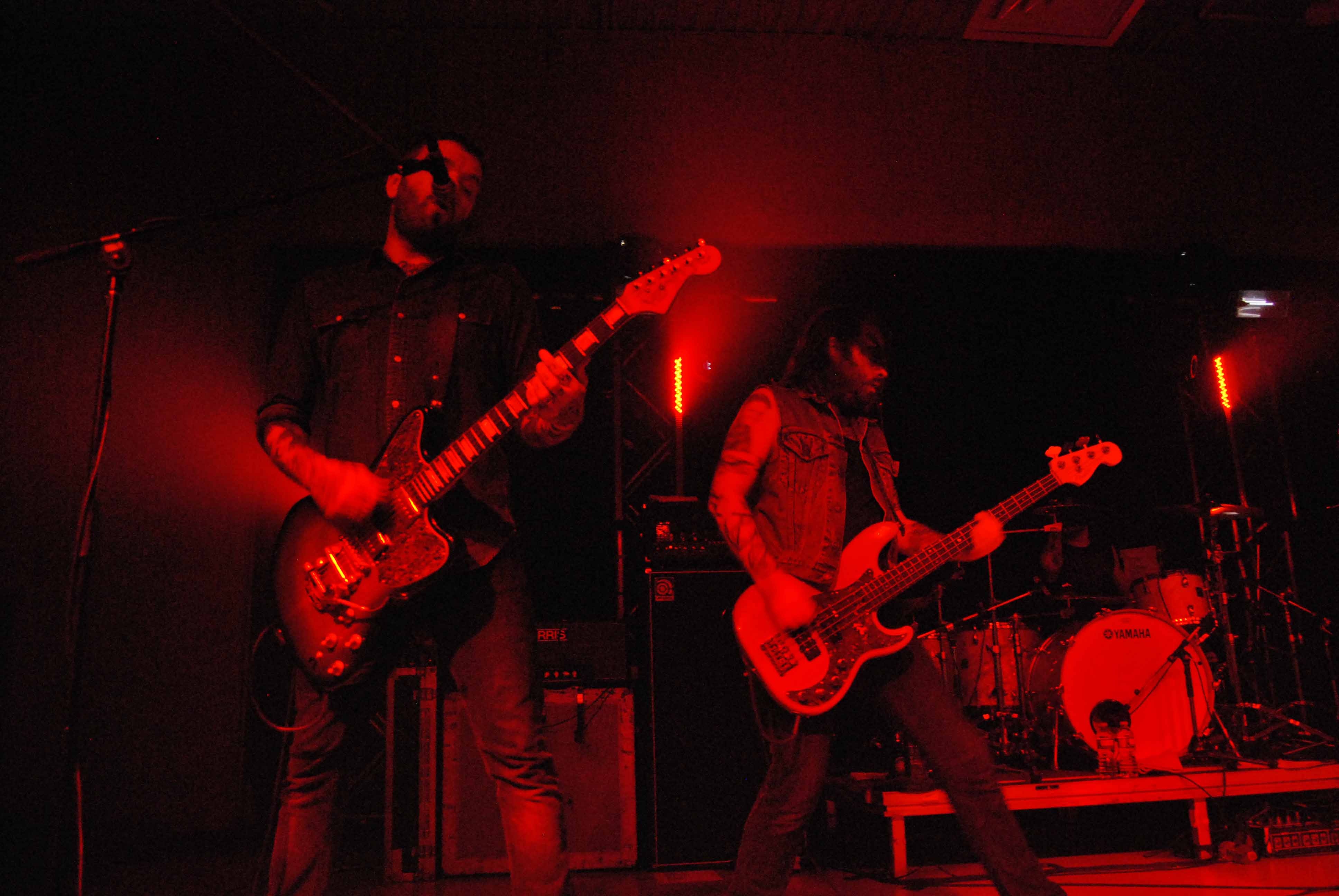 Dallas Green, Chris Steele and a hidden in plain sight Jordan Hastings performing their final show together
At one point during the opening acts, in between frequent trips to and from the photo pit, I glanced to my left and noticed Dallas Green standing in the crowd. Green was alone and staring at nothing in particular — his unmistakable tattooed hands and forearms folded tightly across his chambray button-down shirt. I caught a brief glimpse of his eyes, partially hidden behind a pair of thick glasses, as he absently surveyed the action unfolding on stage and the sea of bodies rolling and churning in the pit. Nobody in the crowd approached him, and for a moment it almost seemed as though the co-lead singer in one of Canada's greatest hard rock acts was just another spectator at the show. When I looked back a few moments later, eager to say hello and possibly snap a photo, I watched as Green quietly slipped between a pair of fans and vanished into the darkness of the hall. I had missed a golden opportunity, but I was certain there would be others.
When Alexis finally hit the stage, the band opened with an overdriven version of "Young Cardinals," and didn't take their foot off the audience's collective throat for the remainder of the set. During "Boiled Frogs," a massive single off the group's landmark 2006 LP Crisis, Billy Talent guitarist Ian D'Sa walked on stage and filled in for Wade MacNeil's vocal part on the song's second verse. When the band unveiled the Kurt Vonnegut-inspired "No Transitory" from 2004's Watch Out! — with its signature "tomorrow and tomorrow and tomorrow" vocal refrain and delay-heavy guitar melodies — I noticed everyone in the band dig in a little deeper, as if fighting through a sudden jolt of real pain. When they leaned into the ferocious "Dogs Blood" off their 2010 EP of the same name, I half-expected the ceiling to roll back and the sky to crack open right in front of us. I stood my ground in the photo pit, and got completely lost in the moment while blasting a series of shaky, out-of-focus rock and roll photos in the grand tradition of Bob Gruen. It was a whirlwind of sweat and limbs on both sides of the barricade as frontman George Pettit towered over the stage monitors and antagonized the crowd, and I watched in awe as my favourite band delivered an authoritative, jaw-dropping performance in the heart of their hometown. "The Only Band Ever," a long-running descriptor used by die-hard fans, never seemed more appropriate.
After the gig, I returned to my car and took a few deep breaths behind the wheel to steady my nerves and come down from the high of the concert. The QEW was calling, and I wasn't keen on exploring a snow-covered ditch in the middle of the Niagara farmland at 1 a.m. Following a late-night coffee run and an unscheduled stop to fix a broken windshield wiper, I pulled into my driveway in Hamilton and uploaded the photos to my computer before collapsing into bed.
Eight months later, I read the band's breakup letter with a heavy heart. Alexisonfire was officially calling it a career, and Dallas Green would be pursuing his folk-infused City & Colour side project on a full-time basis. Myself and everyone else at that St. Catharines gig had accidentally witnessed the band's final show, and we didn't even know it. Before the group announced their true farewell tour in 2012, my final memory of Alexisonfire would stand as watching them tear the roof off a hometown venue in the middle of the bleak winter snow squall — a fitting end to an outstanding career, but sad nonetheless.
I have no idea what was racing through Green's mind as he stood in the crowd at the CAW Union Hall, and it would be unfair to speculate. In all likelihood, he was probably just catching a few minutes of the show from a better location. But part of me likes to think there was more to it than that. Part of me likes to think Green was taking a moment to reflect on the genre-bending style of hardcore his band pioneered as teenagers, and the lasting influence of the unique brand of Canadian punk rock they brought to the four corners of the earth. After all, this was the probable end of an incredible run for St. Catharines' most successful and influential musical outfit, yet Green and his bandmates weren't able to celebrate or reminisce with anyone in attendance. All of the performances were fantastic that evening, but my fondest memory remains catching that brief, candid glimpse of Green as he quietly stood in the crowd and took stock of everything — accompanied by nobody, but certainly not alone.
Andrew Baulcomb is a freelance music writer. He's on Twitter @abaulcomb