Anticipation and moisture hung heavy in the air as crowds formed outside the Molson Canadian Amphitheatre to catch Drake's fifth annual OVO Festival. The prior day had seen Outkast and YG grace the stage, but the excitement amongst everyone waiting in line came from guessing what might happen today: had Justin Bieber come back from his Ibiza vacation early? Was the Chris Brown news a red herring? Would we get to see Drake perform with Wayne, or Nicki, or both? The entire backbone of OVO Fest comes from not knowing exactly what would happen, and this year proved to be as mysterious as any other. As crowds filled in at 7PM, the audience was greeted with the ambient noise of Jhene Aiko taking the stage to provide her soulful ballads to anyone who came early enough to hear them. She performed for roughly half an hour before leaving the stage so that it could be set up with instruments for the incoming five piece band, complete with a drum kit with the OVO owl symbol. In a matter of minutes the band was brought out onto the stage and a guitar battle ensued between two of the musicians, acting as a distraction for the main event: the arrival of Lauryn Hill.
Based on the news of her set times from the previous few years of live shows, Lauryn Hill coming out before midnight was a miracle in itself, but the performance she ended up giving would have been worth a wait. She ran through "remixed" versions of tracks like "Killing Them Softly" and "Ready Or Not" while letting her animated onstage persona carry her through the set. Lauryn thanked the city and Drake, and on command, The Boy skipped out to perform the first part of "Draft Day" to the raucous applause of 18,000 hometown fans. The song slowly transitioned into the sampled track, as Drake sat back and watched Ms. Hill perform "Doo Wop" while grinning like an idiot — something that's become sort of trademark since the inception of OVO Festival. As Lauryn came off the stage, Drake set the tone for what this fifth instalment would bring to fans. "The way I designed tonight, is that I want to take you back. If you've been a day one fan, you'll enjoy what I have for you." And with a short introduction from his wheelchair-bound mother, it was time to enjoy the Official Drake History Lesson, Curated by Drake™. Broken up into ten easily digestible sections, the lesson spanned Drake's entire career and included nods to both the established legends that helped him become more than just that actor on Degrassi: The Next Generation, and the soon-to-be stars that will keep him from being remembered as nothing but a rapper.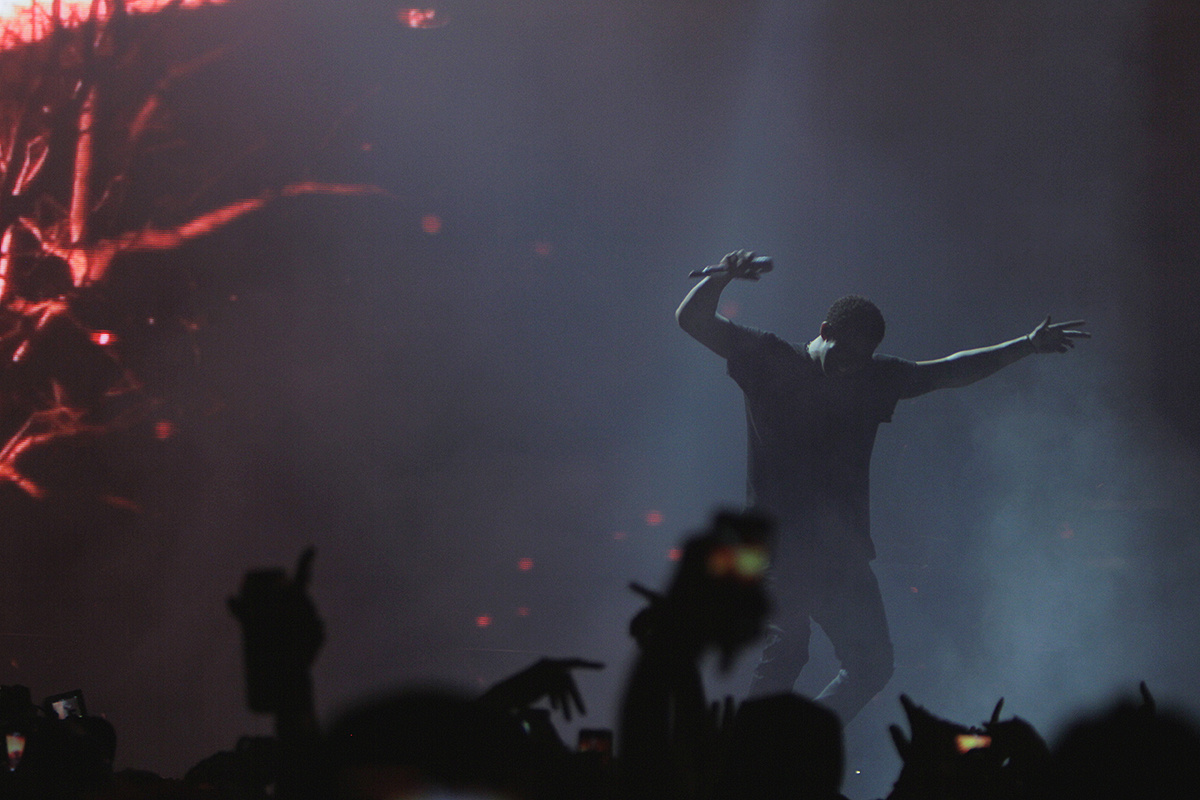 "There are songs that I've always wanted to do for you that I never got a chance to do, so today I want to perform some of my favourite songs from So Far Gone," said Drake before he performed "Unstoppable" and "Bria's Interlude" to a rapt audience, most of whom seemed to still be able to remember the words to songs that came out over five years ago. Off in the crowd, a couple made out to "Sooner Than Later" while another held each other with their eyes full of tears, captivated by the songs they were experiencing. When Drake announced that he wanted to bring out someone whose help he "would be nowhere without," it was clear to most that Trey Songz would be coming out. The two teased each other about the early days, as Trey clowned Drake for driving around in an Acura and the two performed "Successful" before Trey got to do a solo set with "Na Na". The two parted ways, likely exchanging hotel room numbers at which to meet up later, and Drake slipped into the next section of the show.
"At this point in my life, I'm starting to get good. I have a real album out, people are talking about me, and I'm getting calls from the greats to be a part of things I had only dreamed about." This era was the one marked by the release of Thank Me Later, and Drake unleashed a salvo of songs that instantly made you nostalgic for an album not even five years old. "Show Me A Good Time" and "Over" rang out into the crowd and had the crowd's phone-filled hands bouncing rhythmically along to the music. After finishing, Drake begand to talk about another person in the industry, a sign that now clearly signaled that a new guest performer approaches. "I was a little worried because he's light-skinned too, but instead of enemies, we became one of the strongest unions in hip-hop." Obviously my mind jumped to Chris Brown, but because life isn't fair, it turned out to be nothing more than a J.Cole sighting. He came out to do "Can't Get Enough" and "Power Trip" and then left before the yawns became too contagious. While onstage together, however, Drake took the opportunity to shout-out Kendrick Lamar, saying "there's a lot of kings in this hip-hop shit."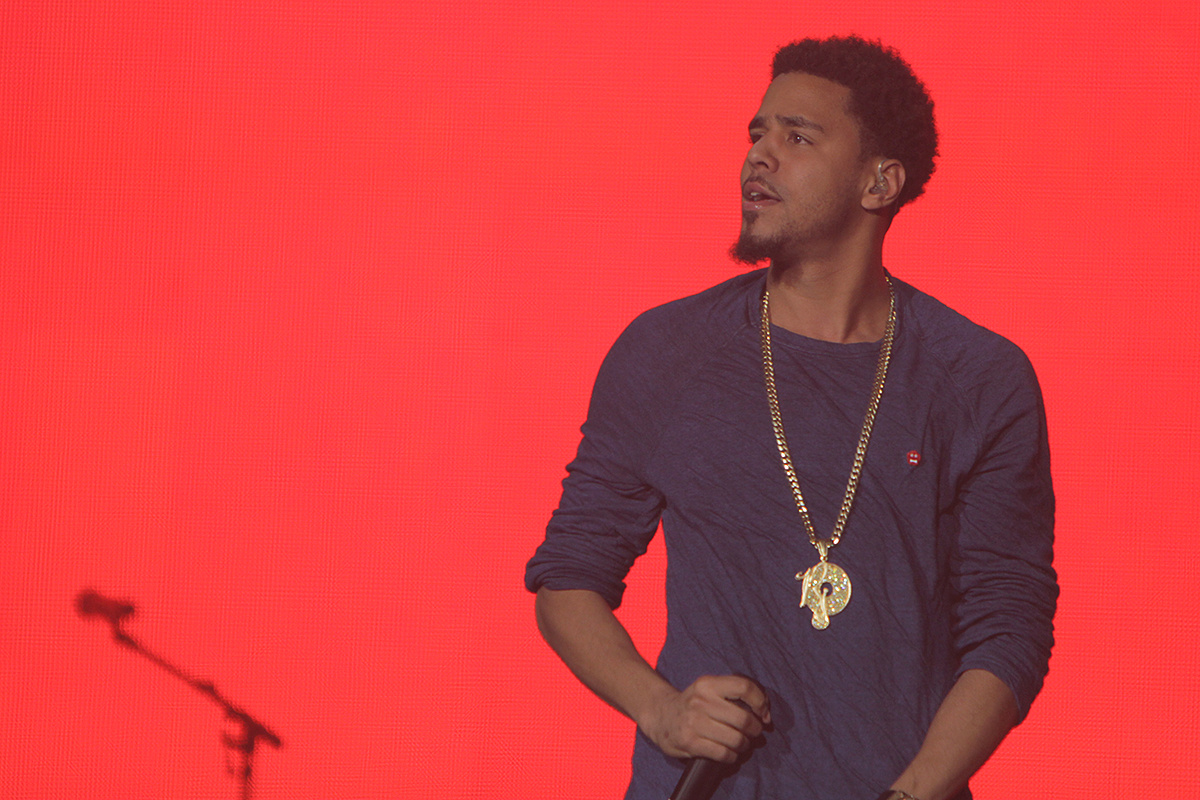 Next up on the Epcot ride through Drake's career were the Take Care days, arguably the most successful times of his career. "This part of the journey is where my shit really took off" said Drake as he ushered in the next section, "I went to an award show that they claim is the most prestigious accolade in music," he went on, likely sipping tea in his head, "and I won the award. It was one of the greatest moments in my life. Not because of what they say it stands for, but because I was able to bring it home for all of you." He reminded the crowd of why the album was such a commercial success as he worked through "Crew Love" and "Marvin's Room" — the latter of which saw him fly above the audience on something that resembled what one writer called "a stripper pole" and call out to specific concert goers that caught his eye, including "the guy drinking a Coors Light" and some people with homemade signs. "It's only like, me and One Direction that would do some shit like this," said Drake as he floated back onto the stage. With his feet firmly planted again, Drake shouted out each specific borough of Toronto before introducing "Days In The East" and his newest protege, PartyNextDoor, to whom he gifted a five-song set of his own. The crowd seemed to be receptive, though it became clear that most of those in the audience were more familiar with the first tape than the second based on the reaction to "Break From Toronto".
After PartyNextDoor left the stage, Drake took us to his Miami Vice days as he brought out the human hyperbole, DJ Khaled. Adding to the confusion surrounding what exactly he does, Khaled both played hypeman for a few songs and struggle-sang T-Pain's chorus from "All I Do Is Win", but largely served as a prop for Drake to propel the energy for songs like "I'm On One" and "No New Friends". A few loosies were added on in this section, the highlights of which included Drake rapping Big Sean's verse from "All Me" better than Big Sean, and people finally learning what the non-Drake parties involved in "2 On" looked like.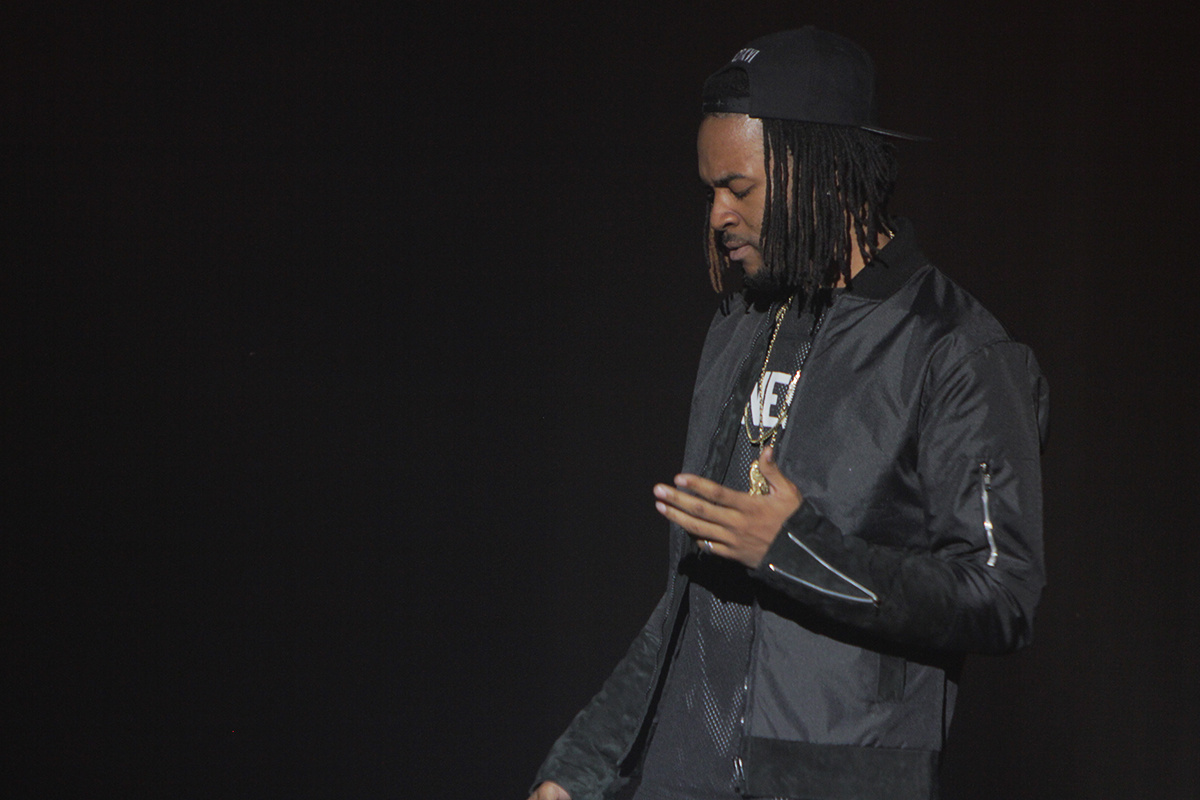 The next piece of the show wouldn't revolve around The Boy, but around the artists who shaped the musical landscape as a whole. "Without these people, not only would I not be here, but we would not be where we are. Music as a whole depends on them." And with that, Usher took to the stage. To say that this was a huge moment for me would be the greatest of understatements. As someone who grew up playing Confessions on a loop, this part of the concert was magical. In fact, I feel like I left my body through most of it, so my notes during this portion of the show are shaky at best. He performed "Lovers and Friends" and "U Don't Have To Call" and then Drake came out and made Usher prove that he could still move by challenging him to a dance battle.
Now it was time for the saga to wrap up as we moved into the last chapter of Drake's story, the one that took place most recently. "It's not time to get tired yet" said Aubrey as the Nothing Was The Same set was put into place and "Wu-Tang Forever" and "Own It" got bodies swaying in place. Majid came onstage for a duet with Drake for "Hold On We're Going Home". Although you could tell that the rookie was intimidated by sharing the spotlight with a seasoned entertainment veteran such as Drake, he held his own as he hit high note after high note, eventually winning over the crowd. As he hugged Majid and walked him off the stage, Drake announced that that was "enough of that soft shit, I'm over it. I'm on my thug shit for the rest of tonight."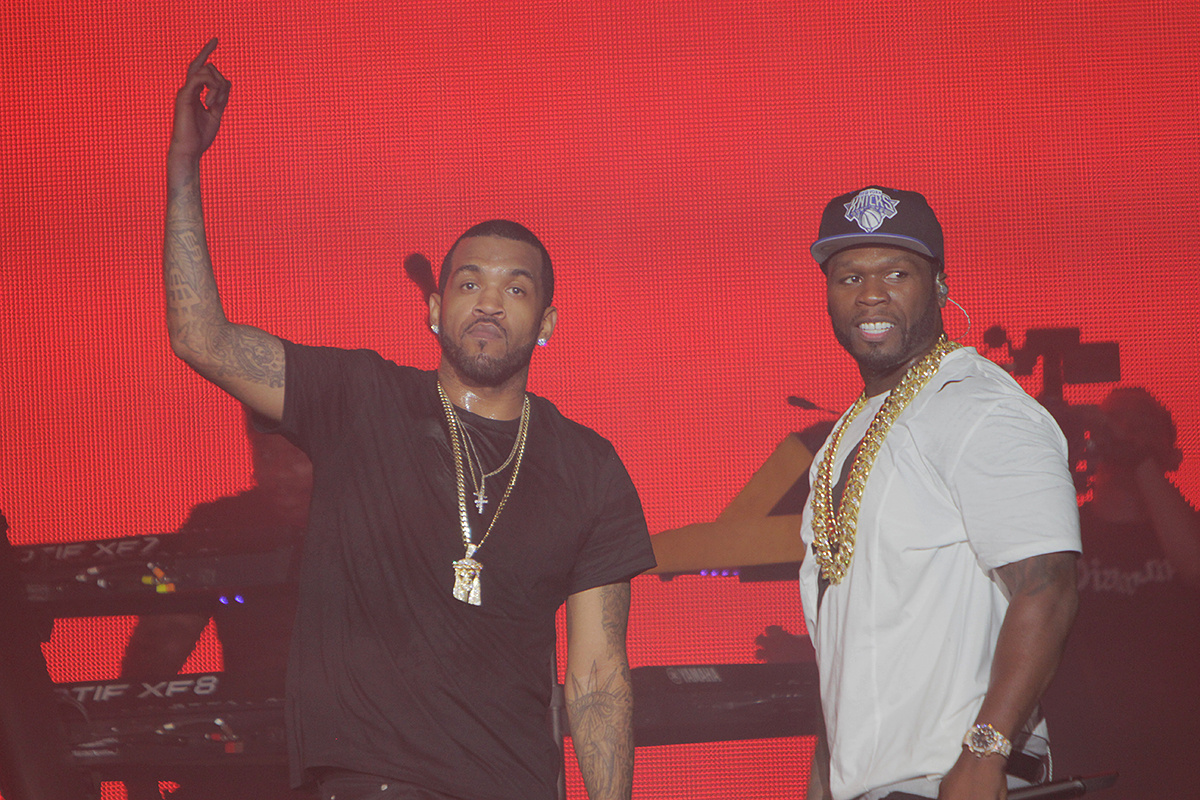 And on that note the most popular half of G-Unit, 50 Cent and Lloyd Banks, came out to perform a medley of hits including "What Up Gangsta", "Beamer Benz or Bentley" and "In Da Club". Thankfully, since the concert was in Canada, the biggest casualty of that portion of the night may have come from when the girl in front of me ripped her friends blouse while grabbing it excitedly. For the duration of their performance, Drake mean mugged at the back of the stage, embracing the two New Yorkers as they wrapped up their set, and putting the cherry on top of the show as he ran through "Trophies", "Believe Me", "Worst Behaviour" and "0 to 100" and promising the audience that when he came back from his tour, he would deliver the best album he has ever made, and have the sixth annual OVO Fest be the best thing the 6 has ever seen.
For all of this showmanship, it's what wasn't included that deserves the most mention. This is the first year where Drake performed without an YMCMB label-mate on the stage. Whether this was due to customs or preference isn't known, but the fact that this festival could be solely about Drake's entire career and the artists that inspired the duality of his music — Usher's confessional R&B and 50's theatrical rap — and still be one of the best OVO Festivals to have ever been put on, speaks more to the power of Drake than any special guest.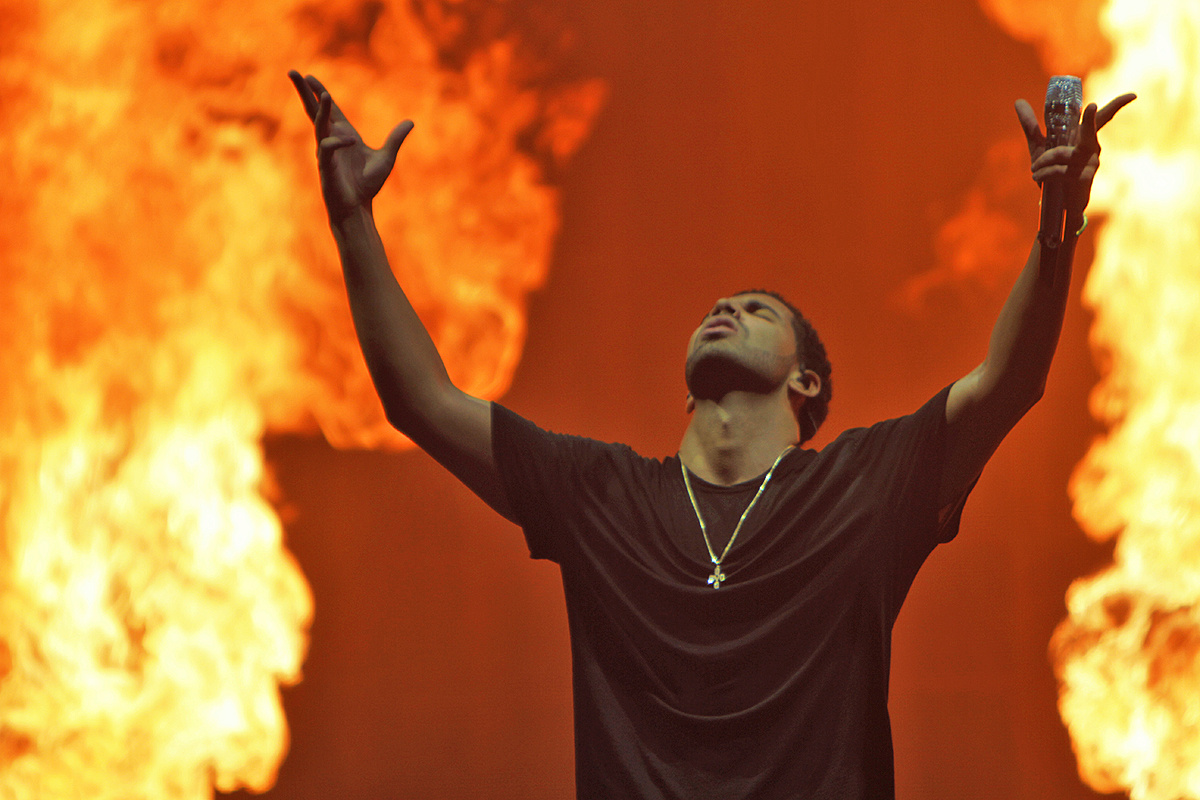 Setlist:
Lauryn Hill
Killing Me Softly
Lost Ones
Ready or Not
Doo Wop (That Thing)/Draft Day
Drake
We Made It
The Language
Unstoppable
Bria's Interlude
Sooner Than Later
Successful w/ Trey Songz
Trey Songz
Na Na
Drake
Karaoke
Show Me A Good Time
Up All Night
Over
J.Cole
Can't Get Enough
Power Trip
Drake
Over My Dead Body
Crew Love
HYFR
Marvin's Room
Days In The East
PartyNextDoor
West District
Persian Rugs
FWU
Break From Toronto
Recognize
DJ Khaled
All I Do Is Win
I'm On One
No New Friends Remix
Drake
Bitches Love Me
All Me
2 On w/ Tinashe & OB O'Brien
Who Do You Love w/ YG
Usher
Climax
Confessions Part One
Confessions Part Two
Lovers and Friends
U Don't Have To Call
Good Kisser
Drake
Wu-Tang Forever
Own It
Hold On We're Going Home
Started From The Bottom
G-Unit (50 Cent and Lloyd Banks)
What Up Gangsta
Beamer Benz or Bentley
I Get Money
Ordinary w/ Trey Songz
Don't Worry About It
In Da Club
Drake
Trophies
Believe Me
Worst Behaviour
0 to 100
Slava Pastuk was supposed to go on but they didn't have time - @SlavaP