On the morning of Saturday August 1st in Toronto, a fatal car crash took the lives of three people, one of whom was Shane Redway, an aspiring rapper and a close friend of mine. An online fundraiser was set up to help cover the funeral costs for Redway's family, and the goal of $10,000 was quickly exceeded over the course of that weekend. There was an outpouring of love and respect given to Redway by other rappers on social media, with Sean Leon, Jazz Cartier, Tre Mission, and Drake paying their condolences. Fellow Mississauga native PARTYNEXTDOOR even dedicated a portion of his set to the fallen rapper at OVO Fest, and a candlelight vigil will be held in his honour on Wednesday August 12th.
Redway's passing affected many, myself included. I've known Redway for the better part of five years, long before I had dreams of being a music editor. I toyed with the idea of writing about him, but it's taken a while for me to be able to think about his passing without my eyes burning hot from tears. But after careful consideration I've decided that the best way to commemorate his life would be to publish the story of Redway in the way I personally got to see it unfold.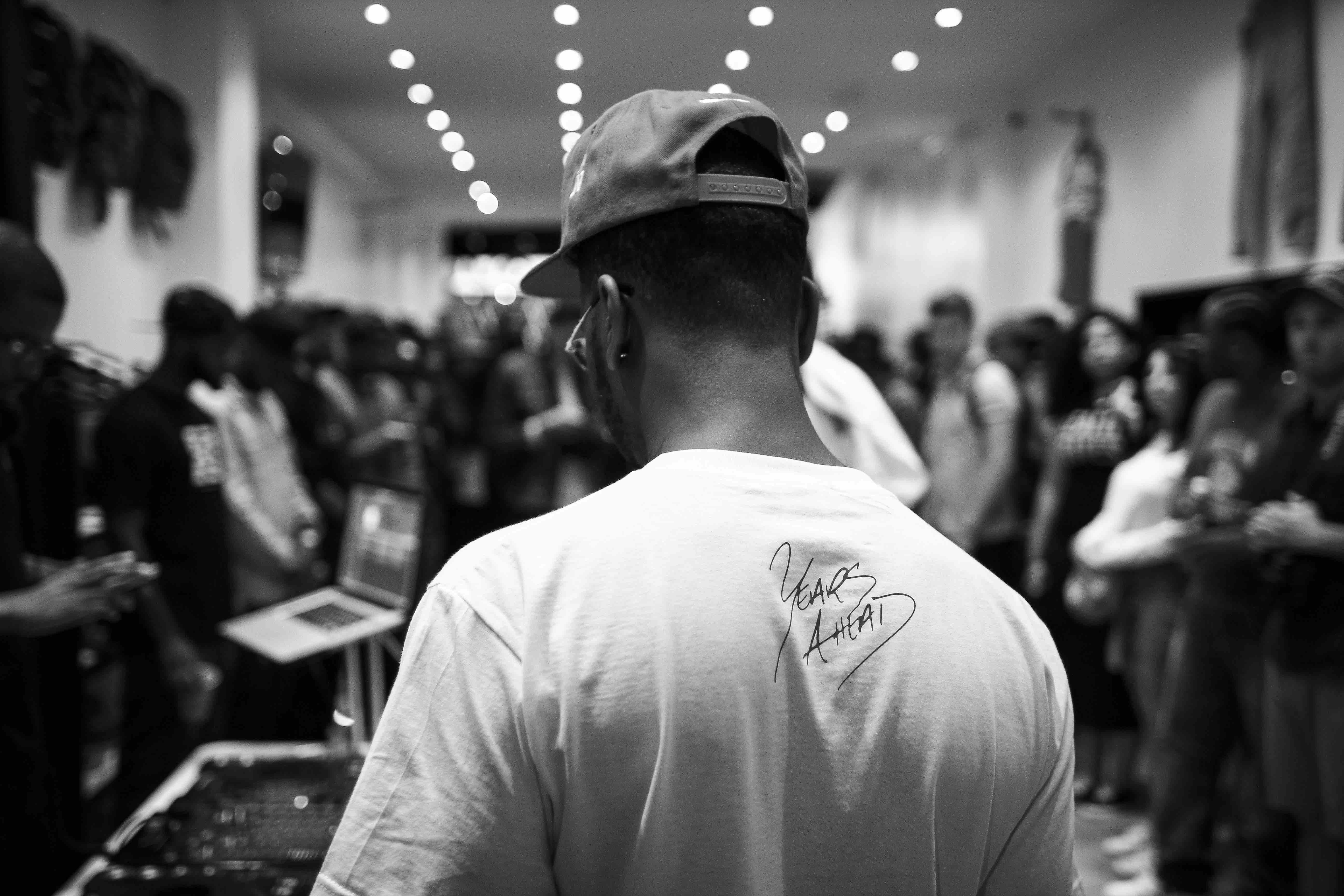 Photo by Buruk Kebedom
Drake's right-hand man Hush may have summed it up best when he tweeted that "Redway repped the city right." A transient citizen that moved fluidly from his home in Mississauga, to the "Uptop" of Jane & Finch where he'd meet with young rappers, to Brampton where he'd work with his videographer, to Scarborough where he'd meet with peers. Redway embodied the culture of the city's boroughs in a way no other Toronto rapper ever will, using the West Indian/Toronto slang long before Aubrey Graham made the vernacular his own staple. Redway's outlook on the Screwface Capital could be best observed in the last video he released for "You Know The Ones," where he detailed the fake-love that the city's music scene is known for.
Redway found his voice after honing his material in Mississauga freestyle battles held at the city-center, and he came to be known in the city's hip-hop community after recording "TDotWire Freak," an anthem for a now-defunct local nightlife website. After failing to achieve stardom off his hit, Redway made his way regularly to New York in order to escape the bubble of Toronto's fledgling music industry. He learned the main difference between his hometown and the Mecca of hip-hop, and put it to work for him: "[Toronto] guys really don't understand the essence of the grind." He came back here and began working on Live Free, a project that he wanted to use to showcase his growth. The tape was the an improvement in subject matter, with Redway leaning into his own self-doubt instead of adopting a false bravado. On "Life Goals" he raps: "I thought I'd be on at 19 / look how that time flew." But outside of the lyrics on Live Free, the production would also mark a turning point for Redway, who was the first rapper to record over a Wondagurl beat on the album's "Progression."
Though he was born in 1989, his outlook on music was one that many people would put in the "old head" category, with him being more focused on what was being said as opposed to how. His biggest musical influence was Jay Z, which was evident in his lyrics, which would zoom in and out of a scene throughout the course of a song, landing on subject matter that revolved around everything from women to his outlook on the city. He was a harsh critic of everything he heard, but didn't count anything out. His latest project Years Ahead was a solid stepping stone in the right direction, and was his most successful project to date.
During our last conversation we spoke about the sudden surge of good music coming from the city. Redway was confident that his new material would set him apart, and he played me his collaboration with Sean Leon and Wondagurl. The hardest part about accepting his loss is knowing that he'll never get to see the world react to his new music. He'll never read the good reviews, or build upon his artistry based on the bad ones. He was a man who was constantly improving himself, both personally and musically, and he was far from finished growing in either facet. His legacy in music won't be forgotten, since I know for a fact that he has dozens of unreleased songs that he left on the cutting room floor. Shane Redway's name will stay on the minds of many due not only to his music, but his involvement with the local basketball incubator CIA Bounce, where he bonded closely with founder Tony McIntyre, whom he considered a close personal mentor. Whether you knew it or not, Redway made an impression on either your personal tastes or the tastes of the people whose opinion you value.
Continued below...

The last time I saw Shane was when he came over to my house when he was in the neighbourhood and wanted to even up our long-running challenge of NBA 2K. He won that game, bringing us to an overall lifetime score of 3-3. After the game we were talking about popular rap music and how it affected his creative output. He told me how he was harmonizing more on his new work, causing me to jokingly tease him about being behind the curve. "Nobody cares about that anymore," I said while turning on Rae Sremmurd's "Unlock the Swag." "All you need now is to pick a few words and chant them over and over again," I joked while pointing at the speakers for the chorus.
"Naw, that shit isn't timeless," he replied. "I'm trying to make something that people will remember forever."
Slava Pastuk is the Editor of Noisey Canada. He is on Twitter.